Chile: Constitutional Convention begins its work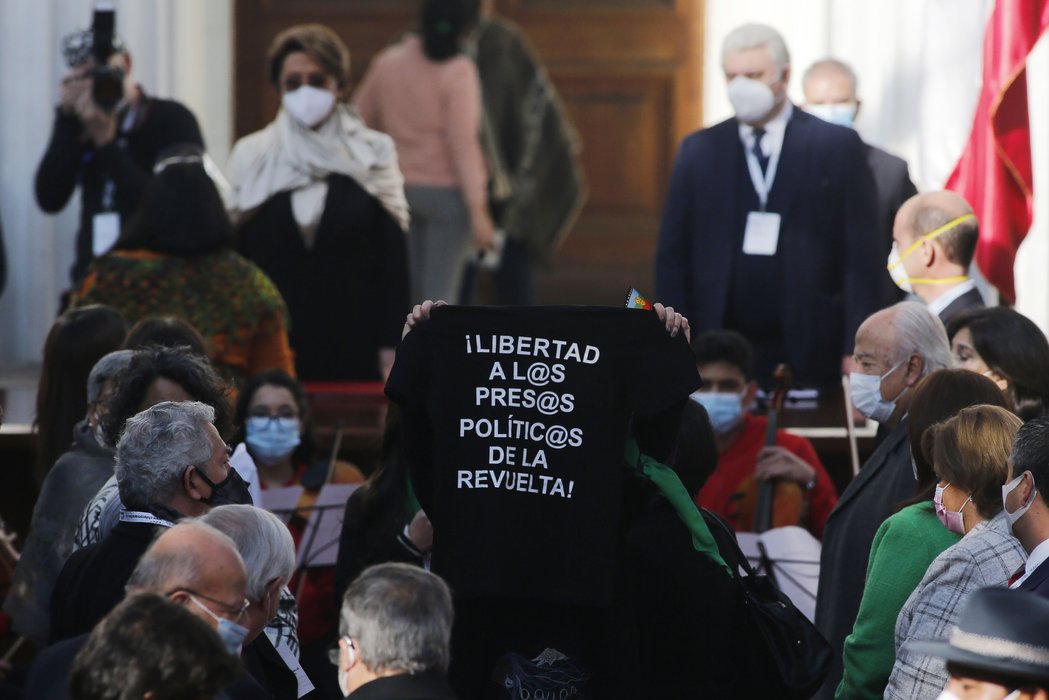 On 15th and 16th May 2021, over 6 million people in Chile voted in the election of 155 members of the Constitutional Convention, the body responsible for drafting a new Constitution for the country. The vote was combined with elections for municipal authorities and regional governors. 60 percent of votes went to independent candidates or newcomers linked to left-wing parties and social movements. Support for President Piñera's coalition plummeted to 24 percent.
On 4th July 2021, on the Constitutional Convention's inaugural session, Mapuche defender and professor Elisa Loncon was elected president of the Convention. 77 of the assembly's delegates are women, and 17 members represent Indigenous peoples. A broad coalition of Indigenous people's organisations successfully advocated for reserved seats in the constitutional process, however some Mapuche groups decided not to participate.
The Convention's delegates will have up to one year to conclude their work.
Association
Este viernes, además, el auto de Verónica Vilches se incendió en el patio de su casa en circunstancias sospechosas.

Conócela en https://t.co/2KJkaLqwaW

Pide #ProtecciónMujeresModatima a @FiscaliaRegionV, Fiscalía de la Ligua, @PDI_CHILE y @carabdechile 👉🏽https://t.co/81R7bwXSbS pic.twitter.com/NKcsc3Do1W

— Amnistía Chile (@amnistiachile) July 13, 2021
Threat against human rights defender
On 7th June 2021, graffiti containing a death threat against human rights defender Verónica del Carmen Vilches Olivares was found at a water treatment plant in Cabildo in the province of Petorca, Valparaíso region. The human rights defender is president of the Agua Potable Rural (Rural Drinking Water - APR) Committee of San José de Cabildo and leader of the Movement for the Defence of Water, Land and Environmental Protection (MODATIMA). The latter defends the right to water in Petorca, where local communities' access to water has dramatically deteriorated in recent years. Verónica has faced constant threats and attacks for her work and for denouncing agribusiness' impact in the province.
Press union wins lawsuit against Radio Bío Bío
On 15th July 2021, a court ruling ordered Radio Bío Bío to pay a fine for the dismissal of employees during a strike in 2019. In her ruling, the judge said the company had "concretely affected freedom of association, weakening the trade union movement and especially the strike, legally voted in a regulated collective bargaining process." The media outlet was also ordered to read the court ruling on its morning programme.
Peaceful Assembly
Protest against mass expulsions of migrants
Así, en solidaridad con las personas migrantes que fueron expulsadas, y en rechazo a la política del gobierno, que criminaliza y restringe el derecho a migrar, realizamos una intervención performática en Plaza de Armas de Santiago y luego nos movilizamos al Palacio de La Moneda. pic.twitter.com/LUbLHMckcb

— Coordinadora Nacional de Inmigrantes (@MigrantesChile) May 3, 2021
On 28th April 2021, migrants demonstrated in downtown Santiago against expulsions carried out in recent years. The protesters, organised by the Coordinadora Nacional de Inmigrantes Chile (National Coordinator of Immigrants), wore white overalls, yellow vests and handcuffs during the demonstration. The slogans of the protest included "We are not criminals, we are workers" and "Migration is a right".
In 2021 alone, over 300 migrants were expelled from Chile, in some cases without enough time to appeal the deportation decision. Over four years, 1,401 people were expelled – most of them from Venezuela, a country whose humanitarian crisis has led to mass migration. In April 2021, a wave of deportations in seemingly irregular processes was condemned by civil society and international organisations. A case of 55 Venezuelan migrants expelled, 40 without a judicial order, was criticised by the Inter-American Commission on Human Rights (IACHR). The international organisation said more migrants were reported to be detained awaiting deportation without access to legal assistance, due process or evaluation of their protection needs.
Excessive force against Indigenous protesters; Mapuche leader injured
Indigenous leader and #EnvironmentDefender Alberto Curamil was shot 18 times with riot shotgun pellets during protests on contested Mapuche land, Chile.

Sadly, this kind of violence and criminalisation is all too familiar to those who protect our planet. https://t.co/bTvIx1caoJ

— Global Witness (@Global_Witness) July 7, 2021
Indigenous land rights defender Alberto Curamil was seriously injured during a protest against the burning of a Mapuche home in Perquenco, Araucanía, on 29th April 2021. The demonstrators used burning tyres to barricade a highway in support of community spokesperson Elena Paine, whose house had been attacked and burned. Curamil said police officers shot at protesters and then chased and shot at his car from a police vehicle. The defender recounted:
"A teargas canister smashed through the back window, choking me, so I stopped. As soon as I put my leg out of the vehicle I felt a shotgun blast hit me on my left thigh, then a second blast on my back. A teargas canister hit me in the back and knocked me to the ground. They fired from less than 3 meters away. The Carabineros [Chilean police force] hit me while I was being handcuffed and asked who I was. I believe I was targeted, they had their man."
Curamil was wounded with rubber-coated pellets, which can be fatal when shot from close range. The defender's nephew and son, both teenagers, were detained and released the next day. All three face charges for public disorder.
Protests during the Constitutional Convention's opening
During the opening of the Constitutional Convention, protesters in Santiago called for the release of people detained during the 2019 protests and for an end to police repression. News outlets reported clashes between the police and a group of demonstrators who tried to break through the security cordon in front of the former Congress building, where the opening ceremony was taking place. The clashes led to the suspension of the opening ceremony for over an hour. Some members of the Convention denounced the police repression.
During its first week, the Convention approved a declaration calling for a pardon for those arrested in the context of the social uprisings and for freedom for the Mapuche political prisoners imprisoned in the context of the land conflict in the Araucanía region.
Other developments
A lawsuit seeking reparation for 22 victims of eye trauma during the social uprising of October 2019 was presented in 2020 by human rights organisation Libertades Públicas. In April 2021, Chile's State Defence Council (CDE) rejected the organisation's arguments, saying the compensation requested was "disproportionate" and that police "acted correctly". While the CDE recognised that in some cases police officers' actions were unlawful, they argued these were limited incidents and called for the complaint's dismissal by the Santiago court adjudicating the case. Chile's National Human Rights Institute (INDH) reported that 352 people were partially or completely blinded by police violence during the massive protests.
In a related development, Chilean representatives presented in January 2021 what they called an "anti-repression agenda". The bill was proposed by the Frente Amplio opposition coalition. The bill would repeal legislation that has been used to repress protests, including the State Security Law, an authoritarian law used to prosecute protesters, the Preventive Identity Check Law, which enables authorities to stop and check the identity of anyone over 14 years old suspected of participating in illegal activities, and article 268 of the Penal Code, known as the Anti-Barricade Norm, which increased penalties for demonstrations deemed as public disorder. The latter two were approved in 2019 during the Piñera goverment. The proposal by lawmakers would also establish a special participatory committee to discuss strategies for Comprehensive Public Security. However, the proposal faced fierce criticism from conservative legislators and as of July 2021 it had not significantly moved forward in the Chilean parliament.
Expression
#CHILE: Chilean authorities must conduct a thorough investigation into the shooting of Chilean National Television (TVN) staffers Iván Núñez and Esteban Sánchez, and bring those responsible to justice.https://t.co/eWCffhbkYY

— CPJ Américas (@CPJAmericas) March 31, 2021
On 27th March 2021, unidentified assailants opened fire on a television crew travelling near Tirúa in the Biobío region. Journalist Iván Núñez was injured on his shoulder and cameraman Esteban Sánchez was injured in the chest, arm, shoulder and eye. Sánchez lost vision in his right eye. As reported by the Committee to Protect Journalists (CPJ), the attack took place when Núñez and Sánchez were returning from meeting with a spokesperson for Indigenous organisation Arauco-Malleco Coordination, which is involved in a land dispute with multinational forestry corporations and local farmers. Danilo Ahumada, president of the Chilean Journalists' Union, told CPJ that it was unclear who was behind the attack.
On 19th May 2021, Chile's Supreme Court ordered news outlet Radio Bío Bío to take down the audio and transcript of a phone call published in a news article. According to CPJ, the court ruled that Radio Bío Bío had illegally published a recorded conversation between judge Marcela Guerra and political operative John Campos, ordering the removal of the recording from the outlet's website and anywhere else it had been posted. In the call, Campos and Guerra can be heard discussing plans to influence judiciary appointments and disciplinary proceedings. Following the ruling, Radio Bío Bío removed the audio and call transcript.
On 7th July 2021, agents with the Chilean Investigative Police shot rubber bullets at journalists Vicente Rojas López and Felipe García while they were covering the funeral procession of activist Luisa Toledo Sepúlveda as it passed in front of the Investigative Police headquarters in Santiago. García was hit in the face and received stitches in his cheek for the rubber bullet wound. Rojas was hit in the foot and did not seek medical attention. Both journalists were wearing their press credentials and holding cameras at the time they were shot, Rojas told CPJ.
Surveillance on journalist Mauricio Weibel and other reporters
#HiloCIPER Este es el documento, publicado por CIPER, que firmó el magistrado Juan Poblete y que permitió al Ejército interceptar el teléfono del periodista Mauricio Weibel. El documento contiene información falsa 👉🏻 https://t.co/fzfhuilKkr pic.twitter.com/Uv8awYMaki

— CIPER Chile (@ciper) April 21, 2021
On 29th March 2021, the Centre for Investigative Journalism (CIPER) disclosed a document showing that Chile's National Army Intelligence Division (DINE) made false claims to approve monitoring on journalist Mauricio Weibel. In 2015, the reporter exposed a notorious corruption case within the country's Army, known as "Milicogate", which revealed millions in embezzlement carried out by senior army commanders. Weibel's investigation led to the prosecution of members of the military, including former commander-in-chief Juan Miguel Fuente-Alba, for tax fraud and illicit enrichment.
According to the document obtained by CIPER, the Army's intelligence agency requested authorisation from the Santiago Court of Appeals to tap Weibel's phone under false pretences in 2017. DINE claimed the phone number belonged to a "foreign agent" seeking "strategic background" on the institution. The journalist's communications were monitored based on this request. In addition, an officer from DINE admitted to requesting personal information on Weibel from the website of the Chilean civil registry; an IP address used for that query was also used to request information on five other reporters and their families. All five reporters confirmed that they were investigating the army for news reports or book research at the time of the alleged surveillance.
Reports on Chile
According to the monitoring carried out by civil society organisation Observatorio del Derecho a la Comunicación (Observatory of the Right to Communication - ODC), from October 2019 to March 2021, there were 295 violations of press freedom in Chile, including attacks and detentions. 60 cases were registered between January and March 2021, 22 arrests and 38 attacks.
The 2020 annual report of the IACHR's Office of the Special Rapporteur for Freedom of Expression highlighted barriers to accessing public information on the management of the pandemic and the numbers of people infected by COVID-19 in Chile. There were also reports of obstacles to journalistic practice, vulnerability of media professionals to the pandemic, mass layoffs in various public and private media, and the closure of print media outlets. IACHR's report also underscored the continued use of excessive force against protesters and journalists covering demonstrations.
Civic Space Developments
Tags
enabling law,
indigenous groups,
refugees and migrants,
HRD threatened,
positive CS development,
attack on journalist,
youth,
protest disruption,
HRD prosecuted,
attack on HRD,
HRD detained,
negative court ruling,
excessive force,
censorship,
labour rights,
surveillance,
positive court ruling,
women,
protest,
Back to civic space developments