Censorship, discrimination raises questions about fairness of Myanmar elections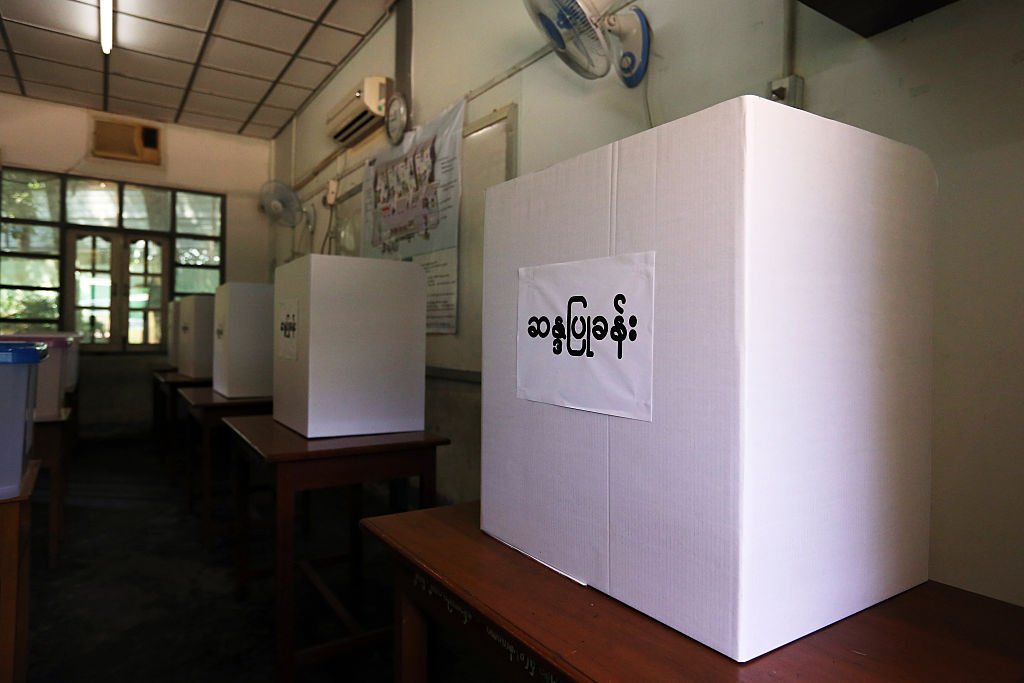 Myanmar is set to hold general elections on 8th November 2020, for the second time since the end of military rule in 2011 involving nearly 100 political parties and contests for the upper and lower houses of the national, state and regional governments. The military continues to hold 25 percent of the seats in each legislative body.
The last election, in 2015, ushered Aung San Suu Kyi's National League for Democracy (NLD) into power with a landslide victory. Since then serious human rights violations have been documented by human rights groups and the UN, including war crimes and crimes against humanity by the Myanmar military against Rohingya men, women and children, forcing 700,000 to flee to Bangladesh. Such crimes were also found in the Kachin and Shan states.
The CIVICUS Monitor has also documented a sustained attack on civic freedoms in the country over the last few years. A repressive legal framework has been used to criminalise individuals for speaking out, reporting or protesting again human rights violations, including independent journalists and human rights defenders
The COVID-19 pandemic had raised questions about the viability of an election as authorities pour resources into combatting the virus, whereas preventative measures such as lockdowns left candidates unable to campaign as normal. More than 20 political parties had sent requests to the electoral body to postpone the elections due to the pandemic, but they were rejected.
Ceasefire offers from several ethnic armed organisations have not been acted on by the Tatmadaw, Myanmar's military. There were also reports of hate speech and disinformation, of which some were shared over online platforms.
Ahead of the elections, human rights groups have continued to document restrictions to civic and political freedoms and called the polls "fundamentally flawed". The violations documented include censorship of opposition parties, the serious impact on the ability of voters in areas where there has been an internet shutdown and restrictions on journalists due to the pandemic. Further, the discriminatory 1982 Citizenship Law and the Election Law have been used to disenfranchise Rohingya and other opposition candidates to prevent them from running for office, while voting has been cancelled in various regions.
Expression
Censorship of opposition speeches on state media
Elections with prior censorship?
In Myanmar, political parties must submit their campaign messages for censorship prior to broadcast on state-owned radio and TV stations.https://t.co/DDGsVp1MCP

— David Diaz-Jogeix (@DiazJogeix) September 22, 2020
Myanmar's Union Election Commission (UEC) has been censoring the speeches of political parties that want to broadcast campaign materials on state-run TV and radio networks. In July 2020, UEC released a set of guidelines on how candidates and parties can broadcast campaign speeches on state-run media outlets. Candidates have to submit a manuscript one week before the broadcast for review and approval by the UEC and the Ministry of Information.
Speeches can run for up to 15 minutes, but should not contain content that "disturbs the security, rule of law and the peace and stability of the country"; "disrespects existing laws and the Constitution"; "defames the nation or tarnishes the image of the nation"; "defames the Tatmadaw" [military]"; "incites racial or religious conflict"; or "incites Civil Services personnel not to perform their duty or to oppose the government".
Several political parties said their campaign speeches were censored based on the guidelines released by the UEC. Around ten parties reported experiencing censorship and six have decided not to air campaign speeches on state-run media. Ko Ko Gyi, chairman of the People's Party, said that the edits the UEC made to his election campaign speech prevented him from airing the party's full political stance ahead of the elections.
In response, Tom Andrews, the UN Special Rapporteur on the situation of human rights in Myanmar, said on 2nd November 2020 that "messages conveyed to voters through state media must be approved by the government – including messages that are critical of the government. I have heard from opposition political parties that they are being denied access to state media and their messages are being censored for criticising government policies. This is unfair and denies voters information that they need to make informed choices on election day".
Denial of Internet Access 
#Myanmar: UN #HumanRights office voices concerns over rights violations, hateful speech, Internet shutdown and arrests of critics, ahead of November's general electionshttps://t.co/4lgE1KY9MK

— UN News (@UN_News_Centre) October 28, 2020
Government-imposed internet restrictions in Rakhine and Chin States has had a serious impact on the ability of voters in the affected areas to access information about candidates, parties and their positions.
As previously documented, The Ministry of Transport and Communications issued an order in June 2019 to all mobile network providers under the Telecommunications Law 2013 to temporarily stop mobile internet services in nine townships in Rakhine and Chin states. The Ministry cited disturbances to the peace and internet services being used to coordinate illegal activities for the shutdown.
The mobile internet restrictions were removed in Maungdaw township in May 2020 but remain in place in the other eight townships, affecting about a million people. On 1st August 2020, the authorities allowed 2G services to resume. However, 2G speed is drastically slow and does not allow services such as videocalls, emails or access to webpages with photos or videos. Telenor, one of the four operators, said that on 28th October, a government directive instructed operators to maintain the 3G and 4G blackout in the eight townships until 31st December.
Activists and students have been charged or convicted for protesting against the internet ban in the Rakhine and Chin states. Most recently, the Kyauktada Township Court convicted human rights defender Maung Saungkha and fined him.
Restrictions on journalists amid the pandemic
The International Federation of Journalists (IFJ) reported in early October 2020 that journalists and media workers were facing travel restrictions due to the government's strict new stay-at-home orders. The restrictions are also affecting foreign journalists who had planned to cover the upcoming elections as they will not be able to travel to the country. IFJ urged the authorities to exempt journalists from the restrictions so that they can report freely during this important election period.
The lockdown measure has also impacted on the media industry, particularly the production of newspapers since all private national newspapers are based in the city. Four national newspapers, the Standard Times, 7 Day Daily, the Myanmar Times and the Voice Daily announced their decision to suspend circulation of the newspapers from 23rd September 2020. The publication of state-owned newspapers has not been affected.
Association
Electoral candidates rejected while hundreds of thousands disenfranchised
"No one should be excluded from standing for #election because of their descent, race, or religion," says @matthewfsmith, @FortifyRights, re: rejection of #Rohingya candidates by the Myanmar Election Commission. https://t.co/yNu4M1irZ8

— Fortify Rights (@FortifyRights) August 19, 2020
The Myanmar government is using the discriminatory 1982 Citizenship Law and the Election Law to disenfranchise Rohingya and prevent them from running for office, even though most Rohingya families have lived in Myanmar for generations.
In August 2020, the Union Election Commission (UEC) rejected several Rohingya candidates who applied to contest seats in the upcoming election. The committee said it blocked the candidacies of five men on the grounds that when they were born their parents were not citizens, but lawyers and activists say that claim is false. Four of the would-be candidates are from the Democracy and Human Rights Party (DHRP) while one was hoping to run as an independent.
Among those whose candidacy was rejected include Abdul Rasheed, a Yangon resident whose father was a civil servant and who was born and has lived his whole life in Myanmar. Kyaw Min, the chairperson of the Democracy and Human Rights party, one of three Rohingya parties in Myanmar, was also barred despite having run in the 1990 election and spending years as a political prisoner alongside thousands of other NLD activists and others.
In October 2020, the UEC released a smartphone app that was criticised over its use of a derogatory label for Rohingya Muslims. The mVoter2020 app, aimed at improving voter awareness, labelled at least two candidates from the Rohingya ethnic group as 'Bengali', a term that implies they are immigrants from Bangladesh, although most have lived in Myanmar for generations.
Further, none of the one million Rohingya refugees in Bangladesh and another several hundred thousand dispersed in other countries will be allowed to vote. The authorities have barred most Rohingya remaining in Myanmar, estimated at 600,000, from registering to vote in the election.
Other opposition candidates have also been disqualified for not meeting citizenship requirements. On 14th October 2020, it was reported that the UEC had removed Hla Win, a candidate from the Democratic Party For a New Society (DPNS) in Yangon's Thingangyun township, and Hnin Wai, a candidate from the military-backed Union Solidarity and Development (USDP) party in Kayah state's Mese township. As of mid-October 2020, a total of 13 opposition party candidates had been rejected, but none from the ruling National League for Democracy (NLD) party.
Voting cancelled in various regions
On 16th October 2020, the election commission, citing security concerns, announced whole or partial cancellations in constituencies in Kachin, Karen, Mon, Rakhine and Shan States, and the Bago Region. On 27th October 2020, the commission also added 94 village tracts in Paletwa township, Chin State, to the list of areas where voting is suspended. As a result, over 1.5 million people will not be able to exercise their right to vote.
On 18th October 2020, five ethnic political parties released a joint statement calling for the election committee to revise its list. The Kachin State People's Party, Kayah State Democratic Party, Karen National Democratic Party, Chin National League for Democracy and Mon Unity Party alleged that the ruling National League for Democracy (NLD) was blocking votes in constituencies that are dominated by ethnic parties.
On 20th October 2020, the election commission said during a news conference in Naypyitaw, the capital, that its decision to cancel voting in parts of the country was based on recommendations by the government, the Defence and Home Affairs Ministries, the military and the police. However, the commission did not provide information on the criteria it used
#MYANMAR: this means more than one million voters in #Rakhine are being barred from voting. #election https://t.co/dPpG1llj28 https://t.co/5OiCY3jIJE pic.twitter.com/6hhLRcwmMr

— Cape Diamond (@cape_diamond) October 17, 2020