Brazil: defenders vilified and criminalised, censorship and attacks against media on the rise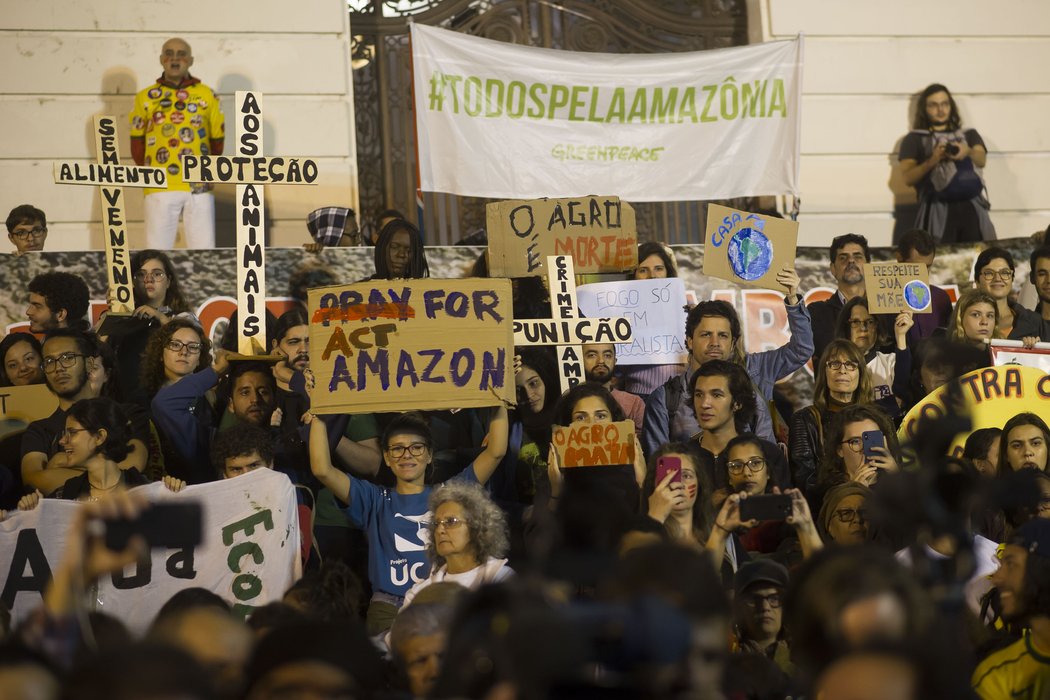 Association
Attacks against civil society as environmental disasters multiply
In August 2019, fire outbreaks in the Amazon, the world's largest tropical rainforest, stirred global outrage and became a central topic of concern at the G7 meeting in Biarritz, France. The protection of the Amazon is seen as vital to the fight against climate change because of the vast amounts of carbon dioxide the forest absorbs. According to Brazil's Instituto Nacional de Pesquisas Espaciais (National Institute for Space Research - INPE), deforestation in Brazil's Amazon rainforest increased 92,7% between January and September 2019 compared to the same period in 2018.
On 2nd August 2019, INPE's director Ricardo Galvão was dismissed after the institute published a report on the increase in deforestation in the Amazon in July 2019. INPE is a civilian research unit linked to Brazil's Ministry of Science, Technology and Innovation and provides some of the most reliable data on deforestation in the country. On 19th July 2019, Brazil's president Bolsonaro had called INPE's most recent data "a lie".
On 19th August 2019, the increase in deforestation grabbed national media attention as the mid-afternoon sky of Brazil's largest city, São Paulo, grew dark with smoke attributed to soot from fires in the Amazon brought to the south-east by winds. Fires are often used in the region to clear land for pasture, mining and other activities. However, as outrage grew, Bolsonaro suggested that environmental NGOs could be setting the fires. "On the question of burning in the Amazon, in my opinion may have been initiated by NGOs because they lost money. What is the intention? To bring problems to Brazil," Bolsonario said at a steel industry congress in Brasília. When asked for evidence or names of the NGOs involved, Bolsonaro said there was no evidence but that it was just his feeling.
In response, more than 100 civil society organisations signed the public statement "Bolsonaro lies: Bolsonaro doesn't need NGOs to burn Brazil's image around the world" condemning the accusations. The note explains that the increase in burning is not an isolated fact but the result of Bolsonaro's dismantling environmental supervision and encouraging deforestation, the invasion of parks and indigenous lands and the illegal and predatory exploitation of natural resources. The note further states:
The President must act responsibly and prove what he says, instead of making reckless and inconsequential conclusions, repeating the attempt to criminalize organizations, manipulating public opinion against the work done by civil society.
On 23rd August 2019, environmental movements organised protests in several cities to denounce the government's environmental policies. Other countries in Latin America, including Argentina and Uruguay also held solidarity protests.
In September 2019, another environmental disaster led to accusations against NGOs. At the end of August, oil stains washed up on Brazil's shores, contaminating beaches in all nine states of the country's north-east. The origin of the crude oil is still uncertain, but the main line of investigation is that it could have come from an unreported spill from an oil tanker near the Brazilian shore. Civil society organisations have criticised the pace of the government response since the oil first washed up. On 25th October 2019, Environment Minister Ricardo Salles published a tweet implying that Greenpeace's ship Esperanza could be responsible. Days before, Salles had published a message accusing the NGO of failing to join efforts to clean the oil. The minister also called Greenpeace activists "eco-terrorists". Greenpeace has responded that it will sue Salles for making false accusations.
Read CIVICUS' interview with Adriana Ramos from Instituto Socioambiental (Socioenvironmental Institute - ISA), published in September 2019 on how closing civic space has affected environmental defenders in Brazil.
Leader of anti-corruption NGO killed
On 15th October 2019, the director of the NGO União para o Desenvolvimento de Dourado ( - Union for the Development of Dourado - UNIDO), Marcelo Miguel Ortiz, was found dead with bullet wounds. His body was inside his car, left in the middle of a sugar cane plantation near his house in Dourado, São Paulo state. D'Elia had been missing since the previous evening. He advocated for transparency in the municipality, leading UNIDO's work monitoring local government.
Indigenous Guardian killed and attacks on Indigenous communities on the rise
On 1st November 2019, forest guardian Paulo Paulino Guajajara, a member of the Indigenous Guard of Arariboia Indigenous Land, Maranhão state, was killed in an ambush. According to Laércio Souza Silva, who was with Paulo when the ambush happened, the two guardians were assaulted by five armed loggers who shot Paulo in the face and wounded Laércio in the arm and back. Indigenous leader from Arariboia, Sônia Guajajara, published a video stating that Paulo was murdered for defending his people's territory and natural resources.
Between 17th October and 20th November 2019, a delegation of seven indigenous leaders is conducting an advocacy tour in 12 European countries to report violations against indigenous rights and the environment in Brazil. Their campaign " Indigenous Blood: Not a Single Drop More", led by the Articulação dos Povos Indígenas do Brasil (Brazil's Indigenous Peoples Articulation - APIB), seeks to pressure the Brazilian government and agribusiness companies to fulfil international agreements on climate change, indigenous and human rights signed by Brazil. Since Bolsonaro took office in January 2019, violations against indigenous peoples and the environment have been occurring systematically.
In September 2019, Human Rights Watch published a report outlining the connections between criminal networks, illegal logging, deforestation and the violence against environmental defenders in Brazil. Also in September, the Conselho Indigenista Missionário (Indigenous Missionary Council - CIMI) published a report showing that invasions into Indigenous territories have dramatically increased in 2019. From January to September 2019, there were 160 invasions in 153 Indigenous lands, while in 2018 there were 111 invasions in 76 territories.
Peaceful Assembly
Rio Mourns Death of 8-Year-Old Ágatha Felix, Protests Governor's Bloody Security Policy https://t.co/H2Yuke0uX1—by @EdmundRuge #PoliceViolence #HumanRightsViolations#StandWithFavelas pic.twitter.com/vPPzSxH016

— RioOnWatch.org (@RioOnWatch) September 24, 2019
Outrage in Rio after an eight-year-old girl is killed by police
On 22nd September 2019, people took to the streets in Rio de Janeiro after Ágatha Félix, a black eight-year-old girl, was shot in the back by a stray police bullet while returning home with her family on the north side of Rio de Janeiro. Hundreds of demonstrators questioned Governor Wilson Witzel's shoot-to-kill policies, arguing that the measures have only contributed to police brutality against Brazil's poor black youth. The police stated that there was an exchange of fire with a criminal group, but local witnesses claim that a police officer fired at a motorcycle that was passing near the van where Ágatha's family was.
A study published by Instituto de Segurança Pública (Public Safety Institute - IPS) in August 2019 showed an exponential increase in the number of deaths in the context of police interventions since Rio's governor Witzel took office in January 2019. Between January and July 2019, 3 in every 10 violent deaths in the state of Rio de Janeiro were caused by law enforcement agents. Civil society organisations Conectas, Voz das Comunidades, Justiça Global e Rede de Observatórios da Segurança have issued a public statement denouncing the "racist bloodbath triggered by Governor Witzel in Rio".
Protests around the country
On 7th September 2019, Brazil's independence day, thousands of people took part in protests known as "Grito dos excluídos" ("Cry of the excluded"). This was the 25th edition of the march, which every year brings together left-leaning parties and social movements to march for the people who have been historically excluded from decision-making and state policy. This year, many of the protesters wore black as a response to Bolsonaro's call for people to wear yellow and green to show their support for him on the day.
On 20th September 2019, people in dozens of Brazilian cities joined the Global Climate Strike in demonstrations that ranged from marches to public classes on relevant environmental issues. CSO 350.org estimates that over sixty thousand people took part in the actions around Brazil, demanding commitments from the government to climate justice and action.
On 23rd October 2019, nineteen environmental activists from Greenpeace were detained in Brasília following a peaceful demonstration against the government's environmental policies. They were released after three hours. The intervention used black paint to symbolise the oil spill currently affecting the north-eastern coast of Brazil as well as burnt wood to indicate the deforestation and illegal logging in the Amazon.
Monitoring of protests
On 25th October 2019, president Bolsonaro stated that his government has been monitoring meetings to anticipate any protest movements in Brazil similar to those that took place across Latin America in October 2019. In particular, Bolsonaro highlighted the protests in Chile, calling them "terrorist acts", and said that Brazil's troops would be ready to repress any similar demonstrations in Brazil. Over 30 civil society organisations published a statement in response to the remarks, demanding an explanation from the government and asking for details on how this monitoring is being conducted. According to the CSOs, it is not clear whether there could be a violation of rights, privacy and freedoms of expression and peaceful assembly.
Days later, congressman Eduardo Bolsonaro, son of president Jair Bolsonaro, suggested using hardline dictatorship-era tactics against radical left-wing movements. The comment, given in an interview, was made in connection to protests in Latin America. "If the left radicalises to this extent [in Brazil] we will need to respond, and that response could come via a new AI-5," Eduardo Bolsonaro stated. The Institutional Act Number 5 (AI-5) marked a crackdown on political rights and civic freedoms during the country's dictatorship. The remarks were criticised by civil society and politicians from all ends of the spectrum.
Expression
Founder of The Intercept Brasil receives death threats
Since 9th June 2019, The Intercept Brasil, an investigative news website based in Rio de Janeiro, has been the target of a fierce campaign of harassment and intimidation following a series of articles revealing alleged irregularities and political bias in the conduct of corruption task-force Lava Jato (Operation Car Wash) and subsequent high-profile trials.
On 27th July 2019, President Jair Bolsonaro publicly threatened to imprison The Intercept Brasil founder and editor Glenn Greenwald. Greenwald and his husband, David Miranda, a Congressman with opposition party PSOL, received death threats containing personal and private information related to their security guards, house, children and dogs. Bolsonaro supporters have also orchestrated an online harassment campaign #DeportGlennGreenwald, calling for the U.S. native's expulsion from the country despite the fact that being married to a Brazilian grants the journalist protection against deportation.
Reporters without Borders (RSF), the International Federation of Journalists (IFJ) and its Brazilian affiliate FENAJ condemned the persecution of Greenwald and called on the international community to denounce Bolsonaro's actions against media freedom.
Two journalists killed in less than a month in the city of Maricá
On 25th May 2019, reporter and founder of O Maricá, a website covering local news and politics in Maricá, Rio de Janeiro state, Robson Giorno, was shot and killed by unknown individuals near his home. According to news reports, Giono intended to run for mayor in the 2020 municipal elections.
On 18th June 2019, another reporter, Romario Barros, founder of local news website Lei Seca Maricá, was shot and killed by a hooded man. None of Barros' belongings were taken, and according to a report by a local news outlet, the police believe that the journalist was ambushed and that the killing was ordered. The site, founded by Barros in 2010, covered mainly local crime and violence.
According to a report by TV Globo, the similarities between these crimes has raised suspicion, leading local journalists to wonder who could be next. "The killing of two journalists in less than a month in Maricá is outrageous, and is certain to have a chilling effect on other local reporters if authorities do not take appropriate action," said Natalie Southwick, Committee to Protect Journalists' Coordinator of the Central and South America Program.
Fear of violence prompts cancellation of writers' debate at book fair
On 16th July 2019, the Jaraguá do Sul Book Festival announced its decision to cancel a panel with journalist Miriam Leitão and sociologist Sérgio Abranches from the festival's programme following threats to the journalist. The programme for this year's edition of the festival, scheduled for August 2019, had been announced only a day before. Leitão, a journalist with national broadcaster Rede Globo, has often been vilified by Bolsonaro government supporters. In a public note, the organisers stated that the decision to cancel Leitão and Abranches' participation had been made because the event could not guarantee their safety and integrity. According to news reports, the organisers started receiving one threat per minute after the programme was published.
Censorship of LGBTQI content in cultural productions and books
On 21st August 2019, Henrique Medeiros Pires, Brazil's special secretary for culture, handed in his resignation in protest at the government's censorship of LGBTQI television productions. Pires told newspaper Folha de S. Paulo that in the eight months since the current government took office, there have been several attempts to restrict freedom of expression. His departure was prompted by a decision to suspend a competition, run by the federal Audiovisual Sector Fund, that would have awarded between $95,000 and $195,000 to shows in recognition of their excellence in various categories. President Bolsonaro publicly criticised several LGBTQI-themed TV shows that were finalists in the categories of gender and sexual diversity.
"Não vai ter censura", foi o grito de manifestantes mais ouvido na @bienaldolivro
Em seguida leram o artigo 5º da Constituição Federal.

Estou todo arrepiado, cara! pic.twitter.com/zIjSTyRWGa

— Hi! I am Daniel Moraes (@danyblu) September 8, 2019
On 5th September 2019, Rio de Janeiro's Mayor Marcello Crivella ordered the recall of a comic book from the city's Bienal do Livro (Book Biennial). Crivella, who is an evangelical pastor, said that the comic book had sexual content inappropriate for minors and therefore should be sealed in dark plastic and stamped with a warning. The comic book portrayed a kiss between two male characters. On 6th September 2019, Crivella sent a team of auditors to look for "inappropriate content" at the literary event. A judge initially ruled the ban unconstitutional, but the decision was revoked on the same day by the president of state's Court of Justice. On 7th September 2019, auditors were sent back to the event. Finally, on 8th September 2019, the president of the Brazilian Supreme Court reinstated the first judge's decision, saying that Rio's mayor had associated homosexual relations with inappropriate content, contravening the principle of equality. After the Supreme Court's decision, participants of the Bienal protested the censorship attempt, carrying LGBTQI flags and copies of the comic book which triggered the controversy.
Online magazine accused of promoting crime
The Brazilian Ministry of Women, Family and Human Rights filed a criminal complaint with the Public Prosecutor's Office of São Paulo, accusing women's rights online magazine AzMina of "promoting crime". On 18th September 2019, AzMina published the report "Safe abortion: how pregnancy is terminated with misoprostol" explaining safe methods for obtaining an abortion and the circumstances under which abortion is legal in Brazil. Abortion is only legal in the country in cases of pregnancy due to rape, foetal anencephaly and when there is a risk of death for the pregnant woman.
Since the publication, the outlet and its reporters have recorded being subjected to a harassment campaign, with messages on social networks calling them killers, threatening them and saying they should be criminally prosecuted. As reported by CPJ, two reporters at AzMina have had their names, photos, and home addresses shared on Twitter by unidentified accounts. On 20th September 2019, the magazine's website was knocked offline for several hours. If found guilty, the journalists could be sentenced to a prison term of three to six months or a fine. On 19th September 2019, AzMina published a statement in defence of the article. The magazine states:
AzMina's right to inform is granted by freedom of the press and provided in the Brazilian Constitution. And it is essential for the functioning of democracy. We did not commit any crime. We simply did our job. (…) Yes, abortion is a crime in Brazil (with three exceptions). But information is not.