Bolivia: Media workers abducted and assaulted when covering land conflict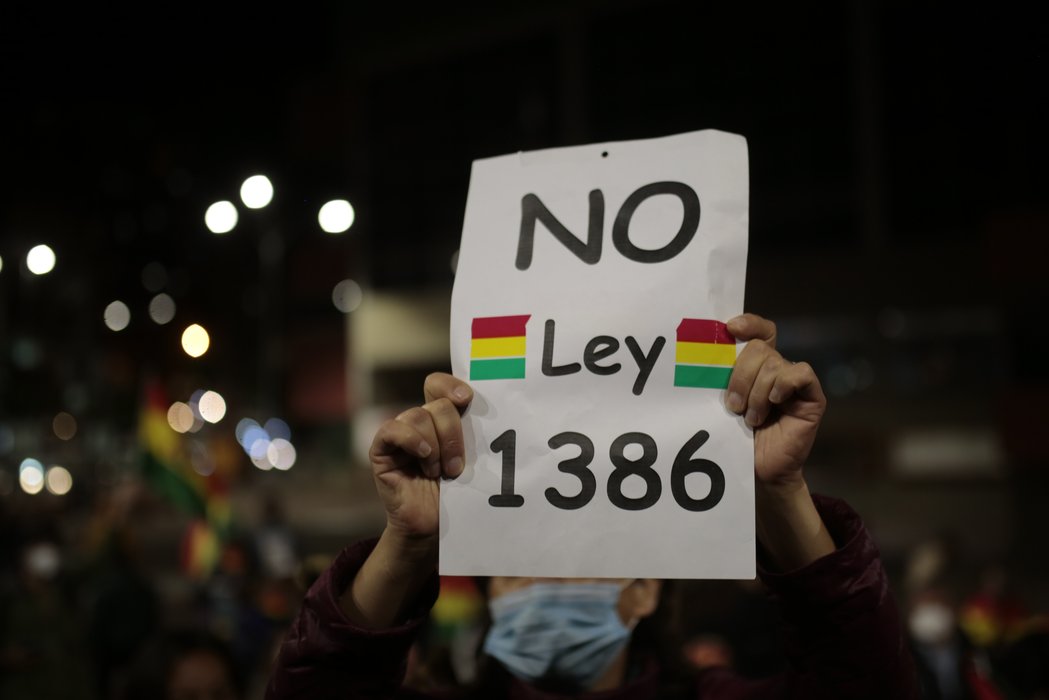 Expression
#BOLIVIA: Bolivian authorities must conduct a swift and thorough investigation into the abduction and assault of six journalists by a group of armed men and hold those responsible to account.

"I didn't think we were going to get out of there alive."https://t.co/TBqefwmGnX

— CPJ Américas (@CPJAmericas) November 5, 2021
On 28th October 2021, a group of media professionals working for several Bolivian media outlets were abducted and assaulted as they covered a land dispute in the eastern province of Guarayos. The group of seven communicators, including reporters, camera operators and photographers, was surrounded by armed men who shot at them, punched and kicked them, destroyed some of their equipment and held six of them captive for hours. According to reporter Jorge Gutiérrez Ávila, police officers who were accompanying the group were also held captive. "I thought they were going to kill us," Gutiérrez Ávila told the Asociación Nacional de la Prensa de Bolivia (National Press Association - ANP). The hostages were released after about seven hours, following negotiations with the police. On 24th November 2021, police arrested a suspected leader of the armed attackers. The alleged attacker is a local campesino leader.
On 16th November 2021, the Inter American Press Association (IAPA) called on the Bolivian government to create a protection and security mechanism for journalists. According to IAPA, such a mechanism is needed to tackle attacks against reporters that have intensified in recent months. IAPA cited data from the ANPdocumenting more than 20 cases of violence against journalists, including physical aggressions and threats.
In November 2021, the ANP also reported cases of public authorities disqualifying the work of the press, journalists being attacked by violent groups during protests and a journalist cited in a criminal investigation.
On a separate note, ANP and civil society organisation UNITAS called for the creation of a law on access to public information. During a debate on 1st December 2021, the organisations highlighted that although there is a regulatory framework guaranteeing this right in Bolivia, there isn't a law defining mechanisms for its exercise.
Peaceful Assembly
Qué es la "ley madre" que ha desatado masivas protestas en Bolivia (y por qué algunos las comparan con las que llevaro https://t.co/Rt8qUzSyvL

— BBC News Mundo (@bbcmundo) November 11, 2021
At the beginning of November, opposition groups continued to protest legislation proposed by the governing party Movimiento Al Socialismo (Movement Toward Socialism - MAS). As previously reported on the CIVICUS Monitor, opposition supporters mobilised in October to reject a bill against financial crimes which they said would give the government powers to persecute opponents. Although the bill was withdrawn, anti-government protesters continued to take to the streets to voice their opposition to another piece of legislation, Law 1386, also known as the "Ley Madre" ("Mother Law"). Approved in August 2021, Law 1386 also aimed to address money laundering, terrorism funding and illicit gains. However, critics of the law said it imposed "economic and financial totalitarianism," seeking to control the public's economic activity.
The protests were mainly driven by business owners and autonomous workers. Government supporters said that the law was used as a pretext to paralyse the country. On 8th November 2021, the second day of a national strike convened by opposition groups, police used tear gas, pepper gas and water cannon to disperse protesters who had blocked roads in several cities. Over 100 people were detained in the first days of the strike. The Bolivian Ombudsperson's Office reported that one person was killed during protests in Potosí and urged an investigation by authorities. After a few days of protests, President Luis Arce urged legislators to repeal the law, saying the country did not want any more uncertainty. On 16th November 2021, legislators voted to repeal the law.
In response to these protests, MAS supporters also mobilised to show their approval of the Arce government. On 29th November 2021, thousands of government supporters demonstrated in La Paz after marching across the country for several days.
Controversy over pre-trial detention
On 11th December 2021, a court ordered the pre-trial detention of Marco Antonio Pumari, a leader of the Comité Cívico Potosinista (Civic Committee of Potosí - Comcipo). Pumari faces five charges related to arson at election facilities during violent protests following 2019's polarised presidential elections. Prosecutors requested Pumari's detention saying that he might incite disturbances in Potosí. In a hearing, a court accepted this argument and ordered his preventive detention for six months. Opposition groups condemned the court ruling, claiming that Pumari was being persecuted.
Association
[Periódico digital Sumando Voces]

Amparo Carvajal denuncia intentos de "toma" de la APDHBhttps://t.co/9wFmpeTkrV pic.twitter.com/cVLU7WW4Vr

— Red UNITAS (@redunitas) November 26, 2021
As reported by UNITAS, human rights defender Amparo Carvajal continues to face harassment for her work with the Asamblea Permanente de Derechos Humanos de Bolivia (Permanent Assembly of Human Rights of Bolivia - APDHB). Carvajal said that there have been "attempts to take over" APDHB, with false notices of an organisational assembly circulating in November 2021. On 9th December 2021, Carvajal was insulted by a group of alleged government supporters gathered near the Universidad Mayor de San Andrés.