Authorities continue to crack down on protests and detain online critics in Sri Lanka, despite UN human rights review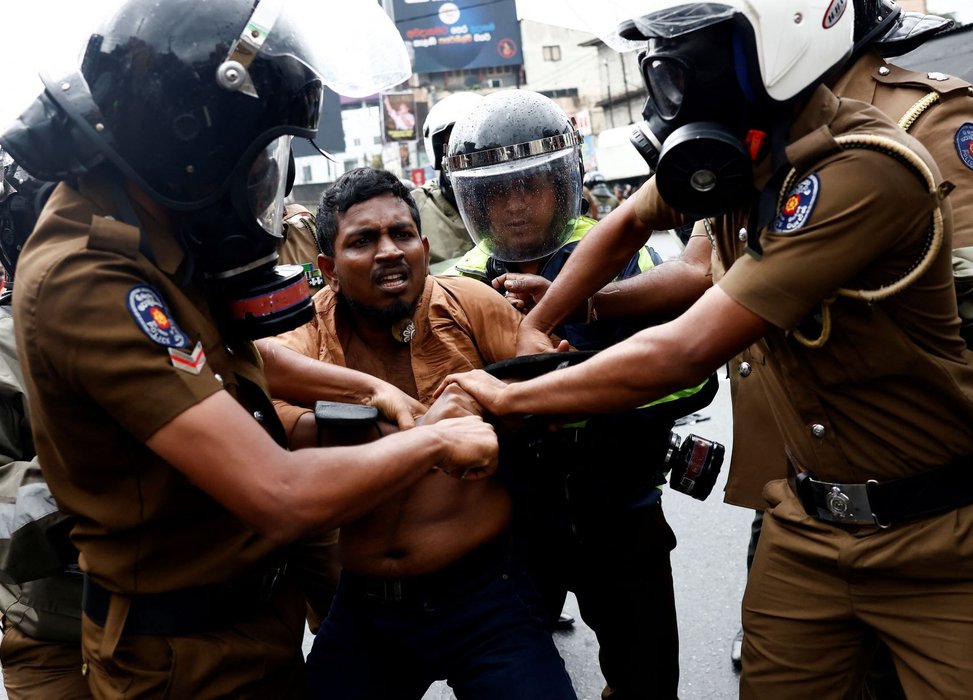 The state of civic space in Sri Lanka is rated as 'obstructed' by the CIVICUS Monitor. In 2022, civil society documented a range of issues related to fundamental freedoms in Sri Lanka, especially around the crackdown on mass anti-government protests linked to the worst economic crisis in decades. They include the targeting of civil society groups, human rights defenders and the families of victims of past violations. There were also restrictions and excessive use of force around the protests, arrests of protesters and the use of the draconian Prevention of Terrorism Act. Journalists have also been targeted.
On 28th October 2022, the Human Rights Commission of Sri Lanka (HRCSL) recommended that the Minister of Public Security direct the Inspector General of Police (IGP) that regulations made in terms of the Police Ordinance would not be permissible if they reasonably impact the exercise of fundamental rights and freedom enshrined in the Constitution. HRCSL chairperson Justice Rohini Marasinghe stated this in a letter addressed to the Public Security Minister on the application of the Police Ordinance, No. 16 of 1865.
In December 2022, the United States imposed sanctions on a military officer for human rights abuses. In a statement, the US State Department named Prabath Bulathwatte, the former head of a clandestine Sri Lankan Army platoon known as the Tripoli Platoon, for ''gross violation'' of human rights and ''degrading treatment'' of a Sri Lankan journalist, Keith Noyahr, in May 2008.
In January 2023, Canada imposed sanctions on four top Sri Lankan officials, including former presidents Mahinda and Gotabaya Rajapaksa, over "gross and systematic violations of human rights" during armed conflict in the island nation from 1983 to 2009 between the government and the separatist Liberation Tigers of Tamil Eelam (LTTE). The then President, Mahinda Rajapaksa, and his brother, Gotabaya Rajapaksa, the then defence secretary, oversaw the forces that were accused of targeting Tamil civilians.
Calls by the UN Human Rights Council for accountability for rights abuses in Sri Lanka have long gone unheeded. According to Canada, the Sri Lankan government has taken "limited meaningful and concrete action" to uphold its human rights obligations. Two military officials – Staff Sergeant Sunil Ratnayake and Lieutenant Commander Chandana Prasad Hettiarachchi – are also on the sanctions list.
On 1st February 2023, Sri Lanka's human rights record was reviewed by the UN Human Rights Council. Among the recommendations made by states were to repeal the Prevention of Terrorism Act and ensure any replacement legislation conforms to international human rights standards; ensure that any amendment to the Voluntary Social Service Organisations Act does not impede the ability of civil society organisations to operate freely, independently and safely and guarantee freedoms of expression, peaceful assembly and association.
Other recommendations include to cease surveillance of journalists or human rights defenders; ensure law enforcement authorities' use of force in response to protests is used as a last resort, proportionately, and only when necessary, and that any officials suspected of using unlawful force are brought to justice.
In recent months, the crackdown on protests has persisted, including protests by students and ethnic Tamil protesters in Jaffna. The police have continued to arrest activists and protesters. A lawyers' group called for charges against human rights defender Hejaaz Hizbullah to be dropped. Two students detained under the Prevention of Terrorism Act were released.
Peaceful Assembly
Ongoing crackdown on student protests
The police disrupted a number of protests by students calling for the release of student leaders Wasantha Mudalige and Galewela Siridhamma. As previously documented, they were detained around the student protests on 18th August 2022. On 22nd August 2022, President Ranil Wickremesinghe approved their detention under the draconian Prevention of Terrorism Act (PTA). 
🛑 Today's IUSF protest against state oppression

Images by Selladurai Krishna Kumar for News Cutter. #Lka #lknews #sLNews #SriLanka #SriLankaEconomicCrisis #SriLankaProtests #SriLankanCrisis #SriLankaCrisis #EconomicCrisisLK pic.twitter.com/LPrPucDNSp

— News Cutter (@news_cutter) October 18, 2022
On 18th October 2022, police arrested at least seven students who were part of a protest march organised by the Inter University Students' Federation (IUSF) demanding the release of two students. According to news reports, the police decided to block the Colombo–Kandy main road to prevent a protest march from proceeding from the University of Kelaniya, citing that six-hour prior approval was not obtained. The arrested students were later released on bail.
Police fire tear gas & water cannon at Inter University Students' Federation protestors demanding the release of student activists detained under the PTA
Video via @Kurulu_Koojana #SriLanka #lka #ProtestLK pic.twitter.com/YN5ESYlSSQ

— Kalani Kumarasinghe (@KalaniWrites) November 18, 2022
On 18th November 2022, police in Colombo used water cannon and tear gas to disperse a large group of students protesting the detention of the two student leaders. At least 1,000 student protesters took to the streets in several parts of the capital, including in front of the United Nations Compound. They displayed placards such as "Withdraw the Prevention of Terrorism Act!" "Release all political prisoners!" and "Ninety days to November 18."
The police cracked down on another IUSF protest on 16th January with tear gas and water cannon. The group protested for almost half an hour opposite the UN office and then marched to Galle Road. While the protesters were approaching the Colpetty Junction, the police moved in on them, using excessive force.
Detention and release of student protest leaders
On 23rd November 2022, Galwewa Siridhamma Thero - detained under the Prevention of Terrorism Act (PTA) - was released on bail by the Colombo Magistrate's Court. According to Front Line Defenders, despite this, he was brought before the Kaduwela Magistrate's court on the same day, and remanded in a separate case. On 6th December he was granted bail by the Kaduwela Magistrate's Court.
Convener of Inter @IUSFSL Wasantha Mudalige was today(31) released by Colombo Chief Magistrate's Court in connection with a case filed for allegedly committing offences under Prevention of Terrorism Act (PTA). #srilanka #RepealPTA #lka pic.twitter.com/bagxt5xNNs

— Vikalpa (@vikalpavoices) January 31, 2023
As for Wasantha Mudalige, human rights groups reported that during the first three months of his detention he was shuttled between two detention centres run by the police Terrorism Investigation Department. One is a dilapidated and abandoned prison unfit to hold prisoners. He and the other detainees were held in solitary confinement, in cramped cells without access to basic facilities including sanitation and sunlight.
On 4th October 2022, the Human Rights Commission of Sri Lanka issued a notice calling for the police to protect Mudalige's safety in custody. In December 2022, Mudalige required hospital treatment for breathing difficulties.
On 14th December 2022, Mudalige was taken before a magistrate for the first time since he was detained. The magistrate ordered the attorney general to submit any evidence against Mudalige at the next hearing on 17th January 2023, or to agree to bail. On 5th January, the police took Mudalige before a magistrate and introduced new cases against him under ordinary criminal laws, related to other protests in which he purportedly participated in 2022. On 17th January, he was remanded again to 31st January 2023.
On 31st January 2023, the Colombo Chief Magistrate discharged Mudalige from all charges filed under the PTA, stating that it had been proven that the Terrorism Investigation Division (TID) had misused the PTA to file charges against him. The following day, he was also granted bail in the three remaining cases against him and then released.
Aragalaya protest leader arrested
Activist Randimal Gamage arrested at BIA, later granted bail https://t.co/WXpRJX3T0W #SLnews #SriLanka

— Lanka X press News (@LankaXpressNews) January 5, 2023
Randimal Gamage, a frontline activist of the 'Aragalaya' protest movement, was arrested on 5th January 2023. According to reports, Gamage was arrested at the Bandaranaike International Airport (BIA) in Katunayake upon his arrival from Dubai. He has been accused with other anti-government protesters of illegally entering the Sri Lanka Rupavahini Corporation (SLRC) in July 2022 and causing damage to government property.
He was then produced before the Colombo Magistrate's Court by the Cinnamon Garden Police. Upon consideration of the facts, the court ordered Gamage's release on two surety bails of Rs. 200,000 each.
On 13th July 2022 a group of anti-government protesters forcibly entered the Rupavahini national television station, allegedly threatened the journalists and staff and disrupted the scheduled TV programme on air, to broadcast their own message.However, the protesters deny damaging any property and blame it on thugs linked to former president Gotabaya Rajapaksa.
Police use water cannon to disperse Tamil protesters in Jaffna
🚨BREAKING - Sri Lankan police use water cannons to disperse Tamil protesters in Jaffna pic.twitter.com/JP9R0UafHY

— Tamil Guardian (@TamilGuardian) January 15, 2023
On 15th January, police used water cannon on ethnic Tamil protesters in Jaffna as they rallied against President Ranil Wickremesinghe's visit to the district. According to the Tamil Guardian, the security forces erected barricades as the rally approached Arasady Road in Nallur to obstruct protesters from continuing their demonstration. As protesters tried to push past the barricades, water cannon were deployed in an attempt to break up the rally.
Despite the excessive use of force and the heavy presence of the military and its notorious Special Task Force (STF), Tamils continued to protest, calling for the release of occupied Tamil lands, the fate of the forcibly disappeared and the release of Tamil political prisoners.
Protesters were seen throwing water mixed with cow dung at the security forces while others shampooed their hair with the water from the cannon in brave acts of defiance.
Earlier in the day, buses from Kilinochchi, Mullaitivu and Vavuniya carrying Tamil families of the disappeared were stopped and questioned by the Sri Lankan police. They also took down the personal details of all the bus drivers and those on the buses.
On 18th January 2023, civil society leader Velan Swamigal who had participated in the protest was arrested by police for reportedly "obstructing the duties of police". He was subsequently released on bail.
Sri Lankan police have arrested Tamil National People's Front (TNPF) politician Selvarajah Kajendren for his involvement in the black flag protests against the Sri Lankan president's visit to Jaffna.
Police arrest politician and other protesters
ரணிலின் வருகைக்கு எதிர்ப்பு தெரிவித்து கறுப்பு கொடி போராட்டத்தில் ஈடுபட்ட தமிழ் தேசிய மக்கள் முன்னணியின் நாடாளுமன்ற உறுப்பினர் செல்வராஜா கஜேந்திரன் கைது. @TnpfOrg @GGPonnambalam @skajendren pic.twitter.com/Zyqh195COs

— Vignes Kajee (@kajeepanv) February 11, 2023
On 11th February 2023, police arrested Tamil National People's Front (TNPF) politician Selvarajah Kajendren, for his involvement in the black flag protests against the Sri Lankan president's visit to Jaffna. The president was visiting to inaugurate the Jaffna Cultural Hall as a part of Sri Lanka's 75th Independence Day anniversary.
According to the Tamil Guardian, the senior TNPF MP was forcibly dragged by armed police and shoved into the back of their vehicle. Kajendren was arrested alongside 17 others.The police claimed that the 18 were arrested for holding a protest although they had obtained a court order to stop it from going ahead. During the demonstration, police were seen assaulting the peaceful demonstrators. They were also subsequently released on bail.
Black flags are often hoisted in the Northern and Eastern provinces around Sri Lanka's Independence Day on 7th February to highlight the decades-long oppression and marginalisation faced by the country's Tamil population.
As previously documented, the families of the disappeared and civil society have been calling on the international community to investigate human rights abuses and enforced disappearances which led to the killing of tens of thousands of Tamils at the end of the armed conflict in May 2009. Despite multiple pledges from successive governments to investigate the abuses through domestic mechanisms, no one has been held accountable for any human rights abuses.
Expression
YouTuber arrested and detained for comments on Buddhist relic
YouTuber Sepal Amarasinghe further remanded https://t.co/sbB4HZ4Ehx #SLnews #SriLanka

— Lanka X press News (@LankaXpressNews) February 14, 2023
On 5th January 2023, YouTuber Sepal Amarasinghe was arrested by the Criminal Investigation Department (CID) at Bellanwila. He has been accused of making slanderous comments about the Sacred Tooth Relic of the Buddha - which many Buddhists venerate - as a 'labba', which is often used in Sinhala as a euphemism for male genitalia.
According to a report, the CID had initiated investigations against Amarasinghe under Section 3 of the International Covenant on Civil and Political Rights (ICCPR) Act, No. 56 of 2007.
Amnesty International responded to the arrest, saying that: "Arresting Sepal Amarasinghe for exercising his right to free expression contravenes Sri Lanka's international human rights obligations. The right to freedom of expression applies to information and ideas of all kinds including those that may be deeply offensive. He should be released immediately."
The CIVICUS Monitor has documented cases of the misuse of the ICCPR Act – a law meant to protect human rights – to stifle freedom of expression. The law, among other provisions, criminalises advocacy for "national, racial or religious hatred that constitutes incitement to discrimination, hostility or violence".
In February 2020, the UN Special Rapporteur on freedom of religion or belief, in his report to the UN Human Rights Council, stated that "certain actors have attempted to misuse the ICCPR Act to restrict freedom of expression and crush dissent". He added that the present ICCPR Act is not fully compatible with Article 19 of the International Covenant on Civil and Political Rights (ICCPR) as it does not guarantee freedom of expression and its current provisions do not include the three-part test of legality, proportionality and necessity as well as the threshold for 'incitement' under Article 20 of the ICCPR.
At the time of writing, Amarasinghe was still being detained on remand.
Social media activist arrested
Court grants bail to Social media activist Darshana Handungoda https://t.co/V5QnEOZAdr

— NewsWire 🇱🇰 (@NewsWireLK) February 6, 2023
On 5th February 2023, political vlogger Darshana Handungoda was arrested by the Criminal Investigations Department (CID) upon arriving in the country from Dubai. In May 2022, Handungoda had been summoned by the Criminal Investigation Department for questioning for comments he made on social media near the Temple Trees during an anti-government protest. However, he had declined to give a statement, claiming that the police never sent him an official notification calling him in for questioning. He was granted bail by the Fort Magistrate's Court on the same day.
Association
Lawyers' group calls for charges against human rights defender to be dropped
On 3rd November 2022, civil society group Lawyers for Lawyers sent a letter to the Sri Lankan authorities to express concerns about the trial of Hejaaz Hizbullah, urging them to drop the charges against him and end his trial.
As previously documented, Hejaaz Hizbullah was arrested on 14th April 2020 under the PTA. He was accused by the police of aiding and abetting Inshaf Ahamed (who was involved in the 21st April 2019 bombings), an accusation that has since been withdrawn. While in detention the allegations against him changed several times. On 9th February 2022, he was released on bail by the Puttalam High Court. Hejaaz had been in prison for 22 months.
Hejaaz Hizbullah is a vocal critic of the government. He is a minority rights advocate in a climate increasingly hostile to Sri Lanka's religious and ethnic minorities. He is also one of the lawyers who challenged the dissolution of the parliament in 2018 in the Sri Lankan Supreme Court. Rights groups say it appears he is being targeted solely for exercising his right to freedom of expression.
According to Lawyers for Lawyers, since February 2022, Hizbullah's case has been postponed four times due to non-appearance of the prosecution and their failure to produce relevant documents. According to information received by Lawyers for Lawyers, no convincing evidence has been produced by the prosecution to this day.