Artists, journalists and activists targeted in Bangladesh while protesters threatened and attacked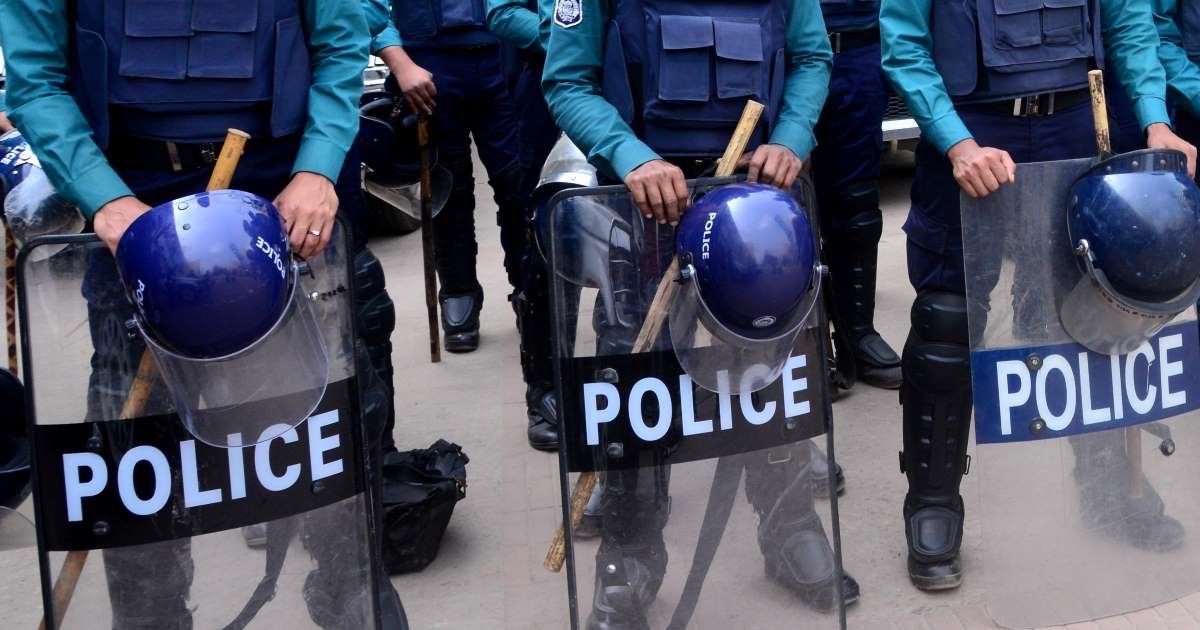 As Bangladeshis grapple with the impact of COVID-19, the ruling Awami League has used the pandemic to tighten the screws on critics and the free press, further entrenching authoritarian rule.
In a joint statement on International Human Rights Day in December 2020, seven civil society groups called on the international community to take a strong stand for the protection of human rights in Bangladesh. The groups stated that the government has consistently targeted dissidents with the Digital Security Act 2018, the Special Powers Act 1974, and other draconian laws. Security forces commit enforced disappearances, extrajudicial killings and torture with impunity.
The groups expressed support for a Bipartisan letter from the United States calling for sanctions on senior commanders of Bangladesh's Rapid Action Battalion (RAB), a counter-terror paramilitary force notorious for committing grave abuses. They also stated that Bangladesh completely disregarded guidance from the UN, civil society and donors. The government hastily relocated Rohingya refugees to the remote island of Bhasan Char without a long-promised, expert technical and protection assessment of conditions on the island.
In another report in January 2020, Human Rights Watch said that the government had stepped up an authoritarian crackdown on free speech, arresting critics and censoring media. Arrests under the abusive Digital Security Act (DSA) increased dramatically. Impunity for abuses by security forces, including enforced disappearances and extrajudicial killings, remained pervasive.
Human rights groups Odhikar published their annual report on 25th January 2021 highlighting a range of human rights violations by the state in 2020. They highlighted the authoritarian nature of the regime which has weakened state institutions and severely curtailed freedom of speech with the use of the Digital Security Act including the media. Law enforcement official continued to commit abuses with impunity and the crackdown on opposition leaders and activists persisted.
In recent months, the government has used the repressive Digital Security Act (DSA) against artists, including film director Anonno Mamun and folk singer Rita Dewan, while writer Mushtaq Ahmed and cartoonist Ahmed Kabir Kishore remain in detention. A Daily Sangram reporter was also arrested under this law while photojournalist Shafiqul Islam Kajol was finally released on bail following his disappearance in March and detention in May 2020 under the DSA. There have been acts of harassment against relatives of a human rights defender in exile while anti-rape protesters have been threatened, smeared and attacked. Police also attempt to disrupt medical student protests and prevent opposition gatherings.
Expression
Film director and actor charged
.#Filmdirector #AnonnoMamun and actor #ShaheenMridha have been charged in #Bangladesh with "making a film with pornographic content" concerning the film #NababLLB.

Read more here https://t.co/5mELAmqWHX#freedomofartisticexpressionhttps://t.co/DGnPFPTC2r

— Freemuse (@Freemuse98) January 7, 2021
A Bangladeshi film director was arrested and charged after a scene depicting police harshly interrogating a rape victim and highlighting attitudes towards violence against women sparked the ire of the force.
In December 2020, a Dhaka-based film director Anonno Mamun released the trailer of his latest movie, "Nabab LLB". Actor Shaheen Mridha played the character of an investigating police officer who was grilling the female rape victim seeking legal remedies. However, following the release of the trailer, on 25th December 2020 the Dhaka Metropolitan Police Cyber Crime Unit filed a case against both artists and arrested them under the Pornography Control Act 2012 alleging that the scene contains "very offensive gestures and obscene language" which would create "negative perceptions about policing among the public". The High Court granted the artists bail on 11th January 2021 and they have been released pending trial.
Folk singer charged under the Digital Security Act
In December 2020, a Dhaka court issued an arrest warrant against Rita Dewan, a female folk singer, and her two daughters, in a case filed in February 2020 under the Digital Security Act (DSA) 2018. Rita and her daughters were accused of "hurting religious sentiments", a vaguely defined crime under Section 28(1) of the Digital Security Act, which can carry a penalty of up to ten years' imprisonment. Rita was accused of doing this while performing at a local folk music festival in Tangail district where two folk singers engage in a musical battle. On 13th January, Dewan was granted interim bail until 27th January.
UN experts call for release of cartoonist
Independent human rights experts call on #Bangladesh to immediately release cartoonist Ahmed Kabir Kishore due to his deteriorating health condition. "Criticism of government policy is permitted under the rights to freedom of expression & cultural rights." https://t.co/j5dlV2O0Ud pic.twitter.com/02eQI0lFLW

— UN Geneva (@UNGeneva) December 16, 2020
In December 2020, UN experts called for the release of ailing Bangladeshi cartoonist Ahmed Kabir Kishore who has been detained for allegedly spreading fake news about the country's response to COVID-19.
In their appeal, the three UN Special Rapporteurs said that Ahmed Kabir Kishore – who needs insulin to treat diabetes - should be released immediately as his health is deteriorating.
"Criticism of government policy, including through political satire and cartoons, is permitted under the rights to freedom of expression and cultural rights, and should not be criminalised," the three Special Rapporteurs said in a statement.
An international award-winning cartoonist, Kishore is famous for his satirical caricatures critical of government officials and their policies. Kishore was arrested in May 2020 after his cartoons were posted online in March and April. He was charged under the 2018 Digital Security Act for spreading false news and misinformation on the country's COVID-19 response. In court hearings held virtually, Kishore's bail applications have been denied five time and no trial date has been set.
In addition to requesting the immediate release of Kishore, the experts called on the authorities to drop the criminal charges against him, as per Bangladesh's international human rights law obligations.
Writer remains in detention
On 21st January 2020, Amnesty International raised concerns about the arbitrary detention and other forms of harassment of artists who are facing increasing attacks on their right to freedom of expression in Bangladesh. Among those highlighted by the organisation include writer Mushtaq Ahmed. Author of the book Kumir Chasher Diary, Ahmed runs a Facebook page "Michael Kumir Tagore" that posts comments on social and political issues. Prior to his arrest he had published an article criticising the shortage of personal protective equipment for doctors.
As previously documented, he and cartoonist Ahmed Kabir Kishore were disappeared for hours after they were picked up by the Rapid Action Battalion (RAB) from different locations in Dhaka on 5th May 2020. Following a social media outcry, the RAB officially handed them over to the Metropolitan police and a case under the Digital Security Act was filed against them.
Daily Sangram reporter arrested under the Digital Security Act
Daily Sangram Chief Reporter Ruhul Amin Gazi, also president of a faction of Bangladesh Federal Union of Journalists (BFUJ), was arrested this evening after a warrant was issued against him in a DigitalSecurity Act today. No freedom speech in Bangladesh. pic.twitter.com/PlvVdVcXba

— Md. Wali Ullah (@Sumon713) October 22, 2020
On 21st October 2020, police officers Dhaka, the capital, arrested Ruhul Amin Gazi, a reporter with the Daily Sangram newspaper. He is the president of a faction of the Bangladesh Federal Union of Journalists (BFUJ).
According to the Committee to Protect Journalists, the arrest came after Metropolitan Magistrate Debdash Chandra Adhikary rejected the journalist's bail petition in an ongoing criminal investigation. Gazi and Daily Sangram editor Abul Asad have been under investigation for sedition under the Digital Security Act, since a complaint was filed in December 2019 over an article calling Abdul Quader Molla, an opposition figure executed in 2013 for war crimes, a "martyr". Abdul Asad was arrested in December 2019. On 7th December 2020, Abul Asad was released from detention following a bail order from the Appellate Division of the Supreme Court in a case filed under the Digital Security Act.
Photojournalist released on bail
On 25th December 2020, photojournalist Shafiqul Islam Kajol was released on bail from Dhaka Central Jail in Keraniganj. According to reports, on 17th December the High Court granted bail in two cases filed under the Digital Security Act (DSA), Therefore, he had secured bail in all three DSA cases filed against him. Two days earlier, the courts expressed grave concern as neither the investigating officer (IO) nor the Cyber Tribunal explained the delay in concluding the probe of the last two DSA cases.
As previously documented, Shafiqul Islam Kajol, editor of fortnightly magazine 'Pakkhakal', disappeared for 53 days before reappearing in May 2020 charged under the Digital Security Act. He went missing on 10th March 2020, one day after a criminal defamation suit under the Digital Security Act was filed against him. Human rights groups believe he was subjected to a suspected enforced disappearance.
Shafiqul reappeared on 3rd May 2020 at the Benapole Port police station in Jashore district, a town close to the Indian border. The police claimed that Kajol had 'trespassed' from India to Bangladesh through a paddy field.
He faces at least three cases under the repressive 2018 Digital Security Act (DSA) for allegedly publishing "false, offensive, illegally obtained and defamatory" content on Facebook that "could deteriorate law and order". The police have also registered a fourth case against Shafiqul Islam Kajol under the Bangladesh Passport Order 1973, accusing him of "trespassing" into his own country on 3rd May 2020.
In May 2020, UN experts expressed alarm at the ongoing persecution of Shafiqul Islam Kajol. They said: "[T]he targeting of investigative journalists like Shafiqul Islam Kajol raises serious questions about Bangladesh's commitment to a free and independent media. Such persecution has devastating consequences for the journalists and their families – and also for society as a whole."
Association
Acts of harassment against relatives of human rights defender in exile
#Bangladesh:

📣We call on authorities to stop the harassment of the family of human rights defender Dr. Pinaki Bhattacharya & to put an end to the ongoing threats against those who speak out against human rights violations in the country.

👉https://t.co/O6iT0lWqPf pic.twitter.com/ZiHrf8iol5

— The Observatory (@OBS_defenders) October 28, 2020
In October 2020, The Observatory for the Protection of Human Rights Defenders reported the harassment against relatives of Pinaki Bhattacharya, a blogger and human rights defender in exile who regularly denounces on social media human rights violations perpetrated by Bangladeshi authorities, including extrajudicial killings and enforced disappearances.
According to OMCT, on 22nd October 2020, a police officer from the Detective Branch of the Bangladesh police and an officer from the local police station in Bogura, Bogura District, visited the residence of Bhattacharya's parents in the city of Bogura and questioned his mother and his uncle. The two police officers inquired about the activities carried out by Bhattacharya in his country of exile and his source of income and assets in Bangladesh. The police also took down the contact details of Bhattacharya's relatives.
On the same day, members of the Dhaka Metropolitan Police from the Mirpur Model police station visited the residence of Bhattacharya's spouse in Dhaka to question her. As his wife was not at home, one police officer called her on her mobile phone in order to question her about her workplace and the means she uses to communicate with Bhattacharya. She was asked to provide information about Bhattacharya, in particular about his assets in Bangladesh. However, the call dropped due to poor connectivity and the questioning was interrupted.
Peaceful Assembly
Anti-rape protesters threatened, smeared and attacked
Huge Anti-rape protests flaring in #Bangladesh pic.twitter.com/jTpAuVxAHe

— Akash Rai (@akashrai_3575) October 11, 2020
In October 2020, there were threats and attacks against protesters involved in mass demonstrations against rape and sexual harassment in Bangladesh.
The protests were sparked by a spate of rape and torture incidents against women across the country. The protesters staged demonstrations by holding rallies, forming human chains, bringing out processions and chanting slogans to press home their demands, including the resignation of the home minister for his failure to ensure the safety of women and holding the perpetrators to account. They carried banners and handwritten posters and demanded severe punishment for rapists.
Protesters in many places chanted slogans against the ruling Awami League and its front organisations, accusing them of protecting the perpetrators. One of the protests was in response to a gang rape on Sylhet MC College premises allegedly by leaders and activists of Awami League's student organisation Bangladesh Chhatra League (BCL) on 25th September 2020.
On 9th October 2020, it was reported that at least five protesters were injured in Moulvibazar as a group of BCL activists allegedly attacked a peaceful demonstration of general students in front of the Moulvibazar Press Club at about 12:15pm. Ayesha Aktar Naomi, one of the protesters, alleged that they began the protest at about 11:00am and the BCL activists swooped on them suddenly, injuring at least five of them. In Kishoreganj on the same day, a group of BCL activists also allegedly halted the protest by students of Chattogram. On 10th October, protestors at the Shahbagh intersection in Dhaka accused Chhatra League leaders of threatening them.
On 17th October, activists from Chhatra League and Jubo League allegedly attacked protesters in Feni during a long march from Dhaka to Noakhali by anti-rape protesters. At least 15 people were injured and six vehicles vandalised during the attack. Three journalists were also injured in the attack. The police also attempted to smear the protesters saying that "vested groups were trying to manipulate the anti-rape movement to further their ill-interests".
According to Ain o Salish Kendra, a Bangladeshi human rights organisation, 907 women or girls were raped in just the first nine months of 2020. Over 200 of these cases were gang rapes. Since these numbers are based on media reports and most survivors do not report assault, they most likely capture only a small fraction of the true number of cases of sexual violence against women and girls in Bangladesh.
According to Human Rights Watch, the government has yet to pass long-promised sexual harassment and witness protection laws. Survivors continue to face stigma, and do not have adequate access to psychosocial services when they seek help. The attackers are rarely held to account. The conviction rate for rape in Bangladesh is below one percent.
Instead of addressing the core issues raised by groups such as the Rape Law Reform Coalition, the Sheikh Hasina government introduced new measures to use the death penalty as punishment for rape.
Police attempt to disrupt medical student protests
On 8th November 2020, police attempted to disrupt protests by students from public and private medical colleges. The students had set up a blockade at the Shahbagh traffic intersection in Dhaka city demanding that the authorities start their courses that had been halted by the pandemic and around tuition fees that were being collected when no classes or exams had taken place.
The protesting students claimed some the students had been injured as police charged at them with batons to disperse them. The police also attempted to halt the march by putting up barricades in front of Shahbagh Police Station. But the students ignored the barriers and moved towards the Shahbagh intersection and started chanting slogans.
Attempts to prevent opposition protests
According to the Asia Human Rights Commission (AHRC), the government has continued to deny permission for some opposition political parties to hold rallies and meetings, in particular the Bangladesh Nationalist Party (BNP) in recent months. This includes requests for a rally for International Human Rights Day on 10th December 2020 in front of the National Press Club; on 30th December 2020 to protest against the 2018 general election; and on 5th January 2021 to mark the seventh anniversary of the general election in 2014, both of which they claimed were rigged. Despite this, some smaller events by BNP volunteers continued.