Arrests, jailing of activists and silencing of dissent in Hong Kong persists despite UN review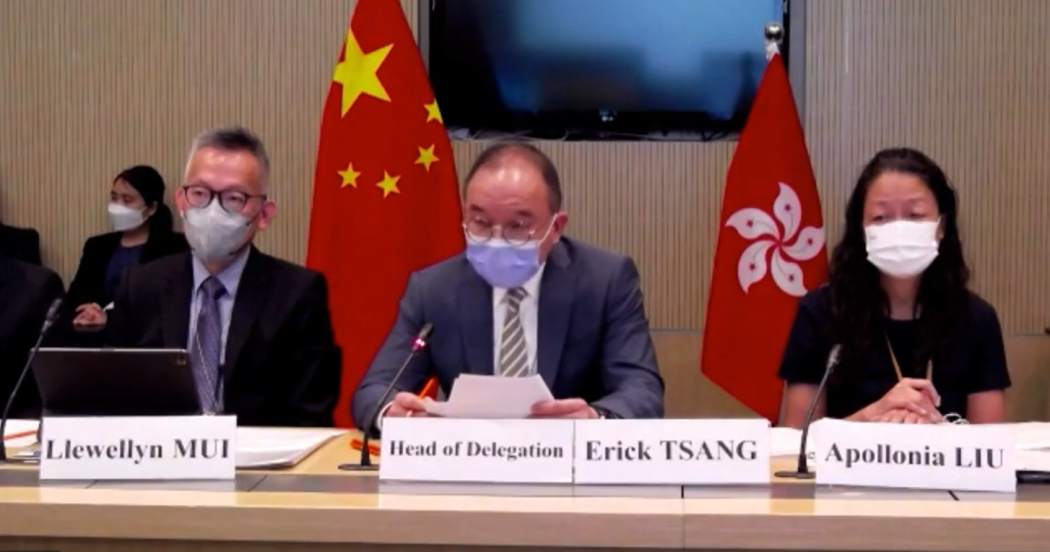 Hong Kong's civic space rating is 'repressed', according to the CIVICUS Monitor. There has been an alarming deterioration in respect for fundamental freedoms in recent years, with restrictive laws, including a draconian National Security Law, implemented to criminalise pro-democracy activists, journalists, and critical voices.
On 1st July 2022, John Lee Ka-chiu was sworn in as Hong Kong's chief executive, in what was widely seen as a move by the Chinese government to tighten its grip on the city. As Hong Kong's security chief from 2017 to 2021, he oversaw the crackdown on the 2019 mass protests and the implementation of the city's repressive national security law. He replaced Carrie Lam in the city's chief executive election in May - in which he was the sole candidate. The 64-year-old was chosen by an election committee staffed mostly with Beijing loyalists who voted in the rubber-stamped election.
From 7th to 12th July 2022, Hong Kong's record on civil and political rights was reviewed by the UN Human Rights Committee. Ahead of the review, civil society groups, including CIVICUS, contributed submissions to the Committee with concerns related to the restrictions on fundamental freedoms in the special administrative region.
During the review, UN experts raised questions on human rights violations, including the arrest and jailing of activists under the National Security law and for sedition; the crackdown on media and civil society; the failure to ensure accountability for police abuses during protests in 2019; and restrictions on academic freedom, among other issues.
Since March 2022, the authorities have continued to target activists under the national security law, including trustees of a fund that assisted protesters. National security trials began for 47 pro-democracy activists, while the judicial persecution of human rights lawyer Chow Hang Tung continued. The authorities arrested six activists for sedition as well as a veteran journalist. An activist was jailed for 40 months for sedition. An investigative news platform and hospital union were disbanded due to pressure from the authorities, while a pro-democracy group was forced to delete its posts online. Around the anniversary of the Tiananmen Square massacre, police banned all gatherings, patrolled parks, and arrested six people. Two veteran activists were convicted for protesting.
Association
Five trustees of a fund for protesters arrested
The 612 Humanitarian Relief Fund provided support for the injured and arrested in the #HongKong protests.

The arrest of Dr. Po-Keung Hui at the airport, before arresting the remaining fund trustees afterwards on NSL charges, proves that there's a list of people who cannot leave. pic.twitter.com/4yfXusyvf3

— Fight For Freedom. Stand With Hong Kong. 重光團隊 (@Stand_with_HK) May 11, 2022
On 11 to 12th May 2022, police arrested five individuals under Article 29 of Hong Kong's draconian National Security Law for the overbroad and vague crime of "colluding with foreign forces," which carries a maximum sentence of life in prison.
The five are a former legislator, Cyd Ho; a singer-activist, Denise Ho; an academic, Hui Po-Keung; a senior barrister, Margaret Ng; and 90-year-old retired Roman Catholic bishop, Cardinal Joseph Zen. None have been charged and all have been released on bail, except Cyd Ho who was already in jail. All are barred from leaving Hong Kong.
According to Human Rights Watch, all five were trustees of the 612 Humanitarian Relief Fund, which provided medical, legal, and psychological aid for protesters arrested during the 2019 pro-democracy protests in Hong Kong. In 2021, Hong Kong police opened an investigation into the fund for alleged violations of the National Security Law, demanding information on the fund's donors. The fund was forced to disband in October 2021.
As of mid-2022, almost 200 people had been arrested under the National Security Law for allegedly endangering national security.Most of those arrested for national security offences are not granted bail, with around 23 percent having access to bail. For those who do not, however, conditions for national security-related offences are much stricter than for regular cases. Defendants are banned from conducting media interviews, posting on social media, and running in elections.
Activist Benny Tai jailed over voting scheme
A court in Hong Kong jailed democracy activist and former law professor Benny Tai on 24th May 2022 for 10 months on charges of "illegally" promoting a strategic voting scheme for the 2016 Legislative Council (LegCo) elections.
Tai, 57, was sentenced after pleading guilty to illegally incurring HK$253,000 (USD 32,229) in election-related expenses by placing six newspaper ads which aimed to win a majority for pro-democracy parties in LegCo. District Court Judge Anthony Kwok said the sentence had been reduced by five months, due to the guilty plea, and by two months because of delays in prosecuting the case.
Responding to the sentence, human rights NGO Amnesty International stated: "The jail term handed today to fired Hong Kong scholar Benny Tai is another politically motivated attack based on his pro-democracy activism. Hong Kong authorities and universities must stop silencing academics critical of the government".
Tai was a leader of the Umbrella Movement in 2014 and is also among 47 pro-democracy figures charged with conspiracy to commit subversion in connection with an unofficial legislative primary election held in July 2020. He has been in custody awaiting trial since March 2021
National security trial begins for 47 pro-democracy activists
Hong Kong's largest national security law case started on 8th June 2022, with 47 pro-democracy activists and lawmakers standing trial. The defendants are charged with "conspiracy to subversion" under the city's national security law, which carries a maximum sentence of life in prison. The 47 include democratically elected lawmakers, councilors, academics and pro-democracy advocates.
In February 2021, the 47 activists surrendered to authorities and were charged under the sweeping security law for organising an unofficial primary election in 2020. Authorities accused them of intending to abuse their powers as lawmakers, had they had been elected and achieved a majority in Hong Kong's legislature. They also said those accused would have subverted government operations and forced Hong Kong's chief executive to resign.
According to reports, since the activists were charged, court proceedings have been lengthy. Only 13 of the defendants have been granted bail, while the remaining have been in pretrial detention, waiting for court proceedings to reach trial. The case was first brought to court in March 2021, and the hearing lasted four days. Over the past 15 months, there have been few updates because most of the pretrial hearings have been restricted in terms of reporting on the proceedings.
Michael Mo, a former Hong Kong district councilor who is currently in Great Britain, criticised the delay in the trial proceedings. He said: "The prolonged pretrial proceedings served as de facto sentences to these pro-democracy campaigners and displayed the mockery of the prosecution procedure, which claimed itself to be fair and efficient".
On 8th July 2022, it was reported that prosecutors had been granted another months-long delay in the trial of the 47. A court was originally expected to hear an application to transfer the case to a higher court with powers to order longer jail sentences, but prosecutors instead requested an 11-week adjournment, stating that they needed more time to prepare.
Continued judicial persecution of human rights lawyer Chow Hang Tung
Chow Hang-tung facing national security trial makes new bid to lift reporting restrictions

Senior counsel Philip Dykes, representing Chow, argued that the magistrate "completely overlooked" the principle of open justice in rejecting her applicationhttps://t.co/x1dafpBFcg

— CHRD人权捍卫者 (@CHRDnet) July 12, 2022
Human rights lawyer Chow Hang Tung, the former vice-chairperson of the Hong Kong Alliance in Support of Patriotic Democratic Movements of China (HKA), is facing two ongoing charges related to her activism.
Chow was charged in September 2021 with "not complying with the requirement to provide information" under Article 43 of Hong Kong's National Security Law, after the police accused the HKA of being backed by "foreign agents" and demanded that it provide information for the police investigation.
On 29th June 2022, it was reported that the lawyer had been denied access to some details of the prosecution's case against her, two weeks ahead of the national security case going to trial. She has since asked the courts to determine if three former members of the defunct group which commemorated the 1989 Tiananmen Square crackdown can challenge the legality of the national security data probe.
Chow is also facing another charge of "inciting subversion of state power", together with Lee Cheuk-yan and Albert Ho, the chair and vice-chair of the HKA. The indictment states that they are suspected of inciting others to subvert the Chinese regime in Hong Kong between 1st July 2020 and 8th September 2021.
On 12th July 2022, she appealed against a magistrate's decision to reject her application to lift reporting restrictions. Senior counsel Philip Dykes, representing Chow, argued that the magistrate "completely overlooked" the principle of open justice, and his decision was "misguided and wrong in law." The judge said he needed some time to reach a decision and would announce it on or before 1st September, a day before Chow's next scheduled court appearance.
Chow was convicted previously in December 2021 and sentenced to 12 months in prison for participating in an unauthorised assembly and inciting others to do the same around the Tiananmen Square vigil in June 2020. In January 2022, she was sentenced to an additional 15 months in jail, with five to be served concurrently, for inciting others to participate in the 2021 Tiananmen vigil, when she published two articles calling on Hong Kong residents to commemorate the day by lighting candles.
In October 2021, four UN experts, namely the UN Special Rapporteurs on Human Rights and Counter-terrorism, the Rights to Freedom of Peaceful Assembly and of Association, the Rights to Freedom of Expression, and on Human Rights Defenders raised concerns over the arrest of Chow Hang Tung and highlighted the urgent need for the Hong Kong government to review the draconian National Security Law.
Expression
Authorities arrest six activists for sedition for clapping in court
On 6th April 2022, Hong Kong police arrested six activists for suspected sedition in connection with what the police called "causing a nuisance" for clapping at court hearings. The six were accused of "affecting jurisdictional dignity and court operations" at the High Court, the West Kowloon Magistrates' Courts, and the Eastern Magistrates' Courts between December 2021 and January 2022.
Media reported that those arrested included Leo Tang, a former vice-chairman of the now disbanded Confederation of Trade Unions (HKCTU) and citizen journalist Siew Yun-long. Police raided their homes and seized "records of conspiracy to cause nuisance in the courts" as evidence.
In response to the arrests, Amnesty International's Asia-Pacific Regional Director Erwin van der Borght said: "These ludicrous 'sedition' charges against six Hongkongers – apparently because they clapped during court hearings – mark yet another new low for human rights in the city. The Hong Kong police must stop abusing overly broad sedition charges to silence peaceful expression. There is no context in which the act of clapping should be considered a crime".
While sedition offences have remained in the Crimes Ordinance, the post-1997 Hong Kong administration refrained from pursuing such charges as the Basic Law assured the protection of basic human rights in compliance with international human rights conventions. Nevertheless, there has been a shift in the government's use of the law after the enactment of the new national security law in June 2020.
Journalist arrested for alleged sedition 
Veteran Hong Kong journalist Allan Au arrested by national security police | Hong Kong Free Press

Award winning journalist arrested for allegedly conspiring to publish 'seditious' materials in a further crackdown on press freedoms in Hong Kong. https://t.co/Kz7OdZNETv

— Inter-Parliamentary Alliance on China (@ipacglobal) April 11, 2022
On 11th April 2022, Hong Kong authorities arrested a veteran journalist on charges of sedition. Local media reported that Allan Au, age 54, had been arrested at 6am for "conspiracy to publish seditious material" in his contributions to Stand News, a shuttered pro-democracy news outlet.
Stand News was one of several pro-democracy news outlets forced to shut down in 2021 after police raided its offices and arrested senior staff on sedition charges. Other outlets include Apple Daily, whose top executives were arrested under new national security legislation, and Citizen News, which shut down citing safety concerns. Prior to his arrest, Au was employed as a consultant at the Chinese University of Hong Kong's School of Journalism and Communication.
Activist jailed for 40 months in sedition trial
I've known Tam Tak-chi (aka Fast Beat) for many years. He's outspoken and v funny. It's hard to compute how speaking at street stalls has landed him w 14 crimes; he's been held under solitary confinement for >9 months. This is police state: 3/6 pic.twitter.com/BWEgG7CRnf

— Maya Wang 王松莲 (@wang_maya) June 25, 2021
On 20th April 2022, a pro-democracy activist and DJ was sentenced to 40 months in jail and fined HK$5,000 (USD 670) after being found guilty on 11 counts of the 14 charges against him.
As previously documented, Tam Tak-chi was put on on trial on 29th July 2021 for multiple sedition charges based on slogans he either uttered or wrote between January and July 2020. At the opening of his trial, prosecutors read out those slogans, as well as some pro-democracy speeches Tam gave. The slogans included 'Liberate Hong Kong, revolution of our times', 'Corrupt cops, all of your family go to hell', 'Disband Hong Kong police, delay no more' and 'Down with the Communist Party of China'.Tam is the first to be tried for sedition in Hong Kong since its 1997 return to China
Maya Wang, senior China researcher at Human Rights Watch, told Al Jazeera, "Tam's harsh sentence exemplifies the dizzying speed at which Hong Kong's freedoms are being eroded. Once known as Asia's protest capital, Hong Kong is now sentencing people to years in prison simply for shouting slogans".
Investigative news platform Factwire disbands
On 4th June 2022, the investigative news platform Factwire announced it was disbanding effective immediately. In a Facebook post, the independent news platform said it had adhered to the "highest standards of journalistic integrity" during its operations: "In recent years, the media has contended with great change. Despite having wrestled many times with the difficult decision as to whether to continue our journalistic work, we had always come to the same affirmative conclusion: to stand fast to our core values and beliefs, and to always report the facts".
Founded in 2015, FactWire was a crowdfunded, bilingual news outlet that conducted deep dives into local affairs, often breaking stories later picked up by media and prompting responses from the government. It has also broken stories about safety concerns at a mainland Chinese nuclear power plant and the persecution of late Nobel prize winner Liu Xiaobo, according to its website.
Their work received a number of awards. Its reporting on the clashes between police and protesters at Prince Edward MTR station on 31st August 2019, during the anti-extradition unrest that summer, won accolades from the Human Rights Press Awards and the Society of Publishers in Asia (SOPA) in 2020. Its report on fake news during the 2019 protests was also a finalist for the SOPA's public service journalism category in the following year.
Press freedom has been under assault in Hong Kong in recent years. FactWire is the fourthmajor independent news platform to disband in under a year after Apple Daily, Stand News, and Citizen News shuttered under pressure. Media outlets have been targeted with raids and forced to closed and journalists have faced criminal charges.
Hospital staff union votes to disband citing 'pressure from all sides'
On 27th June 2022, a hospital staff union founded in the wake of the 2019 unrest voted to disband, citing "pressure from all sides". The Hospital Authority Employees Alliance (HAEA) announced that its members passed a decision to dissolve the group during an Extraordinary General Meeting.
The union, which began operating in December 2019, became known when it led thousands of medical workers to stage a five-day strike in February 2020, when Hong Kong was first hit by COVID-19. The medics had gathered at the Hospital Authority head office to put pressure on the government to react and shut its borders with mainland China to help curb the spread of the virus.
It had also called on the public to "boycott" the government-developed COVID-19 tracing app "Leave Home Safe" over personal data privacy concerns. The authorities responded by "expressing anger" over what it called the spreading of "false information".
The union said it had faced "political oppression" and pointed to its former chairperson Winnie Yu, who is among 47 pro-democracy figures facing up to life in prison over an alleged conspiracy to commit subversion under the Beijing-imposed security law. The nurse and activist is currently behind bars pending trial or sentencing at the High Court.Her bail granted in July 2021 was revoked in 2022 when a magistrate ruled that she had breached her bail conditions.
At least 60 civil organisations, including unions, newspapers, political parties and humanitarian aid funds, have disbanded since the security law came into force.
Group forced to delete online posts for violating security law
On 18th July 2022 it was reported that the pro-democracy group League of Social Democrats (LSD) was "forced to delete" online posts that were allegedly violating the Beijing-imposed national security law. Chan Po-ying, chairperson of the LSD, said in a statement published on the group's Facebook page that she could not elaborate on the situation.
LSD's statement came weeks after the homes of some members of the pro-democracy group, including Chan, Avery Ng, Raphael Wong, were searched ahead of the 25th anniversary of Hong Kong's returnto China. Some LSD volunteers were also summoned for meetings by the national security police ahead of 1st July. Several LSD members had also been prosecuted and imprisoned over protest-related charges.
Peaceful Assembly
Police patrol parks to enforce Tiananmen vigil ban
On 4th June 2022, police patrolled Hong Kong's Victoria Park after authorities for a third consecutive year banned public commemoration of the anniversary of the deadly Tiananmen Square crackdown in 1989.
For decades Hong Kong and nearby Macao were the only places in China allowed to commemorate the violent suppression of student protesters who were demanding democracy in Beijing's Tiananmen Square on 4th June 1989. Hundreds, if not thousands, of unarmed peaceful pro-democracy protesters were killed in Beijing and tens of thousands of demonstrators in cities across China were arrested.
The ban is seen as part of a systematic move to crush political dissent, as Beijing tightens its grip over the semi-autonomous Chinese city. The vigil organisers, Hong Kong Alliance in Support of Patriotic Democratic Movements of China, disbanded in 2021 after many of its leaders were arrested on suspicion of violating the national security law.
The authorities have cited risks from the coronavirus to justify banning the public commemoration over the past three years. Critics say the pandemic is used as an excuse to limit the right to peacefully assemble.
On 5th June 2022, the BBC reported that six people had been arrested. Hong Kong police confirmed five men and one woman had been arrested in the vicinity of Victoria Park. Among those arrested was activist Lau Shan-ching who was wearing a mask with a 4th June slogan and a shirt with a mugshot of mainland activist Li Wangyang.
Veteran activist jailed for plan to protest Beijing Olympics
✊🏽🚨The Hong Kong government must stop using colonial-era 'sedition' laws as a tool to crack down on freedom of expression. Free Koo Sze-Yiu ! pic.twitter.com/360cKGIEy9

— AmnestyCanada (@AmnestyNow) July 14, 2022
A court on 13th July 2022 sentenced a veteran activist to nine months in jail under a colonial-era sedition law for planning to protest against the Beijing Winter Olympics earlier this year.
Koo Sze-yiu, 75, had planned to carry a homemade wooden coffin to China's Liaison Office in the city on the opening day of the Olympics on 4th February, but national security police raided his apartment and arrested him that day before any protest could take place. Koo had denied a charge of "attempting or preparing to commit an act or acts with seditious intention".
Prior to his sentence, Koo had been held in custody for more than five months after being denied bail on national security grounds.
Hong Kong activist 'Grandma Wong' jailed over pro-democracy protests
After sentencing terminally ill 75yo Koo Sze-Yiu to jail, veteran activist Alexandra #GrandmaWong is handed a 8mo sentence as HKgov is apparently afraid of the Union Jack flag.

This is blatant political persecution-we urge foreign diplomats and journalists to speak up.
CR: HKFP pic.twitter.com/5LeBwSOIcC

— Hong Kong Liberty 攬炒團隊 (@HKLiberty_Team) July 14, 2022
On 14th July 2022, the authorities jailed a 66-year-old activist known affectionately as Grandma Wong in relation to the pro-democracy protests in 2019. A city magistrate jailed Alexandra Wong for eight months over two counts of unlawful assembly during a protest on 11th August 2019. Wong was a familiar presence at the protests and was widely recognised for flying the British Union Jack flag.
Principal magistrate Ada Yim found Wong guilty of participating in two illegal assemblies and cited her use of flags and slogans to encourage others to do the same. The bespectacled and grey-haired Wong criticised Hong Kong's government as an "authoritarian regime".
She also reiterated an earlier claim that she had been interrogated and detained by security agents in the Chinese mainland for 45 days and prevented from returning to Hong Kong for nearly 14 months. She said she was forced to give written and filmed confessions.