Arrests and attacks on activists persist in Myanmar as civil society slams Hun Sen's rogue diplomacy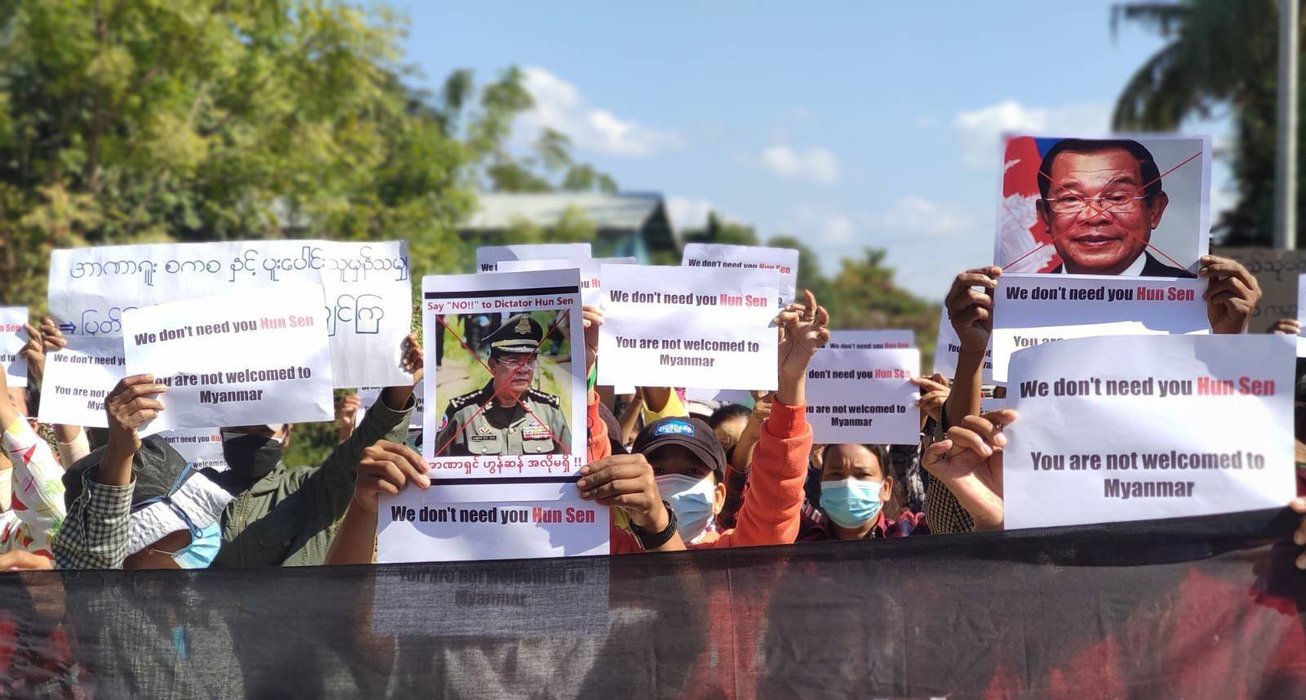 Eleven months on from the coup on 1st February 2021, serious civic space violations by the military junta continued to be documented in the country, which is rated 'repressed' by the CIVICUS Monitor.
On 6th December 2021, civil society groups welcomed the decision of the UN General Assembly to adopt the recommendations made by the Credentials Committee of the UN to defer the decision on who will represent Myanmar at the UN. They called on all UN agencies, funds and programmes to cease all forms of cooperation that lend the junta any legitimacy.
Facebook on 8th December said it would ban companies linked to Myanmar's military from operating on its platform, just hours after lawyers filed a class action lawsuit against the company on behalf of Rohingya refugees. The page of telecoms operator Mytel, part owned by the military, was among those removed. The social media giant said that the move expands an existing ban on military pages.
On 10th December, the UN rights office, OHCHR said that it was "appalled by the alarming escalation of grave human rights abuses" in the country. The body said that "serious violations were reported daily of the rights to life, liberty and security of person, the prohibition against torture, the right to a fair trial, and freedom of expression."
In December 2021, A nine-member UN credentials committee, which includes Russia, China and the United States, last week agreed to defer a decision on recognition of the Myanmar ambassador to the world body and would leave the current ambassador - Kyaw Moe Tun - appointed by the elected NLD government in his seat. The junta had put forward military veteran Aung Thurein to be its envoy. The UN General Assembly approved the decision without a vote.
Governments continued to impose targeted sanctions on the junta. On 10th December, the United Kingdom announced new sanctions against the Myanmar military for their role in serious human rights violations against civilians, in coordination with Canada and the US. This includes sanctions against the army's Office of the Quartermaster General, the army's Directorate of Defence Industries and the Myanmar War Veterans Organisation by Canada, the UK and USA; and the army's Directorate of Procurement by Canada and the UK.
In early January 2022, civil society groups slammed as "rogue diplomacy" the visit of Cambodian Prime Minister Hun Sen, on behalf of the Association of Southeast Asian Nations (ASEAN), to Myanmar to meet with the junta representative, General Min Aung Hlaing. They called on ASEAN to refrain from further actions that would legitimise the junta and effectively implement the ASEAN Five-Point Consensus in alignment with the call made by the international community.
In recent months, activists have continued to be arrested, charged or convicted by the junta while some have been killed, including two Save the Children staff members. Political prisoners have also been tortured or ill-treated. The junta is also blocking aid and imposing restrictions on humanitarian workers. Journalists have been criminalised, attacked or killed, while attacks on protests continue.
Association
There continues to be reports of activists facing arbitrary arrest, criminalisation, torture and ill-treatment and killings at the hands of the military junta. According to the Assistance Association for Political Prisoners (Burma), as of 12th January 2022,1,463 people have been confirmed killed by the junta, a total of 8,566 people are currently under detention and 601 people have been sentenced following the February 2021 coup.
Activists arrested, charged or convicted
1/2 This morning, DUSU announced that another three of the Union's members were arrested from their residences. "We just confirmed the arrests and their names. Htoo Myat Lwin, Sai Ko Ko Htun, and Ma Pyae Pyae Htu were grabbed from their home by the junta. pic.twitter.com/iVOZv0hETh

— HURFOM (@HURFOM) November 30, 2021
The junta arrested a prominent protest leader - Htoo Myat Lwin, an organiser with the Coalition Strike Committee - in the southeastern coastal town of Dawei on 30th November 2021 along with three members of the family living in the house where he was hiding. Htoo Myat Lwin is a student at Dawei University.
Military Terrorists forcibly abducted Freelance Reporter Zaw Lin Htut and Students' Union member Su Yee Lin together on Dec 19. It has been more than 2 weeks already but their locations are still unknown and families have lost contact with them too.#WhatsHappeningInMyanmar pic.twitter.com/PfSotZsnSj

— Nan Lin (@NanLin96) January 3, 2022
Two student activists were arrested in Yangon on 20th December 2021 while they were on their way to a protest in Thingangyun Township. The two were identified as Zaw Lin Htut, a former member of the University Students' Union Alumni Force (USUAF), and Su Yee Lin, the chair of the Eastern Yangon University Students' Union. Zaw Lin Htut is also a freelance reporter and a member of Peacock Generation (Daung Doh Myo Sat), a group that performs thangyat, a traditional form of political satire popular in Myanmar.
On 24th December 2021, a 22-year-old member of the central executive committee of the Yangon University Students' Union was sentenced to three years in prison with hard labour. Aung Phone Maw was charged with incitement for allegedly violating Section 505a Of the Penal Code and given the maximum sentence by a Hlaing Tharyar township judge at a court hearing inside Yangon's Insein Prison. He was arrested during a demonstration organised by the General Strike Committee in Kyauk Myaung ward in Tamwe Township in March 2021.
NLD leaders, student activists receive prison sentences in year-end blitz - Myanmar NOW https://t.co/rWZvYlnDKn via @AddThis

— J Campbell (@uisgeseirm) January 1, 2022
At the end of December 2021, 31 opponents of the junta received lengthy prison sentences in Dawei in the Tanintharyi Region, ranging from two years to nineteen years. Fourteen of the convicted individuals were student activists who had been charged with incitement under Section 505a of the Penal Code. Four of the fourteen students - all of whom were given two-year sentences for their political activities - were women, the list showed. The remaining individuals were given sentences of at least seven years in prison, based on offences that included incitement and violations of Section 19f of the Weapons and Explosives Law, Section 51 of the Anti-Terrorism Law, and Section 52 of the Logistics Law. The longest sentence was given to 38-year-old Tun Tun Oo, who was given an 18-year prison term after being found guilty on all four charges.
On 31st December 2021, it was reported that the special court inside Insein Prison handed down sentences against two prominent student leaders. Aye Aung, a 45-year-old former member of the All Burma Federation of Student Unions (ABFSU), received three years in prison for his role in anti-coup protests in Yangon's Tamwe Township in March 2021. Fellow former ABFSU executive Min Thway Thit, meanwhile, was given a year in prison for driving an unregistered vehicle without a licence. 
After being sentenced to 2 years, Vice President of @abfsu_cec Wai Yan Phyo Moe was moved to main jail in Insein Prison where he was welcomed with slaps by the head of cell, & physical abuse by 5 other prisoners.He now has life threatening wounds but we doubt he will get treated. pic.twitter.com/5f1lJtk7Kw

— Teapot (ရေနွေးအိုး) (@teeeapot) December 30, 2021
Another ABFSU activist got two years and one month in prison on charges stemming from his political activities in September 2021. Wai Yan Phyo Moe was charged with violating Section 19 of the Peaceful Assembly and Peaceful Procession Law for handing out and posting leaflets in Yangon's Mahabandoola Park calling for the restoration of internet services in Rakhine State.
Killing of activists by the junta
Student activist Hnin Aung was also reportedly robbed of 10m kyat in cash that he was carrying at the time of his arrest.https://t.co/IpyiOTSBQz

— Myanmar Now (@Myanmar_Now_Eng) December 6, 2021
On 6th December 2021, it was reported that an activist had been killed following arrest by the junta. Hnin Aung, 26, was apprehended at a checkpoint near Tin Ngoke Gyi, a village in Sagaing Region's Kanbalu Township, and had been tortured to death by the next day. The regime later reported on social media that Hnin Aung had been shot and arrested while attacking the checkpoint—a claim denied by ABFSU members familiar with the situation.
Prior to joining the ABFSU, Hnin Aung was a labour rights activist. In May 2016, he was arrested while marching from Sagaing to Naypyitaw as part of a workers' strike and sentenced to one year in prison. Following his release, he joined the ABFSU as a central executive committee member. Until 2019, he was the group's officer in charge of ethnic affairs.
On 15th December 2021, soldiers arrested and then murdered one of the leaders of a local charity that provides free funeral services in a village in Mandalay Region's Madaya Township. Than Myint, the 57-year-old secretary of the Mahar Kusalakari social services group, was taken from his village of Sakhangyigone and his family was told of his death the following day. Than Myint's body had bruises on the face and head when it was returned to the family, suggesting that he was "brutally beaten" before he died.
Lawyers detained in an unidentified location
Four lawyers from Mandalay who had been working on the defence teams for politically motivated cases brought by the junta have been held in an unidentified location since their 19th December 2021 arrest by the military authorities The families of the attorneys have not been able to confirm their whereabouts since they were taken into junta custody.
They were abducted from the office of Shwe Alin Legal Services near the No. 3 police station in Chanmyathazi Township, according to a Mandalay-based lawyer.Legal sources did not want to name three of the detained lawyers, but confirmed that one is Lwin Lwin Mar, who had been helping individuals charged with incitement since the February 2021 coup. All four of the lawyers are women.
Ousted defacto leader Aung San Suu Kyi convicted
De facto leader of Myanmar, Aung San Suu Kyi, was found guilty of incitement against the military under Section 505 (b) and for alleged breaches of COVID-19 measures under Section 25 of the Natural Disaster Management Law on 6th December 2021 and sentenced to four years in prison. On the same day the junta announced it was reducing the sentences of Aung San Suu Kyi from four to two years.
She faces an additional 10 politically motivated charges, including for possessing unlicensed walkie-talkies, corruption, and election fraud, carrying a total potential sentence of more than 100 years in prison.
On 10th January 2022, a junta court in Naypyitaw sentenced Suu Kyi to four more years in prison for possessing "illegally imported" walkie-talkies and violating COVID-19 restrictions.
Torture or ill-treatment of political prisoners
There have been continued reports of torture and ill-treatment of political prisoners by the military junta. On 14th December, two lawyers who visited Yangon's Insein Prison reported that nearly 90 inmates who had refused to leave their cells in an act of protest were beaten and put in solitary confinement as punishment. The move was in solidarity with the "Silent Strike" which took place nationwide on that day and called on the public to close businesses, empty the streets and stay home.
Many of those tortured had been imprisoned for politically motivated charges and convictions related to Section 505a of the Penal Code for incitement. They suffered beatings by prison staff with batons, rubber sticks and rubber ropes. At least two people were abused to the point of losing consciousness and one suffered hearing loss, according to the lawyer. Some have been denied medical treatment for injuries they sustained.
In the notorious Mandalay Palace interrogation centre, there have also been reports of torture of anti-coup protesters by the junta. On 3rd January 2022, the All Burma Federation of Student Unions (ABFSU) said that it had evidence that three of its members had been tortured by having bamboo sticks thrust inside their rectums. According to the ABFSU, all three have also been denied treatment for their injuries, which have caused them immense suffering and could be life-threatening.
Staff of Save the Children killed by junta
Save the Children confirms staff killed in Myanmar massacre https://t.co/I3kuVREjyB via @AJEnglish

— Benedict Rogers 羅傑斯 (@benedictrogers) December 28, 2021
Two members of Save the Children's staff were among at least 35 people, including women and children, who were killed on 24th December 2021 in an attack by the Myanmar military in Kayah State, in the east of the country.
The men were on their way back to their office after working on a humanitarian response in a nearby community when they were caught up in the attack. The military forced people from their cars, arrested some, killed many and burnt the bodies.
Inger Ashing, Chief Executive of Save the Children, said: "This news is absolutely horrifying. Violence against innocent civilians including aid workers is intolerable, and this senseless attack is a breach of International Humanitarian Law. The UN Security Council must convene as soon as possible to set out the steps they will take to hold those responsible to account."
Save the Children has been working in Myanmar since 1995, providing life-saving healthcare, food, education and child protection programmes through more than 50 partners and 900 staff across the country.
UN humanitarian affairs chief Martin Griffiths said that authorities in Myanmar must launch "a thorough and transparent investigation" into the massacre to bring the perpetrators to justice swiftly.
Junta blocks aid and imposes restrictions on humanitarian workers
On 13th December 2021, Human Rights Watch (HRW) reported that Myanmar's military junta was "blocking desperately needed humanitarian aid from reaching millions of displaced people and others at risk". In recent months, the junta and its security forces have imposed new travel restrictions on humanitarian workers, blocked access roads and aid convoys, destroyed non-military supplies, attacked aid workers and shut down telecommunications services.
Asia researcher Shayna Bauchner said: "Myanmar's junta has worsened a self-created humanitarian catastrophe by displacing hundreds of thousands of people and then blocking the critical support they need to survive. The generals are callously denying lifesaving assistance to people affected by conflict since the military takeover, seemingly as a form of punishment."
According to HRW, while Myanmar authorities have long impeded access to aid for vulnerable groups, the military junta has established new restrictions, creating a nationwide humanitarian catastrophe. The UN estimates that the number of people needing assistance will grow from one million before the coup to 14.4 million by 2022, including more than five million children. About 25 million people, or half the population, could be living below the national poverty line.
Expression
Journalist criminalised, attacked and killed
Journalists have been systematically targeted by the junta since the coup, with over 100 journalists arrested and at least 26 still imprisoned as of 1st December 2021. Many were detained during newsroom raids or while covering anti-coup street protests and some have gone into hiding. Some have been charged for violating section 505(a) of the penal code, a new provision that makes it a crime to publish or circulate comments that "cause fear" or spread "false news."
On 11th November 2021, a court in Yangon sentenced American journalist Danny Fenster to eleven years in prison for an alleged immigration offence, incitement, and unlawful association with an illegal group. However, he was freed three days later on "humanitarian grounds" and has left the country. He was the managing editor of the English-language news site, Frontier Myanmar.
#Myanmar authorities must immediately and unconditionally release journalists Kaung Sett Lin and Hmu Yadanar Khet Moh Moh Tun, who were arrested after sustaining injuries covering anti-military protests.https://t.co/bAy5jguUjM

— Committee to Protect Journalists (@pressfreedom) December 7, 2021
According to the International Federation of Journalists (IFJ), two Myanmar Pressphoto Agency journalists, Kaung Sett Lin and Hmu Yadanar Khet Moh Moh Tun, were violently arrested on 5th December. There were covering a peaceful anti-regime protest in Yangon when junta forces drove through and opened fire on those attempting to flee. Hmu Yandanar sustained serious injuries when the military vehicle rammed into the back of the protest. Kaung Sett Lin was also injured.
Family members of DVB reporter Aung San Lin have expressed concern after not receiving information on his location or the charges levied against him for over 20 days. Lawyers have thus far not been given access to the citizen journalist, and no further information has been... 1/2 pic.twitter.com/AFwK3ZSwOE

— DVB English (@DVB_English) January 6, 2022
On 12th December 2021, Reporters Without Borders (RSF) reported that Democratic Voice of Burma reporter Aung San Lin was arrested by soldiers in the middle of the night at his home in Pin Zen, a village in Wetlet, a district near the big northern city of Mandalay. RSF has been told that his arrest was a reprisal for his recent report about soldiers deliberately starting fires in order to target pro-democracy activists.
On the same day, Min Theik Tun was arrested while covering a protest in Monywa, a town 100 km west of Mandalay, for a regional news agency, according to the Mizzima News website.
Junta sentences Kanbawza Tai journalists to three years in prison - Myanmar NOW https://t.co/hRd7Gm1AC5 via @AddThis

— J Campbell (@uisgeseirm) December 13, 2021
On 13th December 2021, three reporters from the Kanbawza Tai, based in the Shan State capital of Taunggyi, were sentenced to three years' imprisonment for incitement. The sentencing came more than eight months after the journalists - reporter Nang Win Yi, publisher Tin Aung Kyaw and editor Nang Nang Tai - were arrested by the junta
Media watchdog groups decried the death of #Myanmar journalist Soe Naing, who died in military custody four days after his arrest.#MyanmarMilitaryTerrorists #SaveMyanmar #WhatsHappeningInMyanmar https://t.co/4k1HfWgE28

— UCA News (@UCANews) December 15, 2021
On 14th December 2021, RSF reported that freelance photographer Soe Naing had died that morning as a result of the force used during interrogation. He was arrested by soldiers while covering a silent street protest in the Yangon district of Latha on 10th December 2021 to mark Human Rights Day.
On 6th January 2022, another journalist from Chin State was killed. His name is Salai Thudin, founder and editor-in-chief of the Khonumthung News Agency based in Chin State. He was arrested and killed by the Military Council on his way back to his hometown, Matupi, from India.
On 10th January 2022, it was reported that a court in Sagaing Region sentenced two journalists - Associate editor Pyae Phyo Aung and reporter Myint Myat Aung, who both worked for the now defunct Zayar Times - to two years in prison for 'incitement'. They were arrested for publishing stories that highlighted anti-junta protests and referred to the junta as a coup regime.
Peaceful Assembly
Military trucks ram into protesters
Protests have persisted across the country despite the arrest and deadly attacks against protesters. On 5th December 2021, military trucks rammed into a crowd of protesters in Yangon's Kyimyindaing Township, killing at least five before arresting around 15 others. Witnesses told Myanmar Now that the incident occurred minutes after a flash mob formed at around 9am to demand an end to military rule.
Video footage of the incident shows a vehicle speeding past cars as it approached the protesters, who can be seen scattering seconds before impact. Moments later, the sound of gunfire can be heard over the screams and shouts of the protesters. According to a local resident who witnessed the incident, soldiers beat the protesters who had fallen to the ground and aimed their rifles at people watching from their apartments. Soldiers only allowed an ambulance into the area after they had finished washing blood off the street.