Arrests, abductions and violent attacks against critics and opposition surround election period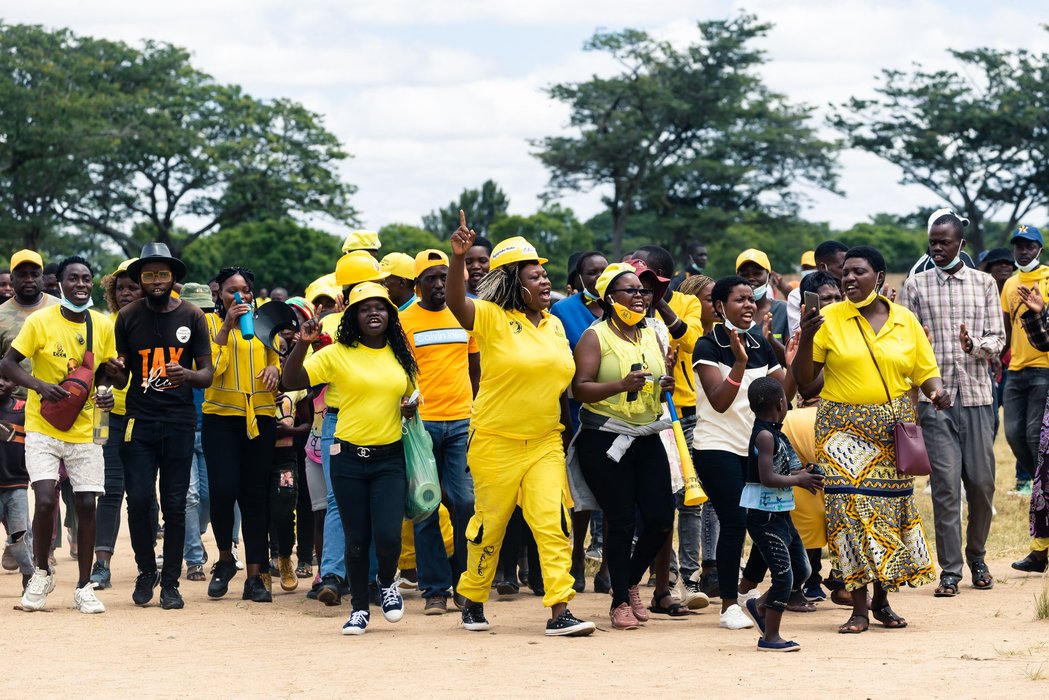 Association
Election Observers arrested
Zimbabwe police arrested 41 election observers and seized computers along with other equipment that they were using to tabulate results in the country's recently concluded harmonised August 2023 elections. The arrested persons were working with accredited election monitoring organisations - the Zimbabwe Elections Support Network and the Election Resource Center. Zimbabwe Republic police spokesperson Paul Nyathi accused them of being involved in "subversive and criminal activities" as part of an opposition plan to fabricate the results.
Opposition members and supporters targeted with violence
On 3rd August 2023, Citizens Coalition for Change (CCC) activist Tinashe Chitsunge was reportedly stoned to death by ZANU-PF activists in Glen View South, Harare, after he was attacked while trying to flee from a suspected ZANU-PF mob which was assaulting opposition activists who had gathered to hold a rally. The police arrested two suspects over the killing.
On 26th August 2023, CCC spokesman Promise Mkwananzi was involved in an incident in which unidentified men in civilian attire stormed a media briefing he was addressing in Harare and attempted to manhandle him in the full glare of local and international journalists. Later that evening, Nelson Mukwenha, a political activist for the opposition CCC party, was abducted at his home after defending Mkwananzi and preventing him from being abducted by the unidentified men during the media briefing. Mukwenha was later found with severe injuries after he was beaten and tortured at the hands of suspected security forces.
The Zimbabwe Republic Police @PoliceZimbabwe has issued a press statement saying that it has a warrant of arrest for the new opposition CCC spokesman, Promise Mkwananzi.

In a press statement issued a few minutes ago, the police said Mkwananzi is wanted in connection with an… pic.twitter.com/qefPyfnmG0

— Hopewell Chin'ono (@daddyhope) August 26, 2023
In early September 2023, Mkwananzi left the country after police announced plans to arrest him for alleged public order offences committed in 2019. The police also announced a US$1,000 bounty for information leading to his arrest.
The @PoliceZimbabwe detained two Zimbabwe lawyers for human rights, Douglas Coltart and Tapiwa Muchineripi, who are representing Cllr Womberaishe Nhende and Sonele Mukhuhlani , both victims of abduction, torture, and drugging by suspected state agents on Saturday.

— David Coltart (@DavidColtart) September 5, 2023
In early September 2023, lawyers Douglas Coltart and Tapiwa Muchineripi of Zimbabwe Lawyers for Human Rights were arrested after they asked police not to interview two of their bedridden clients, who were hospitalised following an abduction and torture incident at the hands of suspected state agents. The two lawyers were instructed to each deposit $100 or its equivalent in the local currency and were ordered to report to the police once a week and not to interfere with state witnesses.
According to reports, the two bedridden clients, opposition activists from the Citizens Coalition for Change (CCC), Womberaishe Nhende and Sonele Mukhuhlani, were pulled out of their car by unidentified men, shot with a stun gun and handcuffed. The activists were then allegedly bundled into a pickup truck and driven about 70 kilometres (more than 40 miles) outside the capital where they were whipped, beaten with truncheons and interrogated. The pair were also allegedly injected with an unknown substance according to their lawyers.
Khanyo Farisè, Amnesty International's Deputy Director for Southern Africa, said:
We strongly condemn the arrest and detention of human rights lawyers simply for discharging their functions. Their arrests are a travesty and mark a new low for what is left of the rule of law in Zimbabwe. Charges against Doug Coltart and Tapiwa Muchineripi must be dropped.
On 28th April 2023, another government critic, Jacob Ngarivhume was convicted and sentenced to 48 months in prison, with 12 months suspended, on charges of inciting violence after leading and organising anti-corruption protests on 31st July 2020. Jacob's case is amongst several seemingly politically motivated cases in the country. He faces four years in prison with a year suspended for merely organising and leading a peaceful protest against corruption and lack of access to socio-economic rights.
New law threatens to muzzle CSOs
In July 2023, President Emerson Mnangagwa signed into law the Criminal Law (Codification and Reform) Amendment Bill (Patriotic Bill), which extends unfettered discretion to authorities to interfere with CSO operations, and essentially criminalises the lobbying of foreign governments to extend or implement sanctions against Zimbabwe or its officials. The law carries with it dire consequences for those found guilty, including a punishment of revocation of citizenship, and has been interpreted by some as a malicious attempt to muzzle the work of CSOs.