Zimbabwe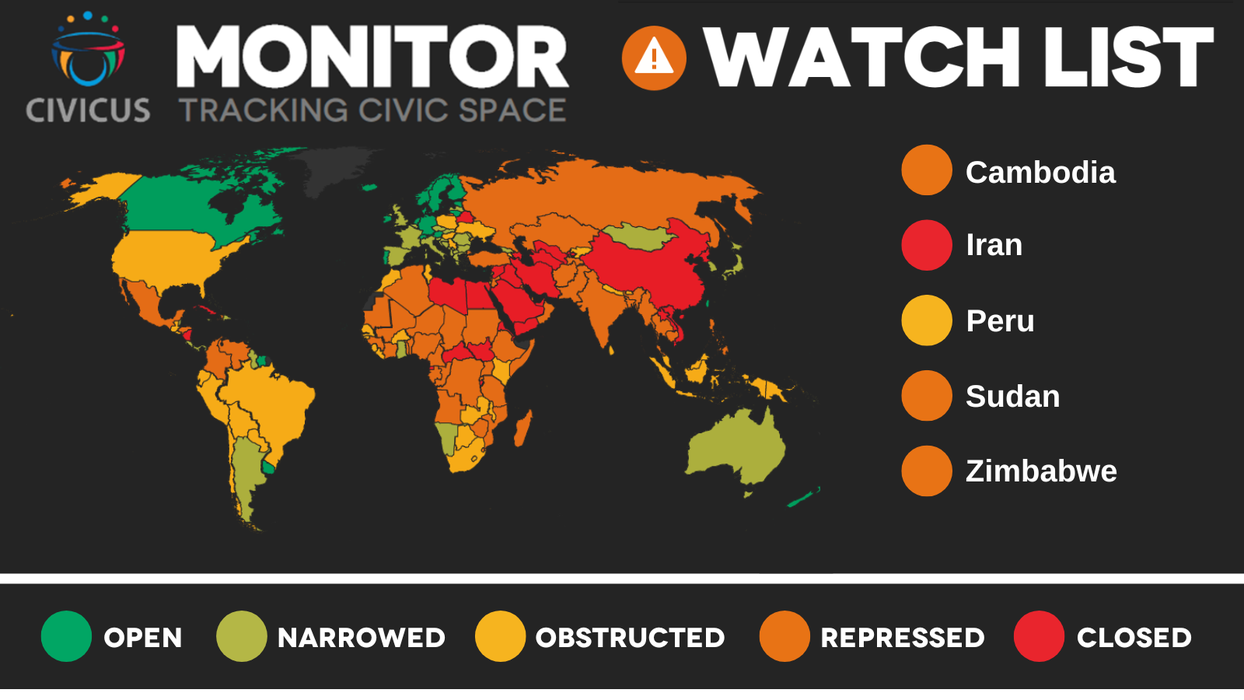 PRESS RELEASE
Zimbabwe remains on human rights watchlist as authorities continue crackdown on civil society ahead of elections
16 February 2023
Government suspends the registrations of various NGOs
Smear campaigns being used against organisations and diplomatic missions
Legislation has been introduced to make it easier for the government criminalise and ban organisations
Zimbabwe remains on a watchlist of countries that have seen a rapid decline in civic freedoms. The government and supporters of the ruling party have doubled down on tactics to muzzle the opposition and civil society ahead of the scheduled 2023 general elections.
The new watchlist is released by the CIVICUS Monitor, an online platform that tracks the latest developments to civic freedoms, including freedom of expression, association and peaceful assembly, across 197 countries and territories. Other countries included on the list are Cambodia, Iran, Peru and Sudan.
Since the previous Watchlist was released in September 2022, the cabinet approved the Criminal Law (Codification and Reform) Amendment Bill, 2022 which will essentially criminalise the lobbying of foreign governments to extend or implement sanctions against Zimbabwe or its officials. The controversial Private Voluntary Organisations (PVO) Amendment Bill, which will extend unfettered discretion to authorities to interfere with CSO operations, was passed by the parliament and the senate, and is now only awaiting presidential assent, despite backlash and outcry from civil society.
"Both of these Bills raise concerns about the future of civil society in the country if signed into law, by allowing the unfettered discretion of authorities to interfere with CSO operations, and criminalising various aspects of civil society work respectively. We urge President Mnagangwa not to sign the Bills, but instead allow dialogue with civil society to ensure that they meet Zimbabwe's international obligations on the freedom of association and expression." Said Sylvia Mbataru, Civic Space Researcher for Eastern and Southern Africa, at CIVICUS.
In January 2023, even before the passing of the PVO Bill into law, authorities deregistered over 290 CSOs in a mass deregistration exercise for alleged "noncompliance with the provisions of Private Voluntary Organization Act", throwing into question the ability of civil society to participate in monitoring the upcoming 2023 electoral process.
Opposition members and their supporters continue to face systematic attacks from supporters of the ruling party, a trend which was consistently documented in the run up to the March 2022 by-elections, and which has continued as the 2023 elections inch closer. Several CCC supporters were assaulted and injured by alleged supporters of the ruling ZANU-PF in October 2022 during a community voter mobilisation exercise.
Citizens holding gatherings, including non-political events, also face arbitrary arrests. The government has clamped down on the freedom of peaceful assembly altogether. In June 2022, authorities arrested, detained and charged more than 36 other people, who had gathered to hold prayers for the country. In a similar fashion, three activists; Thamsanqa Ncube, Melusi Nyathi and Samkeliso were arrested and charged with holding a public event with intent to incite violence while holding a memorial event on Unity Day in Bulawayo.
Zimbabwe is currently rated 'Repressed' by the CIVICUS Monitor. There are a total of 50 countries in the world with this rating (see all). This rating is typically given to countries where civic space is heavily contested by power holders, who impose a combination of legal and practical constraints on the full enjoyment of fundamental rights (see the full description of ratings).
DOWNLOAD FULL COUNTRY RESEARCH BRIEF
---
For more details, or to arrange an interview, please contact: media@civicus.org