Afghan women activists abducted by the Taliban while journalists arrested and beaten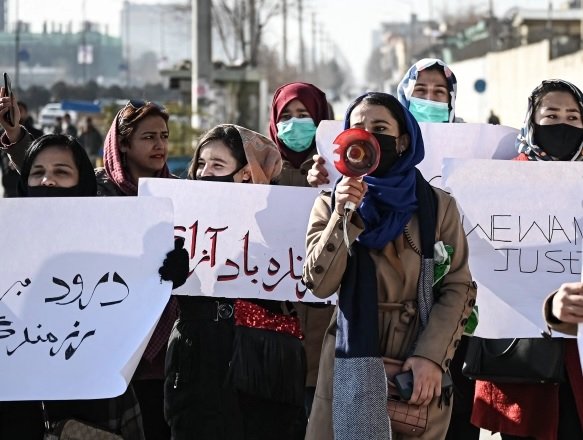 Afghanistan's civic space rating remains 'repressed' in ratings published by the CIVICUS Monitor in December 2021.
As previously documented, the Taliban takeover of the country in August 2021 led to an accelerating human rights and humanitarian crisis. Protests were stifled by the Taliban with excessive force, gunfire and beatings to disperse crowds, leading to deaths and injuries of peaceful protesters. Journalists were at increased risk following the Taliban takeover and have been attacked and had their homes raided for covering the situation on the ground. Human rights defenders also faced systematic intimidation throughout the country and some have been threatened or attacked.
On 14th December 2021, the UN Deputy High Commissioner for Human Rights detailed how the profound humanitarian crisis in Afghanistan is threatening basic rights. The UN mission in the country, UNAMA, has documented nearly 60 apparently arbitrary detentions, beatings and threats of activists, journalists and staff of the Afghanistan Independent Human Rights Commission. Many media outlets have shuttered, as have numerous civil society groups.
The Taliban must uphold the fundamental human rights of women and children, the United Nations chief has said, urging the international community to release frozen Afghan aid to prevent families from selling their babies to buy food.
Secretary-General Antonio Guterres on 26th January 2022 warned that "Afghanistan is hanging by a thread" as millions of impoverished citizens struggle to survive amid deteriorating humanitarian conditions. He expressed concern about recent reports of arbitrary arrests and abductions of women activists.
Over the last two months, women human rights defenders have been abducted by the Taliban and their whereabouts remain unknown, while a prominent academic was briefly detained for his criticism of the Taliban. Journalists have been arrested by the Taliban and ill-treated, while some have been attacked by unknown persons with impunity. Further, protests by women activists have been disrupted with excessive force by the Taliban.
Association
Women human rights defenders abducted by the Taliban
Amnesty International has deeply concerned about the disappearances of two women activists, Tamana Zaryab Paryani and Parawana Ibrahimkhil. "The Taliban must reveal their whereabouts instead of continued denial of not having them under their arrest".
Amnesty International said pic.twitter.com/yaQ9ElNAVV

— 1TVNewsAF (@1TVNewsAF) January 25, 2022
In January 2022, Taliban gunmen raided the homes of women's rights activists in Kabul, beating and arresting female campaigners in a string of actions apparently triggered by recent demonstrations.
According to human rights group Frontline Defenders, on 19th January 2022, women human rights defenders Tamana Zaryab Paryani and Parwana Ibrahimkhel were abducted from their houses in Kabul by a group of armed men. Three sisters of Tamana Zaryab Paryani, the youngest being 13 years old, were also taken.
Tamana Paryani posted a video on social media recorded moments before the men entered her house, in which she identifies the men as Taliban and calls for help. Several Taliban spokespersons have denied their involvement in the abductions. The whereabouts of the women human rights defenders are still unknown.
Tamana Zaryab Paryani and Parwana Ibrahimkhel have been working on women's rights in Afghanistan even in the context of violent suppression of dissent and activism. Days before their abduction they participated in a protest near Kabul University, demanding the right of women to work
Mursal Ayar, a women's rights activist, was arrested by Islamic Emirate forces on Wednesday, another protester said. The Islamic Emirate has yet to comment on the issue.#TOLOnews pic.twitter.com/65LV3k4uqi

— TOLOnews (@TOLOnews) February 3, 2022
Frontline Defenders reported that on 2nd February 2022, another woman human rights defender, Mursal Ayar, was similarly taken from her house in Kart-e-Naw district of Kabul. The woman human rights defender's family reported that at least ten armed men, also believed to be the Taliban, entered their house, physically assaulted Mursal Ayar and then abducted her.
On 3rd February 2022, woman human rights defender Zahra Mohammadi was abducted from her office in Kart-e-Parwan in Kabul and detained by the Taliban in an unknown location. Zahra Mohammadi is a member of the Afghan Women's Solidarity Team, which had organised an indoor protest to demand the release of Tamana Zaryab Paryani and Parwana Ibrahimkhel on 2nd February 2022.
On 8th February 2022, a spokesperson for the UN High Commissioner for Human Rights said: "we are gravely concerned for the safety of the disappeared women and their family members. We continue to press the de facto authorities for information on these cases, and for an effective, transparent investigation. We stress the need to ensure their physical and mental integrity and call for their immediate release".
International human rights and women's rights organisations have condemned the continued mistreatment, harassment and human rights abuses perpetrated by the Taliban against female activists in Afghanistan.
Taliban detain individuals and raid safe houses
On 24th January 2022, the Taliban arrested 40 individuals who were planning to leave Afghanistan through evacuation flights in Mazar-e-Sharif city, including women and children. Subsequently, according to rights group Safety and Risk Mitigation Organisation, the Taliban raided a number of safe houses in Kabul and Mazar-e-Sharif cities and it is alleged that scores of people were arrested, including individuals who worked for international NGOs or local activists. It was claimed by some witnesses that most women who were arrested were women judges with children. The Taliban said they would only release the women after their family members showed up to collect them.
Taliban detains academic for critical comments online
Professor Faizullah Jalal was arrested today in Kabul reportedly for making allegations against govt departments, a security source said, adding Jalal is now being interrogated by the intelligence dept. Jalal's family confirmed his arrest. Officials have not yet commented. pic.twitter.com/MCJqmsqgrO

— TOLOnews (@TOLOnews) January 8, 2022
Professor Faizullah Jalal, a Kabul University lecturer, was arrested on 10th January 2022 by the Taliban for 'making provocative remarks against the government'.Jalal has made several appearances on television talk shows since the US-backed government was pushed out in August 2021, blaming the Taliban for a worsening financial crisis and criticising them for ruling by force. In one television appearance, he called Taliban spokesman Mohammad Naeem a "calf", a grave insult in Afghanistan. Clips of his criticism went viral online.
His family was denied the right to visit him since his arrest and received no updates about his wellbeing or any other information beyond confirmation of his arrest and detention.Jalal's family said the tweets shared were from a fake Twitter account they had tried to get shut down.
Responding to the arrest, Samira Hamidi, Amnesty International's South Asia campaigner, said:
"This arrest marks just the latest effort by the Taliban to stifle dissent. Professor Faizullah Jalal, a renowned intellectual with decades of experience working in Afghanistan, was simply exercising his right to freedom of expression by pointing out the Taliban's failure to address the humanitarian catastrophe currently devastating Afghanistan during a televised debate. Instead of respecting his views and heeding his comments, the Taliban arrested him for allegedly provoking people on a fake Twitter account."
He was released after four days in detention.
Expression
Journalists face arrest and attacks
Journalists remain at risk in Afghanistan and in recent months some have been ill-treated, attacked or arrested and detained for undertaking their work
On 19th December 2021, the Committee to Protect Journalists (CPJ) reported that four unknown men had attacked journalist Jawed Yusufi, a reporter with the independent online Ufuq News Agency, while he was on his way home in the Dashte Barchi area of Kabul.The men punched and kicked Yusufi repeatedly and stabbed him in the back several times while he was trying to escape. Yusufi told CPJ that the men did not take anything from him, and during the attack one of them called him "the foolish journalist."He was brought to two local hospitals that were unable to treat his injuries, and finally he underwent an operation for several hours at a third location, Kabul's Ibne Sina Hospital.
Talibs detained Aref Noori, the head of Noorin TV, from his house in #Kabul, his family told local media. Noorin is a tv channel affiliated with Jamiat, an anti-Talib political party. #Afghanistan pic.twitter.com/Fkn9tLFVyg

— Sharif Hassan (@MSharif1990) December 27, 2021
According to CPJ, dozens of armed men who identified themselves as members of a militia affiliated with the Taliban-controlled Police District 4 in Kabul stormed and searched Aref Noori's house on 26th December 2021 in the Karte Parwan area of the capital and detained him. Noori, owner of the independent broadcaster Noorin Television, has not been seen by his family or a lawyer following his detention, according to his son, who said his whereabouts are unknown
Father of Faisal Mudaris a journalist who was arrested for covering the protests in #Panjshir by the #Taliban, has written a letter asking for his son's release from prison. He says, his son was doing his job as a journalist and now he is prison for doing his job.@hrw @amnesty pic.twitter.com/2drs65ikTI

— Natiq Malikzada | ناطق ملکزاده (@natiqmalikzada) January 11, 2022
On 6th January 2022, armed Taliban authorities detained three journalists - Faisal Modaris, Idris Rahimi and Milad Azizi - all of whom work at the Kabul Lovers YouTube-based broadcaster. Modaris works as a presenter for Kabul Lovers, Rahimi as a camera operator and Milad Azizi owns the outlet, according to those sources. The broadcaster covers current affairs and daily life in Kabul and has continued since the Taliban takeover in August 2021; it has about 240,000 followers on its YouTube channel. Authorities later released Rashid Noori, but Modaris, Rahimi and Azizi remain in custody They are being held by the counterterrorism body of the Directorate General of Intelligence, the Taliban's intelligence agency.
On 10th January 2022, journalist Noor Mohammad Hashemi - deputy director of the nonprofit media outlet Salam Afghanistan Media Organisation - was attacked while driving home in the capital, Kabul. CPJ reported that the attacker, who carried a pistol and whose face was covered, forced Hashemi out of his car and started searching it. The attacker pointed his gun at Hashemi and pulled the trigger, but the gun did not fire; the journalist grabbed the pistol and hit the attacker on the head with it, and the man punched Hashemi in the eye. When Hashemi shouted for help, the attacker returned to the car and fled the scene.
Journalist Zaki Qais was attacked by two unidentified men on 19th January 2022 who knocked on Qais' door in Kabul and introduced themselves as members of the local police. When Qais opened the door, one of the men grabbed him and hit him in the head with an unidentified object, and the other, whose face was covered, tried to stab him in the neck with a knife. Qais said he resisted and was able to close the door after sustaining cuts to his head. Qais is the former director of the independent Khawar TV broadcaster and is a documentarian who has worked on films about human rights in Afghanistan. 
Taliban arrested two other journalists in Kabul today. Aslam Hijab and Waris Hasrat have been working with the local news channel, Ariananews.

Their families say Taliban have taken them to unknown place and they have no information about them. #Afghanistan pic.twitter.com/LOS5k1rHEB

— Zahra Rahimi (@ZahraSRahimi) January 31, 2022
On 31st January 2022, the Taliban arrested Ariana News journalists Waris Aslam and Aslam Hijab in Kabul. According to the Afghan Independent Journalists Association (AIJA) chief executive Hujatullah Mujadidi, Taliban militants first detained journalist Aslam Hijab at the entrance of the Ariana News headquarters in District 3 of Kabul. Waris Hasrat, another journalist at the television station, was detained after he inquired about the reason for Hijab's detention. Members of the Taliban handcuffed the two journalists and covered their heads with sacks before forcing them into a vehicle. Ariana News, a leading independent news channel critical of the Taliban, has been a target of Taliban militants since the takeover in mid-August 2021.
#Afghanistan: The Taliban must immediately investigate the detention and abuse in custody of journalist Abdul Qayum Zahid Samadzai, and hold those responsible to account.https://t.co/gi2Awumz2k

— Committee to Protect Journalists (@pressfreedom) February 3, 2022
On 1st February 2022, a man who identified himself as a member of the Taliban's Directorate General of Intelligence (DGI) arrested journalist Abdul Qayum Zahid Samadzai, a reporter with the independent Pakistan-based 92News Media Group, in District 2 of Kabul. At the DGI's District 2 office, Taliban intelligence agents interrogated Samadzai, beat him, and held him for about 36 hours. While in DGI custody, agents repeatedly interrogated him in freezing rooms, slapped him, accused him of spying for foreign countries and pressured him to reveal the identities of other journalists who "spy" on the Taliban, according to Samadzai.
Upon release on bail, an agent ordered him to stop reporting until he received permission from the Taliban spokesperson's office to resume. Samadzai told CPJ that he had recently covered talks between a Taliban delegation and Afghan civil society groups, including a woman representing recent protests led by female Afghans.
Peaceful Assembly
Protests against covert killings disrupted by the Taliban
On 28th December 2021, a group of women marched through the Afghan capital, accusing Taliban authorities of covertly killing soldiers who served the former US-backed regime.
Around 30 women gathered near a mosque in the centre of Kabul and marched a few hundred metres chanting "justice, justice" before they were stopped by Taliban forces.
The Taliban also tried to prevent journalists from covering the march. Taliban fighters briefly detained a group of reporters and confiscated equipment from some photographers, deleting images from their cameras before returning them.
Since the Taliban returned to power in August 2021, they have effectively banned unsanctioned protests and frequently intervene to block demonstrations.
Taliban forces use excessive force against women's rights protesters in Kabul
Afghan Women tireless protest on justice and their rights once again faced Taliban violence. They used tear gas and pepper spray to dispersed the crowd. #UnitedNations #HumanRightsViolation #afghanwoman #HumanRights #Kabul pic.twitter.com/AX0np14l4R

— Aatash Afzali (@AatashAfzali) January 16, 2022
Another protest on 16th January 2022 was also disrupted by the Taliban. According to Human Rights Watch, a group of women gathered on the day in the capital to demand rights to work and education. Armed Taliban members were already present when the women gathered, reinforcing organisers' fears that the authorities had infiltrated their communications. Some fled when they saw the Taliban, but about 25 women started marching to Kabul University as planned.
HRW reported that Taliban members pointed firearms at the marchers, threatening and insulting them, calling them "puppets of the West" and "whores." One protester said Taliban members also assaulted bystanders filming the protest and took their phones.
As the protesters reached Kabul University, a larger Taliban group was waiting in pickup trucks and surrounded the women. Two protesters told Human Rights Watch that Taliban members used an electric device to shock one of them and other protesters. As the protesters tried to escape the Taliban encirclement, they were sprayed with a chemical substance like pepper spray that caused severe irritation of their skin, eyes and respiratory tracts. A protester said she was still experiencing coughing and painful skin irritation 24 hours later. She said Taliban members hit her and physically assaulted other protesters. They followed some of the protesters as they began to make their way home.
Heather Barr, associate director of the women's division at Human Rights Watch, said the Taliban's reaction was a sign of fear. "It might seem hard to understand why the Taliban would have such a violent reaction to 25 women standing on the sidewalk, protesting peacefully. But their fears make sense when you see how powerful and brave these women are, to be stepping out again and again even in the face of escalating violence by the Taliban," she said. She urged the international community to step up in support of Afghan women.