Activists concerned about plans for new NGO law and other restrictive legislation in Nepal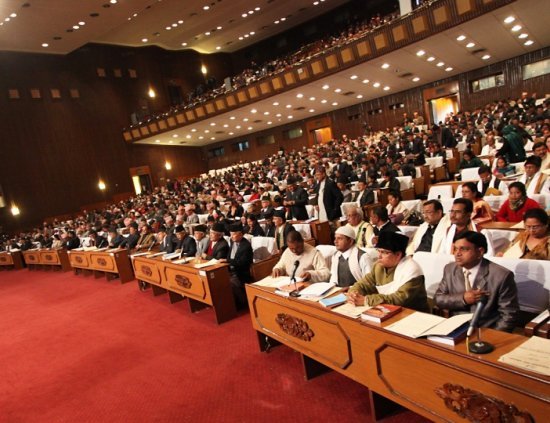 A number of laws being proposed in Nepal are raising concerns among civil society groups. In November 2019, there were reports of a new NGO law being drafted that could weaken civil society. The authorities are planning to bar NGOs running programmes opposed by China and India. The government is continuing to push through an Information Technology bill and a Media Council bill that could be used to silence dissent and muzzle the press. China has attempted to silence the Kathmandu Post for publishing an article critical of the country.
Association
Activists concerned about new legislation to control NGOs
Human Rights Watch (HRW) has raised concerns about forthcoming legislation to regulate social organisations and has called on the government to protect the right to freedom of association. In a statement issued in November 2019, HRW reported that activists fear that legislation being prepared by the Home Ministry will weaken civil society.
Meenakshi Ganguly, South Asia director for HRW said:
"Nongovernmental organisations need to be independent so that they can hold the government accountable, criticise policies, propose alternative ideas, and represent different points of view. The Nepal government's recent attempts to place constraints on groups rings alarm bells for democracy and human rights."
According to HRW, CSO groups had been supervised by the Social Welfare Council, a government body established in 1992 to "co-ordinate" and "promote" social organisations. But under the current government, the Home Ministry, which is otherwise responsible for internal security and law and order, has been taking over the regulation, registration and supervision of social organisations.
As previously documented, in 2018 the government proposed a National Integrity Policy which placed a number of onerous restrictions on activist groups and on the foreign funding that many rely on for their work. The policy required groups to seek government permission to receive foreign grants. Once enforced, international NGOs will be banned from doing advocacy on policy issues and from making "inappropriate allegations," "spreading ill will," or doing anything to "jeopardize the Nepali civilization, culture, social relationships and harmony." The policy was ultimately backtracked.
The government's 2019 International Development Cooperation Policy states that international aid mobilised through Nepali groups should be in line with government priorities, which it identifies mostly as infrastructure development.
New policy to bar NGOs from running programmes opposed to India and China
Nepal's new policy to bar NGOs from running programmes opposed to India, China https://t.co/ueCNd72XZ3 pic.twitter.com/KMLxZERAW4

— Times of India (@timesofindia) January 12, 2020
In January 2020, it was reported that Nepal is drafting a new policy to "discourage" international NGOs from undertaking programmes with the potential to hamper the country's relations with its neighbours, India and China.
Durga Prasad Bhattarai, an information officer at the Social Welfare Council said the proposed policy is aimed at addressing the concerns of the neighbouring countries regarding the activities of NGOs, particularly in the bordering regions. The report stated that for Beijing it is important to prevent Tibetans from fleeing through Nepal while India has raised concerns about the presence of madrasas (religious schools) in the bordering region.
Expression
Information Technology Bill risks creating a chilling effect
#Nepal: #Information #Technology #Bill threatens #freedom of #expression https://t.co/Hmnhyz3PYJ

— Vastuullisuusuutiset (@Vastuullisuus) January 16, 2020
As previously documented, in February 2019, Nepal's government tabled an Information Technology bill (IT bill). It was designed to replace the 2006 Electronic Transactions Act (ETA), which the current government has abused repeatedly, often to prosecute online journalists reporting on corruption. Numerous local and international human rights groups have criticised the new bill.
Most recently, in January 2020, Amnesty International urged the authorities to amend the IT bill to bring it into line with international standards and ensure that the law is not used to criminalise the peaceful exercise of the right to freedom of expression.
According to Amnesty International several provisions in the IT bill do not meet international human rights law and standards. For example, section 94 of the bill vaguely criminalises people who post content on social media if it is deemed to be against "national unity, self-respect, national interest, relationship between federal units".
Other provisions of the IT bill, which are open to very wide interpretation, could also be abused to stifle critical opinions, satire, public dialogue and public commentary. For example, the bill prohibits "teasing", "deceiving", "demotivating", and "demeaning". Section 88 of the bill also restricts the publishing of such content through the use of any electronic medium, which could include news sites, blogs and even emails.
Section 115 of the bill envisions an "Information Technology Court" in each of the seven provinces around the country, with the mandate to deal with all issues under the bill, including criminal liability. As the bill authorises the government to appoint the members of the court, bypassing the judicial council, this poses serious concerns about the influence of the executive over these courts, the independence of the judiciary and fair trial guarantees in such courts.
The IT bill reportedly allows the government to order social media companies to remove or censor content which is "offensive under the law" without a court order. Further penalties include a fine of about NPR 1.5 million (USD 12,468) or a jail term of a maximum of five years for posting content on social media which may threaten the "country's sovereignty, security, unity or harmony".
Biraj Patnaik, South Asia Director at Amnesty International said:
"If passed in its current form, the provisions in the IT Bill further risk creating a chilling effect and will ultimately give rise to censorship and self-censorship online where people will no longer be able to share their feelings or debate ideas freely and without fear of repression."
In February 2020, the International Federation of Journalists (IFJ) and its affiliate the Nepal Press Union (NPU) strongly criticised the proposed legislation and called on the government to hold wide consultations with stakeholders to address the key issues.
CSOs still concerned about Media Council bill despite some amendments
Civil liberty group calls for more changes in proposed Media Council Bill #Nepal #आजकोसमाचार https://t.co/Rz7ENTHSKy

— NepNews247 (@nepnews247) February 24, 2020
Human rights and media groups continue to be concerned about the proposed Media Council bill that was introduced to parliament in April 2019. As previously documented, the bill aims to give sweeping powers to the self-regulatory body overseeing the press, and information rights activists and journalists have been saying that the new council could increase restrictions on the press.
In November 2019, four members of the research sub-committee under the Legislative Management Committee of the National Assembly visited the NGO Freedom Forum, seeking suggestions on the bill.
Freedom Forum highlighted their concerns around the bill which they considered contained "broad, unclear and vague clauses related to specific definitions". Further, they also had concerns about the structure of the council. The organisation suggested amendments to 20 provisions in 15 sections of the bill including on representation, removing excessive fines, excluding 'publishers' from editorial responsibility and incorporating self-regulation provisions in the bill.
In January 2020, it was reported that the Legislation Committee of the National Assembly had endorsed the Media Council Bill, amending a number of its provisions. The government had removed imprisonment and hefty fines on journalists. However, civil society groups are demanding more changes to the law.
China attempts to muzzle newspaper
Why China's statement targeting The Kathmandu Post is a cause for concern, @kathmandupost edit.https://t.co/Qq4vwi0XSK

— Ujjwal Acharya (@UjjwalAcharya) February 19, 2020
Kathmandu Post, a leading English daily in Nepal, has criticised China for trying to muzzle free speech after it was accused of "deliberate" and "malicious" smearing by the Chinese embassy.
The Chinese embassy had sharply criticised the Kathmandu Post on 18th February 2020 for publishing a syndicated column which argued that China's authoritarian system of government had worsened the deadly corona virus outbreak.
According to the Post, the Chinese embassy did not just express its discontent with the published article, but it went so far as to "disparage the Post's editor-in-chief and employ threatening language". The paper added:
"The actions of the embassy can be perceived as a direct threat to the Nepali people's right to a free press, freedom of opinion and freedom of expression. China can express its reservations. What it cannot do, especially in a democracy, is demand that articles be taken down and then issue veiled threats against the editor of a foreign newspaper."
Eighteen Nepali editors issued a statement on 19th February against the embassy's statement -- particularly the targeting of Kathmandu Post's chief editor Anup Kaphle.
Attacks against journalist
On 3rd March 2020, a journalist from the Kakrebihar daily Punam BC was attacked in Surkhet in Karnali Province. He was attacked by protestors while he was on his way home from work. The protestors indiscriminately assaulted him when he approached them to know the reason behind the protest. He sustained minor injuries on his face and hands. The CIVICUS Monitor has documented arrests, threats and attacks against journalists in Nepal in 2019.
Peaceful Assembly
Protesters detained for opposing election of parliamentary speaker
On 26th January 2020, more than a dozen activists including members and staff of Amnesty International Nepal were detained after they protested against the nomination of Agni Sapkota as speaker of the federal parliament. The activists were released later that day.
Sapkota, a member of parliament and the party's standing committee, is one of six persons under investigation by the Nepal police for their alleged involvement in the April 2005 abduction and killing of Arjun Lama, a resident of Kavre District. In March 2008, the Supreme Court directed the police to register a case against Sapkota for abducting and killing Lama and to carry out a full investigation in accordance with Nepali law. However, the police did not comply.
Amnesty International said:
"These activists have every right to protest against the ruling Communist Party of Nepal's decision to appoint Agni Sapkota, a person accused of criminal responsibility for crimes during the country's decade-long internal conflict, as Speaker of the Federal Parliament. Agni Sapkota must face an independent and effective investigation".