Activists and journalists targeted as draconian anti-terror law challenged in the Philippines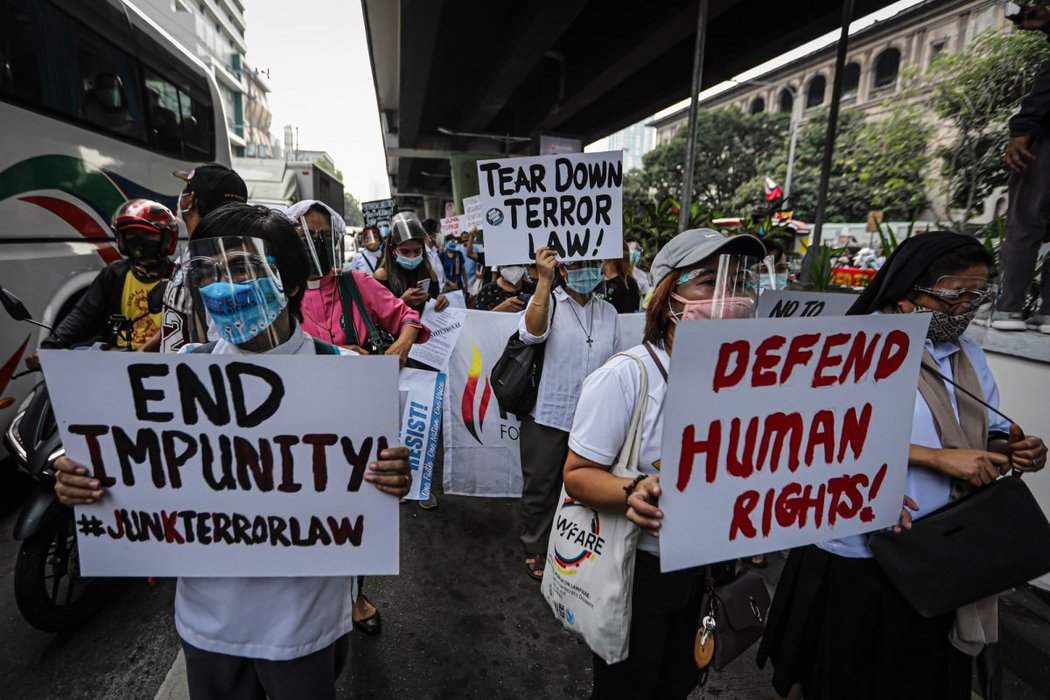 Philippines's civic space rating was downgraded by the CIVICUS Monitor in early December 2020 from 'obstructed' to 'repressed'. The rating change was driven by attacks on human rights defenders and journalists, the vilification and criminalisation of activists, the assault on press freedom and the passage of new draconian anti-terror law.
On 15th December 2020, the office of the International Criminal Court's (ICC) prosecutor said there was a "reasonable basis" to believe that crimes against humanity were committed during Philippine President Rodrigo Duterte's war on drugs.
In January 2021, Investigate PH, a group of individuals and civil society groups, formally launched an independent international probe into the human rights situation in the Philippines. Organised by US-based International Coalition for Human Rights in the Philippines (ICHRP), the group is composed of representatives from various lawyers' and faith-based groups, as well as trade unions in the United States, Canada and Australia. It said it would release three reports to be submitted to the United Nations Human Rights Council (UNHRC). The first two reports will be released for upcoming UNHRC sessions in March and July 2021. The group will also submit findings to the International Criminal Court (ICC).
In recent months, human rights defenders, trade unions and journalists have been arrested on fabricated charges or killed. The Department of National Defence terminated a decades-old agreement that prohibits state forces from entering University of the Philippines' campuses without prior notice to school officials while security forces raided an indigenous Lumad school in Cebu City. Civil society groups are challenging the draconian anti-terror law in the Supreme Court.
Association
Arrest of six trade unionists and a journalist
Why would any of them, living and working in Manila, Mandaluyong & Quezon City, have guns & grenades in their homes or offices?

Can't recall the last time unionists & journalists staged an armed uprising in Metro Manila.

Oh... never.#FREEHRDAY7#STOPTHEATTACKS pic.twitter.com/RtAwX74xui

— Sonny Africa (@sonnyafrica) December 12, 2020
On 10th December 2020, police officers of the Criminal Investigation and Detection Group (CIDG) simultaneously raided the houses of six trade unionists and a journalist.
According to FIDH, those detained include Dennise Velasco, member of Defend Jobs Philippines, Romina Astudillo, Deputy Secretary-General of the trade union Kilusang Mayo Uno (KMU)-Metro Manila, Mark Ryan Cruz, member of the Regional Executive Committee of KMU-Metro Manila, Jaymie Gregorio Jr., member of KMU-Metro Manila, Joel Demate, member of Solidarity of Labour Rights and Welfare (SOLAR), Rodrigo Esparago, member of the trade union Sandigang Manggagawa sa Quezon City (SMQC) and journalist Lady Ann Salem, editor of Manila Today and Communications Officer of the International Association of Women in Radio and Television (IAWRT).
The arrests were based on a search warrant issued by Judge Cecilyn Burgos-Villavert from Branch 89 of the Quezon City Regional Trial Court. They all belong to groups that were previously red-tagged or labelled as "communists" or "terrorists".
The seven human rights defenders were subsequently arrested on charges of "illegal possession of firearms and explosives", which police claimed were seized during the raids. If convicted, they could face from six to twelve years' imprisonment.
The seven have since been referred to collectively by rights advocates and civil society organisations as the "Human Rights Day 7" and the hashtag #FreeHRDay7 has been used to call for their immediate release from detention.
On 6th February 2021, a Mandaluyong City court dismissed the charges filed against unionist Rodrigo Esparago and jounalist Lady Ann Salem. Judge Monique Quisumbing-Ignacio said the evidence against Salem and Esparago were inadmissible and declared "null and void'' the search warrant used by law enforcers to enter Salem's condominium unit in Mandaluyong where firearms and explosives were allegedly found. However, they have yet to be released as Senior Assistant City Prosecutor Queruben Garcia believes that the judge's decision is still appealable.
Since President Duterte took power in June 2016, human rights defenders have faced relentless vilification and red-tagging and have been repeatedly subjected to trumped-up charges and lengthy pre-trial arbitrary detention, with the aim to discredit their legitimate work and to silence all critical voices.
Fabricated case against human rights defender
REPORT: Cordillera human rights activists today said that police has issued a "shoot-to-kill" order against Cordillera Peoples Alliance (CPA) chair Windel Bolinget this January 20, following manhunt operations carried out under the trumped-up charge of murder against Bolinget. pic.twitter.com/Vfy61azSfu

— Pinoy Weekly (@pinoyweekly) January 20, 2021
Indigenous rights defender Windel Bolinget and the Chairperson of the Cordillera Peoples Alliance (CPA), an alliance of over 300 indigenous people's organisations in the Cordillera region of the Philippines, is facing a fabricated murder case in Baguio City.
According to Frontline Defenders, since late December 2020, there has been intensified targeting of Bolinget in relation to a trumped-up murder case filed against him in August 2020. The case filed by the Office of the Provincial Prosecutor of Taguma City, Davao del Norte, names Windel Bolinget and ten other individuals. The defender was only informed of the warrant for his arrest in the last week of December. Since then, there has been constant police surveillance of his office and locality and police have been harassing his family and friends for information on his whereabouts.
On 20th January 2021, the Cordillera Police Director issued a "shoot-to-kill" order against the defender should he offer any resistance on being apprehended. Prior to the order, on 15th January 2021, the Kalinga provincial police announced a bounty of P100,000 (USD 2,061) for any information that would aid in Windel Bolinget's arrest. On 21st January 2021, human rights defender Bolinget presented himself before the National Bureau of Investigation in Baguio City and is keen to prove his innocence and to access protection.
Sarah Dekdekan, Secretary-General of CPA said: "The trumped-up charges against Windel are a clear attempt not only to silence him but to cripple the indigenous people's movement in defending the lands and resources against development aggression".
Windel Bolinget has been leading many of CPA's campaigns against human rights violations such as extrajudicial killings, trumped-up cases, enforced disappearance, harassment, and intimidation of Cordillera indigenous peoples. He has also been at the forefront of local movements against large-scale mining projects, mega-dams and other projects that pose a threat to the environment.
Judicial harassment of activist Daisy 'Jackie' Valencia
We call on the Philippine government to stop its attacks on human rights workers. We demand the dropping of charges against Daisy "Jackie" Valencia, Windel Bolinget, Lutgardo Jurcales Jr., Reynaldo Gameng and Agnes Mesina. https://t.co/d1Lxu86Jzo

— Karapatan (@karapatan) February 1, 2021
According to the Observatory for the Protection of Human Rights Defenders, Karapatan National Council member Daisy 'Jackie' Valencia has been facing judicial harassment.
On 25th September 2020, the Regional Trial Court Branch 30 in Tagum, Davao del Norte Province, issued an arrest warrant for Valencia. However, she was only recently made aware through a reliable source of the murder charges pressed against her. As of 4th February, Valencia had not received any formal notice from the Court.
Valencia is accused of being a member of an armed rebel group responsible for the killing of Mr Garito Tiklonay Malibato in March 2018 in Mindanao, although she was not in Mindanao when the killing took place. It is believed that Malibato was killed by members of the paramilitary group Alamara, from which he was receiving death threats for his work with indigenous people's organisation Karadyawan.
According to Valencia, she has been a victim of red-tagging. Her name has appeared on leaflets in Isabela and Cagayan provinces that label her as a "communist" and a "terrorist" and link her to the armed opposition group New People's Army (NPA).
Valencia has been a National Council member of Karapatan since 2009. She leads the alliance's chapter in Region II in conducting fact-finding and documentation missions and provided paralegal and other forms of assistance to victims of rights violations and their families and communities. She assisted victims of Marcos's martial law in their applications for reparations.
Activists murdered in Bicol and Camarines Sur
On 11th January 2021, human rights watchdog Karapatan reported the killings of peasant organiser Lorenzo Paña and activist Aldrin Enriquez.
Paña was the former chairperson of Hugpong sa Mag-uuma Dapit sa Kasapdan (Humanda Ka), a district formation of Hugpong sa Mag-uumang Bol-anon – Kilusang Magbubukid ng Pilipinas. He was gunned down by still-unidentified assailants on 30th December 2020 in Balilihan, Bohol as he was on his motorcycle to bring lunch to his son. Paña and his family have been repeatedly red-tagged and harassed by the police and the military even though he was no longer a full-time organiser of Humanda Ka.
Meanwhile, Enriquez, a member of the Camarines Sur People's Organisation (CSPO), was killed in Iriga City, Camarines Sur on 6th January 2021 when police forcibly entered his house around midnight and shot him to death after he was handcuffed. CSPO is an affiliate of Karapatan – Bicol.
Police raid Lumad school in Cebu city
CHR said it found "no evidence" that the 19 Manobo children "rescued" by armed policemen from the University of San Carlos in Cebu City had been indoctrinated in communist thought or coerced to be there, contrary to police claims. | @krixiasINQ https://t.co/J9jXnoqWkt

— Inquirer (@inquirerdotnet) February 18, 2021
On 15th February 2021, security forces raided an indigenous Lumad school on the University of San Carlos (USC) Talamban Campus, Cebu City that led to the arrest of 26 members of the school.
The Lumad school children along with teachers and elders had sought refuge at USC in March 2020 as state forces and paramilitary members had threatened to kill teachers and students, which forced them to leave their ancestral communities. According to the university, the children were supposed to return home in April 2020 but got stuck on campus due to the pandemic.
A video posted by the Save Our Schools (SOS) Network showed how the children who were staying at the university were screaming as police forcefully took them away. The Philippine National Police (PNP) said in a statement sent to the media that the students who were being housed at the school were being held to "undergo revolutionary training as future armed combatants." The police have filed charges of illegal detention, kidnapping and trafficking against seven adults whom they arrested during the operation.
The Society of the Divine Word (SVD), which runs the 238-year-old Catholic university, said it considered the incident with "serious concern". The organisation also denied the police allegations of kidnapping and human trafficking, saying that "no rescue" was needed, as it only provided temporary shelter and education to the displaced students, whose stay in Cebu had been prolonged as a result of the coronavirus lockdown. Carlos Conde of Human Rights Watch in the Philippines said that the incident was the latest in the "targeting of Indigenous peoples".
The Philippine Commission on Human Rights announced on 17th February that it had dispatched a team to investigate the alleged "rescue" of Lumad students and the arrest of their teachers from a Cebu City university.
Civil society groups challenge anti-terror law in court
LOOK: Groups stage a protest in front of the Supreme Court on Tuesday, February 16, for Day 3 of the SC oral arguments on petitions against the anti-terror law. 📷: Kabataan Partylist #ATAOrals

LIVE UPDATES HERE: https://t.co/PODEEA9Wgi pic.twitter.com/nAHvCxQCbG

— Rappler (@rapplerdotcom) February 16, 2021
On 2nd February 2021, the Supreme Court in Manila held oral arguments on 37 petitions filed by various civil society groups against the controversial Anti-Terror Law.
As previously documented, the new law includes a worryingly overbroad definition of terrorism. It will also grant Philippine police and military personnel the power to detain suspects without a warrant or charge for up to 24 days for investigation and relaxes accountability for law enforcement agents who violate the rights of suspects, particularly those in detention.
Further, the broad role of the Anti-Terrorism Council under the new law places people's liberty rights at considerable risk. The council can now designate individuals and organisations as terrorists without any hearing, as long as it sees "probable cause" that they commit, attempt to commit or are part of a conspiracy to commit acts defined and penalised as terrorism under Sections 4 to 12 of the law.
Since the inception of the law and its passage in July 2020, rights groups have been up in arms about what they see as draconian provisions and intentions. Karapatan Secretary General Cristina Palabay, who is one of the petitioners, called on the high court to "act decisively by issuing a temporary restraining order on the law and by heeding the broad and massive opposition to the terror law, which is now one of the most-opposed laws in Philippine history as evidenced by the sheer number of petitions filed seeking to scrap it." The legal challenge is continuing in the Supreme Court at the time of writing.
One of the cases against government critic Senator de Lima dismissed
On 17th February 2021, a Muntinlupa court acquitted opposition Senator Leila de Lima in one of her three charges of conspiracy to drug trading. In separate rulings, Judge Liezel Aquiatan of Muntinlupa Regional Trial Court (RTC) Branch 205 granted De Lima's demurrer to evidence in Case Number 17-166 but denied the same in Case Number 17-165. A demurrer is a plea to dismiss a case on the basis of weak evidence.
Senator Leila de Lima has been in detention since February 2017 on politically motivated charges. De Lima has been one of the staunchest critics of the government's abusive "war on drugs." The authorities arrested her after she sought to investigate extrajudicial executions committed in the context of the anti-drug campaign.
Expression
Journalists condemn General's accusations against reporter
On 4th February 2021, journalists condemned the threat by a ranking military official to sue a reporter for allegedly "aiding terrorists by spreading lies." The Justice and Court Reporters Association (JUCRA) described the remark of Lt. Gen. Antonio Parlade Jr. as "utterly unacceptable" and demanded he apologise to Inquirer.net reporter Tetch Torres-Tupas.
Parlade had made the remark in the comment thread of his Facebook post describing the reporter a "propagandista" over her article about a petition by two members of an Aeta tribe who have sought to intervene in the Supreme Court's oral arguments on the Anti-Terrorism Act.
Parlade is the commander of the Armed Forces' Southern Luzon Command and the spokesperson of the National Task Force to End Local Communist Armed Conflict (NTF-ELCAC).
Harassment of the reporters has become common in the Philippines. Duterte has been at odds with journalists for reporting on his administration's drug war, which has left thousands of dead since he took office in 2016.
Journalist killed by unknown gunmen in Pangasinan
🇵🇭 Terrible news! In the #Philippines, radio journalist Virgilio Maganes was shot six times this morning in front of his house in Pangasinan (North). He was killed immediately. @RSF_inter calls for an independent investigation to find the culprits of this gruesome murder. @nujp pic.twitter.com/ASHkZFKnt8

— RSF (@RSF_inter) November 10, 2020
On the morning of 10th November 2020, two assailants on a motorcycle shot and killed Virgilio Maganes outside his home in Villasis, in the northern province of Pangasinan, and then fled the scene. The journalist sustained six gunshot wounds and died at the scene, according to news reports.
According to the Committee to Protect Journalists, Maganes worked as a commentator at the local DWPR radio station and as a columnist for the weekly Northern Watch newspaper, and often covered political issues, according to reports.
A special police task group has been formed to investigate the killing and has examined CCTV footage for potential leads, according to reports. The Presidential Task Force on Media Security, a government body tasked with resolving media murder cases, said in a statement that it vowed to "hunt down and punish those responsible."
Army kills journalist in Masbate province
Police and soldiers say journalist Ronnie Villamor pulled out a gun, forcing soldiers to shoot him down. https://t.co/iixpMtKvWB

— Rappler (@rapplerdotcom) November 17, 2020
A freelance journalist based in Masbate was shot dead by soldiers on 14th November 2020 in the town of Milagros, Masbate province, adding another name in a growing list of slain media journalists under the Duterte administration.
According to the Committee to Protect Journalists, Ronnie Villamor, a contributor to the local independent Dos Kantos Balita weekly tabloid, was killed at a military checkpoint while he was on his way to cover a disputed land survey.
The troops, led by Second Lieutenant Maydim Jomadil, were investigating reports of armed men in the area, according to local broadcaster ABS-CBN. Major Aldrin Rosales, the local police chief, alleged that the troops ordered Villamor to stop his motorcycle, and opened fire when the journalist drew a firearm, according to that report.
The National Union of Journalists of the Philippines denied that version of events, saying that soldiers stopped Villamor and four surveyors he was accompanying despite the group having coordinated with police to be in the area. When the five decided to call local police to assist them in passing through the army checkpoint, the soldiers opened fire and killed Villamor, the statement said.
Shawn Crispin, CPJ's senior Southeast Asia representative said: "Soldiers cannot simply gun down a journalist without fear that their actions will be thoroughly investigated and any wrongdoing punished. Prosecution of the perpetrators is the only way the cycle of impunity will be broken in the Philippines."
Philippine journalist Maria Ressa faces new 'cyber-libel' charges
Prominent journalist Maria Ressa, working for news platform Rappler, a vocal critic of the Duterte regime and especially its notorious 'war on drugs', is facing new charges.
In June 2020, she was found guilty of 'cyber-libel' in a case seen as a test of the country's media freedom. The charges were filed by the Justice Department over a 2012 Rappler article, which was updated in 2014. The article linked a Filipino businessman Wilfredo Keng to murder, human trafficking and drug smuggling. She is facing up to six years in prison and is appealing the ruling.
Wilfredo Keng had filed a new cyber libel case against Ressa, accusing her of sharing screenshots of a 2002 article linking him to a criminal report. In December 2020, she refused to enter a plea saying the charges against her were ludicrous.
In January 2021, she was hit with a third cyber libel charge, this time for a story over students allegedly paying a professor for passing grades.
Ressa and Rappler reporter Rafael Talabong, who also uses the name Rambo, each posted bail of 30,000 pesos (USD 625) after they learned that warrants had been issued for their arrest. A Manila city prosecutor filed the charges in December 2020, following a complaint from a professor at a private university over a Rappler article published in January 2020.
Ressa and her news site Rappler face at least a dozen criminal charges and investigations which human rights groups believe are politically motivated.
Defence department terminates agreement prohibiting army on campus
In January 2021, the Department of National Defence (DND) terminated a decades-old agreement that prohibits state forces from entering University of the Philippines' (UP) campuses without prior notice to school officials.
Under a 1989 agreement between then UP President Jose Abueva and then Defence Secretary Fidel Ramos, military and police activities in any UP campus or regional unit require prior notification of the university president, chancellor or dean. The same agreement holds that military, police and militia personnel cannot enter any UP campus "except in cases of hot pursuit and similar occasions of emergency" or when assistance is requested by university officials. DND Secretary Delfin Lorenzana claimed in a statement on 19th January 2021 that the university has become "a safe haven for enemies of the state" because of the accord.
Vice President Leni Robredo and several lawmakers and progressive youth groups condemned the move. In a statement, Robredo said the termination of the 1989 UP-DND accord was clearly meant to silence government critics. "This is not a practical gesture, but a symbolic one. One designed to sow fear. One designed to discourage dissent. One designed to silence criticism."
Various student councils from the University of the Philippines denounced the move. They maintained that the DND's decision was an attack on academic freedom as well as on freedom of speech.