Activists and journalists in China face persecution during and after Winter Olympics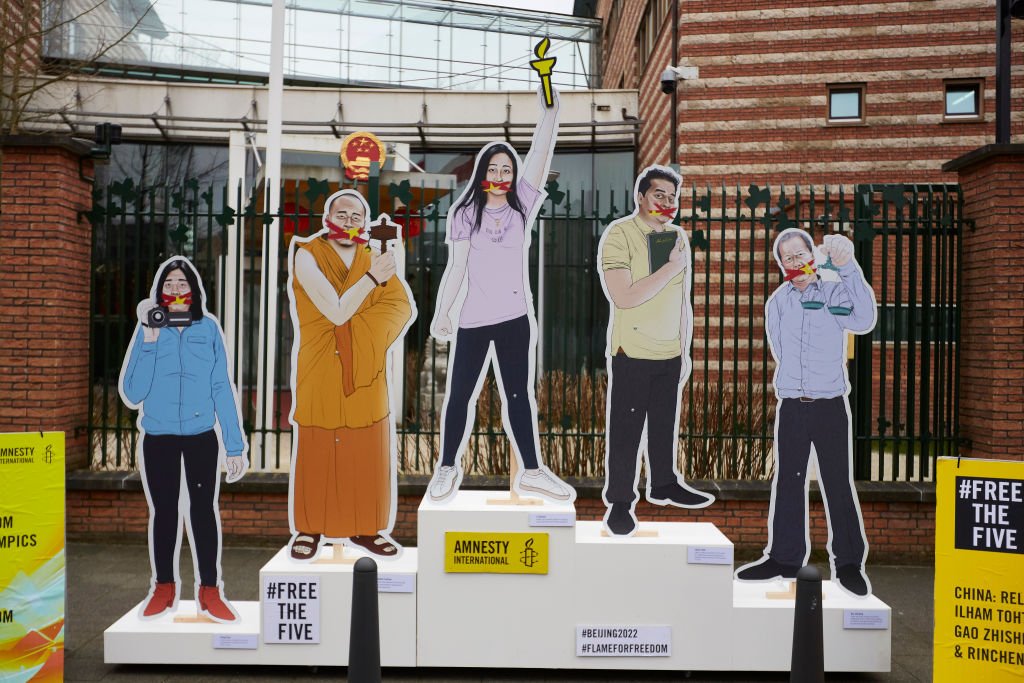 The state of civic space in China remains 'closed' in ratings published by the CIVICUS Monitor in December 2021.
As reported by civil society groups, the human rights situation across China with President Xi Jinping at the helm continued to deteriorate in 2021. Human rights lawyers and activists reported harassment and intimidation; unfair trials; arbitrary, incommunicado and lengthy detention; and torture and other ill-treatment for simply exercising their right to freedom of expression and other human rights.
Authorities harassed, detained, or prosecuted numerous people for their online posts and private chat messages critical of the government, while censorship was pervasive. The government also implemented far-reaching policies that severely restricted the freedoms of Muslims in Xinjiang as well as committing crimes against humanity. Authorities in Tibetan areas also continued to severely restrict freedoms of religion, expression, movement and assembly.
In January 2022, human rights activists issued a call to action against the Beijing Winter Olympics, imploring athletes and sponsors to speak out against what they call the "genocide games."
On 8th March 2022, the UN High Commissioner for Human Rights, Michelle Bachelet, presented her global oral update at the Human Rights Council where she said that she remained concerned about the treatment of individuals who spoke up on human rights issues, including restrictions on their freedom of movement, such as house arrest or, in some cases, being sentenced to terms of imprisonment based on criminal charges stemming from their activities. She also said that her office had recently reached an agreement with the government for a visit to take place in May 2022.
On the same day, almost 200 organisations in an open letter to the High Commissioner for Human Rights called on her to release her office's long-awaited report on the Chinese government's crimes against humanity in the Xinjiang Uyghur Autonomous Region without further delay. In September 2021, the High Commissioner informed the UN Human Rights Council in Geneva that her office was "finalising its assessment of the available information on allegations of serious human rights violations in [Xinjiang] with a view to making it public." Six months later, the report has still not been made public.
In recent months activists have been detained and indicted for speaking up, while human rights groups report that thousands have been detained in a secret residential surveillance system - a legalised form of enforced disappearance. The censorship apparatus intensified before and during the Olympics, while journalists are facing trial on trumped up charges of subversion and spying.
Association
Human rights lawyer detained for subversion
#China: As #Beijing2022 start, we asked 3 questions to human rights expert @williamnee. #question1 What faces is Beijing trying to hide?
Meet Xie Yang, a lawyer who disappeared after he revealed the authorities had tortured him 1/3⁰
Read more here https://t.co/32ohKXdA5D pic.twitter.com/NI7LYQAsxi

— OMCT (@omctorg) February 4, 2022
Radio Free Asia reported that the authorities in the central Chinese province of Hunan had formally arrested prominent rights lawyer Xie Yang on 17th February 2022 for subversion. Sources suggest his online support for a primary teacher forced into psychiatric "treatment" for her outspoken comments on social media could be a factor.
Hunan teacher Li Tiantian was held for several days in a psychiatric hospital after she spoke out over the expulsion of a Shanghai journalism lecturer who encouraged her students to verify official accounts of the Nanjing massacre. Another reason could be a video he posted containing a satirical reference to ruling Chinese Communist Party (CCP) leader Xi Jinping.
Xie, whose licence to practise law was revoked by Chinese officials after he reported being tortured in detention, has also been an outspoken supporter of jailed citizen journalist Zhang Zhan, whose family say she is close to death following months of hunger strike. He has previously defended Christians and democracy activists.
Women human rights defender formally indicted
The Chinese government arrested Li Qiaochu, a women's/labor rights activist, because she disclosed details of the torture suffered by her partner, also a rights defender. Now denied access to legal counsel of her choice, she is at high risk of torture too. https://t.co/bvDC4yGy2f pic.twitter.com/wBrOzP8RK9

— Kenneth Roth (@KenRoth) February 24, 2021
On 28th February 2022, the Linyi Municipal Procuratorate, in Shandong province, formally indicted woman human rights defender Li Qiaochu for "inciting subversion of State power" under Article 105(2) of the Criminal Law.
As previously documented, Li Qiaochu was detained on 6th February 2021, following her disclosure of the torture of her partner and human rights defender Xu Zhiyong and her advocacy actions. Li Qiaochu may also have been targeted in retaliation for her engagement with UN mechanisms. In September 2020, she was involved in an online meeting with two experts from the UN Working Group on Enforced or Involuntary Disappearances (WGEID).
According to Front Line Defenders, Li Qiaochu is a feminist, researcher and human rights defender who has advocated for the rights of workers, migrants, women and human rights defenders detained in China. After the Beijing authorities began to forcibly evict migrant workers from their residences in the winter of 2017, she, along with others collected and disseminated information to help the evicted migrant workers to secure new jobs and find affordable accommodation. Li Qiaochu also actively supported various #MeToo campaigns by compiling data, writing analyses and posting them online.
Activist detained for planning to protest invasion of Ukraine
维权网: 湖南公民彭佩玉发起反对俄罗斯对乌克兰侵略的反战游行而被拘留 https://t.co/1efHxisSNN pic.twitter.com/vD6dRp921s

— 维权网 (@weiquanwang) March 3, 2022
On 3rd March 2022, police from Shaoyang, Hunan province took away and administratively detained activist Peng Peiyu on the charge of "disturbing public order."
According to Chinese Human Rights Defenders, Peng planned to go to the Russian embassy in Beijing on 2nd March to conduct an anti-war demonstration, but was detained upon reaching Changsha, the provincial capital of Hunan. Before being administratively detained, Peng was able to phone a friend, saying that police had told him that they might take other measures against him - presumably meaning criminal detention followed by arrest. On 1st March, Peng Peiyu had published an online post titled "A Citizen's Call to Launch an Anti-War Demonstration."
In the statement, Peng expressed his views about "Russia's barbaric invasion of Ukraine and dictator Putin's anti-humanistic and brazen threat to use nuclear weapons" as well as his expressing "…regret to the entire world for the way in which the Chinese internet has praised dictator Putin's anti-humanistic behaviour".
Activist charged for defamation
Xing Wangli was detained in May 2021 after he tried to visit Jiang Tianyong under house arrest in Luoyang.https://t.co/DIOL3JK69B

— Makey LI (@Daniel34254322) April 9, 2022
Xing Wangli, a human rights activist in the central Chinese province of Henan, has been put on trial. Xing is currently being held at Henan's Xi County Detention Center. He stood trial by video link at the Xi County People's Court on 7 April 2022 on charges of "defamation" after he posted an open letter accusing a local propaganda official of corruption and intimidation.
Xing was detained in 2021 after he visited human rights attorney Jiang Tianyong, who remains under house arrest following his release from prison.
More than a dozen fellow activists went to support Xing, but they were prevented from approaching the building by court police, who deleted photos of the scene from their mobile phones. Xing has also been denied permission to meet with his lawyer.The authorities cited pandemic restrictions for this.
Thousands detained in secret residential surveillance system
As previously documented, in 2012, China passed revisions to its Criminal Procedure Law which allows "residential surveillance in a designated location" (RSDL) — in other words in secret and outside the protection of the law — of those suspected of "crimes of endangering state security, terrorist activities, or especially serious bribery cases." According to civil society groups, human rights defenders, ethnic minorities and predominantly Uighurs are common targets of RSDL. It is a legalised form of enforced disappearance, marked by physical and psychological torture.
According to rights watchdog Safeguard Defenders in December 2021, as many as 27,208 to 56,963 people have gone through China's RSDL system since 2013. They cited data from the Supreme People's Court and the testimony of survivors and lawyers.
Michael Caster of Safeguard Defenders said that "high profile cases obviously attract a lot of attention, but they shouldn't detract from the fact that there's no transparency. Collecting the data that is available and analysing the trends, the estimate is every year 4 to 5,000 people are disappeared into the RSDL system alone".
William Nee, a research and advocacy coordinator at China Human Rights Defenders, said since RSDL was first employed almost a decade ago, use of the extrajudicial detention system has changed from an exception in its early days to a more widely used tool.
Expression
Censorship apparatus intensified before and during Olympics
The Chinese government's censorship apparatus intensified before and during the Winter Olympics
Before the Games began, Chinese authorities warned athletes against "any behaviour or speeches" that violated "Chinese laws and regulations." The government has in the past routinely prosecuted Chinese citizens and occasionally foreigners for criticising the authorities.
Human rights activists and some academics in China have had their WeChat messaging app accounts restricted. Eight individuals told AFP that their WeChat accounts had been restricted in some form since early December 2021, with some unable to use their accounts entirely and forced to re-register.
According to Human Rights Watch, during the opening ceremonies on 4th February 2022, Chinese authorities dragged away Dutch reporter Sjoerd den Daas as he was delivering a live report to the Dutch public broadcaster NOS. While the IOC claimed the incident was an "isolated event," den Daas said that reporters had been "repeatedly obstructed or stopped by the police" while covering the Games.
On the Chinese internet, censors took down a screenshot of a comment made by US-born Chinese gold medalist Eileen Gu on Instagram. In that post, Gu, who is immensely popular in China, asserted that a "virtual private network" (VPN) workaround for the Chinese internet is "literally free" in Apple's App Store. The Chinese government in the past several years has ordered Apple to remove hundreds of VPNs from its App Store in China. Many netizens expressed anger over Gu's comment, which they perceive as showing she is unaware of or exempted from the censorship facing ordinary Chinese.
Chinese authorities also continued to stringently censor content regarding Olympian and tennis star Peng Shuai, who, in November 2021, made a sexual assault allegation against former vice premier Zhang Gaoli. Peng's situation remained so sensitive that the interpreter handling the Chinese translation of a pre-Games news conference did not mention her name when relaying a journalist's question concerning her for IOC President Thomas Bach.
Writer Yang Maodong arrested over subversion 
#China🇨🇳: Chinese authorities have officially arrested writer and free-speech advocate Yang Maodong, who is better known as Guo Feixiong, and accused him of inciting subversion.https://t.co/NGbFAR72na

— IFJ Asia-Pacific (@ifjasiapacific) January 28, 2022
On 12th January 2022, writer and free-speech advocate Yang Maodong, who is better known as Guo Feixiong, was formally charged with "inciting subversion of state power" after being placed under detention for 37 days, according to a notice of arrest issued by the Guangzhou Municipal Public Security Office. The writer is currently in custody at a detention centre in Guangzhou city in Guangdong Province.
According to The International Federation of Journalists (IFJ), the 55-year-old attempted to travel from China to the United States twice in 2021 to visit his wife Zhang Qing, who was suffering from deteriorating health from cancer, but he was stopped by law enforcement at the airport.
Yang was detained in January 2021 when he attempted to board a plane bound for the U.S. from Shanghai. In December 2021, Yang was taken away by the authorities at Guangzhou Baiyun International Airport as he tried for the second time to travel to the U.S. and was detained.
Over the years, Yang has actively participated in campaigns for freedom of expression in China despite persistent harassment by the authorities. He was jailed for five years from 2006 on the charge of "illegal business activity" in relation to the publication of his book "Shenyang Political Earthquake," in which he investigated a political scandal in Liaoning province.
Yang was imprisoned again from 2013 to 2019 for "gathering crowds to disturb social order" after holding rallies against the authorities that were accused of censoring a local newspaper, as well as calling for support of press freedom. He was reportedly subjected to forms of torture in prison, including being beaten with electric batons.
Police move ahead with subversion trial of feminist journalist and labour activist
Detained journalist and women's rights campaigner Sophia Huang, labour activist Wang Jianbing to soon face trial in China https://t.co/IFsRKc4Syd pic.twitter.com/LqnP9AeuIq

— Bien Perez (@BienPerez) April 4, 2022
On 4th April 2022, Radio Free Asia reported that authorities in the southern province of Guangdong have moved to prosecute feminist activist and journalist Sophia Huang and fellow activist Wang Jianbing.
Police issued a notification that they had transferred the cases of Huang and Wang to the Guangzhou municipal prosecution service on 27th March 2022. They had been denied access to lawyers during the more than six months of investigation and detention, on the grounds that national security was involved.
As previously documented, Huang and labour activist Wang Jianbing were arrested in the Chinese city of Guangzhou on 19th September 2021, the day before Huang was planning to leave China for the UK to study for a master's degree at the University of Sussex. Huang is a journalist who has been involved in several #MeToo campaigns to provide support and assistance to victims of sexual assault and harassment. Labour activist Wang Jianbing has provided legal support for people with disabilities and workers with occupational diseases. He is also a prominent supporter of the #MeToo movement in China.
Australian journalist faces spy charges in closed-door trial
#China: Verdict deferred on Chinese-born Australian journalist #ChengLei's case after a court in #Beijing held a closed-door trial. #CFWIJ calls for her immediate release & denounces lack of transparency as Australian envoy & foreign press denied entry.

➡️https://t.co/qgzuZHjaWZ pic.twitter.com/Gna2LB4nzo

— #WomenInJournalism (@CFWIJ) March 31, 2022
An Australian journalist accused by the Chinese government of "supplying state secrets" faced a closed-door trial in a Beijing court on 31st March 2022.
Cheng Lei, a television anchor for the Chinese state-run outlet CGTN for nearly a decade, was tried in court after being detained for over 19 months. She was originally detained in 2020 before Chinese authorities formally arrested her in February 2021 on state secrets charges. No other details about the arrest were released to the public.
Foreign observers, including journalists and diplomats, were barred from entering the courtroom. The trial ended in less than a day, with the court deferring its verdict.
In China, trials that concern national security are usually conducted in secret and completed in one day. It is also not unusual for verdicts and sentences in such cases to follow months later. While the charges against Lei usually carry a sentence of five to ten years' imprisonment, she could receive a much longer sentence depending on how the court views the severity of the alleged crime.
Lei reportedly spent six months detained in "residential surveillance at a designated location" after her capture in 2020.