Activist from 'Let's Not Drown Belgrade' attacked, anti-construction protests staged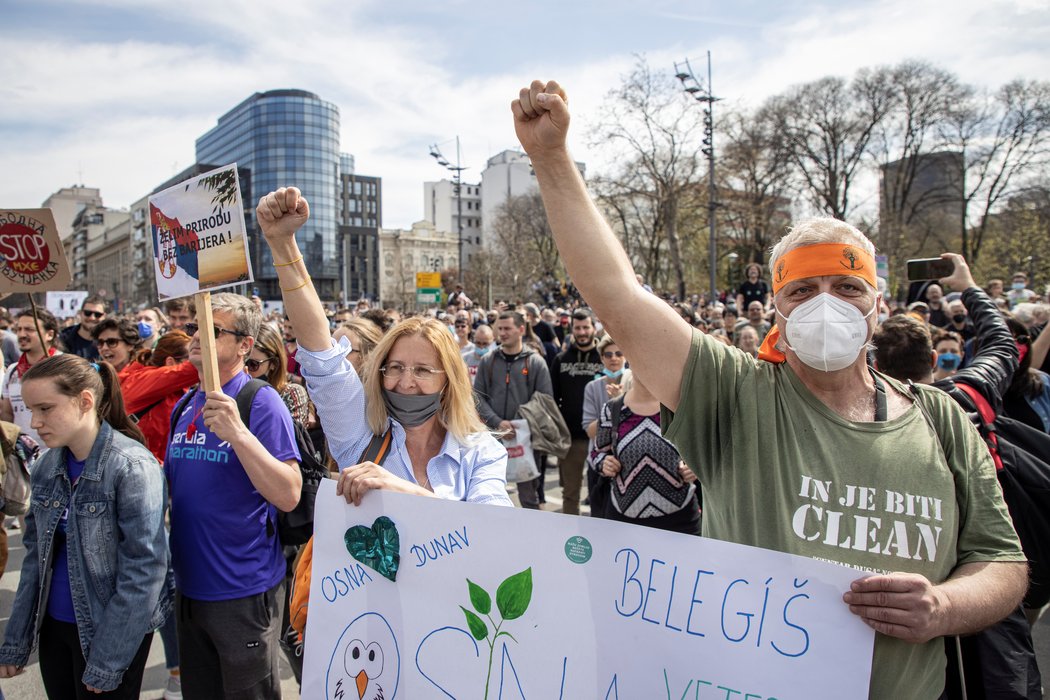 Association
An activist of the "Let's Not Drown Belgrade" Initiative was verbally attacked by an unknown man while organising a public conversation with citizens in Belgrade. During the incident, an unidentified man approached the stand where the activists of the Initiative were located and insulted the activist with messages of hatred and then stole the group's printed material. After other activists intervened, the man fled the scene. The incident has been reported to the police and the perpetrator has not yet been identified.

Partners Serbia announced that a photomontage which alleged that the Ministry of Justice had ordered an analysis from the organisation was shared on social networks. The photo was also shared to a Viber group of over 2,000 lawyers by lawyer Čedomir Kokanović. The case was reported to the authorities, demanding an investigation to clarify who is behind the false image creation.
Peaceful Assembly
President Aleksandar Vučić's security guards temporarily confiscated banners of two activists which were used during a protest against the arrival of the President in Kragujevac. One of the banners read "Girl means courage", referencing a recent incident in which President Vučić, during a sharp verbal discussion with representatives of an opposition party, called his opponents girls, while the other banner read "You are not welcome".

After the continuation of construction work in New Belgrade, despite an unofficial mutual agreement, citizens started a spontaneous gathering near the construction site and announced a continuation of protests. According to one of the residents of the settlement, on that occasion members of the Ministry of Internal Affairs asked the gathered citizens for their IDs, which did not happen previously. The protesters were not given an explanation as to why the police asked for identification and thus collect their personal data. They viewed this as an attempt to put pressure on them and deter them from future gatherings.

Activists from non-governmental organisations (NGOs) commemorating the Srebrenica genocide victims in front of the Presidency Palace were verbally attacked by 30 supporters of nationalist organisations gathered nearby, who insulted them and shouted slogans praising the convicted criminal Ratko Mladic. Natasa Kandic, an activist of the Humanitarian Law Center, was exposed to the largest number of insults during the lighting of candles. Minister of Defence Aleksandar Vulin stated that "Natasa Kandic deserves the contempt of the Serbian people."
Expression
Свака месна заједница
Да задужи један снајпер
Да би утакмица
Била фер. pic.twitter.com/c4PcrMzLQj

— Zoran Čičak (@zorancicak) June 14, 2021
The director of the Institute for European Affairs, Naim Leo Beširi, was attacked by unknown authors who, through the Facebook page "Ustanak.rs", accused him of being an "Albanian lobbyist", alluding to his last name. This sparked a series of insults and threats which were directed at Beširi in the days after the publication of the post.
Jedino što je tačno na ovoj baljezgotni je da sam direktor Instituta za evropske poslove.

Neko đubre piše laži s namerom da širi mržnju i nacionalizam, masa to ne proverava, slaže se ili lajkuje i šeruje, onda dobijam poruke sadržine u prilogu.

I ti se onda osećaj bezbedno. pic.twitter.com/kWZvAbHEVj

— Naim Leo BEŠIRI (@NaimLeoBesiri) May 30, 2021