The clampdown on Palestine civic space continues as Israel steps up smear campaign against CSOs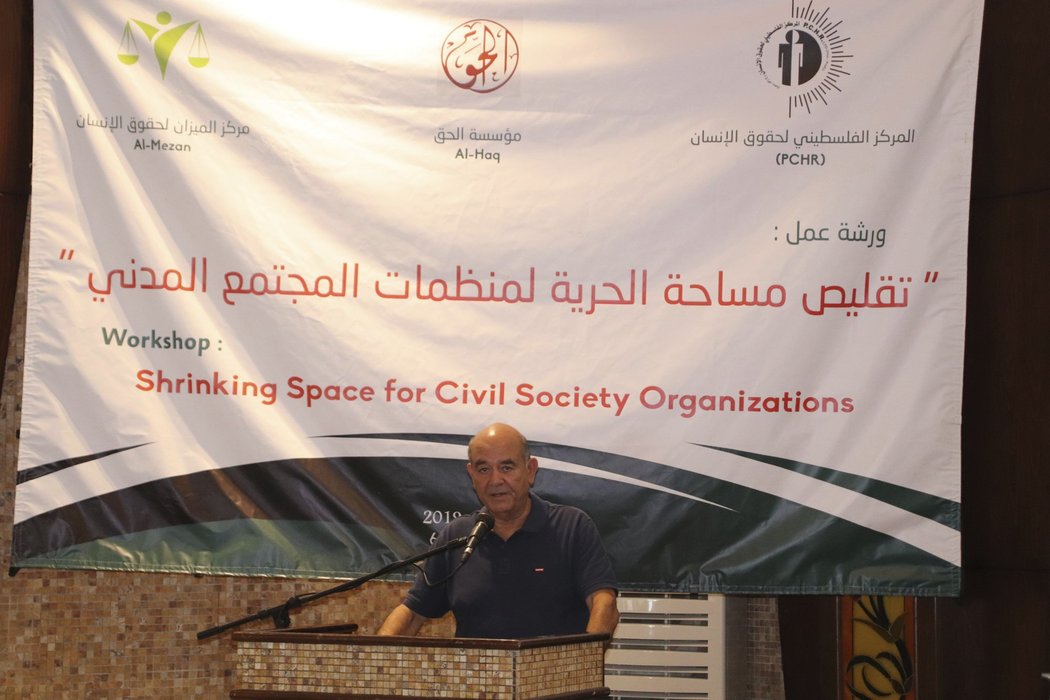 Association
Attacks against Palestinian CSOs persisted, including by the Israeli state and some pro-Israeli groups that stepped up systematic smear campaign to de-legitimise and de-fund Palestinian groups. These smear tactics often use misinformation and exploitation of broad anti-terrorism policies by linking CSOs or their staff to terrorism in order to damage their reputation and restrict their funding and work. Such activities actively contributed to shrinking civic space, according to Palestinian CSO and international community. 
Systematic smear campaign to clampdown on Palestinian CSOs civic space continues
In June 2019, the Israeli Ministry of Strategic Affairs claimed that in the last two years, 30 financial accounts of CSOs that the Israeli Ministry accused of being associated with "BDS-promoting" and with "ties to terrorism or terror operatives" have been closed. The Israeli State and the pro-Israeli groups combined efforts in pursuing the closer of Palestinian CSOs accounts used for online fundraising in Europe and the USA. Pro-Israeli NGOs have contributed towards this initiative of defaming and de-funding Palestinian CSOs, by bringing cases to online funding platforms such as Donorbox, Paypal, etc. For example, the Israeli legal NGO, Shurat HaDin confirmed that it approached Donorbox and requested to close down BDS National Committee (BNC)'s account on accusations of terrorism links, according to a statement on Shurat HaDin's website.
However, Al-Haq, one of the prominent Palestinian human rights organisations that has been regularly targeted by such smear campaigns, questioned the Israeli Ministry of Strategic Affairs' claims that Palestinian CSOs accounts have been closed. Al-Haq pointed that the claim of closing Al Haq's credit card account is incorrect because "as an organisation it does not hold credit card accounts".
The Israeli Ministry of Strategic Affairs' actions are indicative of a targeted campaign that CSOs believe aims to silence vocal human rights organisations actively pursuing accountability for Israel's human rights violations in Palestine. According to Al-Haq, this campaign is "designed to smear and intimidate human rights defenders and distract them from their core work towards promoting and protecting human rights standards and holding Israeli officials to account for international crimes […]".
The Israeli authority's initiative to clampdown on funding for Palestinian CSOs is part of a broader smear campaign against Palestinian CSOs and its foreign supporters, led by the Ministry of Strategic Affairs. In 2019, the Israeli Ministry of Strategic Affairs published a number of reports targeting Palestinian CSOs and some international donors and NGOs supporting Palestinian organisations. In January 2019, the Ministry issued "The Money Trail" Report (a follow-up edition of the same report issued in May 2018) that accused the European Union of providing financial aid to organisations alleged for promoting boycotts against Israel and that have ties to terrorism. In February 2019, the Ministry issued another report targeting Palestinian CSOs, titled "Terrorist in Suits", which defames reputable Palestinian CSOs by linking them and their staff to terrorism.
Allegations contained in these reports included respected European NGOs and Palestinian CSOs such as Al-Haq, the Palestinian Centre for Human Rights and Al-Mezan. These reports have been strongly rejected by both Palestinian CSOs and the international community as misleading and contributing to shrinking civic space.
Al-Haq strongly rejected allegations of terrorism links against the organisation and its director made in the "Terrorists in Suits" report saying it "relies throughout on outdated and unsubstantiated allegations". Al-Haq further said that the Israeli government report "paints Palestinian civil society organisations as essentially suspicious and violent, in order to discredit and defund them."
Similarly, the EU denounced as being "unfounded and unacceptable" the allegations of the EU supporting incitement or terror, or condoning antisemitism made in these reports.
In its March 2019 report the Special Rapporteur on the situation of human rights in Palestinian territories occupied since 1967, acknowledging the Israeli violations on civic space, and referring to the above reports, stated:
"Of particular concern are the harmful practices employed by political leadership and States authorities in Israel to silence human rights defenders' criticism of certain government policies. This includes verbal attacks, disinformation campaigns and de-legitimisation efforts, as well as targeting of civil society funding sources."
CSOs also reported that activists named in the Ministry of Strategic Affairs report, "Terrorist in Suits" and subjected to a follow up defamatory publication by the Ministry, led to messages inciting into violence against them. On 25th July 2019, Al Haq reported that a state owned Facebook page 4IL published an "inciting article" accusing Al-Haq's General Director, Mr. Shawan Jabarin, of "terrorism". Al-Haq said that in relation to this publication, visitors of the 4IL Facebook page "launched into unconstrained hate speech against Al-Haq", including posting messages inciting into murder of Shawan Jabarin.
Front Line Defenders condemned the death threats against Al-Haq's Director Shawan Jabarin and called on the Israeli government to take immediate measures to stop these online threats and incitement to violence.
On 15.7.2019, '4il', a state owned media, published an article & a Facebook post that general director of Al-Haq, Shawan Jabarin, and other members as 'terrorists in suits'. These publications incited hateful comments including calls to kill Shawan Jabarin.https://t.co/wxcR55Mqrr

— Al-Haq الحق (@alhaq_org) August 7, 2019
Israel increased use of visa regulations and anti-BDS law to restrict foreign human rights defenders and academics 
In addition to defamation and efforts to close funding channels for Palestinian CSOs, Israel has increased the use of visa rejection for international human rights activists and academics. As previously covered on the CIVICUS Monitor, vocal human rights defenders have been deported by Israel.
On 25th July 2019, the Israel's Supreme Court delayed until September 2019 the deportation hearing of Omar Shakir, the Human Rights Watch Israel and Palestine director. The hearing was delayed so the government can address filings in support of Human Rights Watch's position. On 18th July 2019, Amnesty International submitted an amicus curiae brief to the Israeli Supreme Court opposing the deportation. The deportation of Omar Shakir is based on accusation of violating Amendment No. 28 of the Entry into Israel Law, a law that permits the government to deny entry to persons who advocate for boycotts of Israel. Human Rights Watch and Omar Shakir who worked actively on Israeli illegal settlements, denied accusations that they called for a consumer boycott of Israel. 
Human Rights Watch said: 
"The case offers the court an opportunity to weigh in on the government's crackdown on human rights activism in Israel."
In July 2019, CSOs raised concerns that the Israeli "escalating harsh visa policy" forced international academics to leave their work at Palestinian universities in the West Bank as Israel refuse to renew visas for those with teaching contracts. A Palestinian university in the West Bank, Birzeit University, directly affected by this policy, Al-Haq, and Adalah – The Legal Center for Arab Minority Rights in Israel, took a legal action against this harsh policy. The organisations demanded the "immediate halt to this policy targeting Palestinian academic freedom and isolating Palestinian institutions of higher learning".

In July 2019, Israel also denied entry of the United Nations Special Rapporteur (UNSR) on the situation of human rights in the Occupied Palestinian Territory (OPT) since 1967, which obstructed the UNSR mission to the OPT in July 2019. Israel has continuously denied Mr. Lynk access to the OPT since his appointment in 2016. The Palestinian Human Rights Organizations Council (PHROC) condemned the "deliberate denial" of entry as a "clear attempt to frustrate and impede his role".
Following his entry denial the United Nations Special Rapporteur said: 
"Baseless attacks on the credibility of human rights and humanitarian organisations and moves by some states which curtail the organisations' ability to carry out legitimate and essential work is of great concern."
Amnesty International has joined a case brought to the Israeli Supreme Court by Human Rights Watch, challenging the legality of the Israeli government's decision to revoke the work permit of @hrw's Israel and Palestine Director: https://t.co/zy2xju5tYX

— Amnesty International Strategic Litigation (@AILitigation) July 18, 2019
Peaceful Assembly
Ongoing protests in Gaza continue to face targeted Israeli excessive force using live ammunition
As regularly covered by the CIVICUS Monitor, the Great March of Return protests in Gaza, that started on 30th March 2018, continue with the Israeli forces responding with the use of excessive force against unarmed protesters, causing serious injuries to hundreds, including women, children, paramedic and journalists. Additionally, the Israeli human rights CSO, B'Tselem documented the unlawful practice of Israeli security forces "making deadly use of crowd control weapons, including tear gas canisters which are not designed to hit people directly". B'Tselem's investigation found that this practice is "part of the open-fire policy Israel has been implementing along the Gaza border for more than a year." As reported below, in June 2019, a number of cases were documented of protesters suffering injuries from tear gas canisters fired by Israel forces. 
On 21st June 2019, thousands of Palestinians including women, children, young men, and families gathered chanting national slogans and raising Palestinian flags. They called for an end to occupation and lifting the illegal closure of the Gaza Strip. Some protesters threw stones at the Israeli forces. According to local human rights groups, Israeli soldiers responded with live fire, rubber bullets and tear gas canisters which resulted to 114 injured, including 33 children. Of the injured, 48 were wounded by live bullets and shrapnel, 25 were wounded by rubber bullets, and 41 were injured by tear gas canisters.

On 28th June 2019, the protesters in Gaza gathered once again, facing another round of excessive use of force resulting in the injury of 122 Palestinian protesters, including 38 children. Of those injured, 41 were hit by live bullets and shrapnel, 35 were hit by rubber bullets and 46 were directly hit by tear gas canisters, according to local human rights CSO reports. Five paramedics and two journalists were among the injured. 
From the beginning of the Great March of Return protests on Land Day, 30 March 2018 until the end of June 2019, Israeli security forces killed 216 #Palestinians, 43 of them minors, and wounded thousands, the vast majority with live ammunition #Gaza https://t.co/YACgH75OTZ

— Linda Hemby (@LindaHemby) August 6, 2019
Expression
Journalists arrested, injured during covering of protests
Monthly reports issued by local CSOs documenting violence against journalists reveal that in June 2019 journalists continued to face violations such as arrests, ban on freedom of movement, administrative detention and injuries during protests, committed by Israeli authorities.
For the month of June 2019, the the local media rights watchdog, Palestinian Center for Development & Media Freedoms (MADA) documented one violation committed by Palestinian actors against media and 28 violations committed by the Israeli authorities and security forces.
On the Palestinian side, on 10th June 2019, unidentified gunmen reportedly threatened the journalist Nizar Habash, the director of investigative journalism unit of "Watan" Network. The threat came after Nizar Habash published a press investigation on some allegedly harmful practices of a beauty salon.
On the other hand MADA documented several violations against Palestinian journalists committed by Israeli authorities in June 2019. MADA report includes the following violations:
At least five journalists were injured while covering different protests in Gaza, as some of them were reportedly shot in the legs while others sustained injuries due to "direct gas bomb" attacks.

On 25th June 2019, MADA documented that at least 17 journalists from Palestinian, Arab, and foreign media agencies suffered suffocation and vomiting as a result of an alleged deliberate attack by Israeli forces who fired gas bombs at a group of journalists. The alleged attack took place as the journalists gathered after covering a demonstration against the US-led economic workshop in Bahrain near Beit El Israeli military barrier in the West Bank.

On 24th June 2019, the Israeli forces arrested journalist Amer Tawfiq Mousa Abu Halil following a raid of his house in the West Bank.

On 9th June 2019, the Israeli authorities banned Omar Nazzal of the Palestinian Journalists Syndicate from travelling to Tunisia to attend the International Federation of Journalists conference. Israeli authorities have reportedly prevented Nazzal from travelling since 2014.

On 10th June 2019, an Israeli court sentenced the journalist Lama Khater to 13 months in prison and a fine of 4,000 shekels (1,000 euros). Lama Khater, was arrested in the West Bank on 24th July 2018 and was reportedly subjected to indefinite administrative detention since then. She was charged of "inciting hostile activities against Israel" and for alleged links with Hamas, which Israel regards as a terrorist organisation. Five other journalists arrested on the same charges are awaiting trial, according to Reporters Without Borders (RSF).
Concerned with the arrest of the six journalists and the regular use of administrative detention without disclosure of evidence the RSF called on the Israeli authorities:
"[...] end to Israel's obstruction of Palestinian journalists and [ensure] transparency in its judicial proceedings against them."
Internet restrictions also remain of concern. In May 2019, MADA reported of Facebook carrying out a "widespread closures" of Facebook pages, which included the closure of accounts and pages of 65 Palestinian journalists and authors based in the West Bank and Gaza.
Furthermore, according to the annual report of the Arab Center for the Advancement of Social Media, issued in March 2019, Israeli authorities arrested during 2018 around 350 Palestinians in the West Bank on charges of "incitement" because of their publications on social media.