Egypt continues its systematic repression of human rights activists, journalists and protestors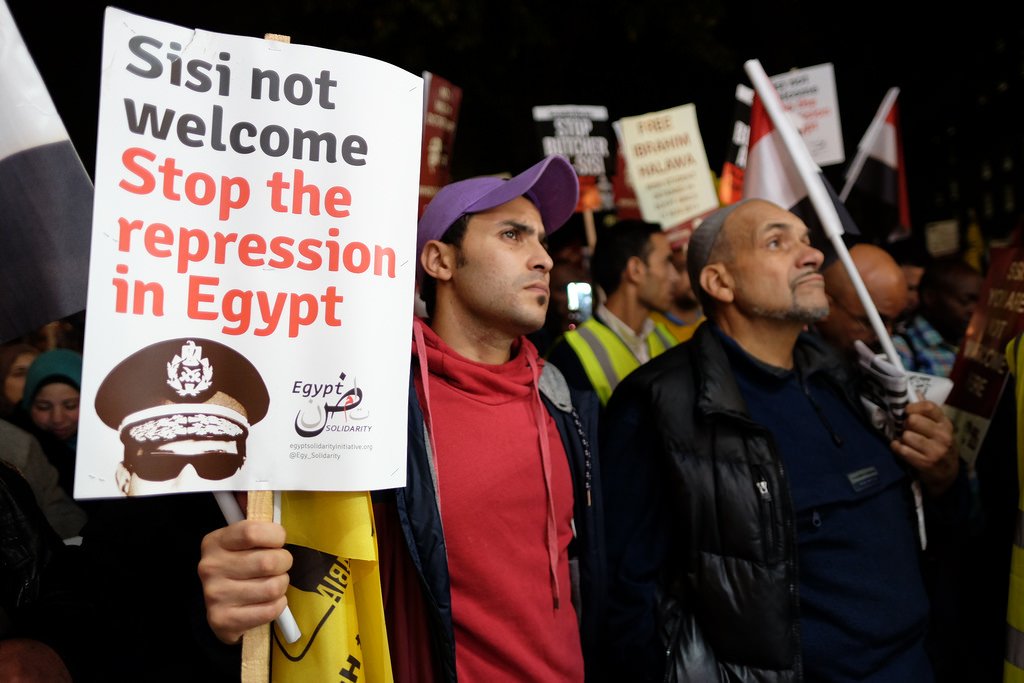 Association 
The state's orchestrated crackdown on civil society continued as the case of 11 prominent human rights defenders came before the Cairo Criminal Court in Zeinhom on 15th August. Instead of making a decision, the court postponed until 17th September a ruling on the freezing of assets held by the leaders of several prominent human rights organisations including the Egyptian Initiative for Personal Rights, the Arabic Network of Human Rights Initiative, Hisham Mubarak Law Center, Egyptian Center for Right to Education, and the Cairo Institute for Human Rights Studies. This postponement is just the latest episode in the state's drawn out judicial targetting of civil society and foreign funding dating back to 2011.  
Expression 
Alek Adly, a human rights lawyer and the director of Lawyers Network at the Egyptian Centre for Economic and Social Rights (ECESR) was conditionally released on August 28th. Charges against Mr. Adly have however not been dropped, and he can still be called to trial at any time. An order was also given on 7th September for the conditional release of four members of the online satirical troupe Atfal al-Shawarea, replacing their detention with other precautionary measures. Many fear that members of the group could be subjected to travel bans, house arrest or daily check-ins with authorities. The four - Mohamed Dessouky, Mohamed Yehia, Mohamed Adel and Mohamed Gabr - were accused of inciting protests and publishing videos that contain illicit language directed at the state and its institutions. 
On 3rd September, authorities renewed the detention of journalist Mahmoud al-Sakka for 15 days. Sakka currently faces several charges including instigating illegal protests, disseminating false information and attempting to overthrow the regime. Moreover, on 28th August authorities arrested five young men, including a twelve-year-old boy, at their rental apartment after one of them reportedly attempted to take a photograph from the balcony in downtown Cairo. Two of them were released the following night and three were held for two days. Police confiscated computers, phones, cameras, papers, books and documents from the apartment for examination by investigators. Many have used this as a prime example of state aggression against the exercise of the right to freedom of expression by ordinary citizens in Egypt. 
Accessing government information remains a serious challenge in Egypt. For example, relentless calls by civil society groups to the Environmental Affairs Agency still have not borne fruit. CSOs are seeking information regarding environmental impact assessment studies conducted by cement companies.
Peaceful Assembly
In August, the Ministry of Social Affairs wrote to CSOs, informing them that they must now notify the Ministry's Security Department at least one and a half months in advance of any conferences, panels or visits they organise. This is the latest impediment to the operation of independent civil society organisations in Egypt. As a result of an increasingly repressive environment, the Cairo Institute for Human Rights Studies (CIHR) decided to suspend its human rights summer school for the first time in 22 years. A statement issued by the organisation noted that 
Egypt is no longer a safe space for any peaceful, creative activity, and there is no room for such pursuits. 
In a separate development, Egypt's Supreme Constitutional Court, is due to hear suits filed against the protest law on 1st October. The law bans all but police-sanctioned street demonstrations.The hearing will look at two lawsuits challenging the legislation; filed by rights lawyer Khaled Ali and lawyer Ali Ayoub.
On 1st September, protests took place in relation to a government reform program on subsidy-cuts for baby formula. The cuts in subsidies followed the IMF loan agreement. 
Finally, a report by the AFTE highlighted the decrease in academic freedoms and restrictions on civil society mobilisation, including a drastic decrease in students' ability to demonstrate due to security measures and penalties enforced by universities.