15 activists sentenced to prison for peacefully protesting under State of Siege in Eastern DRC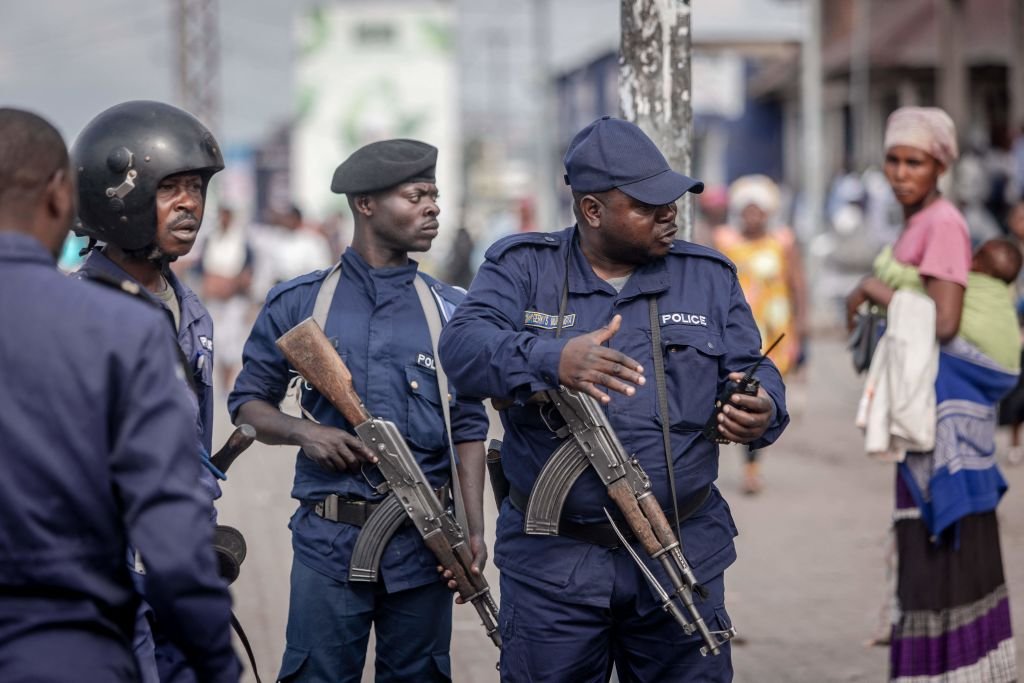 DR Congo: Martial Law Brings Crackdown in East https://t.co/X0dvrgCMEu

— Human Rights Watch (@hrw) March 22, 2022
Civic space violations under State of Siege in Ituri and North Kivu provinces
Human rights organisations have highlighted civic space violations committed under the State of Siege, which imposed martial law in the conflict-ridden provinces of Ituri and North Kivu in May 2021. Human Rights Watch (HRW) documented dozens of cases where police and the military have suppressed peaceful critics, used lethal force to stop peaceful protests and arbitrarily arrested and prosecuted HRDs, journalists and members of the political opposition. Some of the civic space violations documented are included in this Monitor update. 
HRW further said that under the State of Siege, military authorities can search people's homes, ban meetings and publications, restrict the movement of people and arrest anyone accused of disrupting public order. Additionally, civilians are prosecuted before military courts instead of civilian courts. Thomas Fessy of HRW commented: 
"The military's reassurances last year that human rights would be respected under martial law have long been forgotten and a wide range of rights have been stifled. With no clear timeline from the Tshisekedi administration, this backsliding on fundamental rights and democratic space seems to have no end in sight."
Association
15 activists sentenced to prison for protesting under State of Siege
On 1st April 2022, a military court in Beni convicted 12 activists of the social movement Lutte pour le Changement (LUCHA) to prison sentences of one year on charges of 'provocation and incitement to breaches of public authority'. The twelve were arrested on 11th November 2021 while protesting peacefully before the Beni town hall to demand protection of civilians and an end of martial law under the State of Siege, which was declared in the provinces of North Kivu and Ituri in May 2021. On 11th November 2021, security officers disrupted the protest and beat the protesters. A total of 13 LUCHA activists were arrested that day. One activist, Pamela Shabani, was not convicted on 1st April 2022 but charges against her remain. Flavia Mwangovya of Amnesty International commented: 
"President Tshisekedi must lift abusive restrictions on civic space under the pretext of the state of siege, and completely revoke the power given to military courts to judge civilians, in accordance with international human rights standards."
In another negative development, on 25th February 2022, the Military Court in Goma convicted activists Claude Lwaboshi Buhazi, Faustin Ombeni Tulinabo and Serge Mikindo Waso of the social movement Jicho la Raiya (The Eye of the Citizens) to prison sentences of two years for 'harmful accusations' and 'slanderous denunciation'. As reported previously on the Monitor, the three activists were presented on 19th November 2021 before a magistrate and charged. They were arrested nine months before, on 18th February 2021, in Kirotshe, North Kivu while planning to protest against "illegal road taxation" and alleged mismanagement of the Kirotshe health district.
🔴#RDC : L'Observatoire a été informé des menaces, intimidations, injures et actes de dénigrement à l'encontre de M. Dismas Kitenge, président du Groupe Lotus, une ONG basée à Kisangani... @afrikarabia @rkitsita @glody25 @ligodipatient https://t.co/XOUbaNhxtI via @fidh_fr

— Serge Sindani (@sergesindani01) January 14, 2022
Civil society activists subjected to threats, intimidation
Civil society activist Dismas Kitenge, president of Groupe Lotus, a human rights CSO based in Kisangani, Tshopo Province, has been subjected to intimidation, threats, insults and vilification, according to information received by the Observatory for the Protection of Human Rights Defenders. Following Kitenge's statements on social media platforms on the murder of a member of the Republican Guard, who was killed on 31st December 2021, the activist received, on 10th January 2022, three calls from individuals claiming to be members of DRC's armed forces, accusing him of downplaying the murder, calling him a thief, an enemy of the army, a foreign agent and advocate for the person arrested for the murder, Dr Éric Jakwonga Upoki, while stating that he will be held responsible in the event of an uprising by the military. During a meeting of the military prosecutor in charge of the prosecution of Dr. Upoki and the national union of doctors, Kitenge was pointed out as one of those responsible of spreading false information about the case. In another meeting with members of Groupe Lotus to discuss the threats against Kitenge, the military prosecutor and the Military Advocate General insulted and further threatened Kitenge, describing him as "a liar, a loser, a ridiculous person, an agitator, a profiteer, a manipulator".
In his statements, Kitenge denounced the arrest of Dr. Upoki, while also calling for social mobilisation and the organisation of peaceful protests. According to the Observatory, Kitenge has been subjected to death threats before: in September 2020, the activist received anonymous calls, threatening him and his family, due to his opinion about the country's authorities and public figures.
According to the DRC chapter of pro-democracy movement Tournons la Page, lawyer and president of Justicia asbl Timothée Mbuya escaped a possible assassination attempt on 10th January 2022. Unidentified individuals, dressed as police officers and carrying AK-47 firearms, entered his residence in Lubumbashi, province of Haut-Katanga, around midnight and subjected Mbuya's wife and children to death threats after they searched the house and were unable to find Mbuya. They then proceeded to ransack the house and stole some valuables. As reported previously on the Monitor, Timothée Mbuya appeared that same day before the Peace Court in Lubumbashi, where he was accused of harmful accusations and defamation by Ferme Espoir, a farm owned by former president Kabila, following the publication of a report by Justicia Asbl accusing Ferme Espoir of having erected their fences beyond their property into the Kundelungu National Park, affecting biodiversity in the park. The court ruled that correct procedures were not followed by Ferme Espoir.
Accountability for the killing of HRDs 
On 10th January 2022, the Military Court of Kinshasa-Matete sentenced two police officers to life in prison for the killing of HRD Rossy Tshimanga Mukendi on 25th February 2018. Mukendi was killed when police officers opened fire on protesters outside Saint-Benoît Church in Kinshasa while he was assisting protesters with finding shelter in the church. Mukendi was a member of Mouvement Citoyen Collectif 2016, a youth movement fighting for democracy and human rights.
Notre camarade MUMBERE USHINDI DORAKE(22ans) vient d'être tué par la Police @comgenpnc à #Beni au cours des manifestations citoyennes dénonçant la persistance de l'insécurité en dépit de l'état de siège. USHINDI est le 3è militant de la @luchaRDC tué dans les mêmes circonstances pic.twitter.com/AF7kCsJp1z

— LUCHA 🇨🇩 (@luchaRDC) January 24, 2022
Peaceful Assembly
LUCHA activist killed during protest against insecurity in Beni
On 24th January 2022, security forces used live ammunition while attempting to break up a peaceful protest in Beni, North Kivu province, lethally injuring Mumbere Ushindi Dorake, a 22 year old LUCHA activist who succumbed to his injuries. LUCHA and other civic actors had called for a five-day-long protest action against insecurity in Beni and to denounce the State of Siege. A few hours before the shooting, Narcisse Muteba, a police official serving as the mayor of Beni, called the protesters "dogs making noise in town" and warned that they "can't tolerate such nonsense". Jean-Sébastien Kahuma, police commander of Beni, had already threatened the protesters the previous day, saying that they "will not see their brothers and sisters again [and] they won't be with their family any longer". Kahuma further said that "we don't need human rights defenders, I am the president of human rights.… [T]here are duties before rights. These people should stay at home rather than disrupting order outside". On 25th January 2022, 12 activists from Butembo, who were on their way to Beni to attend the funeral services of Ushindi, were reportedly arrested by police. They were released after spending two nights in detention. 
Ushindi Dorake is the third LUCHA activist who was killed by security forces in Beni in the past three years. 
Opposition protest dispersed
On 18th January 2022, police officers used tear gas and batons to disperse a protest in Lubumbashi, Haute-Katanga province, to demand the liberation of pastor Daniel Ngoy Mulunda, former head of the Independent National Electoral Commission (CENI) and reportedly an ally of former President Kabila. Several members of the opposition Front commun pour le Congo (FCC) participated in the protest. The organisers of the march claim that more than 50 people were injured in the protest and 10 people were arrested, numbers denied by authorities, who say that two people sustained minor injuries. According to the organisers, the march was first authorised by local authorities, but later banned. 
In January 2021, Mulunda was sentenced to three years in prison for 'incitement to tribal hatred, spreading false rumours and undermining the internal security of the state'.
Police disperse student protest
Students of several public universities in Kinshasa protested on 28th February 2022 to demand a resumption of courses. Lecturers of those universities had been on strike since 5th January 2022, when the academic year resumed. Police officers reportedly used tear gas to disperse protesting students at the National Pedagogical University (UPN).
RDC : les états généraux de la presse peuvent ouvrir une nouvelle ère pour les journalistes congolais https://t.co/PVm7cwltCA

— Michel Guillou 🤾 (@michelguillou) February 21, 2022
Expression
National convention on the state of communication and media in DRC
Between 25th and 29th January 2022, a national convention took place in Kinshasa discussing the state of communication and media in DRC. During the convention, more than 80 proposals to reform the sector were adopted, including the decriminalisation of press offences in the 1996 Press Law, a moratorium on the arrest of journalists in the context of their work, the creation of a support fund for the press, the abolition of certain taxes and royalties for media outlets and an extension of powers of the national media regulator, the High Council for Broadcasting and Communication (CSAC), among other recommendations. A committee is to be created to monitor the implementation of the proposed recommendations. Minister of Communication and Media, Patrick Muyaya said that a bill decriminalising press offences will be presented to the National Assembly, while President Félix Tshisekedi expressed his desire to create a dedicated alert mechanism to guarantee the safety of journalists. Arnaud Froger of Reporters without Borders (RSF) commented: 
"This national convention paves the way for reforms that could improve the practice of journalism in the DRC in concrete ways. We welcome the main recommendations that were adopted and we encourage the authorities to implement the long-awaited reforms as soon as possible. The path chosen to strengthen the protection of journalists and improve their working environment while strengthening the media's professionalisation and viability is the right one."
Physical assault of journalists
According to press freedom CSO Journalistes en Danger (JED), journalist Nickson Manzekele, who works for Radio Télé Mont Bleu in Bunia, Ituri Province, was physically assaulted by two soldiers on 18th January 2022 while he was reporting on an operation to close down unlicensed motorcycle-taxis. His dictaphone, his wallet and his identity documents were reportedly stolen by the soldiers. 
On 20th January 2022, police officers physically attacked journalist Justine Lifombi of Bondeko Community Radio while she was covering a protest, banned by local authorities, in Isangi, Tshopo province, to demand the resignation of the administrator of Isangi Territory. Lifombi was interviewing protesters when police officers pulled her by her hair and started beating her. The officers then took her by force to the police station, where she was held for a few hours. The journalist's recording equipment, three mobile phones and her shoes were not returned to her. 
Congolese journalist Sébastien Mulamba charged with weapons possession, criminal association, armed robbery after critical radio commentaryhttps://t.co/PSlZ9oRkD8

— Committee to Protect Journalists (@pressfreedom) April 28, 2022
Journalist detained, charged
On 21st April 2022, police officers arrested journalist Sébastien Mulamba at his residence in Kisangani, Tshopo Province. Mulamba, who is the director of Kisangani News and appears regularly on local radio outlets as a guest commentator, told the Committee to Protect Journalists (CPJ) that the officers wore hoods, broke doors and windows and fired shots into the air while forcing their way into the journalist's home. Mulemba's hands were tied in front of his children before he was taken to the police station, where he was held for six hours before being released. He was charged with illegal possession of weapons, criminal association and armed robbery, which would carry the death penalty under articles 85 and 150 according to CPJ. His phone was returned to him but was reportedly wiped clean.
Mulamba and others believe the police action to be in retaliation for his criticism of Tshopo's governor, Abibu Sakapelo, during a broadcast on Radio Flamboyant Orient.