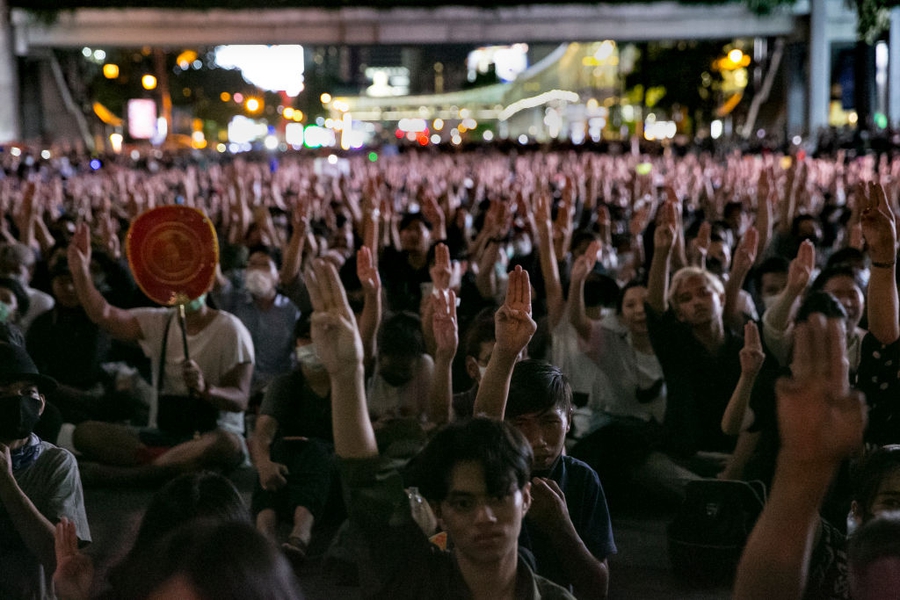 Since the beginning of 2020, thousands of Thai people have gathered and marched to demand the dissolution of Thailand's military-backed government, the drafting of a new constitution and an end to the harassment of activists and government critics. In the past three months, the youth-led protest movement has increasingly articulated demands for reform of the monarchy, a development without precedent in recent Thai history.
To suppress dissent, there has been widespread use of judicial harassment against activists and human rights defenders. According to a report by Thai Lawyers for Human Rights (TLHR) and Article 19 the authorities have arrested or charged at least 173 individuals in relation to their protest activities since the beginning of 2020 under an array of repressive laws.
Peaceful Assembly
Arrests of protesters and disruption of protests
The Thai authorities have escalated their crackdown on peaceful protests in Thailand in recent weeks. TLHR and Article 19 reported that at least 90 individuals were arrested between 13th and 21st October 2020 and peaceful protests have been dispersed, in some instances with excessive force. Authorities have also physically blocked access to protest sites and shut down transportation networks.
According to human rights groups, the majority of individuals arrested have been charged with breaches of the vaguely-worded "severe" state of emergency but some also face charges of 'sedition' (section 116 of the Penal Code), a broadly-worded law often used to quash dissent by authorities which carries a maximum jail sentence of seven years. Others have been charged for their social media activities under the Computer Crime Act, a law which also contains many vague provisions that have regularly been used to limit people's freedom of expression. Most have been released on bail but some of the protest leaders remain in detention.
สรุป26 ต.ค. ศาลไม่ให้ประกันเพนกวิน-รุ้ง-ไมค์-หมอลำแบงค์-สมยศ / ตัน-สุรนาถและเอกชัยที่โดนคดี ม.110 ไม่ได้ประกันเช่นกัน ศาลอ้างข้อหาร้ายแรง อัตราโทษสูง เกรงหลบหนี/อานนท์ได้ประกันแต่จนท.อายัดตัวต่อเข้ากทม.ตามข้อหาของสน.ชนะสงครามแต่อาจถูกคุมตัวที่บก.ตชด.ภาค1 https://t.co/G5rLrHBdsr pic.twitter.com/8wIuGu3Oje

— TLHR / ศูนย์ทนายความเพื่อสิทธิมนุษยชน (@TLHR2014) October 26, 2020
On 13th October 2020, police forcibly dispersed a pro-democracy protest organised by the People's Group at Bangkok's Democracy Monument. Police allegedly kicked, punched and threw some protesters to the ground. At least 23 protesters including protest leader Jatupat "Pai Dao Din" Boonpattararaksa were arrested. He was freed on bail on 23rd October.
On 14th and 15th October 2020, another 34 people were arrested. Five of the protest leaders - human rights lawyer Arnon Nampa, Thammasat University student activists Parit "Penguin" Chiwarak and Panusaya "Rung" Sithijirawattanaku, as well as Prasit Khrutharot and Nathchanon Pairoj - were charged with "sedition" (Article 116 of the Thai Criminal Code). Prasit Khrutharot and Nathchanon Pairoj have since been released on bail.
In response to the protests, on 15th October 2020, the authorities declared a "severe" state of emergency, banning gatherings of five people or more in the capital, Bangkok as well as the publication of news or online messages that "could create fear", affect national security or damage public morale. The "severe" state of emergency was lifted on 22nd October 2020.
Two activists Ekachai & Boonkuea were arrested under Section 110, committing an act of violence against the Queen, Heir-apparent or the Regent, which carries a penalty of 16-20 yrs or life imprisonment!

People's reaction: HUH? HOW? WHAT act of violence?! https://t.co/QLq8X1Hw4q

— kaewmala 🌼 .|||. (@Thai_Talk) October 15, 2020
Activists Ekachai Hongkangwan and Boonkueanoon Paothong were arrested on 16th October 2020. They had reportedly shouted and held up the defiant three-finger salute when the Queen's motorcade drove past protesters on 14th October. They have been charged under Section 110 of the Criminal Code and could face life imprisonment.
On 16th October 2020, police closed roads and established barricades with multiple rows of barbed wire in order to prevent people from gathering peacefully. Subsequently, police repeatedly used water cannon with chemical irritants and dye in attempts to disperse the crowd, estimated to be in the thousands. Police also charged in with batons and shields to disperse the protesters. Twelve protesters were reportedly arrested. Those arrested include Kitti Pantapak, a journalist with Prachathai news outlet. His equipment was also confiscated.
Somyot Prueksakasemsuk, prominent human rights defender and former lèse-majesté prisoner, was arrested in Bangkok on 16th October on various charges, including "sedition" (Article 116), in connection with his participation in a peaceful pro-democracy protest on 19th September in Bangkok.
On 17th October 2020, despite peaceful protests at least seven activists were reportedly arrested including student leader Panupong Chadnok, a member of the group Eastern Youth for Democracy, for violation of the Emergency Decree. He has been charged with "sedition" (Article 116) in connection with his participation in three separate peaceful pro-democracy protests in Bangkok in September and October 2020. On the same day, Chatchai Kaewkhampod, a protest leader from Ubon Ratchathani province, was also arrested.
Human rights defender Patiwat Saraiyaem, was arrested in Khon Kean on 19th October 2020 for violation of the Emergency Decree. He has been charged with "sedition" (Article 116) in connection with his participation in a peaceful pro-democracy protest in Bangkok on 19th September.
On 21st October 2020, Suranat Paenprasert, Coordinator of Active Youth, was arrested in Bangkok on charges of "committing or attempting to commit an act of violence against the Queen" (Article 110) in connection with his participation in a peaceful pro-democracy protest in Bangkok on 14th October. He is being detained at the Bangkok Remand Prison. On the same day, protest leader Patsaravalee "Mind" Tanakitvibulpon, was arrested but freed the day after by the courts.
Further, school authorities have attempted to silence high school student protesters involved in pro-democracy. After the 16th August rally, more than one hundred instances of harassment were reported by students in three days.
On 29th October 2020, it was reported that police will summon at least five Free Youth protesters during a protest outside the Germany embassy in Bangkok held on 25 October after a court turned down their request for arrest warrants.
The police on had sought to arrest five protesters on sedition and other charges for their roles during the demonstration at the embassy where the protesters submitted a letter to the ambassador asking for an investigation of the Thai king's activities during lengthy stays in Germany.
As of 30th October 2020, 8 activists remain in detention - Parit "Penguin" Chiwarak, Panusaya "Rung" Sithijirawattanaku, Arnon Nampa, Ekachai Hongkangwan, Panupong Chadnok, Somyot Prueksakasemsuk, Patiwat "Bank" Saraiyaem and Suranat "Tan" Paenprasert.
Expression
Muzzling of critical media and silencing online criticism
Human Rights Watch reported that on 16th October 2020 the police issued several warnings against news reports and social media commentary critical of the monarchy, the government and the political situation in the country. Livestreaming pro-democracy protests was declared illegal, as well as posting selfies at a protest site. International news reporting on Thailand, such as by the BBC World Service, was blocked on the country's main cable TV network, True Visions.
Banning Voice TV is the Thai government's latest attempt to stop the reporting about democracy protests & ensuing abuses against protesters. The crackdown is part of a bigger effort to bully & control the media into becoming a government mouthpiece.https://t.co/0EkAtFa2LA pic.twitter.com/0Rik3NAjNV

— Elaine Pearson (@PearsonElaine) October 21, 2020
On 20th October 2020 the Ministry of Digital Economy and Society announced at a news conference that the government had obtained a court order to close down Voice TV - a station widely known for its critical coverage of the government - on all online platforms. The ministry alleged that the station's coverage of a democracy protest in Bangkok on 16th October violated media restrictions under the Emergency Decree on Public Administration in Emergency Situations and the Computer-Related Crime Act. The order also targeted three other media outlets: Prachatai, The Standard and The Reporters, although there has yet to be a court decision in their cases. Authorities allege that these outlets have violated orders issued under the Emergency Decree.
However, on 21st October 2020, the Bangkok Criminal Court overturned its own decision and rejected the police request to suspend the online platforms of all five outlets.
According to TLHR and Article 19, authorities also attempted to secure the cooperation of Facebook, Twitter and other social media platforms in censoring online content. The Ministry of Digital Economy and Society sought to block Telegram, a messaging app used by protesters, and announced investigations into more than 300,000 web addresses allegedly containing illegal content.
Association
Opposition figure charged
The founder of the dissolved Future Forward party is accused of 5 public assembly violations linked to the rally in Bangkok's central shopping district in December 2019. https://t.co/8sXIcB7B8R

— Rappler (@rapplerdotcom) October 29, 2020
On 29th October 2020, a prominent Thai anti-establishment figure was charged for his role in a flash mob protest last year. Thanathorn Juangroongruangkit, founder of the dissolved Future Forward party, is accused of five public assembly violations linked to the rally in Bangkok's central shopping district in December 2019.
Charges include failing to notify police of a public gathering, blocking a sky train station, using a megaphone without permission and holding a rally close to a royal residence
As previously documented, in February 2020, the constitutional court dissolved the opposition Future Forward party and banned 16 of its leaders from politics for ten years. The court ruled the party had violated election rules by taking an illegal loan from Thanathorn, the leader of the Future Forward Party (FFP). Thanathorn denies any wrongdoing, and some political commentators believe they are being singled out because they pose a threat to the political establishment's grip on power and say other parties' finances have not been scrutinised in the same way.