Africa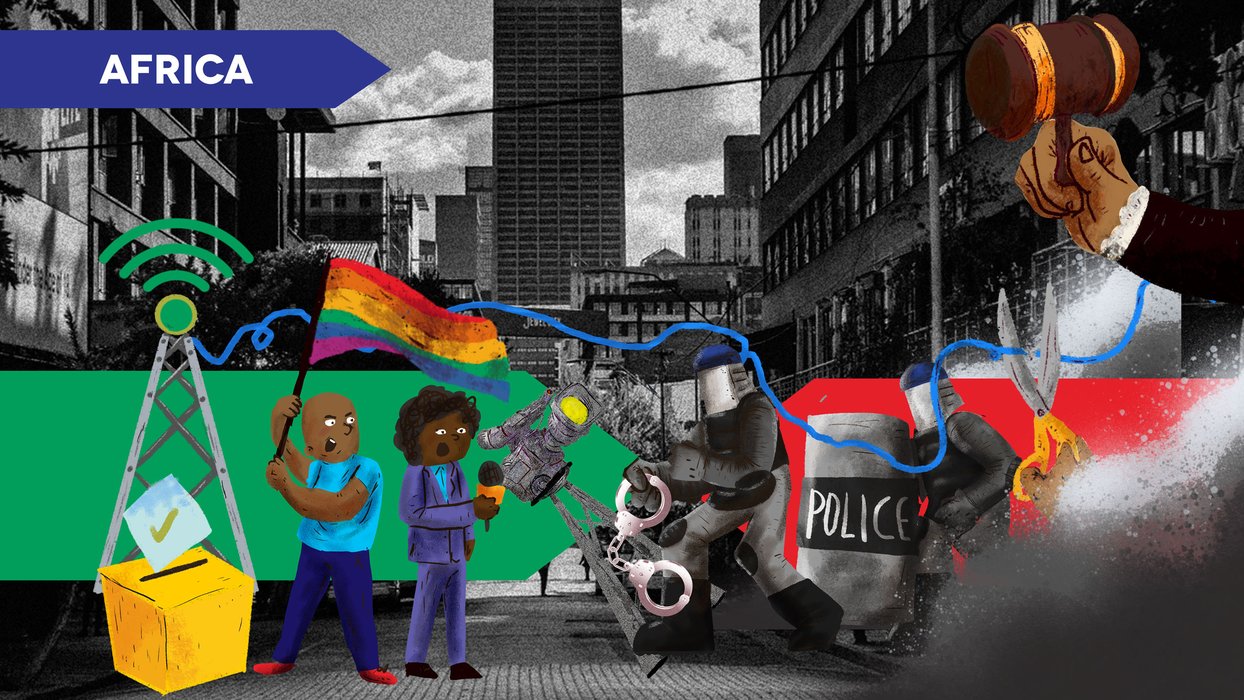 Civic space conditions in Africa remain highly restrictive: 44 out of 49 countries are rated as obstructed, repressed, or closed*. This means that the vast majority of people in the region face significant restrictions in exercising civic space freedoms. Only in the island states of Cabo Verde and São Tomé and Principe is civic space open, while Mauritius, Namibia and Seychelles have narrowed civic space.
Rating Overview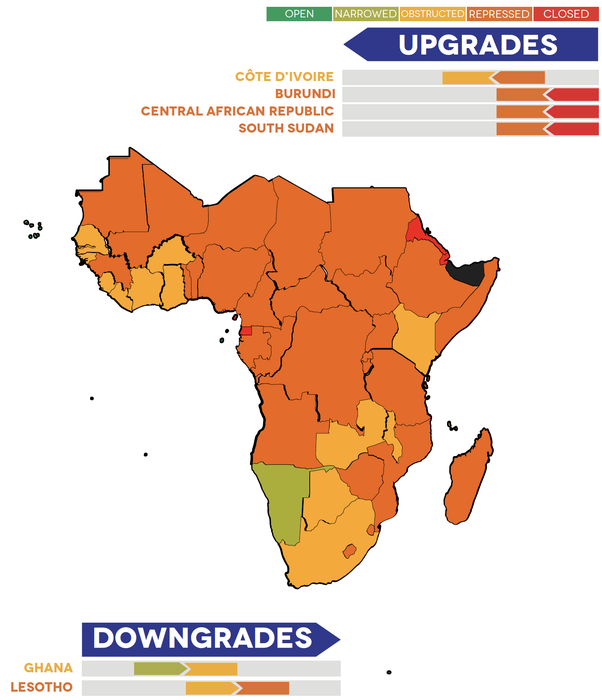 In West Africa, civic space violations in Guinea and Mali, both under military rule, have increased, with a protracted blanket protest ban in Guinea and tighter control of CSOs in Mali. Ghana, long lauded as a regional champion for its respect of civic and democratic freedoms, sees its civic space rating downgraded to obstructed as media freedom has been severely curtailed, with increasing physical attacks on journalists and the use of 'false news' regulations to arrest journalists. Meanwhile, a draconian anti-LGBTQI+ law has been under consideration since 2021, which would, among other restrictions, criminalise LGBTQI+ advocacy. Côte d'Ivoire however sees a rating upgrade from the repressed to the obstructed category, mainly due to fewer reported civic space violations compared with 2020, a year characterised by a highly contested and controversial electoral period, which led to the country's downgrade to the repressed rating in December 2020.
In Central Africa, civic space remains affected by armed conflict, weak rule of law, impunity and entrenched authoritarian governments. In Chad, the military junta has severely repressed democracy protests, killing dozens of people, and dissolved the protest coalition Wakit Tama, which brings together civil society groups and opposition political parties. Despite promises to improve media freedoms in the Democratic Republic of the Congo (DRC), journalists and media workers continued to be imprisoned, attacked and killed. Additionally, civic space violations have multiplied under the 'stage of siege' that in effect imposes martial law in the two eastern provinces of Ituri and North Kivu. In Cameroon, civic space remains repressed, with scores of protesters and journalists still being kept in prison. While the CAR moves to the repressed rating from closed, the authorities remain intolerant of dissent. An attempt to re-criminalise press offences, numerous attacks on humanitarian workers and highly contested government plans to amend the constitution all call for continuing vigilance.
In East Africa, Sudan's military government continued its crackdown on democracy protests and activism following a second coup on 25 October 2021, killing scores of protesters and detaining hundreds of people, often subjecting them to torture and sexual violence. In Ethiopia, as conflict in Tigray and other areas continued in 2022, the authorities targeted, intimidated and punished journalists and media outlets reporting on the war.
Both Burundi and South Sudan have seen their civic space rating move from closed to repressed. In Burundi, although civic space remains severely restricted, a slight initial improvement was seen after President Evariste Ndayishimiye came into power in 2020, with at least 5,000 prisoners, including journalists and CSO representatives, pardoned. Similarly, while conditions remain severely restricted in South Sudan, a slight improvement in civic space was noted with an increased number of protests being documented.
In Southern Africa, the authorities in Malawi, Mozambique and Zimbabwe have proposed or enacted restrictive laws on CSOs, raising fear of increasing restrictions of freedom of association. In South Africa, the killing of activists working on land rights and the rights of informal settlement dwellers, and the vilification of CSOs by government officials and non-state actors are causes for grave concern. Lesotho sees its civic space downgraded to repressed due to continuing police brutality, increasing intimidation and attacks on journalists and the use of lethal weapons in response to a student protest in June 2022, which led to the killing of a protester.
LGBTQI+ rights and groups under attack
In 2022, LGBTQI+ rights and sexual and gender minority groups continued to be targeted in several countries in Africa. These groups were the most involved in civic space incidents, mentioned in 16 per cent of CIVICUS Monitor updates. In Ghana, the draconian 'Promotion of Proper Human Sexual Rights and Ghanaian Family Values Bill', introduced in the National Assembly in June 2021, created a hostile environment for sexual and gender minorities, leading to multiple forms of human rights violations, including attacks, physical violence and arbitrary arrests. In Senegal, a similar far-reaching anti-LGBTQI+ draft law was drafted by 11 legislators. However, it was blocked from being considered by the Office of the National Assembly, as the Penal Code already criminalises same-sex relations.
In August 2022, the National Bureau for Non-Governmental Organisations (NGO Bureau) in Uganda suspended the operations of CSO Sexual Minorities Uganda (SMUG). Prior to its suspension, SMUG and its staff were harassed through surveillance, arrests and prosecution. In Eswatini in April 2022, the High Court held that LGBTQI+ people have a constitutional right to equality but this right is subject to the laws of the country, and therefore the refusal of authorities to register the CSO Eswatini Sexual and Gender Minorities as a legal entity was deemed lawful by the High Court.
In Kenya, LGBTQI+ people continue to be targeted, harassed, attacked and killed. The Kenya Film Classification Board's acting head, Christopher Wambua, said in September 2022 that all movies with LGBTQI+ content are forbidden in Kenya. In Tanzania in September 2022, Information Minister Nape Nnauye warned against the promotion of same-sex relations on social media.
Civic Space Restrictions
In Africa, the top civic space violations were intimidation, followed by the detention of journalists, the detention of protesters, protest disruption and attacks on journalists.
Intimidation
The most common civic space violation in 2022 in Africa was intimidation, documented in at least 23 countries. Intimidation as a tactic aims to discourage journalists and activists from continuing their work, and has become increasingly common in Africa. Intimidation, perpetrated by state and non-state actors, occurred in different forms, including through police summons for questioning, threats of prosecution, house searches without warrants, office break-ins and raids and online or offline threatening messages.
In Sudan, WHRDs and women protesters were targeted with intimidating tactics, including sexual violence, in an effort to silence them. The head of the Violence against Women Unit in the Ministry of Social Affairs, Sulima Ishaq, was summoned on 7 August 2022 by the prosecutor and interrogated in relation to a statement made by the head of the United Nations (UN) Integrated Transition Assistance Mission in Sudan (UNITAMS) before the UN Security Council, which detailed sexual violence perpetrated against protesters. Intimidation of HRDs and democracy protesters in the absolute monarchy of Eswatini comes in many forms, including house searches, arson attacks and threats.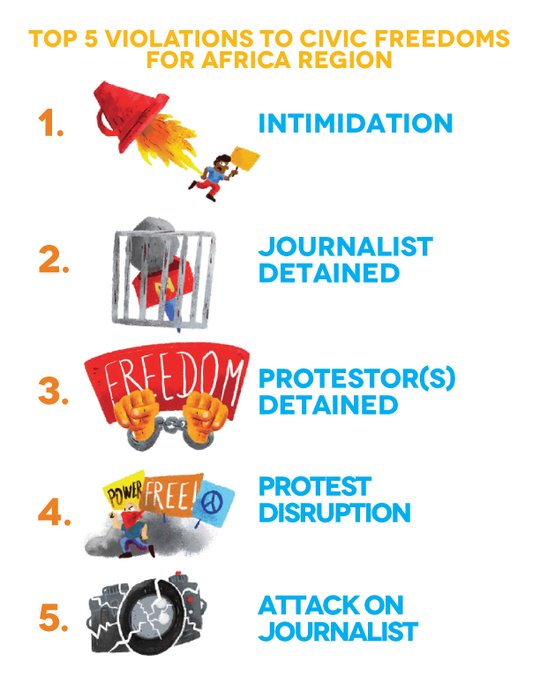 In Mali, journalist Malick Konaté was subjected to numerous threats, including death threats, following his participation in a French TV documentary, broadcast on 31 October 2022, on the presence of mercenaries connected to the Russian Wagner Group, a controversial topic in the country. In early November 2022, Konaté received a call from the head of Police Judicial Investigations, saying he was 'needed', while military officers visited his home twice. Likewise, Erick Ngaba, journalist for the CAR newspaper Ndjoni Sango, received threats on social media following publication of his story on an alleged internal power struggle within a political party.
CSOs and media outlets have also been subjected to intimidation, including through office raids and public vilification. In Nigeria, the offices of the People's Gazette was raided in January and July 2022 in relation to stories the media outlet covered. In both incidents, security forces said they were looking for the managing editor of the outlet and journalists involved. Ahead of elections in Zimbabwe, the authorities have engaged in an intimidation and public vilification campaign against CSOs and the foreign diplomatic missions that have supported CSOs in advocacy efforts against the restrictive Private Voluntary Organisations (PVO) Amendment Bill. Additionally, there have been an increasing number of raids on the activities of CSOs, in what appears to be a deliberate effort to prevent CSOs participating in democratic processes ahead of the upcoming elections.
Several HRDs and human rights organisations had their offices broken into. In the Republic of the Congo, the offices of two human rights organisations – the Congolese Observatory of Human Rights and the Forum for Governance and Human Rights – were broken into in September 2022, with perpetrators taking computers holding sensitive information. On 22 January 2022, the office of Mozambican HRD and lawyer João Nhampossa was broken into following weeks of threats. His computer, phones and work documents were stolen.
Detention of journalists
The detention of journalists was the second most common civic space violation in Africa in 2022, documented in at least 19 countries. Journalists have been detained due to their reporting on corruption and other topics considered to be sensitive or deemed insulting by the authorities, including in countries where press offences have been decriminalised.
Some of the worst jailers of journalists in Africa continued their practices of arbitrarily arresting journalists. In Somalia and Somaliland, journalists are frequently detained and subjected to intimidation and threats. On 5 July 2022, police officers detained reporter Mohamed Abdirahin Mohamed of RTN Television. According to Mohamed, the detention was related to an interview he conducted with an opposition member of the Southwest State Assembly, who had recently protested, along with other opposition legislators, against the revocation of their immunity and membership of the assembly. Mohamed was warned against broadcasting the interview or criticising President Abdiaziz Hassan Mohamed.
In Nigeria, journalists continued to be arrested and prosecuted, particularly for alleged cybercrimes and defamation. On 19 August 2022, Agba Jalingo, publisher of online news site RiverCrossWatch, was detained by police officers in Ogudu, Lagos State, following a defamation and cyberattack complaint filed by the sister-in-law of the Governor of Lagos State. The arrest, reportedly in response to a Facebook post, came only five months after a High Court in Calabar dismissed all charges – terrorism, treasonable felony and cybercrimes – against Jalingo in a previous case that saw him imprisoned for 179 days following the publication of a report alleging the diversion of public funds by the Governor of Rivers State.
In Cameroon, long pretrial detentions and prosecutions, often in military courts, are common. In December 2022, journalist Amadou Vamoulké, who had been detained since July 2016, was sentenced by a special criminal court to 12 years in prison and a hefty fine on charges of embezzlement. The charges were viewed by press freedom advocates to be retaliation for his management of the public broadcaster. His case had been postponed at least 74 times.
Reporting on corruption remains an essential but dangerous endeavour, with a high risk of being arrested. In the CAR, police arrested Christian Azoudaoua, editor of Le Charpentier newspaper, on 6 September 2022, reportedly on the orders of the deputy speaker of the National Assembly, following the publication of a report alleging the deputy speaker's role in embezzlement. Azoudaoua was detained for several weeks. In Malawi, journalist Gregory Gondwe was arrested in April 2022 following the publication of an article alleging corruption by the country's Attorney-General. Gondwe was detained for six hours, with police pressuring him to reveal his sources, and his phone and laptop were confiscated.
In Ethiopia, journalists who reported on the Tigray conflict and those critical of authorities were subjected to intimidation, arbitrary arrests and reprisals. On several occasions, the authorities detained journalists on accusations such as incitement to violence, collaboration with the enemy, disseminating information supporting rebel groups and attempting to sow division between the public and the military. For example, on 7 September 2022, founder of Roha TV, Meaza Mohamed, and Voice of Amhara founder and editor, Hobeze Sisay, were arrested. They were presented in court the following day on accusations of having ties with the Tigray People's Liberation Front (TPLF), which has been in conflict with the federal government, and attempting to terrorise the public through the dissemination of information that supports the TPLF, although they were not formally charged. Both Roha TV and Voice of Amhara had recently covered the conflict in Ethiopia.
Journalists are also regularly detained while covering protests and public meetings, particularly protests repressed by the authorities. In Sudan, several journalists were detained while covering democracy protests. For example, on 5 April 2022, military officers arrested freelance journalist Mohamed Sulaiman al-Obied and photographers Mutaz al-Naeem Adam and Mohamed al-Fatih in Omdurman. The reasons for their arrest are unknown. In Somaliland, Horyaal 24TV journalists Ahmed-Zaki and Abdinasir were detained while covering an opposition protest on 11 August 2022. In Chad, police arrested Olivier Memnguidé, journalist for radio station Radio Oxygène, when he was covering a protest in Donia on 20 April 2022. That day, clashes broke out between protesters and security forces following the arrest of a man accused of being in possession of false papers for his motorcycle. Memnguidé was accused by the police of rebellion and held for five days. In Ngorongoro, Tanzania, during a public meeting on threats of forced evictions on 4 February 2022, police arrested six journalists covering the meeting.
In the DRC, where press offences remain criminalised, journalists are vulnerable to detention and arrests. Joseph Kazadi, a journalist for the Leader newspaper and Mining News magazine, spent two weeks in detention at the headquarters of the National Intelligence Agency after his arrest on 13 July 2022, together with US journalist Nicholas Niarchos, while reporting on the links between artisanal mining and those who profit from it in Lubumbashi.
In Ghana, the authorities have increasingly used 'false news' regulations under the Criminal Offences Act and the Electronic Communications Act to detain journalists. On 24 May 2022, for example, police briefly detained Noah Narh Dameh, who works for Radio Ada, in response to a petition by a company that was granted a controversial concession to mine salt, following a story on Facebook. He was later charged with publishing false news.
Journalists were also detained in Burkina Faso, Burundi, Côte d'Ivoire, Mozambique, Senegal, Sierra Leone, South Sudan and Uganda.
Detention of protesters and protest disruption
In 2022, people in Africa continued to protest for a wide range of reasons, including to demand accountability, service delivery and democracy and speak out about the high cost of living. In the Sahel region, there were several protests against the presence of French military troops, while in conflict areas such as Burkina Faso, eastern DRC and northern Nigeria protesters mobilised against increasing insecurity, including that caused by armed militias and intercommunal conflict.
Protest violations remained rife in Africa in 2022. The detention of protesters was documented in at least 20 countries, while protest disruptions were documented in at least 18.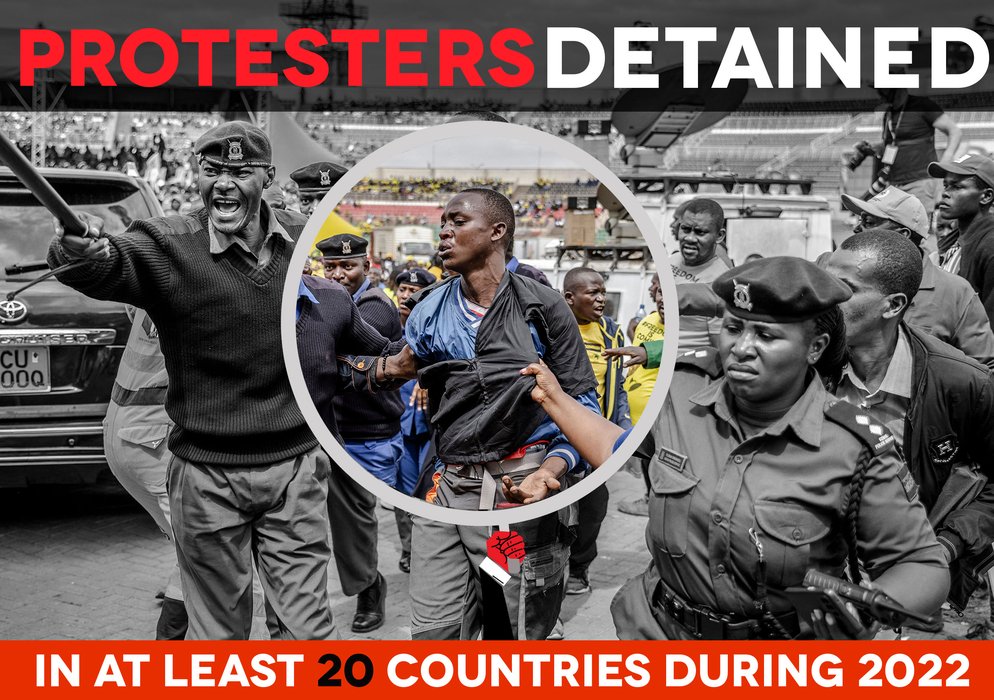 Democracy protests in Chad and Sudan were violently broken up by security forces, killing scores of people while arresting hundreds of protesters. The UN Expert on Human Rights in Sudan documented the arbitrary arrest and detention of 1,293 people in democracy protests between the military coup of 25 October 2021 and 10 April 2022, which does not include those detained for short periods and released without charge. Most of the protesters arrested were charged under Code 1991 on charges of public nuisance, breach of public safety and offences related to 'public tranquillity', including rioting. Arrests and detention have remained ongoing.
Security forces cracked down on 'Black Thursday' protests on 20 October 2022 in Chad, organised in response to the military junta's announcement of a two-year extension of the transitional period. At least 50 people were killed during the protests and hundreds were arrested, most of whom were taken to the Koro Toro high security prison, a notorious maximum-security jail located in the desert, 600 km away from Chad's capital, N'Djamena. There were also reports alleging the disappearance of protesters. In early December 2022, 261 people were sentenced to two-to-three-year prison sentences on charges including taking part in an unauthorised gathering, destroying belongings, arson and disturbing public order. In Guinea, protests in July and August 2022 against the military's extension of its rule were violently repressed by the junta. Around 100 protesters were arrested, including 34 minors, during protests on 28 and 29 July 2022, in which at least five people were killed by live ammunition.
Protests ahead of and after elections were disrupted in several countries, in most cases accompanied by the arrest of protesters. In Somaliland, security forces fired live ammunition in an attempt to disperse protesters against an alleged attempt to delay presidential elections and arrested around 100 protesters. Ahead of general elections in Angola on 24 August 2022, protests to demand free and fair elections and to call out electoral irregularities were either banned or dispersed. On 17 August 2022, dozens of people, including Voice of America correspondent Coque Mukuta, were arrested during a civil society protest in Luanda. In Senegal, many people – over 200 according to opposition coalition Yewwi Aksan Wi – were arrested on 17 June 2022 in opposition protests against the invalidation of the coalition's list of candidates for the legislative elections, which took place on 31 July 2022. Three people were killed, while the opposition protests were banned, along with other planned protests.
As the cost of living and inflation soared in 2022, so did protests and attempts to discourage people from gathering. Security forces attempted to prevent protests against high inflation and the cost of living taking place in Uganda, and where they could not prevent protests, they dispersed and arrested protesters. Six women protesters were arrested on 30 May 2022 and were later charged with inciting violence and unlawful assembly. A few days earlier, on 25 May 2022, opposition figure Kizza Besigye was arrested while organising a demonstration against high commodity prices.
In Sierra Leone, dozens of protesters were arrested during a women's protest in Freetown, known as the 'Black Monday' protest. Hundreds of women took to the streets to protest against economic hardship as a result of rising prices. In Malawi on 20 July 2022, 76 protesters were reportedly detained during a protest, organised by civil society group Malawi Human Rights Advocacy in Lilongwe, to denounce the high cost of living and what protesters characterised as 'selective justice' on the part of the judiciary. Police used teargas to disperse the protesters. In April 2022, police officers arrested and beat HRD Julius Kamau for protesting against the high cost of living in Nairobi, Kenya.
Protesters were also detained in Burkina Faso, Côte d'Ivoire, Cameroon, DRC, Ghana, Kenya, Mozambique,Republic of Congo, South Sudan and Zimbabwe.
Countries of concern: Zimbabwe and Eswatini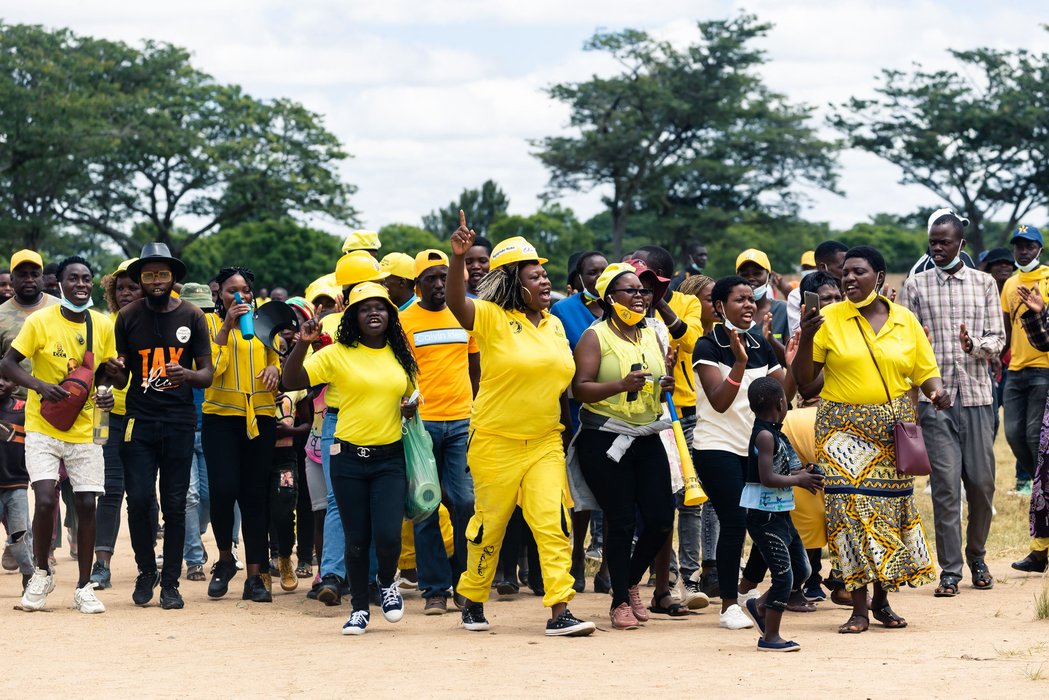 Ahead of general elections in Zimbabwe, planned for July 2023, the authorities have closed the space to participate in democratic processes and cracked down on civil society and the opposition. The 2022 PVO Amendment Bill, recently passed by both parliamentary chambers and awaiting presidential assent, will see tighter restrictions, undue targeting and closure of prominent CSOs, which were previously not required to register under the PVO Act. The law will give the authorities unfettered, discretionary power to over regulate and interfere in the governance and operations of CSOs and unchecked powers to revoke registrations.
Even before the new bill comes into effect, the authorities have arbitrarily deregistered at least 290 CSOs. Since March 2022, the government has embarked on an intimidation and vilification campaign against CSOs and foreign diplomatic missions that have supported CSOs in advocating against the new law. State-controlled outlets have complemented government efforts to delegitimise CSOs through propaganda and a smear campaign, painting CSOs as conduits of foreign agents and criminal activities, among other narratives.
In 2022, there have been several cases of disruption of activities by CSOs and detention of CSO staff. For example, in May 2022, a women's empowerment meeting organised by Transparency International Zimbabwe and Shamwari yeMwanasikana was disrupted by Central Intelligence Organisation officers for alleged failure to notify local authorities. Three staff members were arrested and charged with convening an unlawful gathering.
In addition to the PVO Amendment Bill, the cabinet approved the Criminal Law (Codification and Reform) Amendment Bill in November 2022. If passed, this law will criminalise the lobbying of foreign governments to implement or extend sanctions against Zimbabwe and its officials.
Meanwhile, a concerted crackdown on opposition members and their supporters has further closed off democratic space. Opposition members and supporters, in particular the newly formed Citizen Coalition for Change, have been targeted with arrests, attempts to ban its rallies and gatherings and attacks from ruling party supporters.
Authorities in Zimbabwe have continued to crack down on protests and gatherings, including non-political gatherings. Protesters face arbitrary arrests and are regularly prosecuted on charges of incitement to public violence. For example, renowned novelist Tsitsi Dangarembga and co-accused Julie Barnes were found guilty of participating in a gathering with the intent to incite public violence by Harare magistrates' court on 29 September 2022.
In 2022, the authorities in Eswatini continued with their brutal, retaliatory attacks and arrests targeting activists who mobilise and participate in protests and campaigns calling for democratic reforms, with the latest wave of protests having begun in 2021. Youth activists have been at the forefront of the campaign and have been increasingly targeted by state security agents through tactics including abductions, torture, arrests and intimidation. Student activists Colani Maseko and Sakhile Nxumalo were abducted by the police and assaulted, and Nxumalo was tortured by electric shocks.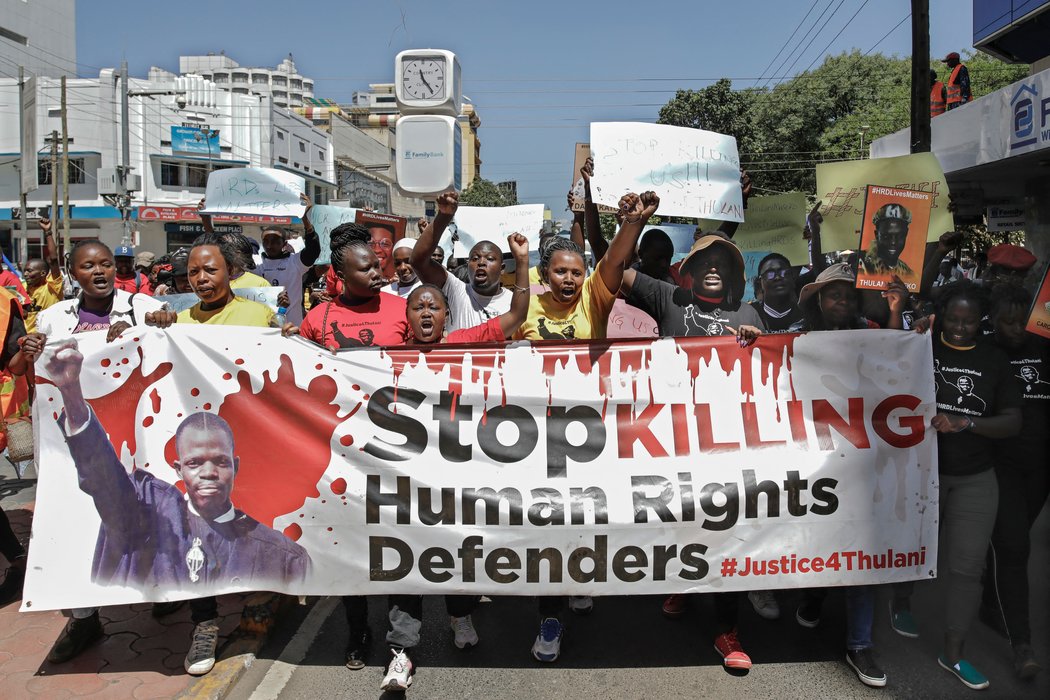 A wave of arson attacks on public and private property, particularly on properties owned by absolute monarch King Mswati III, escalated to also target those seeking change, such as Wandile Dludlu and Ngomyayona Gamedze, members of the opposition People's United Democratic Movement which is leading calls for democratic reforms. The authorities also arbitrarily raided the homes of democracy activists under the pretext of searching for illegal firearms, including in the raid on Wandile Dludlu's house. Police continued to violently disperse protests, with the unnecessary use of rubber bullets and teargas against peaceful protesters.
| | | | | | | |
| --- | --- | --- | --- | --- | --- | --- |
| COUNTRY | SCORES 2022 | RATING 2022 | RATING 2021 | RATING 2020 | RATING 2019 | RATING 2018 |
| ANGOLA | 39 | | | | | |
| BENIN | 40 | | | | | |
| BOTSWANA | 58 | | | | | |
| BURKINA FASO | 47 | | | | | |
| BURUNDI | 28 | | | | | |
| CAMEROON | 31 | | | | | |
| CAPE VERDE | 85 | | | | | |
| CENTRAL AFRICAN REPUBLIC | 38 | | | | | |
| CHAD | 22 | | | | | |
| COMOROS | 47 | | | | | |
| CÔTE D'IVOIRE | 53 | | | | | |
| DEMOCRATIC REPUBLIC OF THE CONGO | 31 | | | | | |
| DJIBOUTI | 18 | | | | | |
| EQUATORIAL GUINEA | 20 | | | | | |
| ERITREA | 7 | | | | | |
| ESWATINI | 22 | | | | | |
| ETHIOPIA | 29 | | | | | |
| GABON | 38 | | | | | |
| GAMBIA | 58 | | | | | |
| GHANA | 60 | | | | | |
| GUINEA | 27 | | | | | |
| GUINEA BISSAU | 46 | | | | | |
| KENYA | 49 | | | | | |
| LESOTHO | 39 | | | | | |
| LIBERIA | 59 | | | | | |
| MADAGASCAR | 40 | | | | | |
| MALAWI | 52 | | | | | |
| MALI | 40 | | | | | |
| MAURITANIA | 36 | | | | | |
| MAURITIUS | 72 | | | | | |
| MOZAMBIQUE | 38 | | | | | |
| NAMIBIA | 75 | | | | | |
| NIGER | 36 | | | | | |
| NIGERIA | 35 | | | | | |
| REPUBLIC OF THE CONGO | 29 | | | | | |
| RWANDA | 24 | | | | | |
| SAO TOME AND PRINCIPE | 82 | | | | | |
| SENEGAL | 47 | | | | | |
| SEYCHELLES | 80 | | | | | |
| SIERRA LEONE | 46 | | | | | |
| SOMALIA | 29 | | | | | |
| SOUTH AFRICA | 58 | | | | | |
| SOUTH SUDAN | 25 | | | | | |
| SUDAN | 21 | | | | | |
| TANZANIA | 34 | | | | | |
| TOGO | 38 | | | | | |
| UGANDA | 28 | | | | | |
| ZAMBIA | 46 | | | | | |
| ZIMBABWE | 35 | | | | | |
---
*Covering countries south of the Sahara.