A year since October Revolution: Human rights violations continue amid lack of accountability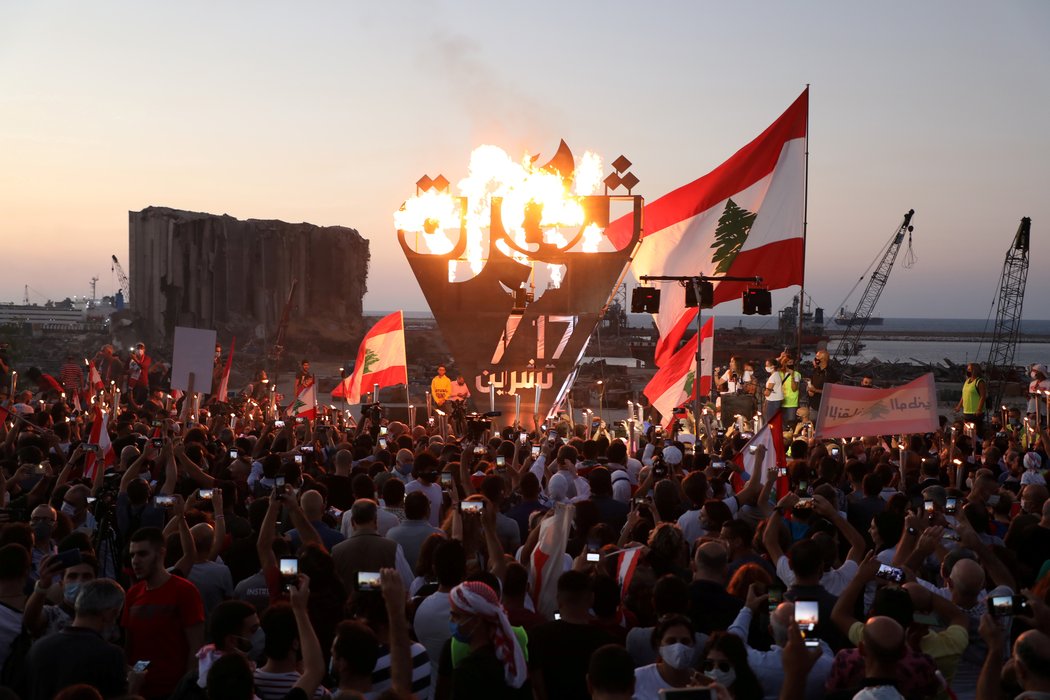 Peaceful Assembly
A sculpture lit to commemorate the 1-yr anniversary of the October 17 Revolution near the port in #Beirut, #Lebanon. It was lit at 6:07 p.m., the time the Aug. 4 port explosion rocked the city.

For more, visit my Instagram: danielcardephoto.#OctoberRevolution #Thawra pic.twitter.com/PVll87nB9u

— Daniel Carde (@DSCarde) October 19, 2020
For the first anniversary of the October Revolution, hundreds of demonstrators marched in Beirut's downtown district from Martyr's Square towards the central bank, parliament building and the city's port, where an explosion took place on 4th August 2020 (see previous update). Marches and demonstrations took place in other cities of Lebanon as well. The corrupt governance system remained the main target of the protestors who continue to call for accountability and social justice in Lebanon.
يلا ثوري يا بيروت
من جسر #١٧_تشرين pic.twitter.com/4rU18pUzG9

— Adham Hassanieh أدهم الحسنية (@AdhamMG) October 17, 2020
الثورة باقية في مواجهة تحالف المافيا والميليشيات
الثورة باقية حتى إسقاط منظومة الفساد واستعادة الثقة والسيادة وتحرير الدولة المحتلة#ثورة
بالصور - إعادة مجسّم "قبضة الثورة" إلى وسط بيروت https://t.co/7MYs9jroti

— Ziad Abdel Samad (@ziadas) October 22, 2020
An analysis from the Lebanon Support Centre shows that from 17th October 2019 to 17th October 2020 a total of 4,338 collective actions took place. Yet, these mobilisations add to years of mobilisations around social and economic demands. In 2018, 179 collective actions were mapped, with 419 in 2017, 468 in 2016 and 324 in 2015. The report said:
"This shows the accumulation and buildup of successive punctual collective actions and movements over time and ultimately underlines the urgency of a new social contract whereby citizens reclaim the Lebanese state. A social contract that is based on social justice, redistributive policies, and progressive taxes."
The Arab NGO Network for Development (ANND) interviewed lawyer and researcher Nour Haidar about the current situation in Lebanon, the pressing concerns for civic space and recent violations of the right to peaceful assembly. The full interview is quoted below:
In the aftermath of the Beirut Port explosion, the COVID-19 pandemic, the crippling currency and debt crises and the popular uprising (which started nearly one year ago and continues to reflect the strength, power and capacity of thousands of people who oppose Lebanon's political regime), the "current context" for civil society in Lebanon is one that is shifting rapidly.
We cannot work on projects that are siloed into categories such as "capacity building for human rights defenders" while simultaneously trying to recover from an explosion that killed at least 203 people, injured more than 6,000 and occurred as a direct result of the ruling party's criminal negligence and corruption. We cannot take seriously projects focused on "agricultural regeneration" when our forests are burning, nor can we work on "economic livelihoods" while we face inflation rates of 120%, with food prices increasing beyond 367% over the past few months.
Civil society groups, institutions and individuals working in Lebanon must urgently reassess their working assumptions and priorities. In as far as "civil society" includes local organisations, co-operatives, research centres and political activists, these groups are already leading a critical re-assessment of our understanding of the crimes committed by successive Lebanese governments against our society. In this sense, we no longer speak of government "failures", but rather, of crimes committed by the political parties who have jointl, (and exclusively) governed Lebanon through various "unity" governments over the past 30 years.
We are also re-prioritising our goals: many groups are shifting their work and resources towards holding these actors accountable for the deadly collapse of our communities. Through collective action, investigative reporting, artistic critique, legal action and mutual aid support for marginalised communities, we are focusing on the urgent need for justice as well as viable alternatives to political sectarianism and clientelism.
One of the most pressing concerns we have, which hinders the development of an "enabling environment" for civil society groups, is the lack of independence within the judicial system. Public prosecutors as well as judges do not act as independent defenders of the rule of law. Instead, they are often influenced by and partial to the ruling political parties.
Relatedly, as opposition to the government and the ruling parties grows, so do incidents of police brutality, violations of privacy (through online surveillance) and arbitrary arrests. The unchecked growth of a police state is a major concern.
After the Beirut port explosion, thousands of protestors took to the streets in Beirut, decrying the crimes of the political regime on 8th August 2020. However, after a year of documenting violence, torture and arbitrary arrests against protestors, we witnessed the most violent reaction from security forces yet: hundreds of people were hit with shrapnel fired by security forces, causing unprecedented numbers of injuries amongst protestors. This was in addition to reports of live ammunition, rubber bullets shot at close range and excessive use of tear gas. Around 728 protestors suffered from serious, and in some cases, lethal injuries all over their bodies. Many of these injuries required urgent surgeries, including to save protestors eyes, skulls and internal organs, as documented by a group of more than 10 doctors who treated ER injuries from that day. Doctor Nada Jabbour, an eye surgeon, reported that at least 50 protestors had to have eye surgery that day, while 15 people lost their eyesight in at least one of their eyes as a result of the excessive force used by security forces.
Following the 4th August 2020 explosion, the government issued a decree, placing Beirut under a "state of emergency". This meant that, legally, the city's security operations would fall within the jurisdiction of the Lebanese Army. The decree was issued and extended illegally - that is, without following the appropriate constitutional and legal procedures for declaring a "state of emergency". The state of emergency has been extended until the end of 2020, without any legally justifiable need for the state of emergency to remain in place, particularly since the country is in a state of "general mobilisation". Legal commentators have argued that this constitutes a grave breach of the constitution and an infringement on public freedoms as the state of emergency grants the army the authority to limit freedoms including free speech and freedom of assembly at the expense of judicial guarantees. More worryingly, the decree purports to delegate administrative powers related to reconstruction and aid distribution to the Lebanese Army - once again, overlooking the fact that there is no legal basis for this transfer of power and responsibilities to the army.
At the same time, protestors who were arrested throughout the demonstrations and actions that took place between 17th October 2020 and 30th June 2020 were prosecuted and tried in military court. They are facing disproportionate charges and subsequently, potentially excessive pre-trial detention and sentencing. The charges brought against them include (1) attempted murder, (2) violence against uniformed officers, (3) "provoking confessional strife", (4) arson, (5) rioting and destruction of property.
Other violations documented
On 1st September 2020, security forces once again used excessive force against anti- government protesters in Beirut. Human Rights Watch (HRW) documented security forces using large quantities of tear gas, metal pellets and physical force against protesters and journalists. The Lebanese Red cross reported that 20 people were injured.
HRW spoke to a photojournalist who had five metal pellets embedded in his body. A photojournalist also told HRW that she saw a protester injured by metal pellets. In addition, a protester, who had fallen to the ground, described how he was beaten and kicked by security forces.
Meanwhile, Lebanese Internal Security Forces (ISF) have denied using live ammunition, rubber bullets or metal pellets during the 8th August 2020 protest in downtown Beirut.
#Lebanon security forces once again used unlawful metal pellets against protesters on Sept 1. We have documented their use on at least 2 occasions.

The UN guidance is clear: metal pellets should NEVER be used.

Latest from @hrw's #LebanonProtests blog: https://t.co/RtUKRBST7A pic.twitter.com/DE6AxVOpZD

— Aya Majzoub (@Aya_Majzoub) September 2, 2020
Expression
Three women journalists in Lebanon, Dima Sadek, Luna Safwan and Mahassen Moursel, have been subjected to an intense hate campaign, as documented by Reporters Without Borders (RSF).
Dima Sadek has faced threats since the beginning of anti-government protests. She is also facing several libel suits from government officials.

Safwan has faced threats over a tweet which was critical of Hezbollah, the Shia movement.

Investigative reporter Moursel faced threats over a fake tweet which alleged that she was arrested for collaborating with Israel. The tweet was reported as fake and has since been removed.
"The attacks on Dima Sadek, Luna Safwan and Mahassen Moursel are disgraceful and must stop at once. These women have been subjected to an unjustified wave of hostility because they are independent and refuse to follow the editorial line of the media of the community to which they are supposed to belong. Being women is an additional difficulty that exposes them to all sorts of sexist insults of varying intensity. These threats must be taken seriously, and everything must be done to protect the victims,"- Sabrina Bennoui, the head of RSF's Middle East desk.
وطبعا بفجروا الكلب بالفيديو. صباح الخير . pic.twitter.com/eXAjTQcw07

— Dima ديما صادق (@DimaSadek) September 29, 2020
التعامل مع اسرائيل وتوقيف دغري يعني 🤔
شو هل مرور العطر والهبل لي انت فيه pic.twitter.com/1dwNTg3Zmk

— Mahassen Moursel (@MMoursel) October 3, 2020