Worrying trends: Vilification of CSOs and killings of HRDs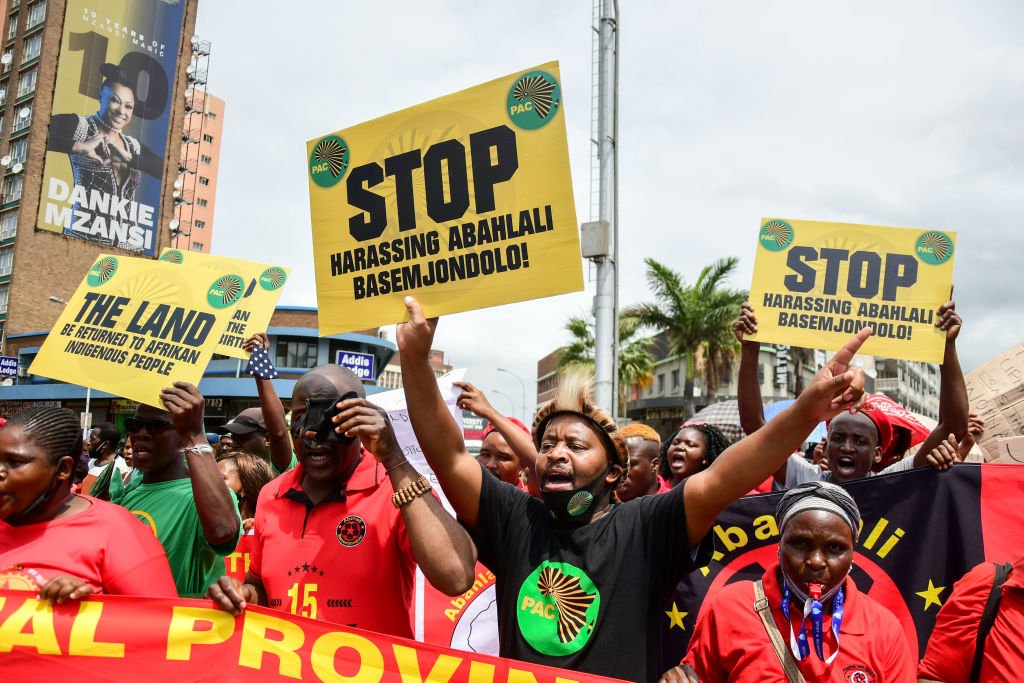 General update: Xenophobia a continuing concern in South Africa
Over the past few months, there have been increasing calls for the government to act on the presence of foreign nationals in South Africa.
In recent months, these xenophobic calls have been perpetuated by a vigilante movement called Operation Dudula. Operation Dudula accuses undocumented, illegal immigrants of contributing to South Africa's high unemployment, poverty, and other social ills. Members of this movement insist that undocumented foreign nationals are responsible for the circulation and use of drugs in South Africa, as well as crime and prostitution. Operation Dudula has criticised companies and businesses which employ foreign nationals instead of South Africans. Despite the lack of empirical evidence that foreign nationals are behind the social ills that confront South Africa, this movement has also accused the government of failing to regulate immigration and failing to enable the economic advancement of Black youth.
In early April 2022, these xenophobic calls led to the death of Mbodazwe Banajo 'Elvis' Nyathi, a 43 year-old Zimbabwean migrant. Nyathi was brutally beaten and burnt to death by a group of about 30 people who went around Diepsloot asking migrants to provide proof of their documents that permit them to be in South Africa legally. The father of four children from Zimbabwe fled the area, but he was chased down and beaten in front of his wife Nomsa Tshuma. At least seven suspects were arrested in connection to Nyathi's murder.
Association
CSOs condemn vilification by government official
In late June 2022, several CSOs jointly condemned the public vilification of the Helen Suzman Foundation by the Home Affairs Minister Aaron Motsoaledi. In a public statement, Motsoaledi had accused the organisation of trying to subvert the government after the Foundation announced that it would challenge the government's decision to terminate the Zimbabwe Exemption Permit (ZEP) in the court of law. If the ZEP is implemented, over 180,000 Zimbabweans, some of whom settled in the country many years ago, risk losing their jobs and bank accounts, and may face deportation.
The government's statement read in part: "South Africa is now under the dictatorship of some of the NGOs, with some having faceless and dubious funders. Their ultimate aim is to assist in the dislodgement of the government of the day from power by all means available".
In response, the CSOs issued a statement:
"This week, we saw a glaring instance of executive abuse of all these features. Minister of Home Affairs Aaron Motsoaledi saw fit to lend his name to an attack on civil society organisations - all because a reputable NGO has dared to take a ministerial decision on judicial review… The minister's threats and innuendos are ominous, but sadly not unprecedented…"
The CSOs called on Motsoaledi to withdraw his statement and apologise.
CSO vilified for representing local community in court
In May 2022, in a review application brought forward by All Rise, a non-profit law firm representing the Mfolozi Community Environmental Justice Organisation (MCEJO), the court ordered to suspend the licence to Tendele Coal Mining, which would allow it to extend its Somkhele mine in KwaZulu-Natal. The company had failed to lawfully obtain consent from the local community to conduct its mining operations in Somkhele.
Since the court order, however, the Association of Mineworkers Union and the traditional council have made allegations against All Rise and its Director Kirsten Youens, accusing them of pursuing an "obvious agenda to close the mine". In 2020, Fikile Ntshangase, who was the deputy chairperson of MCEJO, was brutally murdered in her home for opposing the mine and no arrests have been made thus far in her case. 
In protest news today: @CityofJoburgZA's levying of fees for protests has been declared unconstitutional. Congratulations to the amazing teams @ProtestZa, @CALS_ZA, @r2kcampaign and @SAHRCommission. #Right2Protest #JMPDFees

— Busi (@Busi_Za) June 13, 2022
Activist group's members killed in targeted attacks
On 5th May 2022, Nokuthula Mabaso, a leader of the eKhenana Commune of Abahlali baseMjondolo, a grassroots movement advocating for the rights of informal settlement dwellers, was shot and killed outside of her home in front of her children. According to a statement from Abahlali baseMjondolo, Nokuthula was shot five times . On the night of her murder, Nokuthula was attending a meeting at the eKhenana Communal Hall to discuss the testimony she was scheduled to give in court the next day regarding the bail hearing of Khaya Ngubane, who is facing charges of attacking another member of Abahlali with an axe, as well as for the killing of Ayanda Ngila, the former deputy chairperson of the eKhenana Commune, and the attempted murder of Lindokuhle Mnguni.
Prior to the killing of Nokuthula Mabaso, Ayanda Ngila, the deputy chairperson of eKhenana Commune, was shot and killed in broad daylight. According to several reports, four armed men entered eKhenana Commune on 8th March 2022, and opened fire on Ngila as he was working on the irrigation system in a communal garden. At the time of this murder, Ayanda had just been released from prison, together with his colleagues, Lindokuhle Mnguni, the chairperson of eKhenana, and Maphiwe Gasela, the Secretary General of eKhenana Commune, and Lando Tshazi, who had all been imprisoned on fabricated charges of murder. Since the establishment of eKhenana Commune in 2018, members of the community have faced increasing levels of repression through the targeting of their leaders who have been arrested on fabricated charges, as well as the unlawful evictions and attacks on members of the community by both state and non-state actors.
Members of Abahlali baseMjondolo also face risks to their lives from law enforcement agencies. In March 2022, another member, Siyabonga Manqele, who lived in the eNkanini branch was shot and killed during a police raid. During the raid that occurred on a Saturday night, a few days after Ngila's killing, Manqele was standing outside his home while his girlfriend, who is one of the leaders of the eNkanini branch, was being arrested when he was fatally shot by the police. According to reports, residents say a convoy of police officers had been raiding the informal settlement, breaking down doors, assaulting and intimidating people, including children.
To date, 23 members (3 women and 20 men) of Abahlali baseMjondolo have been assassinated.
Land Rights and Woman Human Rights Defender Gunned down
On 27th May 2022, Petronella Baloyi, a land and women human rights defender and community leader of the Rugby Club informal settlement, was gunned down while in her home. According to a statement released by the Socio-Economic Rights Institute of South Africa, Petronella was in her home with her husband and family on the night of the murder, when armed persons entered their property and fired several shots then ran away.
At the time of her murder, Petronella was a community leader who had recently taken on administrative and community mobilisation duties to help organise permanent housing for residents.
Peaceful Assembly
High Court declares protest levy fees unconstitutional
In positive developments, on 10th June 2022, the Johannesburg High Court found that the levying of fees under the City of Johannesburg Tariff Determination Policy for the holding ofgatherings, assemblies, demonstrations, pickets and to present petitions in Johannesburg was unconstitutional. This case followed developments from the city's authorities which were imposing a fee on protests, arguing that protests required additional municipal services from the Johannesburg Metropolitan Police Department, such as traffic control and general policing services.
Civil society organisations, Right2Know Campaign and Gauteng Housing Crisis Committee and a community leader, Keith Duarte, challenged the practice, arguing that it was unconstitutional andrestricted people's right to protest. The fees charged by the City ranged from R172 (USD 10) for a picket convened by a civil society organisation to R15,000 (USD 906) for a union strike march.
The court's declaration took effect from the day of handing down the order.