Workers strike against bill banning "rioters" from protests; fourteen arrested as activists occupy gas terminal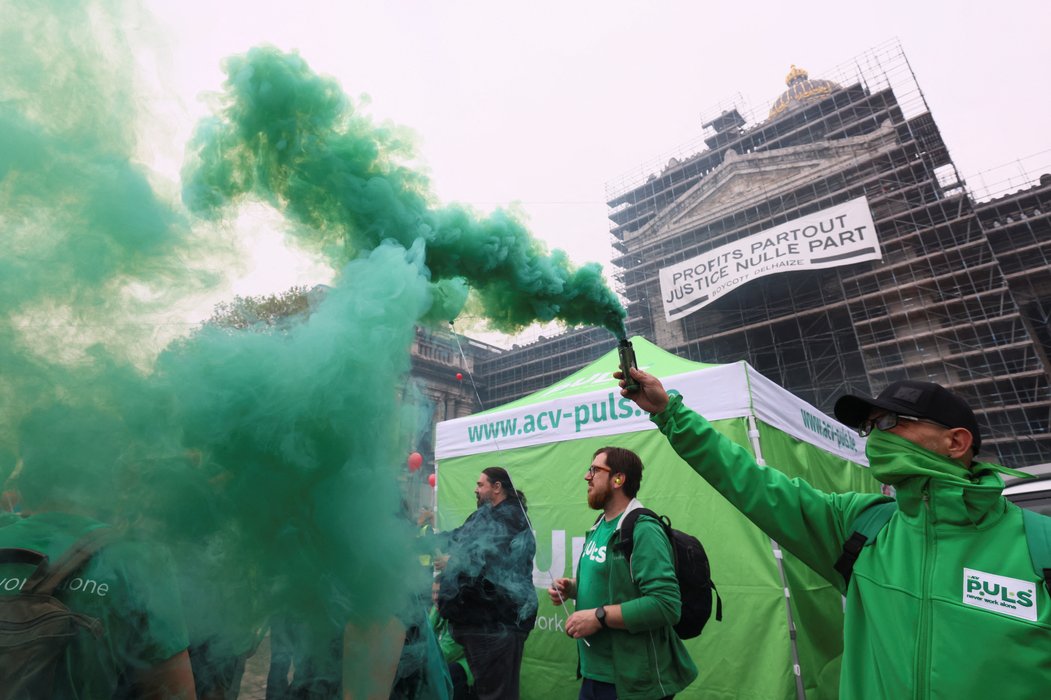 Introduction
"Qatargate" scandal continues
On 6th June 2023, Belgian police conducted raids at the European Parliament offices of two MEPs as part of the long-lingering "Qatargate" corruption scandal. The two lawmakers, Andrea Cozzolino and Marc Tarabella, have been implicated in a bribery ring connected to Qatar and Morocco. Belgian MEP Tarabella had recently returned to work after a period of imprisonment and house arrest, while Italian MEP Cozzolino is still appealing his extradition to Belgium from Italy. Both MEPs have been expelled from their political group S&D (Progressive Alliance of Socialists and Democrats), but continue to maintain their innocence. The other main figure in the scandal, Greek MEP Eva Kaili, is reportedly attempting a political comeback.
Study reveals ongoing racial discrimination in Belgium
A study published in May 2023 has revealed that Belgium continues to struggle with racial discrimination. In 2022, 7,310 claims of discriminatory behaviour were reported to Unia, an independent public institution specialising in equal opportunity policies and non-discrimination. Of that number, 1,887 (25.8%) were followed up on by Belgian authorities in an official investigation. The study serves as a reminder of the work that still needs to be done to create a more equitable and tolerant society in Belgium, with Unia director Philippe Charlier reflecting that the results show Belgium remains "a society marked by racism".
Brussels 2016 terror attack trial continues
The trial for the Brussels Airport and Metro terror attacks entered a new phase on 30th May 2023, with the prosecution set to make their case in the coming months. The attacks, which took place in March 2016, were the deadliest in the country's history, having resulted in numerous casualties and significant infrastructure damage. The trial seeks to bring justice for the victims and hold the perpetrators accountable. The pleas end in the first week of July 2023, with the jury's decision expected at the end of the month.
Peaceful Assembly
Workers rise against bill introducing protest bans for "rioters"
On 22nd May 2023, workers across Belgium took to the streets to protest against inadequate working conditions and assert their right to strike. Up to 20,000 citizens and union members participated in nationwide demonstrations after the federal government declared its intention to move forward with a new bill prohibiting "rioters" from participating in protests. The bill in question, championed by Justice Minister Vincent Van Quickenborne, would see judges able to ban those who commit protest-related offences, such as assault, property destruction or vandalism, from taking part in future demonstrations. The General Labour Federation of Belgium (FGTB) has called on "democratic parties" to withdraw this provision of the bill, as they view it as an infringement of the right to collective action. According to Edgar Szoc, the President of the Human Rights League (LDH), the rule would constitute another setback for the right to protest and freedom of expression in Europe, where civil and political rights are facing increased restrictions.
Un millier de militants se sont rassemblés ce 07/06 devant le cabinet du Ministre de la Justice pour demander le retrait de son projet de loi. Le texte est trop vague et risque de viser bien plus large que les « casseurs » qu'il est censé pénaliser. #StopLoiVanQuickenborne pic.twitter.com/kvrfdh81zc

— Centrale Générale - FGTB (@FGTB_CG) June 7, 2023
Workers and unions are further upset about a string of recent court rulings requiring them to remove their blockades in front of the Delhaize supermarket chain in Belgium. Protests against the chain have been ongoing for months, in response to the company's March 2023 decision to turn all of its supermarket locations into franchises. Approximately 9,000 employees will be affected by this change, with their wages and benefits left up to the decisions of individual franchise owners. Several acts of vandalism were also recorded.
The pickets of #Delhaize workers were banned by the Belgian courts following a request by employers.

This is why, today thousands of workers are marching towards the Employers' Federation in #Brussels to protest this attack on trade union rights and on the #righttostrike❗️ pic.twitter.com/JkuRs2J62n

— industriAll Europe (@industriAll_EU) May 22, 2023
May 2023 data from VDAB, the employment agency for Belgium's Flemish Region shows that chronic unemployment continues to be a significant issue in the jurisdiction, with one in six job seekers remaining unemployed for over five years. At the same time, many professions in Belgium are still having trouble filling open positions, particularly those in industries like education, care, and construction. There have been calls to develop new strategies to address this problem, including targeted job creation, skill development, and long-term job seekers' support networks.
Greenpeace activists detained after occupying LNG terminal in Zeebrugge
On 1st May 2023, fourteen Greenpeace activists and protesters were detained after staging an occupation of a liquified natural gas (LNG) terminal in Zeebrugge belonging to the company Fluxys. A group of activists from Austria, Belgium, France, Germany, the Netherlands and the UK occupied the terminal for nearly six hours before the arrival of police, with some protestors approaching on kayaks, while others scaled the docks that are used to load and unload the LNG ships, hanging banners that read "Gas kills" from the pipelines. After police arrived, they arrested fourteen of the activists for trespassing, releasing them after 48 hours in custody. On 7th June, 200 people gathered in front of the court in Bruges to protest their trial and what they see as the criminalisation of non-violent climate activism.
Valerie Del Re, director of Greenpeace Belgium, said: "It's not our activists, but gas companies like Fluxys who are the criminals in this story." Greenpeace has stated that their action aimed to highlight the involvement of gas operators like Fluxys in the significant rise in LNG imports to Europe from the US. The environmental protesters are advocating for a halt in the construction of new gas infrastructure and have called for a European strategy to gradually eliminate the use of gas by 2035. This recent protest by Greenpeace coincides with road blockade demonstrations that have been organised by environmental activist groups across Europe.
Demonstrations for justice in the Sanda Dia case
On 4th June 2023, hundreds gathered in Brussels to demonstrate against "class justice" and racism, on the occasion of the ruling in the Sanda Dia case. Similar demonstrations were held in Antwerp, Bruges, and Ghent. Sanda Dia, a Belgian student, tragically lost his life in the course of a fraternity hazing initiation ritual in 2018. During the initiation, which lasted for days, Dia was forced to drink large amounts of liquor and fish oil, swallow a live goldfish, and had ice cold water poured over him as he sat in a ditch. In late May, the court acquitted 18 members of an elite university brotherhood of willful neglect and intentionally administering harmful substances resulting in death. The accused were instead only found guilty of breaching the Animal Welfare Act, degrading treatment and manslaughter. Per the judgment, the fraternity members will not be imprisoned, and were sentenced to doing 200 to 300 hours of community service and paying EUR 400 each in fines. The protest was organised by individuals, primarily students, who believe the punishment for the 18 suspects found responsible was not severe enough, and that the sentence was as lenient as it was due to the race and class status of those involved.
Far-right protest and counter-protest in Brussels
On 28th May 2023, a large counter-protest took place in Brussels under the slogan "Fascists Not Welcome". About 20 organisations, including the socialist trade union, planned the protest to oppose the previously scheduled rally of the Flemish far-right Vlaams Belang party taking place the same day. Vlaams Belang's political demands include "fewer politicians and more democracy", cuts to asylum and migration spending, and "restoring order and security". At first, Brussels City Mayor Philippe Close moved to ban both the Vlaams Belang event and the counter-demonstration on the grounds of public order, but the Council of State reversed the rulings due to claims that the prohibition was an unauthorised restriction on the right to freedom of expression. Both protests passed off peacefully, and no incidents were reported.
Expression
Belgium's press freedom ranking drops in latest assessment
On 3rd May 2023, Reporters Without Borders (RSF) released their annual World Press Freedom Index report and revealed that Belgium has slipped eight positions. The nation came in at number 31, down from number 23 the year before. The report states that Belgian journalists have experienced violence from both police and protesters while reporting on public assemblies. One case cited in the report was that of a journalist violently arrested in Brussels while covering the clashes between police and football fans after the World Cup match between France and Morocco in December 2022 (see previous Monitor update). However, the research does note that the media in Belgium do enjoy strong legal and constitutional protections.
LGBTQI+ rights
Ghent grants transgender officials 20 days of transition leave
On 31st May 2023, the city of Ghent in Belgium moved forward with the decision to grant transgender officials 20 days of transition leave. Over the years, the city administration has taken steps to ensure greater gender equality and neutrality in various areas. This new policy aims to support trans employees in their journey by providing them with the necessary time and space to undergo gender-affirming care while ensuring job security. The initiative reflects a commitment to inclusivity and equality within the workplace, acknowledging the unique challenges faced by trans people. By putting this policy into practice, the city of Ghent encourages other employers to place a high priority on the rights and welfare of transgender employees.