Wave of protests prompts growing pressure on activists as government continues COVID-19 denial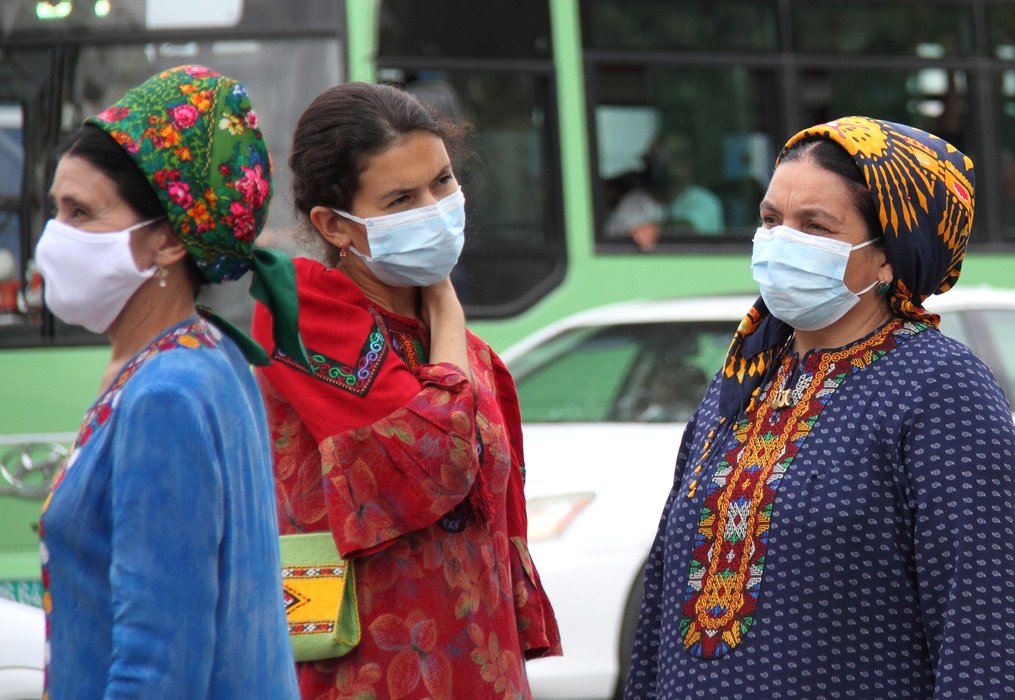 Introduction 
This update covers developments relating to the freedoms of expression, association and assembly in Turkmenistan from May to August 2020. International Partnership for Human Rights (IPHR) and Turkmen Initiative for Human Rights (TIHR) have prepared it as part of their cooperation with the CIVICUS Monitor.
During the period covered by this update, the government continued to insist that Turkmenistan was a COVID-19 free country, although reports from independent sources pointed to an increase in the outbreak of COVID-19, with hospitals being strained by the influx of people with acute respiratory conditions and a growing number of deaths due to such conditions. The authorities put pressure on doctors to participate in covering up the COVID-19 outbreak and intimidated medical professionals who raised concerns about the lack of adequate resources for the diagnosis and treatment of people with acute respiratory conditions. While national, state-controlled media communicated only state-endorsed messages on COVID-19, the authorities continued to impede the work of independent, Turkmenistan-covering outlets based abroad.
Despite their policy of COVID-19 denial, the authorities stepped up preventive measures in connection with a World Health Organisation (WHO) mission to the country in July 2020. However, they did not explain the real purpose of these measures to citizens, but instead referred to the alleged increased levels of dust in the air and the supposedly documented risk of viruses being carried by airborne currents from abroad. Ahead of the WHO mission, independent sources reported that the authorities emptied hospitals, which the experts were going to visit, of patients with COVID-19 like symptoms and took other steps to prevent the experts from finding out the real COVID-19 situation. At the end of their visit, the WHO experts flagged concerns about the reported increase in cases of acute respiratory infections and called on the authorities to act as if COVID-19 had begun to spread in the country. However, the experts stopped short of stating that the COVID-19 pandemic was already affecting the country, while the authorities continued arguing that there were no COVID-19 cases.
During the reporting period, Turkmenistani citizens living abroad staged a series of peaceful protests against the policies of Turkmenistan's government, in particular its failure to adequately respond to the COVID-19 outbreak and the devastating hurricane that struck the country in April 2020. These rallies began after a rare public protest took place in Turkmenistan's Lebap region on 13th May 2020, where hundreds of people – mostly women and children – expressed their frustrations at the government's inaction to deal with the damage caused by the April hurricane. Local authorities quelled this protest by promising prompt measures to address the issues which the protesters raised, such as problems with electricity, sewage and flooding of basements.
The wave of anti-government protests and growing expressions of discontent with the government on social media prompted the Turkmenistani authorities to step up pressure on critical voices. Activists based abroad faced intimidation and harassment both directly and indirectly through their relatives in Turkmenistan. In what appeared to be as a result of Turkmenistani government intervention, an activist detained in connection with a planned protest in Turkey in mid-July 2020 faced the threat of deportation on formal grounds of visa violations. The authorities also intimidated and harassed Turkmenistan-based individuals who have used social media platforms to speak out against the government, as well as their relatives. In two cases, such activists were detained: Murad Dushemov was apprehended after posting a YouTube appeal in mid-June 2020 and held for ten days before being transferred to house arrest, while Kurbanov Reimberdy was locked up for 15 days in early August 2020 after being found to have communicated with members of the exile-based protest movement. There were also new reports about problems with internet access in Turkmenistan, which residents associated with attempts by the authorities to prevent the sharing of information on issues related to the government's policy shortcomings.
These and additional issues are covered in more detail below.
Expression
Continued policy of denial in response to COVID-19 pandemic
As documented in detail in a report published by IPHR and TIHR in July 2020, Turkmenistan's government has responded to the global COVID-19 pandemic with denial, a lack of transparency and attempts to conceal the truth. The government appears to have sought to demonstrate the absence of COVID-19 in the country at any cost, in line with the president's call for making "every effort" to prevent COVID-19 from reaching Turkmenistan.
"It came with the wind…" – new @IPHR and @hronikatm briefing paper documents how Turkmenistan's Covid-19 response has been marked by denial, ludicrous explanations and attempts to cover up the truth: https://t.co/MzT9McGA11 pic.twitter.com/mBRbV1aRwa

— IPHR (@IPHR) July 27, 2020
Thus, during the period covered by this report, the government continued to insist that there were no cases of COVID-19 infections in the country, although independent exile-based outlets reported a growing number of such cases. By June 2020, the reports of independent sources pointed to a widening outbreak of COVID-19, with hospitals being strained by the influx of people with acute respiratory conditions classified as pneumonia – known as a serious complication of COVID-19. Independent sources also reported growing mortality rates due to respiratory conditions. In mid-July, TIHR's correspondents learned that in the capital Ashgabat alone, an average of ten people died of pneumonia every day. Numerous medical professionals were among those reported to have died. Relatives reported receiving the bodies of their dead loved ones in sealed packaging and being ordered to bury them immediately at dawn to avoid attracting attention.
While the authorities failed to acknowledge the growing evidence of the spread of COVID-19 in Turkmenistan, they nevertheless stepped up measures apparently aimed at preventing this disease. Thus, in connection with a WHO mission to the country in early July 2020, they systematically disinfected public places, initiated quarantine measures and enforced a requirement to wear face masks in public. Up to that point, the authorities had taken only limited protective measures, while intimidating those who wore face masks and accusing them of "creating panic". At the same time, the authorities failed to explain the real purpose of the new measures, instead referring to the allegedly increased level of dust in the air throughout the country as a justification for wearing face masks and taking other protective steps. The government also claimed that national research had shown that viruses might be "carried by air currents" to Turkmenistan, which appeared to offer a convenient solution to explain how COVID-19 might have spread to the country, without conveying the message that the government had failed in its efforts to prevent this from happening.
As covered in the previous update, the government was slow in facilitating the WHO mission to investigate the COVID-19 situation in the country. While the WHO first announced plans to visit Turkmenistan at the end of April 2020, a team of WHO experts only arrived in the country on 6th July 2020. TIHR and other independent Turkmenistan-covering outlets learned that in preparation for the visit the authorities took measures to prevent the international experts from finding out about the real state of affairs with COVID-19 in the country. In particular, the authorities emptied the facilities of COVID-19 infected patients which the experts were due to visit.At a press briefing held at the end of their ten-day visit, the WHO experts confirmed that they had visited medical facilities agreed on in advance. Based on what they had seen and the information they had received, the WHO experts concluded that the authorities were "fully aware" of the danger posed by the Coronavirus and commended the preventive measures taken by them. They said that the national health care system had the "necessary capacity" to tackle the COVID-19 pandemic. However, the WHO experts also said that they were "extremely concerned" about "numerous reports of an increasing number of acute respiratory infections or pneumonia of unknown origin" and called on the authorities to "take the same measures as in those countries where the virus has begun to spread". They stressed the importance of the education and protection of medical workers, and of public awareness raising.
However, critics faulted the WHO mission for failing to set the record straight on COVID-19 in Turkmenistan and thereby indirectly backing up the government's claim that the country is COVID-19 free.
Turkmenistan says a WHO mission gave the country the all-clear, yet reports suggest a pandemic out of control https://t.co/4kd2eyIe25

— Eurasianet (@EurasiaNet) July 21, 2020
On 7th August 2020, WHO's Regional Director for Europe, Hans Kluge tweeted that Turkmenistan's president had agreed to a new WHO mission to visit the country for the purpose of independently sampling suspected COVID-19 patients and bringing them to WHO reference laboratories abroad. A few days later, he tweeted that he had discussed steps for this mission to take place "as soon as possible" with Turkmenistan's foreign affairs and health ministers. At the time of writing, there was no further information about the newly planned visit.
Today @DrTedros & me met the 🇹🇲 President on #COVID19 situation in Turkmenistan. @WHO ✅ expressed serious concern about ⬆️ in #COVID19 negative pneumonia ✅ urged for a @WHO team to sample independently #COVID19 tests in-country & take to @WHO reference labs. President agreed.

— Hans Kluge (@hans_kluge) August 7, 2020
Pressure on medical workers, obstruction in sharing COVID-19 related info
As discussed in more detail in IPHR's and TIHR's report on the government's COVID-19 response, the authorities have pressured doctors to participate in covering up the COVID-19 outbreak in the country. Doctors have been ordered not to register COVID-19 cases or COVID-19 symptoms and have been threatened with repercussions should they leak information about COVID-19 related deaths. In one example, in late July 2020, the Analytical Centre for Central Asia reported that the prosecutor's office in Balkanabat had summoned doctors and threatened them with imprisonment unless they sign agreements not to disclose any information about the COVID-19 related situation in this city. According to the centre, this happened as the city was experiencing a spike in COVID-19 cases, while there was a serious lack of medicine and protective equipment.
Medical professionals who have raised concerns about the lack of adequate resources for the diagnosis and treatment of people with respiratory conditions have also been intimidated. TIHR learned about a case where more than 100 medical workers in the city of Turkmenabat sent an appeal to the regional authorities in July 2020, demanding that hospitals be granted more personal protective equipment, medicine and medical equipment, including ventilators. The regional authorities responded not only by rejecting these demands but also by saying that the appeal was "counterproductive" and "contradictory to the president's policies" and warned the signatories that they might be held accountable for such requests.
Independent Turkmenistan-covering sources have further reported about intrusive attempts by the authorities to prevent medical workers from using their phones to document COVID-19 related facts. For example, a doctor working in a quarantine zone was singled out for intimidation after forgetting to remove the phone from his pocket during his work shift (see the previous update). In summer 2020, as there was a growing number of COVID-19 like cases, and entire hospitals were being closed for quarantine (see more above), TIHR and other independent sources learned about cases where medical workers were not allowed to leave these institutions for two weeks or more.
The authorities have also sought to stifle discussion about COVID-19 among the public and supposedly "prevent panic" in relation to the pandemic (see the previous update). 
As covered in IPHR's and TIHR's report on the government's COVID-19 response, national, state-controlled media outlets have provided limited coverage of thepandemic by communicating only state-endorsed messages and focusing on praising the government's efforts to prevent the COVID-19 virus from appearing and spreading in Turkmenistan. At the same time, the authorities have continued to impede the work of independent, Turkmenistan-covering outlets based abroad by blocking their websites and disseminating propaganda aimed at discrediting them. TIHR has also observed renewed attempts to interfere with the operation of its website, which it believes were initiated by the Turkmenistani security services because of its coverage of COVID-19 related and other recent developments. Similar to other independent Turkmenistan-covering websites, TIHR's website is only accessible to people living in Turkmenistan with the help of censorship circumvention tools such as VPNs (Virtual Private Networks).
Problems with internet access
During the period covered by this update, there were reports about problems with internet access in the Lebap region in eastern Turkmenistan, which resulted in difficulties in using, in particular, social media and communication apps. Local residents believed that the internet problems were due to the authorities' attempts to obstruct the exchange of information about the impact of the hurricane that hit the region in April 2020 (see the previous update), and to prevent citizens from learning about protests held abroad against the government's inadequate response to the hurricane (see Assembly). There were also reports about the blocking of a growing number of foreign websites in both the Lebap region and other parts of the country.
Association
Intimidation of activists within and outside of Turkmenistan
Any kind of civic engagement entailing criticism of the authorities is associated with the risk of persecution in Turkmenistan. Citizens living abroad who are involved in such activism also risk being targeted. During the reporting period, there were reports about increasing intimidation and harassment of activists daring to speak out against the government, both in and outside the country, as well as their family members. This development was seen against the background of a wave of peaceful anti-government protests held by Turkmenistani diaspora communities (see more under Assembly), which prompted the Turkmenistani authorities to intensify their efforts to silence critical voices.
Turkmenistani activists based in Turkey, Russia and other countries were targeted by intimidation and threats of physical violence. Turkmenistani students in Turkey were approached by security service officials from their home country, who demanded to see their phones and threatened them with deportation and imprisonment if they were found to have contacts or photos of Turkmenistani activists involved in protests. An activist based in Turkey, who was detained ahead of a planned anti-government rally in mid-July 2020, was placed in a migration centre pending deportation for visa violations in a case that appeared to be politically motivated (see Assembly).
National security services also sought to put pressure on activists based abroad through their relatives in Turkmenistan. These are only two such cases documented by human rights defenders (HRDs):
Azat Isakov, an activist residing in Russia, has produced a series of video materials critical of the Turkmenistani government and actively participated in the "Unite!" opposition group on YouTube. In April 2020, he stopped hiding his face in his videos. In late June-early July 2020, security service officials called and visited Isakov's parents who live in the city of Turkmenabat in eastern Turkmenistan, warning them that the security services "will find" their son and that he will be "held accountable" unless he stops appearing on YouTube.
Khamida Babadjanova, an activist living in Turkey, has openly participated in the "Unite!" opposition group on YouTube since May 2020. Her relatives in Turkmenistan were subjected to pressure from mid-June 2020. In particular, on 25th June 2020, local officials in the city of Kunya Urgench summoned her mother and older brother for an informal discussion, during which they demanded that the activist stop appearing on the internet and threatened to arrest her as a "traitor" if she returns home. The day after the planned anti-government rally in Istanbul on 19th July 2020 (see Assembly), where Babadjanova was among the participants, local police in Kunya Urgench summoned her younger sister, demanding that the activist delete all her videos on the internet and stop publishing such video appeals.
Human rights defenders also documented several other cases in Turkmenistan where security services officials threatened the relatives of individuals who were detained by Turkish police in connection with the planned rally in Istanbul on 19th July 2020 (see Assembly).
In another form of pressure, Radio Azzatlyk (the Turkmen service of Radio Free Europe/Radio Liberty) reported on cases where police summoned relatives of Turkmenistani citizens who work or study abroad for "prophylactic discussions". According to the service, police demanded that these individuals ensure that their family members abroad do not take part in anti-government initiatives, warning that those who do will be considered "traitors" and will face imprisonment.
In addition to targeting activists based abroad and their family members, authorities also singled out for intimidation Turkmenistan-based individuals who use social media platforms to speak out against the government, as well as their relatives. A YouTube activist using the pseudonym "Vepa Chopan" said that the authorities had put pressure on his parents, wife and children, demanding that he "shut up". Three sisters, known as active chat participants under the name "Gulnar" were threatened by police.
In the following cases, activists based in the country were detained:
On 16th June 2020, national security services detained internet activist Murad Dushemov and his mother in Ashgabat. The detention took place two days after Dushemov had published a YouTube appeal, in which - without hiding his face – he expressed critical views about the government and the exile-based opposition and called on political movements to work together with people in the country. Prior to this, he had also reportedly taken an active part in the discussions on a chat forum of a new opposition initiative called the Democratic Choice of Turkmenistan, established by exile-based activists. Dushemov's mother was released later the same day. However, Dushemov was held for ten days before being transferred to house arrest on 26th June 2020. It is not known what charges were levelled against him.
Police detained Kurbanov Reimberdy, an active participant in chat discussions with protest movement participants based abroad, in the city of Turkmenabat on 8th August 2020. The same day national security service officials searched Reimberdy's home and confiscated his computer, telephone and flash cards, on which they reportedly found materials related to the exile-based protest movement and social problems in Turkmenistan. During the search, the security service officials reportedly refused to present any documentation proving their identity and threatened Reimberdy's mother and other family members. According to available information, Kurbanov Reimberdy was released on 25th August after serving 15 days in administrative detention. It is not known on what charges he was held.
In another example of growing pressure on Turkmenistan-based critical voices, well-known activist Natalia Shabunts told TIHR that she was subjected to enhanced surveillance in late June 2020. According to the Ashgabat-based activist, security service officials were keeping watch outside the house where she lives, with officials taking turns to monitor her whereabouts. Shabunts and other activists who have a public identity in Turkmenistan are constantly under surveillance, but it is rare that security services resort to such intense, physical surveillance.
Journalist Soltan Achilova, who works with TIHR, also reported being subjected to harassment. According to her, as she was taking pictures at a market place for school supplies in Ashgabat on 12th August 2020, a police officer ran up to her, grabbed her by the hand, threatened to take her to the police station and shouted: "What are you taking pictures of? It's prohibited! Are you against state policies?" Achilova managed to escape and leave the fair.
Against the background of the trends described above, several human rights activists from Turkmenistan and other countries appealed to the Turkmenistani government in July 2020 to "end the persecution of activists, and begin a dialogue with emerging civil society".
Peaceful Assembly
New spontaneous protests by frustrated residents
As previously covered on the Monitor, public protests rarely take place in Turkmenistan because of the dangers associated with any kind of criticism of government policies. In some cases, however, citizens stage spontaneous protests to vent their frustration at socio-economic issues affecting their daily lives.
The authorities use both persuasion and intimidation to quell occasional protests. The former tactic was used on 13th May 2020, when hundreds of people in the city of Turkmenabat protested against the authorities' failure to deal with the damage caused by the hurricane that hit this region in late April 2020, and by subsequent heavy rains (see more on the government's inadequate response to the hurricane in the previous update). According to the Netherlands-based Turkmen News site, the protesters – mostly women and children - voiced concerns about the lack of electricity, the collapse of the sewage system and the flooding of basements of residential houses. Soon after the protest began, local government officials and law enforcement authorities arrived. The deputy mayor of the city promised the protestors that the problems they raised would promptly be solved. After a few hours, the protestors dispersed. In keeping with the mayor's promise, shortly after the protest, measures to remove sewage and pump out water from basements began in the district where the protest took place.
A Troubled Government And Rare Protests In Turkmenistan https://t.co/JzhVjH6lYu

— Bruce Pannier (@BrucePannier) May 20, 2020
In the previous update, we reported about several spontaneous protests against the recent, worsening shortage of major staples in state stores which sell food at subsidised prices. In an apparent attempt to avert a similar scenario, local stores were stocked up with flour and ATMs with cash - both of which had been in deficit for a long time - ahead of thepresident's visit to the Lebap region on 8th June 2020. After the president left, the problems of lack of flour and cash re-appeared. A local official confirmed to Radio Azzatlyk on condition of anonymity that the measures to ensure access to flour and cash had been temporary and were aimed at preventing possible protests during the president's visit.
In another case covered by Radio Azzatlyk, hundreds of people standing in line at ATMs held a spontaneous protest and blocked the main street in the city of Mary on 12th August 2020. The protest broke out after bank officials announced that only those registered as residents of the city would be allowed to withdraw cash. The participants were residents of rural areas who had come to the city to withdraw cash, since the ATMs in their own places of living had stopped working amid worsening cash shortages recently seen in Turkmenistan. Cash is still the only accepted form of payment in many stores and marketplaces. Rural residents often stand in line for days to be able to get hold of much needed cash when ATMs are supplied with it. As a group of police officers arrived at the spot where the protest was taking place, the protesters surrounded them and started shouting out their dissatisfaction. The RFE/RL service reported that scuffles broke out between police and protesters after a police officer grabbed a yelling protester by the collar, with protesters pushing and hitting police officers. Additional law enforcement officials were called to the scene and managed to put an end to the scuffles, including by detaining some protesters. The protest nevertheless continued for about an hour before the participants finally dispersed, reportedly after being threatened with arrest and criminal prosecution or - those working as public employees – with dismissal from their jobs.
Wave of protests held by diaspora communities
During the period covered by this update, members of Turkmenistani diaspora communities in Turkey, the United States and North Cyprus held several peaceful rallies against the policies of Turkmenistan's government. Among others, the rally participants protested the government's attempts to cover up the devastating hurricane that hit Turkmenistan in late April 2020,the COVID-19 outbreak in the country and the government's failure to take adequate measures to assist those affected by these crises. The protests, which were promoted on social media, resulted in Turkmenistani authorities stepping up pressure on activists and their relatives both in- and outside the country (see Association).
Show your face – paralyse the system! https://t.co/qVBIDZUZJ9

How the leaders of Turkmenistan's new opposition movement see popular protest and the domestic situation in the country pic.twitter.com/7LFfd69Zox

— Fergana.News Agency (@Fergananews) July 12, 2020
Turkmen activists carry coffins to WHO office in Washington https://t.co/UzEDYWT8Pl pic.twitter.com/b8ejCW9fas

— Fergana.News Agency (@Fergananews) August 1, 2020
There are also concerns that the Turkmenistani authorities sought to retaliate against those involved in protests with the help of Turkish authorities, in particular in connection with a protest planned outside the Turkmenistan consulate in Istanbul on 19th July 2020, following several earlier protests in this city. Turkish police prevented the rally from taking place as planned by detaining some 80 people who showed up at the agreed venue, saying that the assembly had not been sanctioned by the authorities. The Turkish authorities reportedly did not give green light for the event, planned for hundreds of participants, with reference to COVID-19 restrictions in place. There were reports suggesting that Turkmenistani diplomats had requested that Turkish authoritiesintervene to stop the planned protest.
According to one of those detained, who - on condition of anonymity – spoke to a journalist working with TIHR, Turkish police apprehended and placed him and other protestors on a police bus, searched them and took them to a local police station, where they were warned not to take part in unlawful protests and held for several hours before being released. Police wrote down the contact information of all the detainees, and this information appears to have been handed over to Turkmenistani authorities as Turkmenistan-based relatives of those detained were subsequently subjected to pressure (see Association).
Among those detained in Istanbul on 19th July 2020 was Dursoltan Taganova, one of the leaders of the Turkish branch of the newly created opposition initiative "Democratic Choice of Turkmenistan". While all others detained in connection with the planned rally were released the same day, Taganova remained in detention and was transferred to a migration centre pending her deportation on the grounds of her lack of legal status in Turkey. Similar to many Turkmenistani citizens living in Turkey, including others detained in connection with the planned assembly on 19th July 2020, Taganova has been unable to renew her Turkmenistani passport at the embassy in Turkey and thereby to renew her Turkish visa for this country. "Democratic Choice of Turkmenistan" leader Myrat Kurbanov assessed the action taken by the Turkish authorities in Taganova's case as "purely political" and as aresult of the "direct intervention" by Turkmenistan's government. Deportations from Turkey to Turkmenistan have been put on hold in the context of the COVID-19 pandemic. Taganova's lawyer said he was hopeful that the engagement between Turkmenistani activists and human rights defenders in support of Taganova would help prevent her return to her native country. If sent back to Turkmenistan she would be at serious risk of torture and ill-treatment, unfair legal proceedings and imprisonment in retaliation for her civic and opposition activities.
Continued practice of mass mobilisation for state events
As covered in the previous update, as the COVID-19 pandemic was spreading across the world and many states were restricting mass gatherings,Turkmenistani authorities continued organising mass state events and forcibly mobilising residents to participate. This problematic practice, which is contrary to the right to freedom of assembly, has been repeatedly documented in Monitor updates.
During the period covered by this update, the authorities also organised mass events. These are two examples:
Students were mobilised en masse for a biking race organised in the capital on 3rd June 2020, on World Biking Day, celebrated at Turkmenistan's initiative. The president personally led the 12 kilometre long race.
On 8th June 2020, employees at public institutions were mobilised for a welcoming ceremony in connection with the president's visit to the city of Turkmenabat. Buses picked up the participants in the early morning and brought them to the road leading to the airport, where they were made to wait for the president's arrival until late evening. The participants were reportedly not allowed to bring with them anything to eat or drink or any sunshades to protect them against the burning sun. However, when it became clear that the president would be delayed for several hours, and some people started feeling unwell, the organisers provided the participants with water.
Only from July 2020, when there were reports about a growing number of suspected COVID-19 cases and deaths and when the WHO mission visited the country (see more under Expression) did the authorities appear to refrain from organising mass events. Some scheduled cultural events were cancelled.