Violent COVID-19 protests, harassment against journalists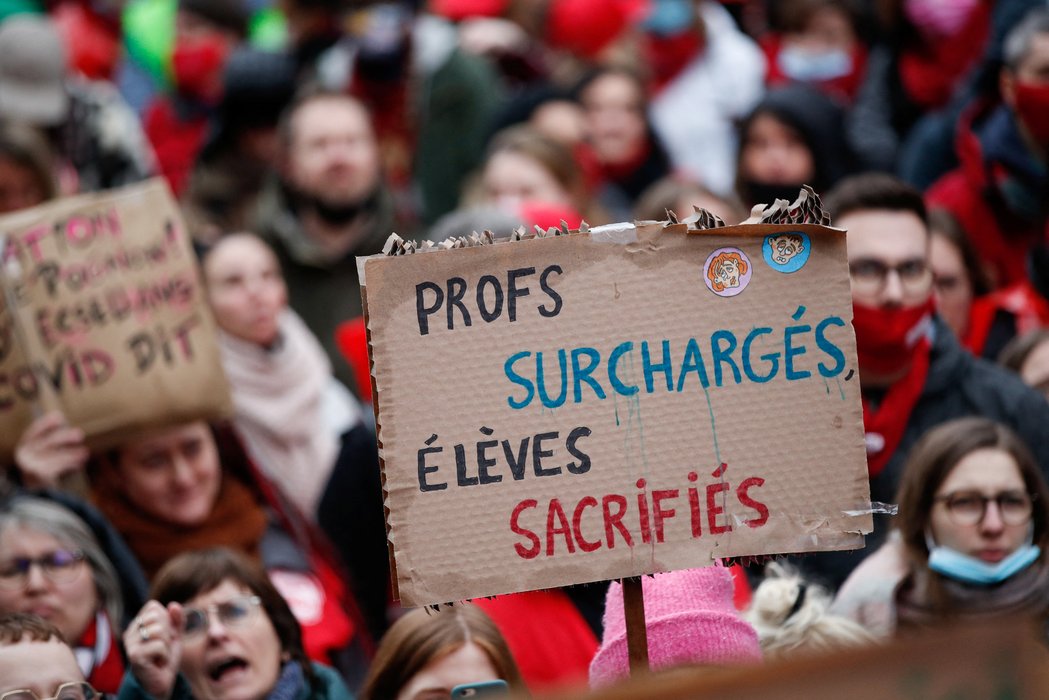 Background
On 15th February 2022, the multi-coalition government in Belgium passed a series of labour reform laws, partly in response to changes brought by the COVID-19 pandemic. Under the new legislation, Belgians may ask their employers for a four-day work week without any cuts to their salaries. Their total number of hours would remain the same and simply condensed into longer workdays.
On 18th February 2022, Belgium eased several COVID-19 restrictions after a decrease in new infections the country, resulting in it switching from Code "red" to "orange".
Peaceful Assembly
COVID-19 protest convoy
On 13th February 2022, hundreds of motorists drove north from Paris to take part in a demonstration against anti-pandemic health policies, specifically regarding EU-wide vaccine certificates. The French police had blocked almost 3,000 vehicles from entering Paris the day before. The movement is inspired by the ongoing turmoil in Ottawa, Canada, where in early February 2022 thousands of Canadian truckers and their supporters rose in opposition to the vaccine mandate for cross-border transit from the United States.
The European convoy was primarily composed of lockdown opposers as well as supporters of the Gilet Jaunes in France, who in 2018 staged weekly protests against mounting fuel prices and economic inequality. According to one demonstrator, the convoy chose Brussels as its next destination because the city is "symbolic of Europe." Belgian authorities, however, announced early on that participating motorists would not be allowed to enter the capital city, where a temporary banon demonstrations had been implemented until the morning of 15th February 2022. Instead, the police directed vehicles to parking lots situated just outside the city where they would be allowed to protest. By the end of the day on 14th February 2022, officials had counted only 130 vehicles, most of them coming from France and the Netherlands. Reuters reported that some demonstrations had taken place in the city centre, although there were no more than 150 to 200 people present.
COVID-19 protests
In the past several months, Brussels has been the centre of several large-scale demonstrations related to COVID-19 measures and restrictions. A particularly hot topic for protesters appears to be the Covid Safe Ticket (CST), Belgium's vaccination certificate which, as of October 2021, is needed to enter restaurants, museums, gyms and other public establishments.
On 21st November 2021, an estimated 35,000 people gathered in the capital in uproar over the government's reinforced health restrictions to curb the rising infection rate. The event turned violent as protesters set fire to garbage bins, stacked wooden pallets and hurled glass bottles and other objects at police officers, who responded with teargas and a water cannon. In the end, three officers were injured and 42 people were arrested.
On 5th December 2021, a smaller group of around 8,000 people took to the streets to oppose mask mandates and vaccine passes. Protesters threw fireworks and beer cans at the riot police blocking their way to the EU headquarters, who once again used teargas and a water cannon to disperse the crowd. Two officers and four protesters were sent to the hospital and 20 people were arrested.
On 23rd January 2022, the largest demonstration of the past several months brought 50,000 people together from countries across the EU. In a video shared on Twitter, protesters are seen throwing projectiles at the glass entrance to the European External Action Service (EEAS). The rally came a few days after the Belgian government's announcement that people must receive their booster shots after five months in order to keep their CSTs up to date. Police against used water cannon and tear gas to disperse protesters, with over 60 people arrested and three officers and 12 protesters taken to hospital.
BRUXELLES - Les policiers à l'intérieur du Siège du Service européen pour l'action extérieure (SEAE) sont violemment pris à partis.

Importantes tensions en cours. https://t.co/hgzhfku4iD pic.twitter.com/OI5VE21Cab

— Clément Lanot (@ClementLanot) January 23, 2022
Teachers protest conditions in classrooms
On 8th February 2022, thousands of Francophone teachers demonstrated against working conditions in schools and financial cuts to the school system. Their list of grievances includes oversized classrooms coinciding with staff shortages and the dilapidation of school buildings. The French speaking communities reform of the education system over the past several years has put a strain on teachers and administrative staff by increasing their workload and making it harder for them to engage with students. They accused the government of neglecting the quality of education for the sake of cutting costs. Since 2020, the pandemic has worsened many of these problems.
While the government has indicated its readiness to invest 32 million Euros in the education system by 2024, teachers say it is not enough. The Minister-President of the Wallonia-Brussels Federation expressed support for the movement, but warned teachers against striking, saying that it would negatively affect students.
University students protest sexism and sexual abuse
About 50 studentsassembled in the city of Leuven on 15th February 2022 to protest the university's "culture of silence" surrounding sexism and sexual assault. Similar protests have been taking place across the country, both in Flemish and Francophone universities.
At the Vrije Universiteit Brussel (VUB), allegations of sexual aggression involving a 49-year-old professor of art science and archaeology galvanized studentsand staff. Many of the students who had come forward against him during the past few years were silenced by the administration, and his eventual dismissal had been hushed.
"As soon as the news broke […], we immediately said that we had to take action…Especially when it kept coming from different universities, which only fuelled our anger and eventually led to protests all over the country," said Lisa Boyon, a 23-year-old student of sociology at the VUB (translated from Dutch).
One of the key demands by students is for universities to establish external bodies tasked with handling allegations of sexual misconduct. The Universities of Leuven and Brussels have since announced plans in that direction. The Universities of Ghent, Liège, and Namur have also taken steps to combat on-campus sexual abuse.
Expression
Belgium refuses to extradite Spanish rapper
On 28th December 2021, the Court of Appeal in Ghent ruled that the Spanish rapper Valtònyc, whose legal name is Jose Miguel Arenas Beltran, would not be extradited to Spain, where he faces a prison sentence of three-and-a-half years. Valtònyc, who is Mallorcan and raps in Catalan, fled to Belgium in 2018 after Spanish courts charged him with glorifying terrorism, insulting the Spanish royal family and making threats in his lyrics, as previously reportedon the CIVICUS Monitor. In particular, the courts accused him of praising the Basque separatist group ETA, an EU-recognised terrorist organisation which disbanded in 2011. Some of Valtònyc's controversial lyrics include, "let them be as afraid as a police officer in the Basque Country" and "the king has a rendezvous at the village square, with a noose around his neck." The rapper had also called the former king Juan Carlos a "thief" on account of corruption allegations.
Ultimately, the Appeals Court in Ghent found that the charges against him in Spain did not qualify as crimes under Belgian law. This is not the first time the issue has been decided on in court; in 2018, the tribunal of first instance in Ghent dismissed the extradition warrant, as did the European Court of Justice two years later. After the verdict was given, Simon Bekaert, Valtònyc's attorney, publicly stated that it had been a "good day for music and freedom of expression." However, in early January, Belgian prosecutors announced their intention to appeal against the decision.
Harassment towards journalists
Several incidents of hate and violence towards Belgian journalists, especially in the context of anti-COVID-19 demonstrations, have been reported by Mapping Media Freedom in previous months.
On 9th December 2021, Eric Boever, a journalist for the public service media RTBF, was covering an anti-lockdown demonstration in Brussels when he was assaulted by a group of young protestors. In Cinquantenaire Park, a crowd of 20 people surrounded and pepper sprayed him. Boever was taken to a nearby emergency room shortly afterwards.

On 23rd January 2022, press photographer Kristof Vadino for De Staandard was attacked in Brussels at a large anti-COVID-19 protest. Some protesters kicked his leg and foot twice, resulting in a knee injury. De Standaard later published a piece noting the rise in violence against journalists while covering such protests.

On the same day, two journalists for the TV station BX1 and two journalists for the AP were assaulted by a different group of protesters. According to the AP, the attackers pushed and threatened the journalists and damaged their video equipment. BX1 later released a statement announcing their intention to file a complaint against the individuals in question.

On 25th January 2022, Samira Attilah, a journalist for the Flemish newspaper De Morgen, tweeted that she had received threatening phone calls and messages on social media. Most of these messages were racially and sexually charged. In an opinion piece for De Morgen, she wrote that her decision to stop covering anti-COVID protests stemmed from a message telling her that she had been put "on a list of journalists who can later expect to be involved in the Nuremberg trial as a result of our false misinformation in the media." A photograph of her had also been circulated by anti-vaccination groups on social media with the caption, "whoever sees her may hurt her!"