Violent attack on Indigenous peoples and surveillance of defenders demanding justice for Berta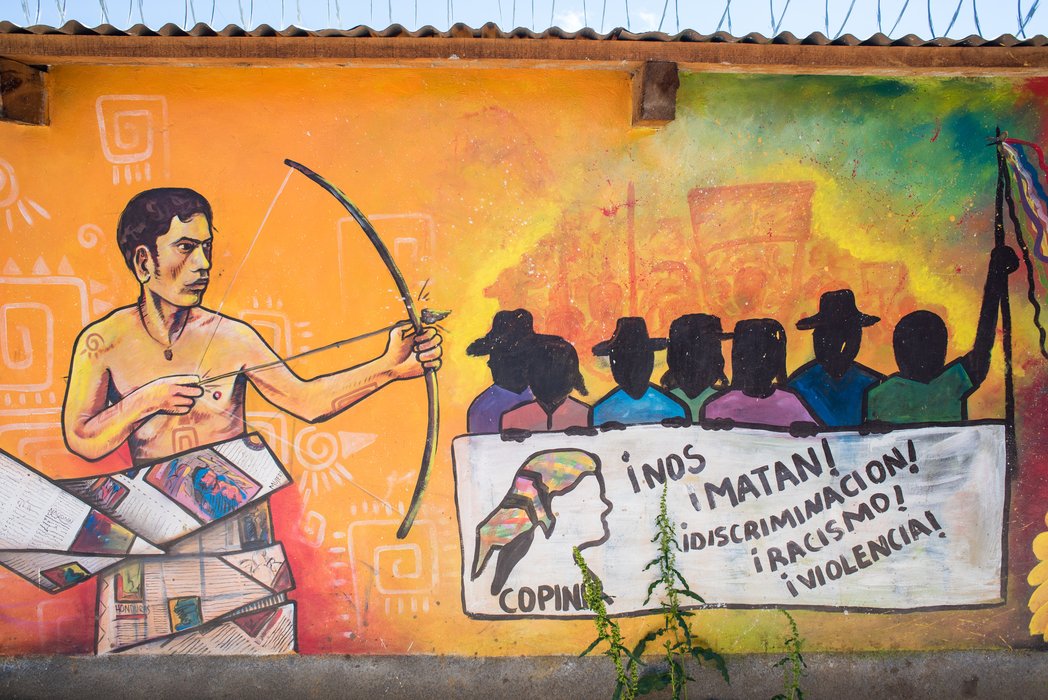 Association
ALERTA⚠️| Tres personas heridas y una familia sin vivienda es el saldo que hasta ahora se registra luego del enfrentamiento de elementos de la @PoliciaHonduras y madereros, contra pobladores y defensores del medio ambiente en San Francisco de Locomapa.

🔗https://t.co/2HSI8nfLCT pic.twitter.com/ZpJzB0cRq3

— CESPAD (@CESPAD_HONDURAS) May 12, 2021
On 10th May 2021, members of the San Francisco de Locomapa community, Yoro department, were violently attacked by individuals linked to the lumber industry and by the police. Indigenous peoples in the community have faced repeated attacks for their defence of their territories and the Tolupán forest against extractive activities. The Movimiento Amplio por la Dignidad y la Justicia (Broad Movement for Dignity and Justice - MADJ) denounced that civilians had attacked and threatened defenders, set fire to some camp structures and partly destroyed the community radio station Dignidad Tolupana. In addition,as reported by IM-Defensoras, police later opened fire on people in the community during an operation to oversee wood transportation from the forest, resulting in three people injured. One young girl reportedly sustained a gunshot wound and a child was hit on the head.
In a separate development, human rights defenders demanding justice for the killing of Berta Cáceres have reportedly faced surveillance and intimidation. The defenders have set up a feminist camp in front of the Supreme Court in Tegucigalpa while court proceedings against one of the alleged intellectual authors of Cáceres' murder are ongoing. Local civil society said that police officers have taken photographs and filmed the people participating in the camp, many of whom are members of feminist, Indigenous or Garífuna groups. IM-Defensoras reported that police patrols have also circled the camp to intimidate defenders.
In a positive development, at the end of May 2021 the United States withdrew financial support for the Jilamito Hydroelectric Project in northern Honduras, reportedly after activist groups in Honduras and the USA urged the Biden administration to drop the project. Defenders with MADJ have resisted the dam's construction, facing threats, harassment and criminalisation for their work protecting the Jilamito river. As previously reported on the CIVICUS Monitor, a lawyer who defended a mayor resisting the project was murdered in 2018. The hydroelectric project still has investment pledges from the Inter-American Development Bank and from a Honduran company.
Expression
⛔ #AlertaCLibre
Jefe de régimen hondureño arremete contra #periodistas inoculados con la vacuna anti #COVID19@VDSorg @IFEXALC@CPJAmericas @article19mex@RELE_CIDH @OACNUDHHN

Lea más➡️https://t.co/7Mo76bYsvl pic.twitter.com/1VzqeUFxsk

— C-Libre (@CLibrehn) May 31, 2021
On 23rd May 2021, during the convention of his political party Partido Nacional, President Juan Orlando Hernández accused journalists and media outlets of "attacking what the government does all the time". Hernández also implied that journalists were skipping the COVID-19 vaccine queue and that reporters who criticised the government's vaccine rollout did not have a right to get vaccinated.
In another incident, Hispan TV correspondent Dassaev Aguilar said he had received death threats on Twitter after interviewing the Secretary of the Presidency, Ebal Diaz, on 18th May 2021. According to the journalist, at least one of the Twitter threats came from a government employee. Aguilar said he also received a phone call questioning his inquiries to Diaz on the position of Honduras' government on Special Employment and Development Zones. Press freedom organisation C-Libre has registered eight attacks against Aguilar in previous years.
C-Libre published a statement on 25th May 2021, Honduras' National Journalists' Day, on the situation of freedom of expression in the country. In the context of the COVID-19 pandemic, between March 2020 to April 2021, more than 800 communication workers were reportedly suspended or dismissed from their jobs and at least 500 had salary reductions. C-Libre also registered 127 direct attacks against journalists, including the murder of four social communicators during the state of emergency. The organisation also highlighted the vulnerability of journalists during the pandemic, saying 23 reporters died and over 180 reporters were infected with the coronavirus.
Peaceful Assembly
✊🏽"De los ríos somos custodios-as Ancestrales, el río Gualcarque ha llamado, debemos acudir"

🔴Gran movilización por la defensa de nuestros territorios, exigiendo la cancelación de proyectos de muerte, sin el consentimiento de los pueblos afectados. #BertaVive COPINH sigue! pic.twitter.com/jlmL9qL5Pb

— COPINH (@COPINHHONDURAS) May 17, 2021
In May 2021, protesters with Consejo Cívico de Organizaciones Populares e Indígenas de Honduras (Civic Council of Popular and Indigenous Organisations of Honduras - COPINH) organised demonstrations against the country's law on Special Employment and Development Zones (ZEDE). Congress approved changes to the law on 24th May 2021, which land defenders argued will further enable the encroachment on communities' territories. ZEDEs have been controversial in Honduras as they give extended powers to investors on competencies such as fiscal policy, security and conflict resolution.