Vanuatu: Wins for climate change activism and independent media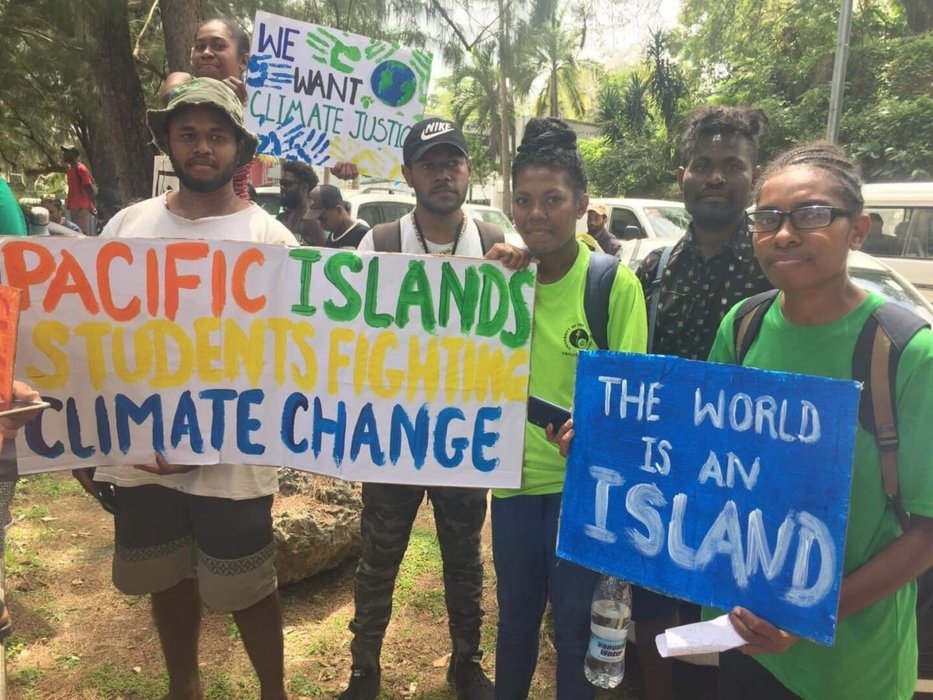 The state of civic space in Vanuatu is rated as 'narrowed'. Among ongoing concerns are the criminalisation of freedom of expression online under the Cybercrime Act No. 22 of 2021, as well as criminal defamation provisions in the country's Penal Code Act that could be used to silence the media and critics.
In March 2023, the country was hit by two Category 4 cyclones that affected more than 80 percent of Vanuatu's population of about 320,000 people. While NGOs and the National Disaster Management office (NDMO) have been working to assist those affected, it has been reported that some communities feel that they have not received enough help and support for recovery.
In March 2023, a landmark UN resolution on climate change – initiated by youth activists and supported by the Vanuatu government - was passed by the UN, while in the same month Vanuatu's Supreme Court ruled in favour of the owner of the Daily Post newspaper.
Peaceful Assembly
March to celebrate landmark UN resolution on climate change
BREAKING: #UNGA unanimously adopts landmark resolution requesting legal clarification from the @CIJ_ICJ on the obligations of States on the impact of #climatechange.

"Now is the time for climate action and climate justice," UN Secretary-General @antonioguterres says. pic.twitter.com/bfAlqNei1i

— UN News (@UN_News_Centre) March 29, 2023
Vanuatu celebrated its historic win at the United Nations General Assembly (UNGA) with a victory march on 8th April 2023, following the adoption of the landmark resolution on climate change and human rights. Hundreds of people took to the streets, including members of parliament and the general public from Fatumara Bay to Independence Park.
On 29th March, the UN General Assembly adopted by consensus a resolution spearheaded by Vanuatu, a tiny Pacific island nation vulnerable to extreme climate effects, to secure a legal opinion from the international court of justice (ICJ) to clarify states' obligations to tackle the climate crisis – and specify any consequences countries should face for inaction.
The resolution, which was co-sponsored by more than 132 countries, will help establish a legal litmus test of sorts for the global climate justice movement seeking to hold countries to account for climate failures in the courts.
The campaign to secure the UN resolution was initiated by a group of Pacific Island youth environmental activists. Frustrated by the world's lack of action on climate change, law students in eight Pacific island nations founded Pacific Islands Students Fighting Climate Change (PISFCC) in 2019 and launched their campaign to persuade their leaders to take the resolution to the UN's highest court. Spearheaded by Vanuatu, Pacific nations soon took up the law students' call.
Young people across the world will recall the day when we were able to get the world's highest court, the international court of justice, to bring its voice to the climate justice fight. - Solomon Yeo, campaign director of PISFCC, from the Solomon Islands
Harjeet Singh, head of global political strategy at Climate Action Network International, said: "The UN resolution to take the issue of climate change to the world's highest court is a historic moment in the fight for climate justice, human rights and intergenerational equity. The advisory opinion must serve as an important accountability tool towards states' obligations in protecting the environment and future generations from climate impacts."
While the opinion from the world's highest court will not be binding in domestic courts, establishing international legal rules can be influential on judges and governments. It also represents the first attempt to establish climate action obligations under international law.
Daily Post wins landmark case over work permit issue
'I feel vindicated': Vanuatu Daily Post wins landmark case against govt over work permit saga https://t.co/b2hi3oQHQG #Vanuatu pic.twitter.com/VNZ26V2Vt2

— Raet Lomi (@raetlomi) March 30, 2023
Vanuatu's Supreme Court ruled in March 2023 in favour of the Trading Post Ltd, the owner of the Daily Post newspaper, BUZZ FM96 and other media properties, in a case against the government's refusal to renew the company's former media director's work permit.
According to RNZ, on 28th March, Justice Dudley Aru ruled that both the Labour Commissioner and the Appeals Committee acted unlawfully in barring Dan McGarry's employment. McGarry, who served as a director of the company when he had his visa revoked in 2019, said the ruling was a "big win for independent media".
He added: "After three long years, I feel vindicated. Sadly, it took so long to get justice that I had to move on to other work, but this is a crucial principle that had to be defended. This is a big win for the Daily Post, and a big win for independent media in Vanuatu."
As previously documented, in November 2019, McGarry said that his visa had not been renewed by the country's Labour Ministry because of the paper's coverage critical of the government. McGarry says he has been targeted because of his reporting on China's growing influence in the country.
McGarry is a Canadian who has been a resident of Vanuatu for 16 years and is married to a Vanuatu citizen. The reason given by the Labour Commissioner Murielle Meltenoven at the time was that McGarry's role could be taken up by a ni-Vanuatu person and that he had failed to train his local staff.