USA: thousands demonstrate to demand gun control legislation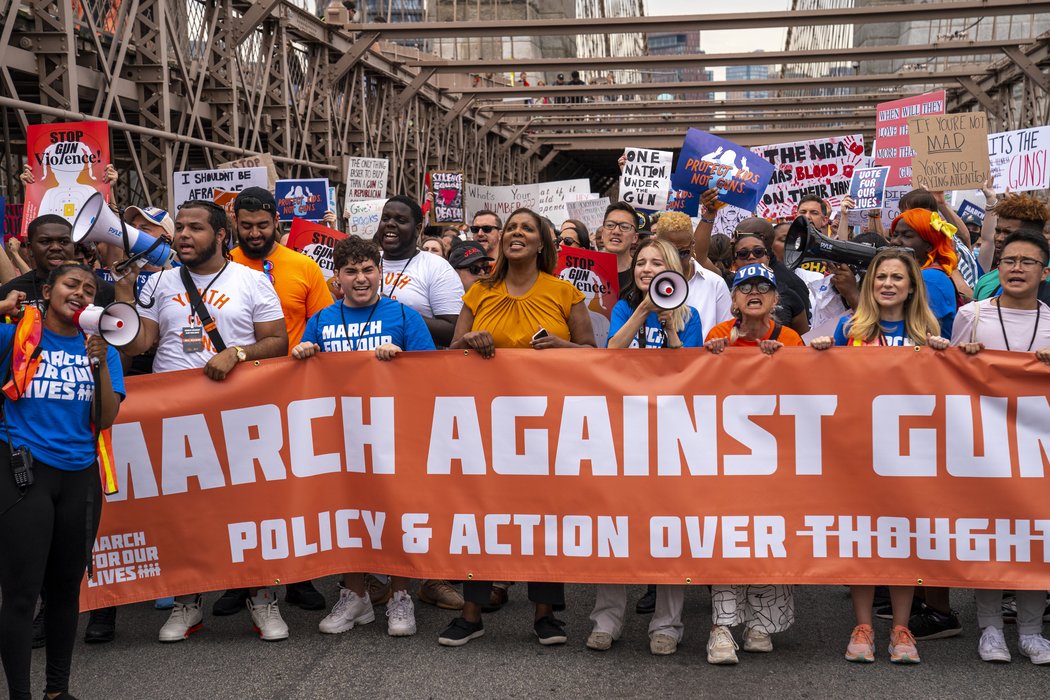 Peaceful Assembly
Photos: Thousands gather to rally for gun control in "March for Our Lives" rally https://t.co/xJf8ZAOz0R pic.twitter.com/Ur5KoDmpJE

— The Washington Post (@washingtonpost) June 11, 2022
In May and June 2022, tens of thousands of people demonstrated across the country to demand gun control after a wave of deadly mass shootings. On 11th June 2022, protesters turned out to more than 450 rallies nationwide, with the D.C. event of the March for Our Lives drawing thousands of demonstrators. In this period, there was also a string of student walkouts, largely coordinated by local chapters of Students Demand Action, a youth-led organisation that advocates for stronger gun control. On 27th May 2022, demonstrators protested the NRA Convention in Houston which was held in the same week as a shooting at an elementary school in Uvalde, Texas, that left 19 children and two teachers dead.
On 11th June 2022, 31 white supremacists with the Patriot Front were charged with "conspiring to riot" in Coeur d'Alene, Idaho, after being arrested for attempting to disturb the city's Pride in the Park event. The men, many of whom were wearing white balaclavas and khaki pants, were in the back of a moving van along with riot gear and a smoke grenade.Most of the group came from out of state, with just one from Idaho. This incident took place after a far-right social media account drew attention to the LGBTQIA+ Pride event in Coeur d'Alene, a town of about 5,000 people.
On 26th May 2022, students at Seattle Pacific University, a private Christian university in Seattle, protested after the campus administration voted to uphold rules that ban the hiring of staff identifying as LGBTQIA+. Students walked out of class following the SPU Board of Trustees' vote to retain the university's discriminatory "employee lifestyle expectations" regarding sexual orientation.
On 16th May 2022, at least eight people were arrested for protesting the construction of a $90 million police training centre that will require deforesting hundreds of acres in Atlanta. Police allege someone threw rocks and what was described as "a Molotov cocktail" at officers. Defend the Atlanta Forest, as well as other Atlanta residents who oppose the training ground's construction, are concerned about the environmental and social impacts of the project. Protests against the facility's construction have been ongoing since 2021, with activists setting up a treehouse as their headquarters and blocking woodland passages. "They're going to call us like eco terrorists, and all kinds of stuff like that," said one activist. "A lot of people out here had friends who've died, been imprisoned, been shot, and experienced a lot of trauma, so they have a really internalised hatred of police."
Protest leader prosecuted
On 23rd May 2022, a judge refused to dismiss felony charges against Black Lives Matter organiser Tristan Taylor for his participation in a 2020 protest against police violence, and instead compared him to the terrorists from the movie "Die Hard." During the hearing, Taylor's lawyer argued the activist was only given 1-3 seconds to comply with officers' orders before being arrested. The judge rejected this argument even though he admitted he had not reviewed the evidence in the case.
Protest restriction
On 16th May 2022, Florida's governor signed a bill that prohibits protests outside people's homes. Florida's ban on residential picketing is due to take effect on 1st October 2022. Those found guilty of breaking the new law may face up to 60 days in jail as well as a maximum fine of US$500. The legislation cited picketing outside the homes of conservative U.S. Supreme Court justices following the leak of a draft ruling which showed the Court was ready to overturn the landmark 1973 Roe v Wade decision that essentially legalised abortion nationwide.
Expression
Journalists say they face barriers while covering the aftermath of mass shootings in Buffalo and Uvalde — including threats of arrest and harassment: https://t.co/Ced2ms36L4

— U.S. Press Freedom Tracker (@uspresstracker) June 13, 2022
School authorities in Uvalde, Texas, obstructed the work of journalists covering the aftermath of the deadly shooting at Robb Elementary School in early June 2022. On 1st June 2021, CNN reporters were threatened with arrest after they sought to speak with Uvalde school district spokeswoman Anne Marie Espinoza. The school district office called the police to remove the media team from the premises. Officers alleged that the news crew was "trespassing" on Uvalde public school district property. The journalists then moved into the street and were told they would be arrested for trespassing if they stepped back onto the property.
Newsweek also reported that Uvalde Police allegedly asked biker groups to keep journalists in line on 2nd June 2022, during a funeral for a victim of the mass shooting. Members of the biker group were said to have physically obstructed cameras within areas designated for the press and followed reporters. Houston Chronicle reporter Julian Gill tweeted a video showing members of the Guardians of the Children biker club following and surrounding him. Uvalde police officers also reportedly threatened journalists with arrest if they approached the mortuary where the funeral was taking place.
Separately, in May 2022 Cory Mills, Republican candidate for Florida's 7th Congressional District, released an advert boasting about the use of his company's crowd-control munitions against members of the press. Mills, who served in the Trump administration's Department of Defense, posted the campaign ad to YouTube. "Now the liberal media's crying about it," Mills says in the ad. "If the media wants to shed some real tears, I can help them out with that."
On 24th May 2022, a federal court halted a new ordinance that allowed law enforcement in Fresno, California, to create cordons around homeless encampment sweeps, which press freedom groups argued hampered journalists' ability to cover them. The American Civil Liberties Union (ACLU) of Northern California filed a federal lawsuit against the City of Fresno to challenge the new law. The lawsuit was supported by a coalition of press freedom organisations, who filed an amicus brief. Journalists covering homelessness in California say police have become increasingly aggressive toward anyone trying to document encampment sweeps or evictions.