USA: Massive protests erupt over leaked Supreme Court opinion affecting legal abortion rights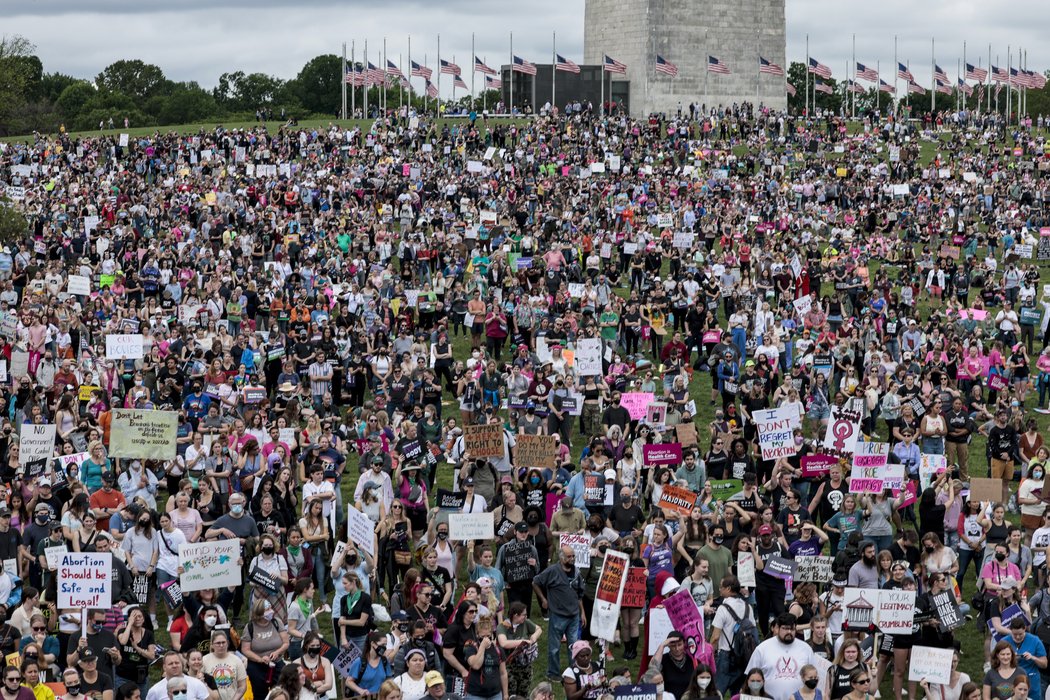 Peaceful Assembly
Outrage over Supreme Court draft opinion on abortion
Union Square right now! Rise Up 4 Abortion Rights. #RiseUp4AbortionRights pic.twitter.com/yQPNoWV0vO

— Rise Up 4 Abortion Rights (@riseup4abortion) May 14, 2022
Sparked by a leaked draft of a Supreme Court opinion that indicated the court would end access to legal and safe abortions, thousands demonstrated in several cities in May 2022 to demand that their right to access healthcare not be infringed. Outside the Supreme Court in D.C. and in other cities, people took to the streets on 3rd May 2022 to protest the potential decision by the country's highest court to overturn Roe v. Wade. "We are here because it's a really scary time to be a young woman," said one woman at the D.C. protest. In Los Angeles on the same day, federal agents worked with local police to suppress a 250-person protest near City Hall.
Abortion rights activists have warned that the pending decision would permit states to ban abortions without exception, and may lead to attempts to establish a national ban on the procedure. The draft opinion would also undermine other established rights like same sex marriage and access to birth control that have been upheld by the right to privacy found in the U.S. constitution's 14th Amendment.
On 14th May 2022, there were major demonstrations drawing thousands in New York City, Philadelphia, San Francisco and Atlanta. Organisers of "Bans Off Our Bodies" rallies said there were more than 380 protest events across the United States. Demonstrations were also held outside the homes of Supreme Court justices, leading the senate to quickly pass a bill by unanimous consent to expand the Supreme Court police's authority to protect justices and their families around the clock.
Multiple environmental protests
When people brave the cold and the rain and the West Virginia police to blockade the plant that burns Manchin's coal - that is what hope looks like. pic.twitter.com/XxENAcnwGj

— The Coal Baron Blockade (@WV_Rising) April 10, 2022
On 22nd April 2022, Earth Day, climate activist Wynn Bruce set himself on fire in front of the U.S. Supreme Court. Officers responded immediately but the activist suffered critical injuries and died a day later in hospital. While no note or manifesto was located, Bruce's friends said they believe the self-immolation may have been a protest against inaction on the climate crisis. A silent vigil for Bruce was held in front of the Supreme Court Building on 29th April 2022.
Separately on 22nd April 2022, 13 people were arrested and another 19 were issued with summonses for blocking the entryway to the New York Times printing plant in Queens. They were protesting to demand that the Times and other companies drop their advertising deals with fossil fuel companies. As part of their Earth Day actions, activists with Extinction Rebellion chained themselves to a series of poles and pipes, thwarting delivery trucks and newspaper distribution.
On 16th April 2022, play was interrupted during an NBA playoff game after a protester chained herself to the basket to draw attention to the mass killing of 5.3 million chickens at an Iowa factory egg farm. The farm's owner is also the owner of the Minnesota Timberwolves, one of the teams at the play-in game. Zoe Rosenberg, an activist with the animal rights group Direct Action Everywhere, secured herself to the stanchion during the protest demanding that the company's owner step down. Rosenberg faces charges for "disorderly conduct" and "trespassing." Similar protests have taken place at other Timberwolves games.
On 9th April 2022, hundreds of people protested outside a West Virginia coal plant. At least 16 people were arrested. Organised by the West Virginia Rising coalition, the event at the Grant Town Coal Waste Power Plant called out the state's Senator Joe Manchin who reportedly makes around half a million dollars a year from the plant. The democratic senator opposed President Biden's $2 trillion spending package which had contained an array of measures to address the climate crisis.
On 6th April 2022, a NASA scientist and three other demonstrators were arrested in Los Angeles after chaining themselves to the doors of a Chase Bank office building as part of a protest to get the bank to divest from the fossil fuel industry. The protest was part of a broader movement of scientists risking arrest to draw attention to the climate crisis. Peter Kalmus, a scientist at NASA's Jet Propulsion Laboratory, spoke to a crowd before chaining himself to the handle of the bank's door. The event was livestreamed on Facebook. JPMorgan Chase & Co. has invested more money in fossil fuels than any other bank, according to the "Banking on Climate Chaos" report from the Sierra Club and other climate advocacy organisations.
Racial justice protests and related court cases
Detroiters took to the streets on Sunday to protest the killing of Patrick Lyoya, a 26-year-old Black man who was shot in the back of the head by a Grand Rapids police officer after a traffic stop. https://t.co/f4KzzB3Pti

— Detroit Metro Times (@metrotimes) April 24, 2022
In April 2022, hundreds of people participated in multiple events in honour of Patrick Lyoya, a 26-year-old Black man from the Democratic Republic of Congo who was shot and killed by police on 4th April 2022. Lyoya, whose family arrived in the U.S. as refugees, was shot by a Grand Rapids police officer after he was pulled over for allegedly driving with an unregistered licence plate. Video of the traffic stop showed the officer shooting Lyoya in the back of the head while he was face down on the ground.
On 11th April 2022, an arbitrator ruled that two Buffalo police officers did not violate the department's use-of-force guidelines when they pushed a 75-year-old protester to the ground during protests for racial justice in June 2020, causing severe injury. A news crew captured video of Martin Gugino being shoved by officers Robert McCabe and Aaron Torgalski and other officers telling them to ignore him as he lay on the street bleeding. Gugino spent about a month in hospital with a fractured skull and brain injury. The officers were suspended without pay and arrested within days of the incident, but last year a grand jury declined to indict them and charges were dropped.
Separately, in April 2022 the U.S. Park Police and the U.S. Secret Service announced policy changes as part of a settlement in lawsuits filed by Black Lives Matter advocates and others after protesters were attacked in order to clear Lafayette Square for a presidential photo-op on 1st June 2020. The settlement resolves portions of four separate lawsuits and includes policy changes like:
Protecting the right to demonstrate by providing that Park Police cannot revoke demonstration permits absent "clear and present danger to the public safety," or "widespread violations of applicable law that pose significant threat of injury to persons or property";

Protecting demonstrators by requiring Park Police to enable the safe withdrawal of demonstrators if a protest is being dispersed;

Protecting demonstrators from intimidation by prohibiting Park Police from displaying gas masks and shields at protests, unless approved by a high-ranking officer.
In another legal case, civil society organisations filed a lawsuit against the city of Florence, Alabama, and the local police chief, saying they have limited demonstrations in violation of the First Amendment. The lawsuit claims the city and Police Chief Ron Tyler sought to curtail multiple protests against a confederate monument located at the Lauderdale County Courthouse, organised by Project Say Something. The groups allege that local authorities acted to reduce protests by telling Project Say Something when, where and how it can demonstrate. Protests over the monument were cut back after the city used its noise and parade permit ordinances to discourage them, the lawsuit said. The chief relocated the demonstrations to a "protest zone" away from the courthouse and threatened to issue citations.
Other developments
Peaceful protest today at downtown Indianapolis to raise awareness about the crisis in Sri Lanka. #GoHomeGota2022 @GotabayaR #SaveSriLanka pic.twitter.com/lVXCwBnMui

— Photography by Sid (@PhotosBySidath) April 4, 2022
On 1st May 2022, Sri Lankan Americans and Sri Lankan migrants living in the U.S. rallied in solidarity with the people in the country in a series of protests organised by the Sri Lankan Student Collective and other groups. Sri Lanka is facing economic turmoil with many people unable to afford basic necessities. The situation has ignited nationwide protests demanding systemic change and the resignation of President Gotabaya Rajapaksa.
Association
BREAKING: Steven Donziger has been released after spending over 900 days under house arrest and 45 days in prison over a legal battle with the oil giant Chevron.https://t.co/PAUlwnzP9P

— Climate Nexus (@ClimateNexus) April 25, 2022
On 18th April 2022, human rights and environmental lawyer Steven Donziger was released after nearly 1,000 days of arrest, which included 45 days in prison and over 900 days under house arrest. Donziger has faced a years-long legal ordeal that began after he successfully sued Chevron for environmental contamination on behalf of 30,000 Ecuadorian Amazonian Indigenous peoples. In 2014, a U.S. federal judge with alleged ties to Chevron ruled that Donziger was guilty of a "pattern of racketeering activity." When Donziger refused to comply with the judge's order to hand his mobile phone and computer over to Chevron, arguing that the devices contained sensitive client information, he was charged with six counts of criminal contempt and placed under house arrest. He was later found guilty and sentenced.
Donziger calls his misdemeanour sentencing and arrest "a retaliation play by Chevron and some of its allies in the judiciary" meant to intimidate other human rights advocates and lawyers from pursuing environmental justice. This Strategic Lawsuit against Public Participation (SLAPP) case has attracted global attention and outrage, with the United Nations Working Group on Arbitrary Detention saying Donziger's prolonged detention was a violation of international law.
Expression
#UnitedStates: #CFWIJ extends support to @latimes reporter Alene Tchekmedyian (@AleneTchek) & condemns the threats she faces from the local sherrif for exposing police wrongdoings. pic.twitter.com/Ai3uYwGjLq

— #WomenInJournalism (@CFWIJ) April 29, 2022
At a press conference on 26th April 2022, the Los Angeles County Sheriff indicated that a local journalist was under criminal investigation for her coverage of a leaked video showing a LAPD officer allegedly assaulting a person in custody. The press conference came nearly a month after Alene Tchekmedyian first reported on internal documents detailing the incident. During the press conference, Sheriff Alex Villanueva displayed a picture of Tchekmedyian and two other individuals, saying all three were connected to the leak. Times' Executive Editor Kevin Merida condemned Villanueva's comments, saying, "His attempt to criminalise news reporting goes against well-established constitutional law." Hours after the press conference, Villanueva addressed the public outcry denying that they would be pursuing criminal charges against any reporters.
In late April 2022, a district school board in Missouri told its teachers to remove all cards and stickers that showed support to LGBTQIA+ students, signalling that their classrooms were safe spaces. The signs are made by the Gay, Lesbian & Straight Education Network (GLSEN), and are used by teachers to indicate to students that they could feel safe approaching them regarding personal gender identity and sexuality questions. The decision was prompted by a parent's complaint. Following an outcry over the signs' removal, Grain Valley Schools decided to host listening sessions on the topic for their community stakeholders.