USA: Amazon workers vote for unionisation; courts hold police liable for excessive force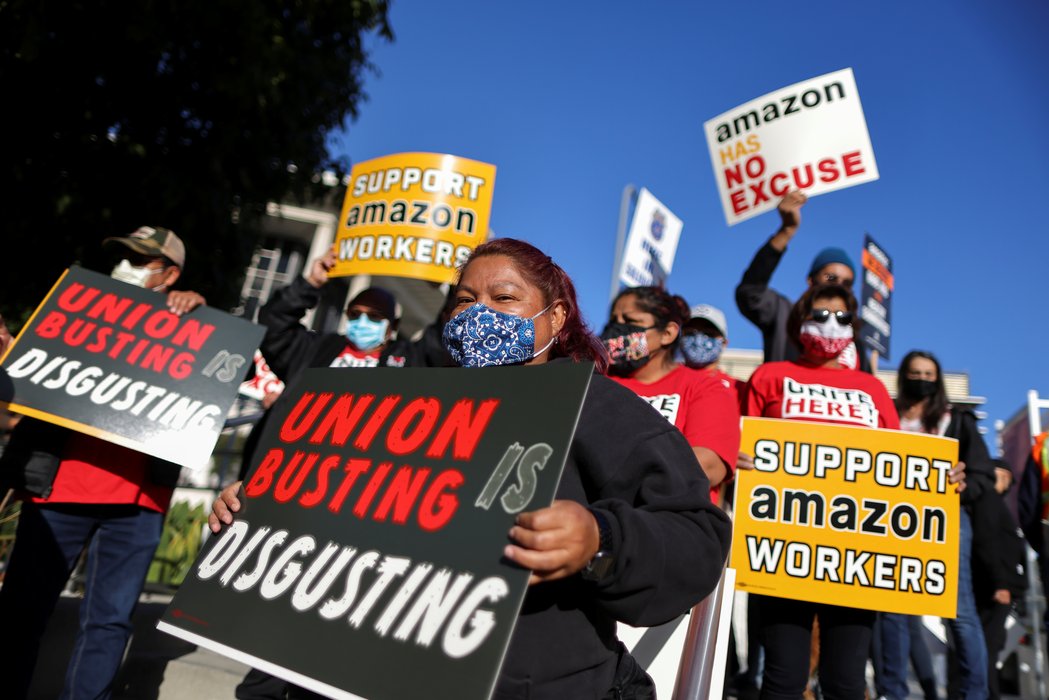 Peaceful Assembly
Protests for racial justice and against police violence
A politically motivated mass shooting of 5 people during an #AmirLocke march in Portland left June 'T-Rex' Knightly, a 60 y/o advocate for the vulnerable, dead. Two days later, solidarity rallies were held across the country, including Minneapolis. https://t.co/BgePSJwY5i pic.twitter.com/6MmHcW4YUe

— Unicorn Riot (@UR_Ninja) March 4, 2022
On 19th February 2022, one person was killed and five wounded in Portland at a march to protest police violence. 60-year-old June Knightly, killed in the incident, was a long-time activist involved in racial justice protests and LGBTQIA+ organising. She had been working as a traffic safety volunteer before the start of a demonstration calling for justice for Amir Locke and Daunte Wright, two Black men killed by police in Minnesota. Authorities eventually filed murder charges against Benjamin Smith, a man who allegedly confronted protesters, told them to leave and then drew a pistol and opened fire.
On 25th March 2022, the relatives and dozens of supporters of a young man shot and killed by police gathered outside Baltimore's City Hall to demand criminal charges against the two officers who killed Donnell Rochester. His family raised questions about how police had approached Rochester on the night of the shooting. "Police officers choose their job. They choose to put on that uniform every day. But my skin colour is not a choice," one woman said. "Y'all cannot continue to hide behind the colour blue. We are literally begging you: Let us live in our Black skin."
In a separate but related development, at the end of March 2022, Louisiana's Supreme Court allowed the organiser of a Black Lives Matter rally to be sued for events that took place during that rally, even though he was not involved. The original case arose after an unidentified police officer was allegedly injured during a 2016 protest in Baton Rouge and filed a lawsuit against protest organiser DeRay McKesson. The lawsuit did not accuse McKesson of injuring the officer but claimed he was liable as he had encouraged people to attend the demonstration. McKesson denied any wrongdoing and said his organising activities are protected by the First Amendment.
In November 2020, the U.S. Supreme Court questioned whether the state's laws would allow the officer to sue a protest organiser and remanded the case to a federal appeals court. Answering questions posed by the federal appeals court, the Louisiana Supreme Court allowed the lawsuit to go ahead. "This case will have a chilling effect on political protests in general as nothing prevents a bad actor from attending an otherwise peaceful protest and committing acts of violence," wrote one of the judges in their dissent of this decision.
Protests over pandemic-related measures
For nearly three weeks in February and March 2022, hundreds of truckers and other motorists participated in rolling protests on highways encircling Washington D.C. as part of a demonstration against COVID-19 mandates and other grievances. The protesters waved flags and blew their horns as they drove in and around the United States capital.
On 1st April 2022, five people were fined for protesting outside Boston Mayor Michelle Wu's home on the first day of a new city ordinance that limits when protesters can gather in residential neighbourhoods. People had gathered outside Wu's home as early as 7 a.m. to protest her city worker vaccine mandate, shouting and banging drums. The new measure limits protesters to demonstrate outside an individual's home only between 9 a.m. and 9 p.m.
Other demands
Demonstrators protest the Russian invasion of Ukraine outside of the White House on Feb. 24, 2022. For @business pic.twitter.com/f6MZyhFlSP

— Eric Lee (@erjlee) February 25, 2022
Across the country on 25th February 2022, thousands of people rallied in solidarity with those affected by the Russian invasion of Ukraine. In Chicago, a large crowd gathered on the steps of Saints Volodymyr and Olha Ukrainian Catholic Church, where public figures likeIllinois Governor J.B. Pritzker addressed the crowd and expressed solidarity with Ukraine. At a rally at the White House, people shouted "Stand with Ukraine" and held protest signs calling for support from the U.S. government. In New York City, home of a sizable Ukrainian population, the protests against Russia moved from Times Square to the Russian Mission to the United Nations.
On 21st March 2022, asylum seekers and their supporters marched toward the San Diego-Tijuana border to protest against a policy that has kept thousands of migrants from being able to request protection in the U.S. Many called for an end to Title 42, a border policy implemented during the COVID-19 pandemic allowing officials to turn away asylum seekers without screening for protection needs. As part of the demonstration, a small group of asylum seekers tried to request protection at the San Ysidro Port of Entry, but Customs and Border Protection officers told them that they could not enter. U.S. authorities announced in April that the Title 42 policy would be lifted on 23rd May 2022.
Court cases on excessive force
In this reporting period, there were multiple reports of police being held accountable in courts for their actions during protests. In February 2022, a Texas grand jury indicted 19 Austin police officers on charges of 'aggravated assault with a deadly weapon' for their actions during 2020 protests over racial injustice. Prosecutors have not identified any of the officers facing charges because Texas law requires that an indictment remain secret until an officer has been arrested. Aggravated assault with a deadly weapon, when committed by a public servant, could carry a sentence of up to life in prison. In Denver, a jury awarded US$14 million to 12 people who had their constitutional rights violated by Denver police using excessive force during protests for racial justice in 2020.
In Las Vegas, a federal appeals court ruled on 7th March 2022 that a Las Vegas police detective can be sued for arresting protesters who chalked anti-police slogans on the sidewalk in front of the police station.
In another ongoing case, on 18th March 2022 the City of Minneapolis issued subpoenas to three journalists to produce materials and communications relating to their coverage of protests following the police killing of George Floyd in May 2020. The documents demand that all three journalists testify at a deposition and bring "videos, photographs, recordings, emails, texts and documents" related to unrest during the protests. The subpoenas were filed in connection with a lawsuit against the city for excessive force filed by freelance photojournalist Linda Tirado, who was permanently blinded in one eye after police shot her with a crowd-control munition on 29th May 2020.
The journalists summoned were each asked for materials related to their own injuries while covering the protests sparked by Floyd's death. Reporter Andy Mannix of the Star Tribune was asked for materials related to his thigh injury from a projectile that struck him while he was covering protests on 26th May 2020, the day after Floyd's death. The other two journalists subpoenaed are Max Nesterak and Jared Goyette. Similarly to Tirado, Goyette was struck in the eye with a crowd-control munition while covering protests.
In a separate development on 18th March 2022, a federal appeals court revived part of a lawsuit filed by Marcus Mitchell who claims law enforcement officers in North Dakota seriously injured him and violated his civil rights during protests against the Dakota Access Pipeline in 2016. Mitchell alleges that law enforcement shot him with lead-filled bean bags that shattered his eye socket; he was also arrested amid protests at the time. The judges who reviewed the appeal said that if Mitchell's claims are true, "then Morton County law enforcement engaged in a persistent pattern of excessive force against peaceful protesters that was tacitly authorised by Sheriff (Kyle) Kirchmeier and that led to Mitchell's injury."
Expression
Apple and Meta shared data with hackers pretending to be law enforcement officials https://t.co/MQ0MB2wcHG pic.twitter.com/oFE4VDC5gP

— The Verge (@verge) March 30, 2022
Apple and Meta, the parent company of Facebook, improperly provided customer data to hackers who masqueraded as law enforcement officials in 2021, according to a Bloomberg report published in March 2022. The information given out by the tech companies in response to forged "emergency data requests" included basic subscriber details, such as a customer's address, phone number and IP address. In the U.S., law enforcement requests for information from social media platforms usually include a signed order from a judge. However, emergency requests are intended to be used in cases of imminent danger and don't require a judge to sign off on them.
Also in March 2022, Utah's Senate limited press access to the chamber, halls, lounge and committee rooms. As previously reported on the CIVICUS Monitor, similar moves were made in other Republican-controlled Senates in early 2022. The rule change approved by the Utah Senate requires that journalists receive permission from a "Senate media designee" in order to have access to the Senate floor and adjacent hallways to conduct a specific interview and be escorted out of the area when it is completed. Journalists also must ask permission from the committee chair to film or take pictures from behind the dais. Traditionally, members of the press were allowed on the floor of both the House and Senate, as well as in some areas that are not open to the public.
Anti-rights legislation affects freedom of expression
Hundreds of students staged a walkout at a high school in Florida today in protest against a bill that would limit discussion of LGBTQ issues in schools throughout the state.https://t.co/4vMMMtz9sZ

— Truthout (@truthout) March 8, 2022
On 8th March 2022, Florida's state Senate passed the 'Parental Rights in Education' bill – better known as the 'Don't Say Gay' bill – aimed at preventing teachers from speaking to students about sexual orientation and gender issues. Under this initiative, parents are given greater authority to take legal action against school districts believed to not comply. The controversial law sparked protests in the state earlier in the month. On 3rd March 2022, students across Florida had staged walkouts to protest the bill. Jack Petocz, the Flagler Palm Coast High School senior who organised protests on social media, said he was suspended from his school following the demonstrations. He allegedly had been punished for distributing LGBTQIA+ Pride flags during the rally, which were confiscated by school officials.
Florida's governor Ron DeSantis signed the bill into law on 28th March 2022, enabling the legislation to come into effect from 1st July 2022, with all school district plans required to be updated by June 2023. On 31st March 2022, LGBTQIA+ advocacy organisations filed a lawsuit against Mr DeSantis and the state's education officials to block enforcement of the law.
Association
Developments in labour rights
BREAKING: David beats Goliath! In a historic victory, Amazon workers in Staten Island win the first U.S. Amazon union.@AmazonLabor and workers at the JFK8 warehouse overcame extreme union-busting to make history.

— More Perfect Union (@MorePerfectUS) April 1, 2022
On 7th February 2022, the Biden administration released a report with recommendations to promote worker organising and collective bargaining for public and private sector employees. The framework outlines dozens of actions the federal government should take to promote labour rights through executive action rather than legislation. For example, the report of the Task Force on Worker Organizing and Empowerment calls on agencies throughout the executive branch to let union representatives meet with newly hired federal employees at the worksite to explain what the union does, review the collective-bargaining agreement and invite them to become union members.
On 1st April 2022, a majority of workers at one of Amazon's warehouses in Staten Island voted to establish the company's first-ever labour union. Over 2,600 workers elected to join the Amazon Labour Union (ALU), an independent union led by former and current warehouse workers. A news report by Bloomberg called the victory "a seismic event that could upend the relationship between Amazon and its workers as well as help revitalise the struggling U.S. labour movement." Similar votes are scheduled to take place in another warehouse in Staten Island, and other efforts for unionisation are ongoing in warehouses across the U.S.
Amazon filed a legal challenge to ALU's victory, arguing that the National Labor Relations Board acted in a way that tainted the results. The company is requesting a rerun of the election. News outlets had reported in March 2022 that, faced with a wave of worker activism in its warehouses in 2021, Amazon paid anti-union consultants roughly US$4.3 million in an effort to beat back union organising campaigns.