Unrelenting harassment of activists and critics by police to stifle all forms of dissent in Malaysia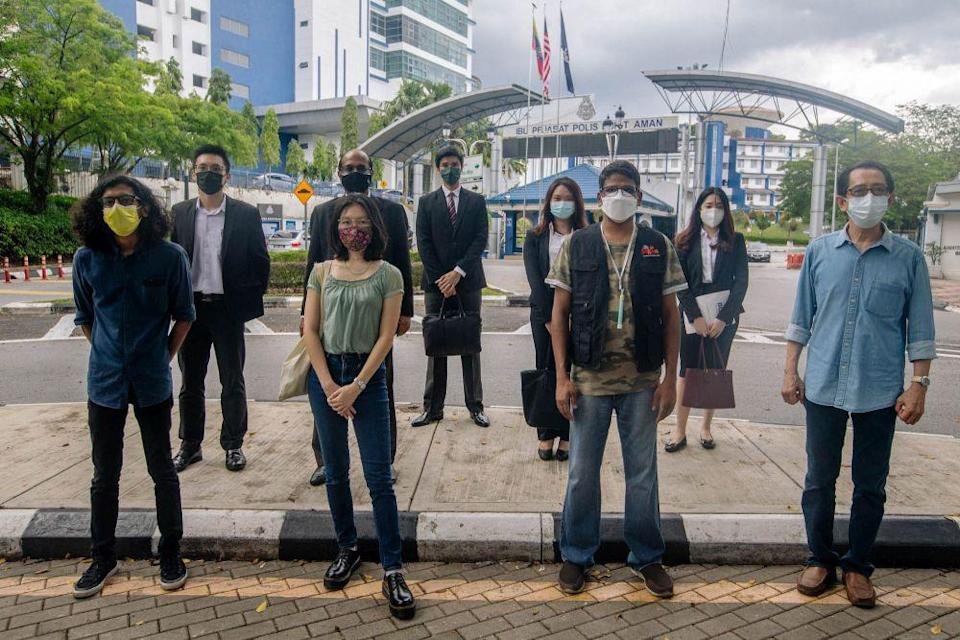 Civic space in Malaysia continues to be rated as 'obstructed' by the CIVICUS Monitor. In recent months, the government continued to curtail fundamental freedoms and intimidate activists and journalists. Dozens have been hauled up by the police for peaceful protests critical of the government and its policies.
Activists faced investigation for raising issues related to police brutality and the government handling of the pandemic, while journalists were also targeted for their reporting. Amidst a worsening COVID-19 crisis, the government continued to use the anti-fake news ordinance against individuals, a move criticised as detrimental to promoting access to information which is essential during a public health crisis.
Prime Minister Muhyiddin Yassin's government's crackdown on freedom of expression and its widespread use of repressive laws against journalists and the media was reflected in the steepest drop of any country seen in the 2021 World Press Freedom index.
Human rights groups have continued to raise the alarm on the increasing attacks against civic space in the country including increasing use of criminal investigations against journalists, peaceful protesters and opposition lawmakers, which have been aimed at stifling dissent.
Peaceful assembly
Police summon those involved in protest against arbitrary arrest of artist 
Malaysia: You should not need to ask permission to demonstrate
The government should end the harassment of civil society
Read @article19org story: https://t.co/dZUb7ttTZm @Article19Msia @article19asia

— David Diaz-Jogeix (@DiazJogeix) May 10, 2021
Eight activists were also called in for questioning for a spontaneous protest in response to the arbitrary arrest of political artist Fahmi Reza. Reza had been arrested for uploading a Spotify playlist that allegedly insulted the queen.
The protesters gathered on 24th April 2021 in front of Dang Wangi District Police Headquarters, where Fahmi was detained at the time. The group included ARTICLE 19's Malaysia Programme Officer Nalini Elumalai, as well as human rights defenders Sevan Doraisamy (Executive Director of SUARAM), Numan Hafifi Bin Saadan (an activist), Wong Yan Ke (former student activist) and Khalid Mohd Ismath (Executive Director of EDICT). Lembah Pantai Member of Parliament Fahmi Fadzil and two members of the Central Committee of the Socialist Party of Malaysia (PSM), S. Arutchelvan and Sivaranjani Manickam, were also summoned.
The district police chief Mohamad Zainal Abdullah said the eight were being investigated under Section 9 (5) of the Peaceful Assembly Act.
Seven activists protesting movement restrictions detained in Sabah
Five activists detained over demo to end EMCO in Tawau village

"About 30 of them held the protest because the villagers in the area are mostly from the poor income group earning daily wages. They are not able to survive another round of lockdown."https://t.co/t34MwhTvWi

— CorruptSystem (@twitmsian) April 24, 2021
Seven activists involved in a peaceful protest calling for the end of the enhanced movement control order (EMCO) on a village in Tawau, Sabah state were detained by the authorities. Five of them were arrested after they had gathered near the lockdown area and were believed to be part of a group identified as Borneo Komrad.
The five were among a group of 30 people who held the protest because the villagers in the area were mostly from the poor income group earning daily wages and not able to survive another round of lockdown. Police later detained two more men for attempting to start another protest for the same reason.
One of seven individuals detained, Mukmin Nantang, alleged that he was hit by the authorities while in a van on the way to the police station.
Police question eight over protest near parliament
Cops to question eight over break fast protest near Parliament https://t.co/p8NIF9oLwv

— malaysiakini.com (@malaysiakini) May 18, 2021
Eight participants of a peaceful protest outside parliament were identified for questioning by the police under Section 9(5) of the Peaceful Assembly Act 2012.
These include Malaysian United Democratic Alliance (Muda) pro-tem secretary-general Amir Abdul Hadi, Paloh assemblyperson Sheikh Umar Ali Bagharib, Kampung Tunku assemblyperson Lim Yi Wei, PSM central committee member Sharan Raj, Federal Territories Amanah Youth chief Asmaalif Abdul Adam, Pejuang president Mukhriz Mahathir, Federal Territories Pejuang pro-tem chief Khairuddin Abu Hassan and Undi-18 co-founder Tharma Pillai.
The protest was organised on 30th April 2021 by a group known as Sekretariat Solidariti Rakyat (Peoples Solidarity Secretariat) - an ad hoc umbrella body for youth groups. Around 100 participants marched from the National Monument to the Parliament building where they then gathered for speeches to call for the opening of the Parliament, the lowering of the voting age to 18 and various other reforms including economic sustainability, safe education and the fair application of the law. Youth representatives also raised the suffering they faced a year into the COVID-19 pandemic. Muslim participants then proceeded to break their fast.
The police said the organisers did not file an application for the gathering. Under the Peaceful Assembly Act, failure to provide a notice to the police for an assembly is punishable with a fine of up to RM10,000 (USD 2,366). This is inconsistent with international human rights standards which dictate that notice should only be required for large or disruptive assemblies and that authorities must accommodate spontaneous assemblies. Further, the organisers of assemblies should never be sanctioned for failure to provide notification.
Activists called in for questioning over Labour Day gathering
On 10th May 2021, five activists were called in for questioning over a Labour Day gathering in Dataran Merdeka, Kuala Lumpur. They include members of Parti Sosialis Malaysia (PSM) Arutchelvan Subramaniam, Sivaranjan Arumugam, Nik Aziz Afiq and activists Wong Yan Ke and Nalini Elumalai. While similar gatherings highlighting workers' rights were held in other states, only individuals in the Kuala Lumpur assembly were called in for questioning. PSM deputy chairman Arutchelvan said they had been in communication with the police prior to the gathering and had followed proper protocol. He criticised the move by the police to question them as amounting to harassment.
Activists investigated and fined for flash mob protest
Fourteen black flags waved in the breeze and effigies of five "dead bodies" wrapped in white shrouds were laid out at Dataran Merdeka as part of a flash mob organised by Sekretariat Solidariti Rakyat (SSR) today.https://t.co/1Yf3BF7n19

— Pemuda Sosialis 🏴 (@pemudaPSM) July 17, 2021
Three activists from Sekretariat Solidarity Rakyat (SSR) were investigated by the police and fined for holding a flash mob protest on 17th July 2021. In their 40-minute protest held in Dataran Merdeka, around 40 activists raised 14 black flags and laid out effigies wrapped in white shrouds. The flags symbolised the people's anger, while the effigies symbolised deaths from COVID-19, and the suicides. Protesters also held a banner with the hashtag #KeluarDanLawan which translates to 'come out and fight'.
The group made three demands in their statement: the resignation of Prime Minister Muhyiddin Yassin, the holding of a parliamentary session with room for debates and for automatic moratoriums to be applied to everyone.
The three activists - Mohammad Abdullah Alshatri, Mohd Asraf Sharafi Mohd Azhar and Muhammad Nur Taufiq Azhar - were summoned to Dang Wangi district headquarters and questioned for more than three hours. They were then fined RM2,000 (USD 473) each for breach of Regulation 10 of Prevention and Control of Infectious Diseases Regulations (Measures within Infected Local Areas) (National Recovery Plan) 2021.
Expression
Malaysia drops 18 spots in World Press Freedom Index
Malaysia ranked 119th out of 180 countries in the 2021 World Press Freedom Index, dropping 18 places from its 2020 rank. The index, released by Reporters Without Borders (RSF) every year measures press freedom using indicators including transparency, legislative framework and pluralism. RSF attributed the 18-rank drop, the biggest observed out of all the countries, to the coalition government led by Prime Minister Muhyiddin Yassin that came to power in March 2020, and the measures it has imposed to stifle media freedom.
These measures included the revival of the Special Affairs Department which releases political propaganda, the adoption of an 'anti-fake news' emergency decree which has enabled the authorities to 'impose their own version of the truth', and the use of a 'draconian legislative arsenal' to suppress media freedom. The government has also continued to use laws such as the 1948 Sedition Act, the 1972 Official Secrets Act and the 1998 Communications and Multimedia Act (CMA) against journalists and the media.
The significant drop in the ranking came just a year after Malaysia jumped 22 notches in the Index, ranking 101st in the 2020 World Press Freedom Index.
Political artist Fahmi Reza and cartoonist Zunar face judicial harassment
Lawyer: Fahmi Reza out this evening as magistrate gave just one-day remand in Spotify playlist probe https://t.co/h0KljwGeOz

— Malay Mail (@malaymail) April 24, 2021
Artist Fahmi Reza was arrested on 23rd April 2021 for allegedly insulting the country's queen by uploading a Spotify playlist that seemingly mocked comments on the queen's Instagram account. The playlist included songs which contained the word 'jealousy' in the titles, a reference to reports that the queen's Instagram account had responded 'are you jealous?' to a comment left on her account asking the queen if the palace chefs had all been vaccinated.
Fahmi faces investigation under the country's sedition law, and the Communications and Multimedia Act (CMA). If convicted, he can face a sentence of up to three years. As previously documented, Fahmi was also investigated by the police in March 2021 over two caricatures of the health minister. In 2018, he was sentenced to a month's jail and a fine for his caricature of former Prime Minister Najib Razak.
#Malaysia 🇲🇾: On May 7, Zulkiflee Anwar Alhaque, more popularly known as Zunar, was questioned by the Kedah police over a caricature of Kedah Menteri Besar Muhammad Sanusi Md Nor. @IFJGlobal https://t.co/1Sk3K9zdHI

— IFJ Asia-Pacific (@ifjasiapacific) May 22, 2021
Days after Fahmi's arrest, cartoonist Zulkiflee Anwar Ul Haque, better known as Zunar, was called in for questioning over a caricature of Kedah state Chief Minister Muhammad Sanusi Md Norm. In the cartoon, the minister is seen holding a butcher's cleaver to slice up a group of four people which represented different ethnicities. Zunar created the cartoon in response to the state government's refusal to provide a public holiday for Thaipusam, an annual Hindu prayer festival, and the cancellation of all festival festivities due to COVID-19 concerns.
The police said Zunar was being investigated under the penal code and under the Communications and Multimedia Act. If convicted, he can face a fine or a prison sentence. Like Fahmi, Zunar has also faced intimidation for his cartoons. In 2018, he was charged with sedition and later acquitted.
Malaysiakini journalists investigated for reporting on death in custody
On 18th May 2021, Malaysiakini journalists Rusnizam Mahat and Aedi Asri Abdullah were questioned by the police for their coverage of a death in custody case. 40-year-old A Ganapathy was arrested in February 2021 and died of injuries a month after his release.
Ganapathy's family has alleged that he was beaten while in police custody and suffered serious injuries to his body. His mother said that she had been contacted by a policeman on 8th March, who informed her that her son had been released and treated at the Intensive Care Unit (ICU) of Selayang Hospital. Ganapathy died at the hospital on 18th April.
The journalists are facing investigation under Section 505 (b) of the Penal Code for the 'spread of rumours that can cause fear and alarm to the public', for three articles published on the case.
Opposition lawmakers targeted
Opposition lawmakers have also been targeted for exercising their rights to freedom of expression and peaceful assembly.
On 4th May 2021, MP Fahmi Fadzil was questioned under Section 9(5) of the PAA over a 24th April solidarity gathering regarding the arrest of political artist Fahmi Reza. Meanwhile, later in the same month, at least 11 people were summoned for questioning under Section 9(5) of the PAA and Regulation 11 of the Prevention and Control of Infectious Diseases (Measures Within Infected Local Areas) (Conditional MCO) (No. 4) Regulations 2021 in relation to a peaceful gathering on 27th March that protested the Election Commission's delay in implementing the 18-year voting age. Those hauled up included APHR member and MP Maria Chin Abdullah, MP Maszlee Malik, MP Hannah Yeoh, two state assembly representatives, and APHR member and former MP Tian Chua.
On 22nd May, MP Syed Saddiq was questioned by police in relation to a video he posted on social media related to police brutality and to demand justice for A. Ganapathy, who died on 18th April after being held in police custody. According to sources, Saddiq is being investigated under Section 505(b) of the Penal Code for allegedly making statements that cause fear or alarm to the public, and Section 233 of the Communications and Multimedia Act (CMA), for alleged improper use of network facilities. The authorities seized his phone and have access to his Instagram and TikTok accounts for further investigation.
On 25th May, Southeast Asian lawmakers expressed alarm over the recent surge in harassment against opposition lawmakers. Carlos Zarate, a Philippine Member of Parliament (MP) and member of ASEAN Parliamentarians for Human Rights (APHR) said: "Peacefully demonstrating and voicing opinions should never be a crime, and the rate at which authorities are targeting those merely discussing issues of public interest is a matter of considerable concern".
News outlet ordered to pay damages for defamation
On 2nd July 2021, the Federal Court ordered news outlet Malaysiakini to pay RM550,000 (USD 132,179.76) in damages in a defamation case filed by a now-defunct Australian mining corporation, Raub Australian Gold Mine. The mining corporation sued Malaysiakini in 2012 for its publication of articles on the residents' concerns over pollution allegedly linked to the corporation's operations. The court ruled in Malaysiakini's favour in 2016, but the decision was overturned by the appellate court in 2018. The Federal Court upheld the appellate court's ruling, stating that the media outlet had failed to ensure proper verification prior to publication.
Malaysiakini editor-in-chief Steven Gan expressed disappointment with the outcome and said the news portal had merely been carrying out its duties as journalists in reporting the residents' health concerns.
Malaysiakini, known for its impactful reporting on human rights issues, is one the country's leading web-based newspapers and has regularly faced restrictions and judicial harassment because of its reporting.
This is not the first time the outlet has been targeted. In February 2021, Malaysiakini was ordered to pay RM500,000 (USD 118,300) after being found guilty of 'contempt of court' for comments that readers left on its site that were deemed to have impugned the judiciary.
Activists charged with sedition for insulting the King
Human rights group @article19org has called for the sedition charge against PKR member Iswardy Morni to be dropped.

Iswardy was recently charged for allegedly criticising the YDPA over the govt's Covid-19 management in a video.https://t.co/CP3Zvh0POm

— malaysiakini.com (@malaysiakini) June 2, 2021
Iswardy Morni was charged on 1st June 2021 under Section 4 (1)(a) of the Sedition Act 1948 for making statements on his Facebook page which were seditious and insulting the King.
On 30th May 2021, Iswardy, who is chairman of the NGO Pro-Keadilan Sarawak was arrested and remanded for two days as police launched an investigation into a YouTube Live video he produced titled 'Total Lockdown: Apa Yang Kerajaan Gagal Belajar Dalam Setahun' (What the Failed Government Learned in One Year). If found guilty he faces a fine of up to RM5,000 (approximately USD 1,200) and imprisonment of up to three years
ARTICLE 19 said: "The imposition of sedition charges against Iswardy is further evidence of the Malaysian government's utter intolerance of dissenting opinions. Authorities must stop initiating criminal proceedings against social media users who criticise public figures, and public figures, in turn, must stop hiding behind draconian laws to protect themselves from public scrutiny."
On 23rd June, the police Criminal Investigations Department disclosed that since 18th March 2020, there were 185 cases being investigated related to critical comments on royalty.
21 investigation papers opened under anti-fake news ordinance
As of 1st June 2021, 21 investigation papers had been opened and 10 people arrested over 'fake news' in relation to the COVID-19 pandemic or the emergency declaration. Of the ten arrested, three will face charges while the seven were released on police bail.
The anti-fake news ordinance has been criticised for its vague and broad provisions, which would allow it to indiscriminately target critics and human rights defenders. Penalties include fines up to RM 100,000 (approximately USD 25,000) and imprisonment up to a period of three years. It fails to distinguish between content producers and intermediaries, grants the authorities unfettered access to personal data and limits legal challenges. The Ordinance establishes vague requirements for the preservation and disclosure of personal data which can be made privately and kept secret.
On 25th March 2021, the UN Special Rapporteur on the promotion and protection of the right to freedom of opinion and expression sent a communication to the Malaysian authorities raising concerns about the ordinance and its inconsistency with international law and standards
Human rights groups have also raised concerns about the anti-fake news ordinance. ARTICLE 19, in a statement released on 23rd June, called for the immediate repeal of the ordinance, arguing that it threatens freedom of expression at a time of health emergency when information media scrutiny is crucial towards saving lives.
Artist and human rights defender investigated over short film on police torture
.@forum_asia urges #Malaysian authorities to stop intimidating artists and human rights defenders, after members of Freedom Film Network were questioned, and had their offices raided, over a video related to police brutality. https://t.co/aJZ2JSlFwP

— APHR (@ASEANMP) July 5, 2021
In July 2021, authorities investigated the artists and human rights defenders behind a short animated film entitled 'Chilli Powder and Thinner', which allegedly depicted the story of three youths who suffered torture under police custody. The title refers to a method of torture allegedly used by a police official on a boy - the application of chilli powder and paint thinner to the boy's beaten body. Human rights groups SUARAM and the Freedom Film Network collaborated to produce the short film, which was screened in June 2021.
On 2nd July, Freedom Film Network co-founder and director Anna Har, and cartoonist Amin Landak, were investigated by the authorities under Section 500 of the Penal Code for defamation, Section 505 (b) of the Penal Code for remarks that could cause public distress and Section 233 (1)(a) of the Communications and Multimedia Act (CMA) for improper use of network facilities. On the same day police raided the office of Freedom Film Network and Amin Landak's home, confiscating computers, pen drives and related equipment.
On 6th July, SUARAM members Sevan Doraisamy, Mohammad Alshatri, Kua Kia Soong and a youth activist from Misi Solidariti, Sharon Wah, who had participated in a forum after the film's screening, were questioned by the police. As with Anna Har and Amin Landak, the four were investigated under Sections 500 and 500 (b) (a) of the Penal Code and Section 233 of the CMA.
In a joint statement, human rights groups CIVICUS, FORUM-ASIA, Asia Democracy Network, Front Line Defenders and WITNESS raised concerns on the investigations and the raids against the human rights defenders, and the wider pattern of violations by the Perikatan Nasional government. The groups called for an end to intimidation of civil society, and for the review of legislative provisions that have been used to criminalise freedom of expression.
Investigation of 'black flag' campaign
On 3rd July, the police said they had initiated an investigation into the "black flag" campaign under the Sedition Act 1948, among others, Section 505(c) of the Penal Code and Section 233 of the Communications and Multimedia Act 1998.
The campaign started by Sekretariat Solidariti Rakyat urges people today to display black flags in front of their houses, shops, roads or other areas to voice their disappointment with the government.
Harassment against those involved in the campaign has persisted. On 25th July, police summoned at least 20 individuals in a black flag convoy that took place in some locations nationwide. Besides Kuala Lumpur, concurrent convoys were held in Batu Pahat, Johor; Padang Serai, Kedah; Melaka; Penang; Kuantan and Temerloh, Pahang; Kota Kinabalu, Sabah; Kuching, Sarawak; Ipoh, Perak; and Kuala Langat in Selangor.
Police to investigate doctors' strike
Thread of nationwide #HartalDoktorKontrak. This is just the beginning! pic.twitter.com/3PZtVpUPG0

— ανєη △⃒⃘ (@avenfauzi) July 26, 2021
Police will investigate a strike staged by contract doctors at Hospital Kuala Lumpur (HKL) on 26th July. Dang Wangi police chief Mohamad Zainal Abdullah was quoted as saying that an investigation paper has been opened against the doctors for violating the restrictions against gatherings amid COVID-19.
A walkout dubbed Hartal Doktor Kontrak (Contract Doctors' Strike) took place at various hospitals across the country. The government contract medical officers had earlier issued an ultimatum to the government to address their concerns regarding the contract system. The lack of job security, limited length of service and other terms and benefits were among their concerns.
Prior to the strike, the Malaysian Medical Association (MMA) reported that doctors who were championing the rights of healthcare workers in the Code Black and Black Monday campaigns were being investigated by the police.
On 14th July, Federal police CID director Commissioner Abd Jalil Hassan said they were investigating an almost seven-minute long video clip by an individual who had urged the public to show solidarity for the protest by switching their social media profile photos to black or monochrome colours between 1st and 12th July. The police said he was being investigated for incitement under Section 505 (c) of the Penal Code and misuse of multimedia facilities under Section 233 of the Communications and Multimedia Act.
Refugee rights activists charged for raising concerns about immigration detention centres
1. Activist Heidy Quah will be charged tomorrow over her Facebook posting last year on the conditions in immigration detention centres, according to Amnesty International Malaysia. pic.twitter.com/TDTH5lXcAY

— emmanuelsamarathisa (@esshimself) July 26, 2021
On 27th July 2021, refugee rights activist Heidy Quah was charged under Section 233(1)(a) of the Communications and Multimedia Act for her Facebook post in June 2020 alleging the ill-treatment of refugees at an immigration detention centre. If found guilty, she faces a maximum RM50,000 fine, or a jail term of less than one year, or both.
As previously documented, on 7th July 2020, police questioned Heidy Quah, Refuge for The Refugees director, over a Facebook post where she described her experience in working with a woman who had been detained at an immigration detention depot right after giving birth to a child. She had also reported on the poor conditions and amenities at the centre.
Quah also faced a barrage of hateful comments and threats on social media after she reported on the situation of refugees and migrants.