Unrelenting assault on the media and other civic freedoms in Pakistan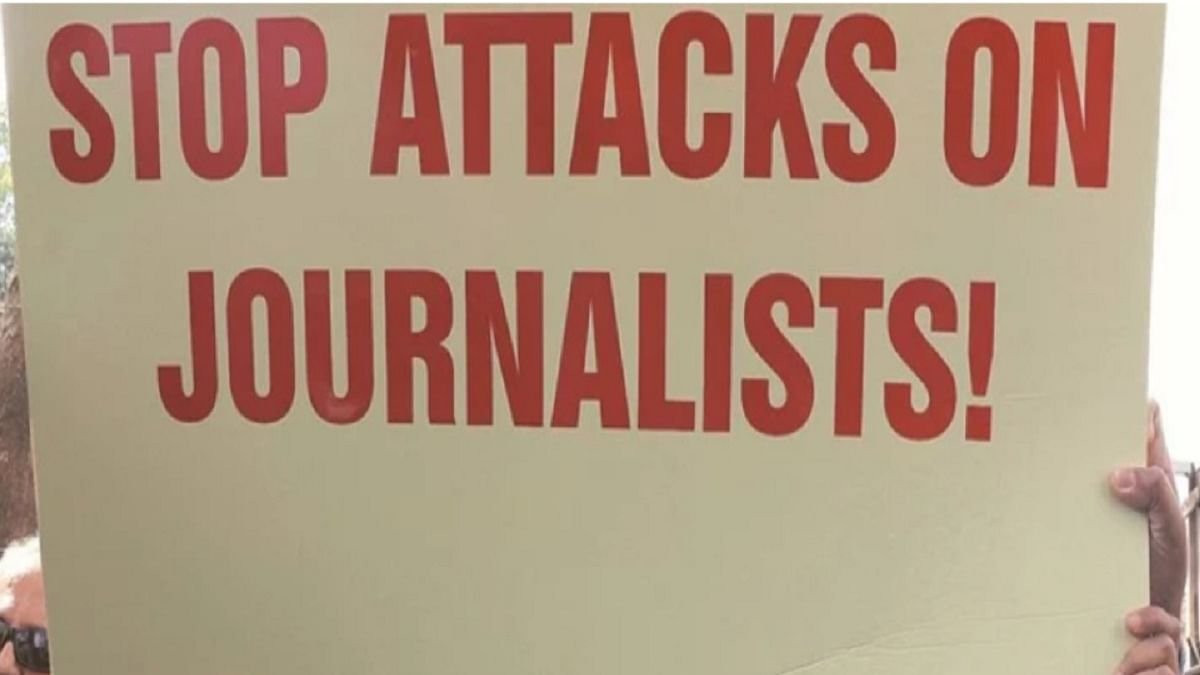 In recent months attacks on civic space have persisted in Pakistan which is rated as 'repressed' by the CIVICUS Monitor. The has been an unrelenting assault on the media, with journalists being attacked, criminalised and taken off the air. A stringent new media law is being proposed that will undermine press freedom and legal amendments have been proposed to criminalise criticism of the military. Leaders of the ethnic Pashtun movement continue to face judicial harassment while the authorities are deliberately stalling the functioning of the national human rights body.  The courts rejected a petition from women activists challenging a case against organisers of the Aurat women's March in Islamabad in March 2021.
Expression
Escalating attacks on journalists
There has been a series of attacks and growing pressure on journalists who are critical of the Pakistani authorities. On 3rd June 2021, human rights groups Human Rights Watch, Amnesty International and the International Commission of Jurists (ICJ) called on the Pakistan government to conduct prompt, impartial and effective investigations into the recent number of attacks on journalists and ensure that all journalists can do their jobs without fear of intimidation or reprisals.
On 20th April 2021, an unidentified assailant shot and wounded Absar Alam outside his house in Islamabad. Alam has been a prominent critic of the government. A senior journalist and the former chair of the Pakistan Electronic Regulatory Authority, the country's media regulator, Alam received a summons in March 2021 from the Federal Investigation Agency over his social media posts criticising the military's interference in politics. In September 2020, the authorities charged Alam with sedition and "high treason" for using "derogatory language" about the government and "maligning state institutions" on social media. A court later dismissed the charges.
🇵🇰 "#Pakistan authorities must immediately find out who is behind the assault on journalist Asad Ali Toor and bring them to justice," said Steven Butler, CPJ's Asia program coordinator. https://t.co/oVc2ixewAe @CPJAsia @AsadAToor

— IFEX (@IFEX) May 29, 2021
On 25th May 2021, journalist Asad Ali Toor was assaulted by three unidentified men who forcibly entered his apartment in Islamabad. They bound and gagged Toor and severely beat him. Toor said that they identified themselves as being from a security agency, interrogated him about the "source of his funds" and took away his cell phone and other electronic devices. The men also forced him to shout slogans in support of Pakistan, the military and Inter-Services Intelligence (ISI). The government ordered an investigation into the incident.
On 1st June, the Cyber Crime Reporting Center of Pakistan's Federal Investigation Agency in Rawalpindi issued a summons addressed to Toor's home, ordering him to appear for questioning on 4th June. Authorities sought to question Toor in response to a complaint that he had defamed an "institution of Government of Pakistan" on "social media".
The Dawn, Pakistan's widest circulation English language daily newspaper, had reported at least 148 documented attacks or violations against journalists across the country between 3rd May 2020 and 20th April 2021. The attacks included six murders, seven assassination attempts, five kidnappings, 25 arrests or detentions, 15 assaults and 27 legal cases registered against journalists. It also reported that at least 138 journalists have been killed in Pakistan between 1990 and 2020 for reasons relating to their work.
Journalists, rights bodies condemn move to take TV anchor Hamid Mir 'off air' https://t.co/US0APT0zUe

— Debendra Adhikari (@adhikaridpa) June 2, 2021
On 2nd June 2021, Hamid Mir, the host of Capital Talk, a current affairs programme broadcasted every weeknight on Geo News, was taken off the air by his TV channel after saying at a protest that those responsible for recent physical attacks on journalists should be identified. Hamid Mir was suspended summarily, without any formal proceedings. He told Reporters Without Borders (RSF) that his channel's management notified him that he would "not go on air" as from 31st May. There have also been attempts to bring sedition charges against him.
In 2014, Mir survived a shooting attack by unidentified attackers shortly after he hosted an episode of his programme that focused on alleged rights violations by the military in the southwestern Balochistan province.
On 22nd June 2021, the Committee to Protect Journalists reported that journalist Muhammad Bilal Ghauri was issued with a summons by the Federal Investigation Agency's Cyber Crime Reporting Centre in Islamabad for questioning on 25th June regarding alleged "defamation through social media via Youtube".  The summons states that it was issued in response to a complaint by Syed Abbas Mohiuddin, a former member of the Provincial Assembly of Attock District but does not describe the specific defamation allegations. Ghauri publishes political commentary on his YouTube channel, which has about 90,000 subscribers, and previously worked as a contributor to the Urdu-language newspaper.
The journalist told CPJ that in 2019, individuals who identified themselves as members of the Inter-Services Intelligence Agency repeatedly called Ghauri and told him to stop talking about "sensitive issues" on his YouTube channel, and specifically cited his reporting on military chiefs.
Stringent new media law proposed
The authorities are trying to bulldoze through a new press law intended to consolidate government oversight of the media, raising concerns about further degradation of press freedom in the country.
According to a concept paper on the proposed ordinance, the Pakistan Media Development Authority (PMDA) will be a "new statutory institution established to regulate films, electronic, print and digital media in Pakistan in the age of metadata, digital and social media and internet-based content and advertisements".
"The proposed institution may also appropriate all current regulatory functions with refinements for the sake of efficiency, transparency and effective regulatory oversight of media," the document stated. Additionally, it stated that the PMDA will have a "strategic purpose of making media in Pakistan's public interest".
The Pakistan Press Foundation (PPF) said they were alarmed by and concerned about the proposed law that seeks to centralise all media regulatory structures in Pakistan and create a 'converged' regulatory authority. The PFF added that in a country where the media already functions within a restrictive environment, with limited space for free expression, the proposed centralisation of regulatory structures will lead to further control of the media and further shrink the space for media freedom.
The Pakistan Federal Union of Journalists (PFUJ), the Human Rights Commission of Pakistan (HRCP) and the Pakistan Bar Council (PBC) have also rejected the proposed law, stating that it "is nothing less than imposing media martial law". In a joint statement, they said it was "draconian in scope and devastating in its impact on the constitutional principles and guarantees for freedom of expression, media freedoms and the right to information as well as the profession of journalism".
In their statement, they also condemned the establishment of media tribunals that would impose punishments of up to three-year jail sentences and Rs 25 million in fines (approx. USD 162,000) on those who violate the proposed regulation.
Criticism of the military to be criminalised
The Asian Forum for Human Rights and Development (FORUM-ASIA) has called on the authorities to guarantee the right to freedom of expression by rejecting the Criminal Law Amendment Bill 2020.
Under the bill, approved by Pakistan's National Assembly Standing Committee on Interior on 7th April 2021, those who are deemed to 'intentionally ridicule the armed forces' could face up to two years' imprisonment along with a fine of up to USD 3,270 ‒ or both. It is yet to be presented before the National Assembly for a vote.
Since the introduction of the bill at the National Assembly on 15th September 2020, journalists and civil society have raised the alarm about how the bill could centralise more power in the incumbent government and crack down on dissent.
Shamini Darshni Kaliemuthu, Executive Director of FORUM-ASIA said: "The bill threatens to muzzle dissenting voices as well as the media in Pakistan who have been critical of the armed forces' conduct. The very essence of the bill contradicts the country's constitutional guarantee of the right to freedom of expression and fails to uphold Pakistan's obligations under international human rights law".
At least 37 cases of violations against human rights defenders have been documented since the start of 2020 until 6th May 2021, based on FORUM-ASIA's monitoring. The exact figures are likely to be higher.
Association
Pashtun rights leader briefly detained by security forces
CIVICUS has documented systematic attacks by the Pakistan authorities since 2019 against the ethnic Pashtun people and in particular the Pashtun Tahafuz Movement (PTM), with scores of peaceful protesters arbitrarily arrested, detained and prosecuted on spurious charges, while protests by the PTM have been obstructed by security forces. The PTM is a human rights movement against extra judicial killings, enforced disappearances, discrimination and surveillance of the Pashtun community by the Pakistani authorities.
Manzoor Pashteen, the leader of the Pashtun Tahafuz Movement, was arrested with some members of the movement in Kohat, Khyber Pakhtunkhwa, this morning.

Some PTM members said Pashteen was arrested when he was on the way to joining a gathering in Jani Khel. pic.twitter.com/WvA5lApXA8

— TOLOnews (@TOLOnews) June 4, 2021
On 5th June 2021, PTM chief Manzoor Pashteen was detained by security forces with other activists near the Khushalgarh checkpost in Kohat. It was learnt that Manzoor Pashteen was going to Islamabad to attend the protest sit-in in Janikhel area in Bannu district being staged against the killing of a tribal elder.
Police in Khyber Pakhtunkhwa's Kohat district kept him in detention for almost eight hours according to PTM leaders. This is not the first time Pashteen has been detained. In March 2021, police booked Pashteen and three other activists for treason for allegedly raising slogans against Pakistan and state institutions. In January 2021 he was arrested in the north-western city of Peshawar ahead of planned protests by tribes and businessmen to demand compensation for losses suffered during military operations in Waziristan. He also faced other charges of sedition.
Court denies bail for Pashtun activist and leader
An anti terrorism court in Karachi on Wednesday rejected bail application of Pashtun lawmaker Ali Wazir while accepting bail applications of 5 other members of PTM, a lawyer for Mr.Wazir said. Ali Wazir was arrested on Dec 16 from Peshawar & moved to Karachi to face charges. pic.twitter.com/MbSCGjb4n2

— VOA DEEWA (@voadeewa) February 3, 2021
On 1st June 2021, the Sindh High Court denied bail to Pashtun Tahaffuz Movement MP Ali Wazir in a hate speech case. Wazir was arrested in Peshawar in December 2020 at the request of Sindh police. A case registered at Sohrab Goth police station in Karachi accused the MP of hatching a criminal conspiracy and making derogatory statements against the state and its institutions.
The case was registered under sections 120-B (criminal conspiracy), 153-A (promoting enmity between different groups), 505-B (statements for inducing a person to commit offence against the state), 506 (criminal intimidation) and 188 (disobeying order of public servant) of the Pakistan Penal Code.
Human rights defender released on bail
#Pakistan: We are seriously concerned that CIVICUS partner and human rights defender Professor Muhammad Ismail was detained by the counter-terrorism department in Peshawar today after his bail was rejected. We call for his immediate release pic.twitter.com/AGN5MmiNa4

— CIVICUS (@CIVICUSalliance) February 2, 2021
On 15th April 2021, human rights defender Muhammad Ismail was released on bail after spending more than two months in detention. The human rights defender was granted bail by the Anti-terrorism court in Peshawar three days before, on 12th April 2021. Ismail was arrested on 2nd February after the Anti-Terrorism Court in Peshawar cancelled his interim pre-arrest bail.
His trial has continued since, and his lawyers have submitted an appeal to remove the judge overseeing the trial who has been accused of being bias. They are waiting for a decision from the High Court on this appeal.
Professor Muhammad Ismail, is a prominent member of Pakistani civil society. Since July 2019, Muhammad Ismail and his family have faced systematic harassment and intimidation from the security forces. He and his wife are facing trumped up charges in relation to terrorism, sedition and criminal conspiracy. The cases brought against Muhammad Ismail and his family appear to be in retaliation for the work of his daughter, award winning women's rights activist Gulalai Ismail.
Authorities accused of sabotaging human rights body
In April 2021, a court in Pakistan called on the ruling Tehreek-e-Insaf party to revitalise the country's National Commission for Human Rights (NCHR), an independent rights watchdog that has been inactive since 2019, amid accusations that the government is deliberately stalling its functioning.
Activists and former NCHR workers have accused Prime Minister Imran Khan's government of delaying the appointment of leadership roles in the commission in order to avoid facing accountability for human rights violations, especially those committed at the hands of the country's military.
After finding several issues with the government's previous advertisements for leadership roles in the commission, the Islamabad High Court (IHC) on 29th March directed the federal government to issue an advertisement for a new chairman and NCHR members. Chief Justice Athar Minallah ruled the previous advertisement for the NCHR positions to be unconstitutional. The first advertisement included a maximum age limit, which the court ruled should be removed to make the selection process more inclusive.
Another issue was raised regarding the ambiguity of the language of the advertisement, as the expression "inviting suggestions for suitable persons" did not hold the same meaning as the term "inviting applications." Minallah thus directed the Human Rights Ministry to present the names of potential candidates to the prime minister and opposition leader after taking suggestions. The court also directed the ministry to present its order and a new summary at the next cabinet meeting.
Peaceful Assembly
Court rejects petition by women activists challenging investigation into march
As previously documented, on 8th March 2021, thousands of women across Pakistan took part in the Aurat March (Women's March) events held in towns and cities to mark International Women's Day and to reclaim their space in society, speak up for their rights and demand justice from the system that has failed them because of patriarchal structures. The protest took the form of marches, public art displays and performances highlighting the challenges faced by women. As in previous years, the organisers and participants faced a sustained campaign of misinformation and threats.
On 26th March 2021, a local court in Peshawar ordered the registration of a first information report (FIR) against the organisers march in Islamabad for allegedly making "derogatory remarks" against Islam and displaying "obscene posters". On 17th June 2021, The Peshawar High Court rejected a petition of several human rights activists challenging a subordinate court's order for the registration of an FIR. The petition was filed by human right activist Nasreen Azhar and several others.