UN High Commissioner for Human Rights highlights continuing human rights violations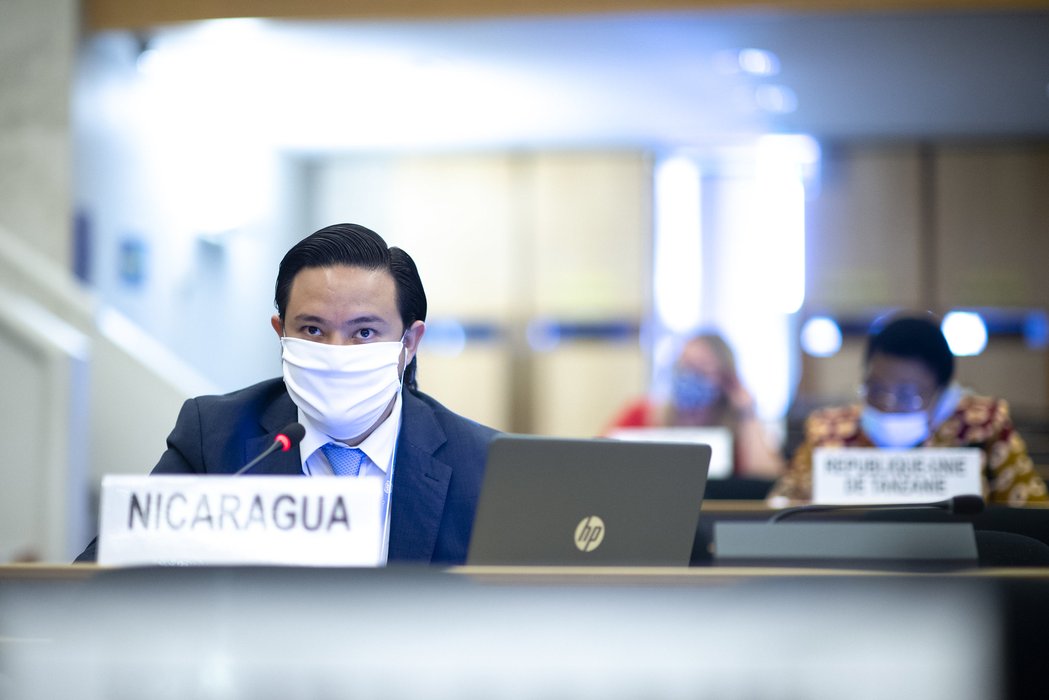 At the 44th session of the Human Rights Council on 2nd July 2020, the UN High Commissioner for Human Rights, Michelle Bachelet, provided an oral update on Nicaragua. Bachelet said her office continues to document persistent human rights violations against those who the government perceives as opponents, including human rights defenders, journalists, social leaders and former political detainees. Police deployments, arbitrary arrests and attacks by non-state actors have taken place systematically, repressing the right to peaceful assembly. Between March and June 2020, the High Commissioner's office documented 43 complaints of alleged human rights violations, among them warrantless house searches, arbitrary detentions, threats and harassment.
In addition, the UN High Commissioner stressed the fact that there are still no investigations or criminal proceedings to identify, prosecute and punish those responsible for human rights violations, partly as a result of the country's controversial Amnesty Law. Finally, Bachelet urged the release of 86 remaining political prisoners reported by civil society.
In a separate development, on 23rd June 2020 the Inter-American Commission on Human Rights (IACHR) highlighted the two year anniversary of the launch of the Special Follow-up Mechanism for Nicaragua (MESENI). In a statement, the IACHR reminded Nicaragua of its outstanding human rights obligations, stating that many recommendations have not been implemented. Moreover, the organisation warned of a new phase in state repression characterised by intense monitoring, harassment and selective repression of supposed government opponents. In addition, there have been increased reports of violence in rural areas and against Indigenous peoples.
Association
#Nicaragua🇳🇮 La @CIDH/#MESENI #CIDH condena el ataque de colonos a la comunidad Ahsawas, territorio Mayangna Sauni Bu, Reserva de Biósfera Bosawas, ocurrido el el #10julio. Según información pública, los hechos resultaron en la muerte de una persona y otra herida de gravedad. 1

— CIDH - IACHR (@CIDH) July 12, 2020
On 10th July 2020, armed land invaders attacked the Ahsawas community in the Mayangna Sauni Bu territory within the Bosawas Biosphere Reserve in the north of Nicaragua. As a result of this attack on the Indigenous peoples, 26-year-old Simeon Silva was shot and killed, and Santos Gómez Pérez was seriously injured. Mayangna leaders have denounced living under constant threat; two other communities have been violently attacked since the beginning of 2020, with at least seven other Mayangna killed in these assaults. Far from isolated cases, Indigenous leaders in Nicaragua have reported escalating violence as authorities ignore encroachment on their territories.
In a separate development, feminist network IM-Defensoras reported that lawyer and human rights defender Yonarqui Martínez has been threatened and harassed for her work on cases of political prisoners. In November 2019, news media reported that the lawyer's house was attacked with gunshots and, since then, there have been multiple incidents of harassment by law enforcement. In June 2020, Martínez faced health issues during a six-hour trial session when a judge denied requests for a break to allow her to take prescribed medication. Combined with a situation of continuous stress from a pattern of persecution, Yonarqui Martínez has experienced deteriorating health.
El @cenidh condena al régimen orteguista que a través de su aplanadora de diputados decidió retirarle la personería jurídica a #Asodhermu, a quien el Migob señala de «financiar el terrorismo en el país». #Artículo66
Por: @Keren_Diaz12 https://t.co/3fMUH6meRc

— Artículo 66 (@Articulo66Nica) June 26, 2020
On 25th June 2020, Nicaragua's National Assembly cancelled the legal personality of non-profit organisation Asociación de Hermanamiento Municipal (ASODHERMU). The Ministry of Government requested the cancellation, accusing the non-profit of not complying with requirements for financial reporting and of "financing terrorism". Representatives of ASODHERMU, which conducts social projects in the municipality of Camoapa, denied the accusations. At the 44th session of the Human Rights Council, the United Nations High Commissioner for Human Rights, Michelle Bachelet, called attention to continuing attacks on civil society organisations in Nicaragua and highlighted this case. Bachelet stated that since 2018, Nicaragua has cancelled the legal personality of ten civil society organisations without guarantees of due process, thus affecting the right to freedom of association in the country.
Expression
Nicaragua: Doctors Fired for Covid-19 Comments https://t.co/4sXurLlI0V

— Human Rights Watch (@hrw) June 24, 2020
On 23rd June 2020, Human Rights Watch (HRW) reported that at least 10 health professionals were fired in Nicaragua in apparent retaliation for expressing concerns about the government's handling of the COVID-19 health crisis. The organisation said it reviewed dismissal letters sent to five of the doctors, which had identical text and no indication of the grounds for dismissal. None of the professionals had been sanctioned for issues or performance concerns. "The government went from denying the pandemic to deliberately trying to conceal the real effects of its shameful failure to respond to the virus. Arbitrarily removing health workers amid a health crisis further threatens a public health disaster," said José Miguel Vivanco, Americas director at HRW.
On 29th June 2020, press freedom NGO Reporters Without Borders warned that the Ortega government had launched a disinformation campaign and obstructed the work of the independent press during the pandemic, seeking to minimise or deny the impact of the pandemic. The organisation documented violations of press freedom in coverage of the coronavirus crisis in at least 90 countries.