Undocumented migrants call on government to ensure fair regularisation procedures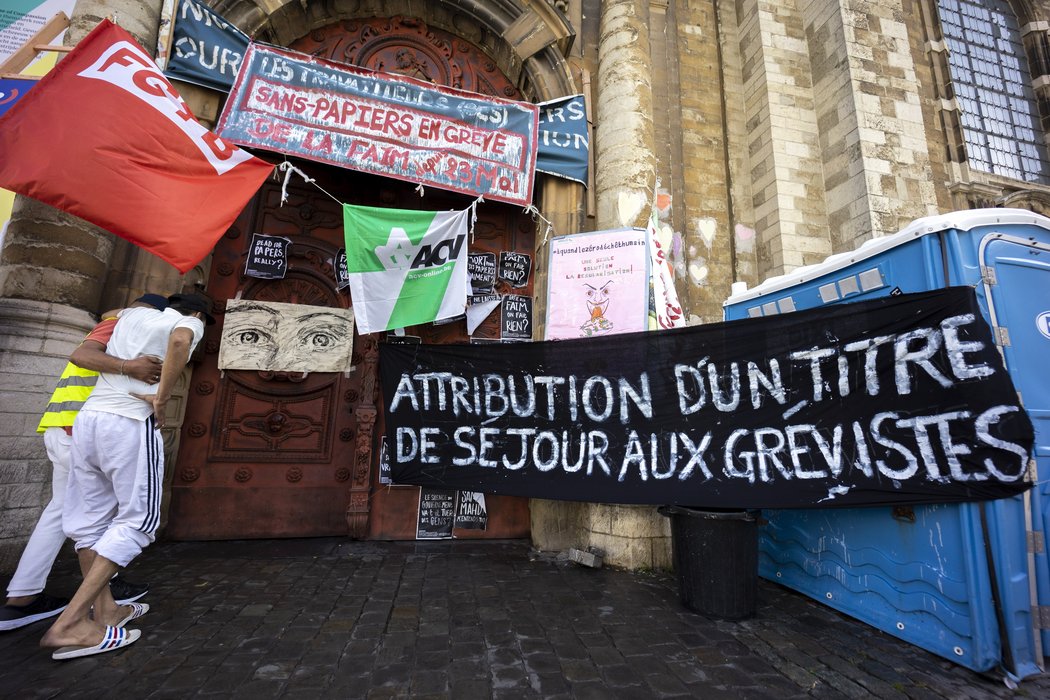 Background
Due to steeply rising coronavirus cases, the Belgian government has tightened COVID-19 measures such as mask requirements, which had been relaxed in some regions earlier in October 2021. "As of Friday (29th October), there will be face masks in public places and they will be mandatory for staff of bars, restaurants, and fitness clubs," said Prime Minister Alexander De Croo. "We need to raise our walls of protection."
Health Minister Frank Vandenbroucke stated, "We are at the beginning of the fourth wave of Corona infections." He also mentioned which measures would not be taken, "Bars and restaurants will remain open. Kids must go to school — it's important. But maybe we will be going back to more face masks." At the beginning of September, Belgium had lifted restrictions on opening hours and the number of visitors allowed in restaurants and bars. Some European countries have been relaxing measures over the summer due to the seasonality of the virus and increasing vaccination rates. 
Peaceful Assembly
Climate justice protest
On 10th October 2021, tens of thousands packed the streets of Brussels for the biggest protests seen since the beginning of the pandemic. Over 80 different organisations came together to call for more action on the climate crisis. Estimates of crowd sizes vary, with police saying around 25,000 people attended and organisers stating up to 75,000 people were present. The protesters were hoping to make a statement ahead of the UN Climate Change Conference on 31st October 2021 in Glasgow, Scotland. High-ranking officials, including heads of state and environment ministers, along with thousands of delegates from various countries, met for 12 days to discuss different climate goals including ways to limit the warming of the earth to 1.5 degrees Celsius. The protests were approved and ended peacefully.
Anti-COVID-19 protests
Various protests have occurred over the last few months related to COVID-19 measures and policies:
On 4th September 2021, 1,500 people gathered in Brussels to protest against vaccine mandates.

On 25th September 2021, close to 5,000 people gathered in Namur, the capital of the Belgian region of Wallonia, to protest against similar policies.

On 16th October 2021, a day after the Covid Safe Ticket was made mandatory for those over 16 to enter various cultural and recreational events, hundreds of protesters gathered outside Pfizer's headquarters in Brussels.
The Covid Safe Ticket is the Belgian government's certificate used to prove vaccine or test status. As of 15th October, it is mandatory to present the Covid Safe Ticket at mass events (from 50 people inside and 200 people outside), institutions in the cultural, festive and recreational centres, cafes and restaurants, sports and fitness clubs, dancing clubs and residential care facilities. Fines for visitors can range from 50 to 200 Euros and organisers can face a fine of up to 2,500 Euros.
Undocumented migrant hunger strike
As reported in our previous update, on 23rd May 2021, 470 undocumented migrants decided to undertake a hunger strike for the right to live and work in Belgium. The migrants were camping in two universities and a baroque church in central Brussels. The protesters, who are part of the Union de Sans Papiers pour la Regularisation (USPR) movement, and have been calling for the need for the regularisation mechanisms in Belgium to be more accessible and fair.
Without stable regularisation criteria, undocumented migrants have been denied official documentation, without which they cannot access proper healthcare, financial services or other benefits for fear of being deported. The hunger strike lasted 60 days and ended on 21st July, after the government deployed a mediator and an agreement was reached.
Belgium's governing coalition was almost torn apart over the issue as two parties threatened to walk out of the seven-party coalition if any of the hunger strikers died. Eventually, officials promised to consider each of the migrants' residency requests. However, a temporary government office set up to give information to migrants flopped only a few days after it opened. Since then, the government has been moving slowly or not at all in regard to processing the applications, while the striking migrants have been meticulously redoing paperwork and submitting their residency applications. This comes as during negotiations, the State Secretary for Migration stated that the hunger strikers' applications would be considered admissible and fully reviewed. The government also indicated they would positively consider proof of prior employment, including undeclared work, with no risks for the applicant or employer.
Juliette Arnould, a former lawyer hired to work with the hunger strikers, stated:
"I think for those who get a negative decision, it will be very, very hard for them. Most of them tell me they can't sleep because of the stress. There was a guy who tried to kill himself here during the hunger strike."
Despite this, according to LeMonde, around 20 applications have thus far been rejected, raising concerns for the status of the remaining applications. On 20th October 2021, Zehzra, a Moroccan migrant who left her home country as a survivor of domestic violence, resumed her hunger strike in the Church of the Beguinage after her application against regularisation was rejected. The USPR, together with Belgian Ligue des Droits Humains and CIRE, have filed a lawsuit against the Belgian government and its State Secretary Sammy Mahdi, stating that their rights enshrined in the European Convention on Human Rights have been violated due tothe State Secretary not fulfilling his commitments presented to the strikers in July 2021. The UN estimates that 150,000 migrants are living without documentation in Belgium.
A representative from USPR told the CIVICUS Monitor that migrants who have been striking have been targeted by authorities. During an earlier action staged in April 2021, participants faced "violent and repressive intervention by law enforcement" which included the use of tear gas and the detention of 66 people under administrative charges.
"We categorically denounce these massive and abusive arrests, based on false, unfounded allegations as well as inadmissible and irrational remarks. To conclude, this repressive and deterrent ploy deliberately limits the exercise of this fundamental freedom and undermines human dignity" (translated from French).

Police illegally used facial recognition software
According to a leaked customer list obtained by Buzzfeed News, Brussels police used facial recognition software by Clearview AI between 101 to 500 times. Despite a clear denial in September 2021, the Interior Ministry did admit on 6th October 2021 that the software was used, but for testing purposes only. The issue of facial recognition has come under the focus of the EU as the parliament recently voted in a non-binding resolution to ban facial recognition databases. The use of facial recognition software by the police is feared to lead to people not exercising their rights to peaceful assembly for fear of harmful consequences.
Expression
Belgium journalist targeted by Pegasus spyware
As documented by Mapping Media Freedom, in September 2021 it emerged that Flemish journalist Peter Verlinden and his wife Marie Bamudese's phones were targeted by the Pegasus spy software. The freelance journalist reports on Central Africa, colonialism, media and politics. An investigation was opened by service Général du Renseignement et de la Sécurité SGRS (ADIV), the Belgian military secret services, and based on the period in which the surveillance took place, it is suspected that it may be linked to Rwanda due to the journalists' critical reporting of the regime. However, authorities in Rwanda have denied these accusations. The Belgian journalists' association VVJ/AVBB urged the government to tackle the surveillance of journalists seriously.