UN Special Rapporteur on Myanmar concerned over shrinking civic space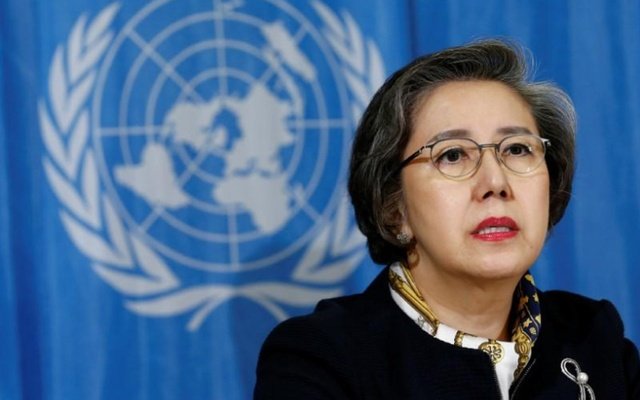 Expression
The UN Special Rapporteur on the situation of human rights in Myanmar, Yanghee Lee, reported to the UN Human Rights Council in March 2018, stating that "while the historic election of a civilian government for Myanmar promised a new era of openness, transparency and the expansion of democratic space, the rapporteur has only seen that space shrink, with journalists, members of civil society and human rights defenders placed in an increasingly perilous position. The repressive practices of previous military governments are returning as the norm once more".
Reuters journalists on trial
.@Reuters reporters Wa Lone and Kyaw Soe Oo have been detained in Myanmar for 100 days. See a timeline of events since their arrest: https://t.co/igRudI754H pic.twitter.com/JLiQD7KOXO

— Reuters World (@ReutersWorld) March 21, 2018
Reuters journalists Wa Lone and Kyaw Soe Oo are currently on trial, having now spent more than a hundred days in jail. The two men were arrested on 12th December 2017 under the 1923 Official Secrets Act. They had been investigating a brutal military crackdown in Rakhine State against the Rohingya minority that began on 25th August 2017. In the ensuing crackdown, hundreds of women, men and children have been killed and more than 670,000 people have fled into Bangladesh as of March 2018. The military has also been accused of rape and other forms of sexual violence against women and girls, along with the systematic burning and destruction of hundreds of Rohingya villages.
The journalists were detained after they were invited to meet police officers for dinner in the north of Yangon. The colonial-era Official Secrets Act carries with it up to 14 years in prison for anyone who obtains, records or communicates documents or information for any purpose "prejudicial to the safety or interests of the state".
Reuters President and Editor-in-Chief Stephen Adler stated that:
"[The journalists] have been detained in Myanmar since December 12 simply for doing their jobs[…]Wa Lone and Kyaw Soe Oo are exemplary individuals and outstanding reporters who are dedicated to their families and their craft. They should be in the newsroom, not in prison. We call on the authorities in Myanmar to release them as soon as possible and allow them to return to their families and their jobs".
Online expression silenced by Telecommunications Law 
The numbers speak for themselves #pressfreedom #myanmar read more here: https://t.co/Uc4hxLAZcy thanks for bringing https://t.co/cR1JGxtHDw to the fore @thevmilko #pressfreedom #myanmar #66d #defamation pic.twitter.com/4IIKf7QdGA

— Libby Hogan (@LibbyHogan) February 28, 2018
In February 2018, Article 19 called on the UN Human Rights Council to address the deteriorating environment for free expression in Myanmar. In particular, the organisation raised concerns over the use of Section 66(d) of the 2013 Telecommunications Law as "online defamation" has been used to target journalists and others expressing critical opinions online. Amendments passed by Parliament in August 2017 to reduce the maximum penalty from three to two years imprisonment and to allow for release on bail have failed to address the fundamental flaws in the law. According to the UN Special Rapporteur on the situation of human rights in Myanmar, over 100 cases have been litigated under the Telecommunications Law since it was enacted, with 100 percent of verdicts resulting in convictions.
Privacy Law used against critics
Concerns have also been raised over the use of the Privacy Law to prosecute critics. Section 8(f) of the Privacy Law states that "no one shall unlawfully interfere with a citizen's personal or family matters or act in any way to slander or harm their reputation". Violation of the law carries a penalty of up to three years in prison and a fine of up to 1.5 million kyat (1,100 USD). According to the Assistance Association for Political Prisoners (AAPP), U Aung Ko Ko Lwin from Mon State was sued by a member of the Mon State Ethnic Affairs Committee in January 2018 for Facebook posts criticising the Mon State Chief Minister Aye Zaw. In the same month, in Magway Township, a man was sued for publishing Facebook posts in July and November 2017 deemed critical of the City Development Committee. 
Peaceful Assembly
Peaceful Assembly and Procession Law
On 6th March 2018, around 500 people marched in Yangon to protest proposed amendments to the Peaceful Assembly and Procession Law. The protesters said the proposed amendments would further restrict people's freedom of expression and are so broadly defined that they could be exploited to stifle political dissent. The bill was passed by the House of Nationalities (Upper House) on 7th March 2018 and has been sent to the House of Representatives (Lower House). Among the concerns raised by civil society include:
According to the amended Article 4[2], a notification letter has to be submitted to the authority at least 48 hours in advance for any public assembly to take place, and such an assembly may not conflict with laws protecting national security, rule of law or public order. This vague provision could allow the authorities to simply reject a request based on ambiguous grounds, even if the assembly is considered a peaceful gathering according to international standards.

Article 4 (d)[5] states that assembly organisers must give an approximate number of attendees, an estimated budget, and source of funds for the protest when submitting a notification letter to the authorities. Such administrative requirements are unnecessarily burdensome for civil society and groups to exercise their right to freedom of peaceful assembly and association.

The new provision of Article 18[6] states that anyone who supports a protest either financially, materially or through other means could be considered in violation of national security, the rule of law or public order and could face up to three-years imprisonment and a fine. The vague language could potentially be misapplied to suppress civil society by targeting those protesters perceived to be political opponents and dissidents.
According to AAPP, police opened a case against five protesters under Section 19 of the Peaceful Assembly Act in Salingyi Township, Sagaing Division for holding a protest without permission. Residents were protesting against two companies for previous land confiscation and compensation issues.
Lethal force used against protesters in Rakhine state
RT @Reaproy: 1/3 Statement today by #HRW: "The reported killings of Rakhine protestors by security forces in #Rakhine's Mrauk-U are the latest in a long history of assaults on protestors and freedom of expression in #Burma. The reported throwing of brick… pic.twitter.com/MgBIx8wrwC

— HRW Burma (@HRWBurma) January 18, 2018
On 16th January 2018, police opened fire on a crowd of Rakhine Buddhist protesters in Mrauk-U Township, Rakhine State, killing at least seven people and injuring at least 12 others. Around 4,000 demonstrators had gathered to protest the authorities' cancellation of an event commemorating the fall of an ancient Arakan kingdom. According to the local authorities, police initially fired rubber bullets to disperse protesters and used real ammunition when demonstrators started throwing stones and bricks.
In response to the violence, Amnesty International declared:
"These shocking killings are yet another example of Myanmar security forces' contempt for human life. Even if protesters were throwing stones and bricks, nothing can justify police apparently firing into a crowd of thousands. This is a clear case of excessive use of force in violation of the right to life. The lethal use of force must be independently investigated, and those responsible held to account. Far too often, police in Myanmar are allowed to escape unpunished after committing violations, allowing the cycle of impunity and abuse to continue".
At least 13 protesters have since been charged for violating Section 6(1) of the Public Property Protection Act and Section 6(1) of the Public Property Protection Act. All 13 were injured in the protest. CIVICUS and its Monitor research partner are not aware of any investigations into the excessive use of firearms by the security forces.
Peaceful protesters facing sanctions
Two and a half years after the March 2015 student protests over a national education law, protester Than Htike and lawyer Khin Kyaw Kyaw, who defended the students, are still on trial. Both were prosecuted in September 2015 for insulting a public officer on duty under Section 228 of the Criminal Code. The 55th hearing in their trial was held on 20th March 2018. The Assistance Association for Political Prisoners (AAPP) has raised concerns over the unduly long trial, which contravenes international standards of a right to fair trial, and has called for an immediate end to the proceedings and for the case to be closed.
The trial of Naung Naung and Lay Lay (also know as San San Win) began on 1st February 2018. Both men were arrested in January 2018 and charged under Sections 505(b) and 153 of the Penal Code for allegedly standing on a piece of cardboard made to look like a copy of the 2008 Constitution during a protest.
In a separate development, 14 students were expelled from Yadanabon University in Mandalay after staging a campus protest on 27th January 2018 that called for more funding in the education sector. The four-day rally drew some 100 students before it was dispersed by police.
Love always wins! Take a look at Myanmar's first ever public #LGBT+ festival via @talkradio https://t.co/cRUuPtoFuJ pic.twitter.com/KY7r8tTk2X

— Hong Kong 2022 (@GayGamesHK2022) March 5, 2018
Myanmar hosted its first ever public LGBT festival with the theme of "Acknowledge Equality and Basic Human rights" from 27th January to 4th February 2018. Despite homosexuality being illegal in the country, organisers were given permission to host it in a public space, unlike previous years where they had to host it in a discreet location. An estimated 6,000 people attended the first day of the festival held at a park in Yangon.