UN fact-finding mission finds serious crimes fuelled by the silencing of critical voices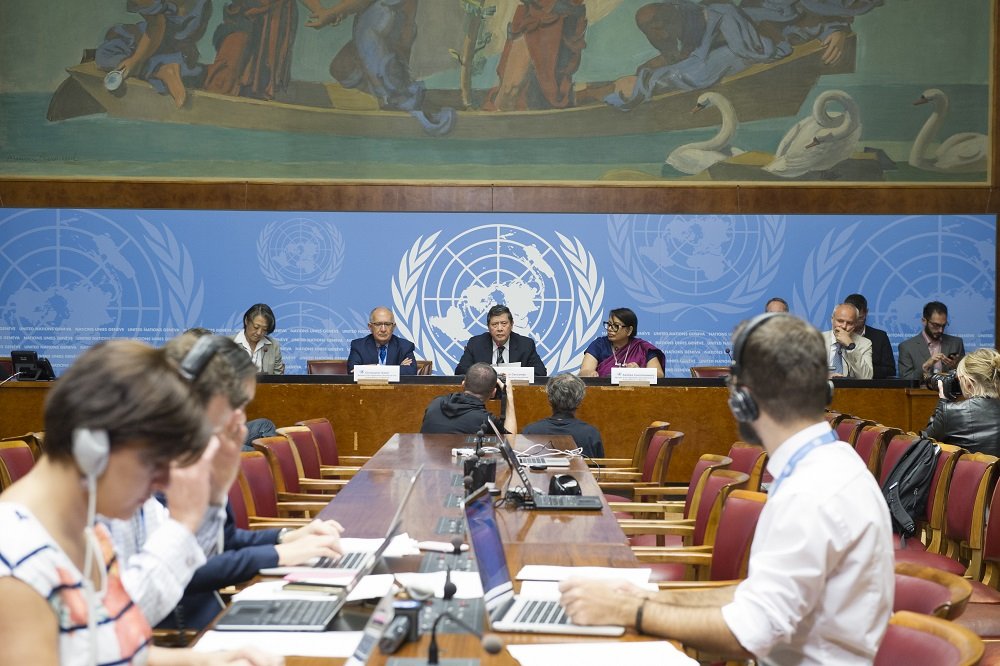 Many activists continue to be frustrated with the lack of democratic progress, 30 years after the August 1988 uprising in Myanmar that saw nationwide, mass protests against the military regime. In celebrations on 8th August 2018, to mark that pivotal movement in the country's struggle for democracy, many recognised that the political landscape had changed with free and fair elections in 2015 bringing the National League for Democracy (NLD) party to power, the release of many political prisoners and the growth of civil society. Nevertheless, activists argue that the military still has a stranglehold on power, human rights are routinely violated and ethnic and religious minorities across the country continue to bear the brunt of violence and civil war.
Over the last few months, this as been displayed by the continued attacks on fundamental freedoms, as authorities continue its use of repressive colonial era laws to silence dissent, imprison journalists and prosecute peaceful protesters. Further, despite another damning report, this time by the UN Independent International Fact-Finding Mission on Myanmar on serious crimes against the Rohingya and other ethnic groups, the military generals continue to operate with impunity. The formation of a Commission of Enquiry (COE) on 30th July 2018 by the authorities, has been criticised by rights groups as another attempt to delay and avoid accountability.
Association
UN Fact Finding Mission finds evidence of serious crimes against Rohingya and other groups
On 27th August 2018, a fact-finding mission report on Myanmar concluded that security forces in the country, specifically the Myanmar military – the Tatmadaw – have committed what amounts to war crimes and crimes against humanity, in its treatment of several ethnic and religious minorities in particular against the Rohingya in the Rakhine state as well as in the Kachin and Shan states.
The mission also examined the issue of democratic space and the enjoyment of the rights to freedom of expression, association and peaceful assembly. It found that violence and human rights violations, including in Kachin, Rakhine, and Shan states, "are fuelled by the silencing of critical voices by the Myanmar authorities". The mission report stated that:
"The Myanmar authorities, in particular the Tatmadaw, do not tolerate scrutiny or criticism. They use various laws to arrest, detain or harass civil society actors, journalists, lawyers and human rights defenders who express critical views. The case against two Reuters journalists for their investigative work into the Inn Din massacre and the prosecution of persons peacefully protesting the conflicts in northern Myanmar, including in Yangon, are recent examples."
The mission was tasked by the Human Rights Council to establish the facts and circumstances of alleged recent human rights violations , and abuses by military and security forces in Myanmar. The mission focused on the situation in Rakhine, Kachin and Shan States since 2011.
More than 700,000 Rohingya women, men, and children were forced to flee from northern Rakhine State to neighbouring Bangladesh after 25 August 2017, when the Myanmar security forces launched a widespread and systematic assault on hundreds of Rohingya villages. The onslaught came in the wake of a series of attacks on security posts by a Rohingya armed group, the Arakan Rohingya Salvation Army (ARSA). In the northern states of Shan and Kachin, military operations since 2011 have seen serious violations perpetrated by the military.
The detailed report of the fact-finding mission was released on 18th September at the Human Rights Council.
International Criminal Court rules it has jurisdiction over deportation of Rohingya 
Read #ICC Press Release: #ICC Pre-Trial Chamber I rules that the Court may exercise jurisdiction over the alleged deportation of the #Rohingya people from #Myanmar to #Bangladesh https://t.co/ipx9gXmOlK

— Int'l Criminal Court (@IntlCrimCourt) September 6, 2018
On 7th September 2018, the International Criminal Court (ICC)'s ruled that it has jurisdiction over Myanmar's deportation of the Rohingya population to Bangladesh, a crime against humanity.
Under the Rome Statute of the ICC, serious violations taking place in Myanmar does not fall under the Court's territorial jurisdiction as the country is not a State Party to the ICC. The Court will only be able to have jurisdiction if its accepted by the Myanmar government or is referred to by the UN Security Council.
Nevertheless, as Bangladesh is a State Party to the ICC, the Court found it has jurisdiction over the crime against humanity of deportation as an element of that crime was completed in Bangladesh. Further, as the Rohingya had been unlawfully compelled to remain outside Myanmar and live in appalling conditions in Bangladesh, the ICC may have jurisdiction over the crime against humanity of persecution and/or 'other inhumane acts' which it said constituted a severe deprivation of the Rohingya's fundamental human rights.
On 6th September 2018, the trial of three ethnic Kachin men charged for criminal defamation against the military began in the Myitkyina Township Court. The three - Lum Zawng, 29; Zau Jat, 41; and Nang Pu, 47 – were charged for criminal defamation under Article 500 of the Penal Code for comments made at a protest they participated in, on 30th April and 1st May 2018.
Nang Pu is the director of the Htoi Gender and Development Foundation, Zau Jat is the chair of the Kachin National Social Development Association, and Lum Zawng is a lawyer.
As documented by the CIVICUS Monitor, in May 2018, scores of peaceful anti-war protesters, across major cities in Myanmar, were arrested, charged or convicted Protesters called for Myanmar's military to ensure the protection and safe movement of civilians trapped by armed conflict in Kachin State, amid fighting between the military and the Kachin Independence Army (KIA). The conflict has displaced more than 100,000 civilians in Kachin state since fighting resumed in June 2011.
Organisers of ethnic Karen event facing charges
On 16th August 2018, local authorities announced they are planning to charge five individuals for organising an ethnic Karen Martyrs' Day event in Hinthada Township, Irrawaddy Region on 12th August. Among those facing charges include the Kayin People's Party chair Saw Kyaw Gyi, Saw Than Tun Than, Saw Khu Shee Htoo, Saw Aung Mon Soe, and Padoh Mahn Nyein Maung, head of the Karen National Union (KNU)'s Alliance Affairs Department and member of the Central Executive Committee.
The regional government has banned the Karen Martyrs' Day commemoration which involved the singing of the Karen national song, saluting the Karen flag, saluting the fallen Karen martyrs, laying down wreaths by respective townships, and giving talks. The five are going to be charged under the Ward and Village Tract Administration Law for holding the commemoration without permission at the Kayin People's Party (KPP) office.
Court Hears from Kachin Protesters Accused of Defaming Militaryhttps://t.co/uVdDTuSU5B

— The Irrawaddy (Eng) (@IrrawaddyNews) September 6, 2018
On 31st August 2018, a small group of protesters were arrested in Yangon after holding a protest calling for the arrest of military generals. Around ten protesters carrying a poster saying "UN and ICC — come quick and arrest Myanmar's murderous generals", outside the Yangon city hall were arrested and taken to the Kyauktada Township police station. The protest comes a few days after UN investigators called for Myanmar military leaders to be prosecuted at the International Criminal Court for 'acts of genocide' against the Rohingya and other crimes against the Kachin and Shan minority groups.
Trial of anti-war protesters begins in Myitkyina Township
Their placards said: "UN and ICC — come quick and arrest Myanmar's murderous generals." https://t.co/JhzbVR5fGz

— Coconuts Yangon (@CoconutsYangon) August 31, 2018
On 12th September 2018, a court in Yangon Division's Dagon Seikkan Township sentenced two human rights activists - Ko Naung Naung and Daw Lay Lay - to a year in prison for protesting on behalf of a jailed former child soldier. The former child soldier,for the Myanmar army,  Aung Ko Htwe, was imprisoned for speaking to the media about his experiences. The two activists led a protest at his court appearance on 17th January 2018 and were charged under the Penal Code's Article 505 (b), which prohibits defamation against the state, and Article 153, which proscribes provocation with intent to cause a riot. 
Protesters arrested for calling for arrest of military generals
Activist in #Myanmar jailed for protesting the arrest of someone who was himself arrested for speaking to the media about being a child soldier in the army. https://t.co/Ooa2Jc1Ebg

— Alex Dukalskis (@AlexDukalskis) September 13, 2018
On 27th August 2018, the day the UN Fact-Finding Mission reported on its findings, Facebook announced that it was removing a total of 18 Facebook accounts, one Instagram account and 52 Facebook Pages, followed by almost 12 million people.
Specifically, the company announced it was banning 20 individuals and organisations from Facebook in Myanmar — including Senior General Min Aung Hlaing, commander-in-chief of the armed forces, and the military's Myawady television network. The company said:
"International experts, most recently in a report by the UN Human Rights Council-authorised Fact-Finding Mission on Myanmar, have found evidence that many of these individuals and organisations committed or enabled serious human rights abuses in the country. And we want to prevent them from using our service to further inflame ethnic and religious tensions."
The social media giant has been accused of acting too slowly to remove "hate speech" that has fueled violence against the Rohingya. In April 2018, six organisations said in a joint letter that it took more than four days for the company to respond when the messages started circulating online during the Rohingya crisis. Further, the group said a major obstacle was the lack of Burmese-speaking Facebook staff and that Facebook was also reluctant to engage with local stakeholders.
Peaceful Assembly
Activists jailed for protesting against imprisoned ex-child soldier
Rights group accuses Myanmar of blocking aid to Kachin refugees
A report by Fortify Rights on 31st August 2018, found that that Myanmar was blocking humanitarian aid for displaced people in Kachin State due to the ongoing war between the military and the Kachin Independence Army (KIA). According to the report, Myanmar's government has knowingly imposed restrictions on access to food, healthcare, shelter, water, and sanitation to the tens of thousands of ethnic Kachin.
The report also found that Beijing pushed Myanmar authorities and ethnic armies to prevent United Nations and international humanitarian aid groups from operating on Myanmar's side of the shared border with China's Yunnan province, where most of the displaced Kachin are sheltering and in need of assistance. More than 160,000 ethnic civilians are staying in more than 140 displacement sites in Kachin and neighbouring Shan state due to ongoing armed-conflict and human rights violations.
Expression
Reuters journalist convicted under colonial-era law
Joining calls today to #FreeWaLoneKyawSoeOo, jailed for 7 years in #Myanmar. Journalism is not a crime. Authorities must release them, ensure press freedom and respect the right to peaceful assembly for activists who are gathering to protest today pic.twitter.com/zLR8uBzRec

— amnestypress (@amnestypress) September 16, 2018
Facebook bans Myanmar general, 10 months after military's genocidal crackdown on Rohingya Muslims https://t.co/6N0160Frar pic.twitter.com/WvRsPqVY6I

— ThinkProgress (@thinkprogress) August 27, 2018
On 3rd September 2018, Reuters journalists Wa Lone, 32, and Kyaw Soe Oo, 28 were convicted and sentenced to seven years in prison for "illegal possession of official documents".
As previously documented by the CIVICUS Monitor, Wa Lone and Kyaw Soe Oo were arrested on 12th December 2017 after being handed documents by police officers during a dinner meeting, that turned out to be secret government documents relating to Myanmar's western Rakhine state and security forces. They were then charged under the country's colonial-era Official Secrets Act.
At the time of their arrest, the journalists, had been investigating the killing of ten Rohingya Muslims in Inn Din village in Rakhine during a brutal military crackdown in that state against the Rohingya minority that began in August 2017. During the trial, a police captain, admitted in court that a senior officer had ordered his subordinates to "trap" the journalists by handing them the classified documents. The police captain was subsequently sentenced to a one-year prison term.
The verdict was criticised by national and international civil society organisations. In a joint statement they said:
"We strongly condemn punishment of the two journalists for simply carrying out their media work. The decision indicates that the entire trial process was neither free nor fair and was completely manipulated…we take this as a crackdown on the right of access to information and media freedom."
A new report entitled "The Invisible Boundary: Criminal prosecutions of journalism in Myanmar", issued by the Office of High Commissioner for Human Rights on 11th September found that independent journalists continue to face risks in undertaking their work. The report said that journalists are jailed for merely visiting an area controlled by an armed group, their sources are jailed for providing information from conflict zones and even a Facebook post can result in criminal defamation accusations. According to the report, laws relating to telecommunications, official secrets, unlawful associations, electronic transactions and even obscure laws relating to imports and aircraft, have been used to try and prosecute journalists in recent years.
According to a statement by local human rights group ATHAN (Freedom of Expression Activists Organisation) at least 38 journalists are facing trial as of 16th September 2018. Many have been charged under the Section 66(d) of the Telecommunications Law.
Continued use of Telecommunication law to silence online speech
On 10th September 2018, ATHAN issued a report stating that 150 'online defamation' cases had been filed under article 66(d) of the Telecommunications Law since it was enacted in October 2013. The law has been used to criminalise individuals for peaceful communications on Facebook and has increasingly been used to stifle criticism of the authorities.
Of these cases, 48 cases were filed after amendments were made to the law in August 2017. The amendment required complaints under the law to be conducted directly by the "defamed" individual, rather than by a third party, unless that party has been granted legal power by the individual. Further, the law was amended to reduce the maximum sentence from three to two years. Among the cases filed after the amendment, 17 were by parliamentarians and government officials. Civil society groups have argued that the amendments have not made a difference in its use and have called on the authorities to repeal article 66(d) as well amend other provisions in the law.
Individuals accounts removed from Facebook