UN expert reports of 'a near-total lack of space for freedom of expression' in Laos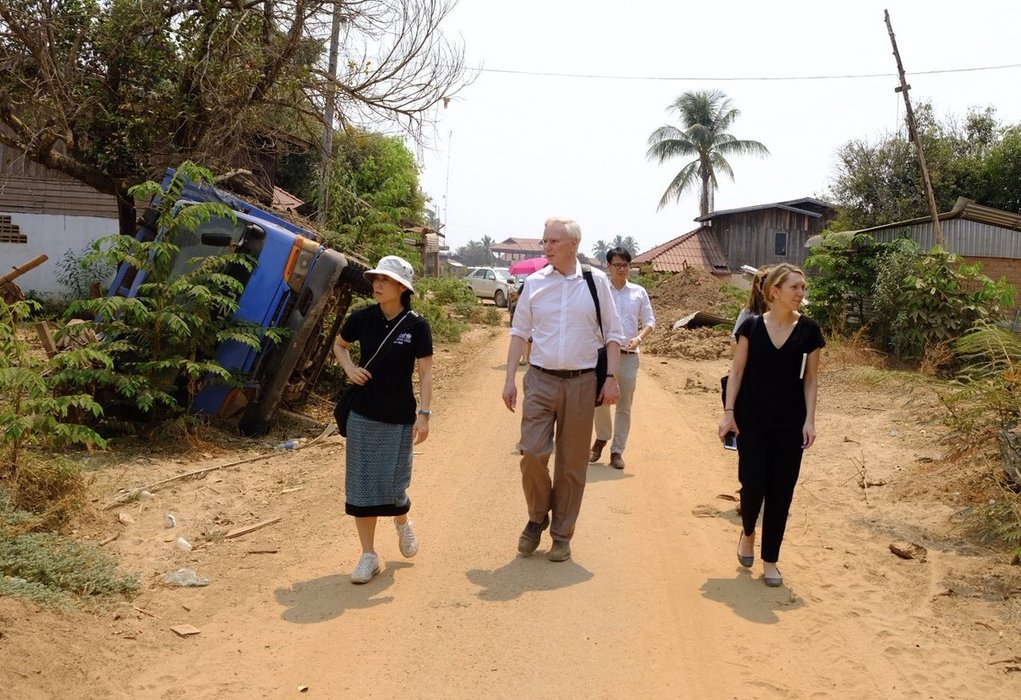 Restrictions on civic space continue to be reported in Laos over the last few months. In March 2019, the UN expert on poverty and human rights visited Laos and found that there was a lack of space for freedom of expression and strict limitations on media and civil society. In the same month, civil society groups called on the EU to be more vocal in its engagement with Laos on human rights issues including on civic space. Further, reports highlight that many are turning to the internet and social media to access information due to ongoing media restrictions and at least two jailed protesters have taken ill.
Expression
UN Special Rapporteur finds climate of fear to speak openly
Philip Alston, the United Nations (UN) Special Rapporteur on extreme poverty and human rights, visited Laos from 18th to 28th March 2019, the highest profile visit in the country from a UN official since September 2016.
At the end of his 11-day visit, Alston held a press conference in the capital, Vientiane to highlight the findings of the mission, stating how the "the rights of the poor and marginalised are impoverished and jeopardized". Alston recognised as one of the biggest challenges is the fact that the government is making it very easy for the foreign investors to take over large areas of land, while the resettlement of those evicted had not been undertaken following international standards.
Alston shared with the media that the government had made it difficult for him to be able to speak to local people. He said "they followed me everywhere. They tried to brief the people I was speaking to, and they really didn't want me to be able to find out the conditions of life were".
In his end of mission statement, the UN Special Rapporteur referred to the civic space situation in the country pointing out how "a near-total lack of space for freedom of expression, strict limitations on media and civil society, and a history of reprisals, arrests, and disappearances have shut down space for the exchange of ideas and solutions, and prevent people from raising grievances and seeking accountability. I have received countless reports from people inside the country and who have recently fled Laos about the extent to which people feel they are not able to speak freely and fear reprisal for expressing criticism of government policies". He further added that:
"People I met with, even those living in extremely tough conditions, often told me they did not dare to raise their situation with the government, and certainly not beyond the district level. But this approach leaves people aggrieved, deprives the country of inputs from its people, and bars the new generation of Lao people from offering solutions to the many challenges that the country faces."
NGOs including FIDH and Manushya Foundation submitted reports to the UN Special Rapporteur prior to his visit, with detailed information on the poverty and human rights situation in the country ahead of the mission
According to Manushya Foundation "although freedom of expression and assembly are guaranteed in Article 44 of the Constitution, in practice these rights are limited as a result of the strict government control over society. Protests against government policies, practices and projects even when violating the rights of people, are prohibited and any opposition results in arrest".
Civil society highlights issues ahead of EU - Laos Dialogue on Human Rights
#Laos: EU must demand government address key issues during human rights dialogue, urge @fidh_en & @mldh_fr https://t.co/93kn3zG5yH

— AG (@ag_fidh) March 7, 2019
Ahead of the 9th European Union – Laos human rights dialogue, in March 2019, FIDH and its member Lao Movement for Human Rights (LMHR) released a briefing paper providing an update on the human rights situation in the country since the previous dialogue held in March 2018.
The briefing highlights that at least 14 political prisoners remain imprisoned across the country. They include: Somphone Phimmasone, Soukan Chaithad, and Lodkham Thammavong, who are serving prison sentences of up to 20 years for their peaceful criticism of the government in relation to alleged corruption, deforestation, and human rights violations. Pro-democracy activist Bounthanh Thammavong, a Laos-born Polish citizen, is serving a four-year-and-nine-month prison sentence for a Facebook post in which he criticised the government's policies and actions. A further 10 villagers in Ban Yeup, Thateng District, Sekong Province, have been detained without trial since July 2017 for cutting down rubber trees to protest land confiscation.
The report also documents religious persecution including the harassment and arrests of Christians in various parts of the country and states that the fate or whereabouts of at least 14 individuals remain unknown and are believed to have forcibly disappeared. They include civil society leader Sombath Somphone, who disappeared in Vientiane in December 2012. Lao authorities have failed to conduct effective and impartial investigations into all of these cases.
Debbie Stothard, Secretary General of FIDH, pointed out how:
'The consistent lack of progress on human rights in Laos should compel Brussels to be more vocal in its interactions with the government. The EU should obtain concrete commitments from the Lao government, such as the immediate and unconditional release of all those subjected to politically-motivated detentions."
In a joint press release after the dialogue, the EU and Laos noted how topics such as freedom of assembly, association and expression were discussed. In particular the EU encouraged Laos to uphold its commitments under international human rights law and to ensure the implementation of the 2018 recommendations of the UN Human Rights Committee related to freedom of expression, peaceful assembly and association.
Media restrictions turn citizens to the internet and social media
Lao Citizens Turn More to Internet, Social Media For Their News https://t.co/kiy34MCrzY pic.twitter.com/IGlDhknv5M

— TheEazyCadet (@CadetLazy) April 24, 2019
According to a news report in April 2019 from Radio Free Asia (RFA), Laos citizens are "increasingly abandoning state-controlled news sources and turning more to the internet and social media to get news they can trust".
Those interviewed said that during floods in Attapeu province, social media had quickly reported on the deaths while mainstream television did not cover this news. Some said that stories on TV are screened by the authorities ahead of the time while the internet is not restricted and is not controlled. Many frequently check their smart phones when looking for news and other updated information and also follow news on social media platforms such as Line, WhatsApp and WeChat.
In an annual report released in April 2019 by Reporters Without Borders (RSF) Laos was ranked 171, close to the bottom of a 180-country survey of press freedoms worldwide. Their report stated that the country's ruling party "exercises absolute control over the media" and that "increasingly aware of the restrictions imposed on the official media, Laotians are turning to the Internet and social media". However, there are also risk online as according to RSF a 2014 decree criminalises Internet users who criticise the government and the Marxist-Leninist ruling party.
Peaceful Assembly
Jailed protesters fallen ill due to harsh prison condition
Two Lao Protest Villagers Seriously Ill in Jail https://t.co/SO6rTYk7ir

— Cindy Fan (@cindyisAWOL) February 2, 2019
According to news reports in February 2019, two Lao villagers detained for almost two years without trial for protesting the loss of land awarded by the government to a Vietnamese rubber company are now seriously ill in jail.
The two villagers Souvanh and Nay, are in failing health due to the harsh conditions in prison. Souvanh's body, legs, and arms are swollen, while Nay suffers from a stomach problem and is passing blood. Nay had been taken earlier by police for medical treatment but is now again behind bars. Souvanh and Nay are now confined with two other protesters in a district police security division jail in Laman district, with six others protesters held at Ban Mo Jail, a provincial police security division facility also in Laman.
As previously documented by the CIVICUS Monitor, in July 2017, 14 residents of a village in Thateng district were arrested by police for obstructing workers and cutting down trees on land granted by the government to a Vietnamese rubber company. The residents of Yeub village have been in a dispute with the government over land rights since 2006.
Several of the detainees were allegedly beaten or subjected to electric shocks in the days following their arrest, while many are now malnourished and in failing health. In January 2018, one of the 14 villagers, Somsavanh, died under mysterious circumstances in police custody. At least ten of them remain in jail.