UN condemns North Korea for denial of freedoms through 'absolute monopoly on information'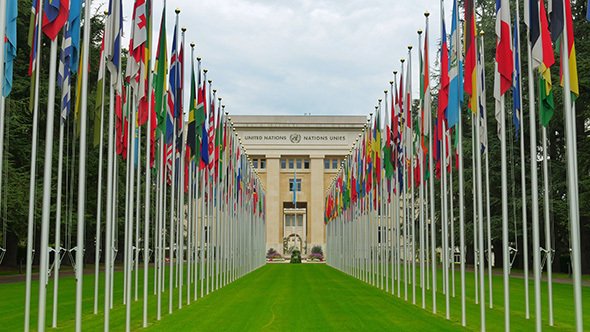 In June 2020, the UN Human Rights Council adopted a resolution condemning North Korea's human rights violations for the 18th straight year. During the 43rd session held in Geneva, Switzerland, the council, consisting of 47 member countries, passed the resolution by consensus.
The resolution raised concerns at the systematic, widespread and gross human rights violations in North Korea that, in many instances, constitute crimes against humanity..
The resolution condemned the denial of the rights to freedom of opinion, expression and association, both online and offline, which is enforced through an absolute monopoly on information, total control over organised social life and arbitrary and unlawful state surveillance that permeates the private lives of all citizens.
Over the last few months, new surveillance cameras were installed on the border with China while the UN reported that scores of North Korean women who had travelled abroad for work were abused by security officials and police. Defectors also continued to face systematic harassment through calls and texts while a soldier was jailed for listening to Radio Free Asia.
Expression
Soldier jailed for listening to Radio Free Asia
In August 2020, North Korean military security authorities sent a signal corps soldier to a political prison camp for listening to Radio Free Asia (RFA) broadcasts while on duty at a government ministry building in Pyongyang. Sources say the soldier's family has also been thrown into a prison camp for being associated with her.
The signal corps soldier was caught in mid-June, when she neglected to turn her radio's dial away from RFA's frequency after finishing work one night. She admitted during an investigation that she had routinely listened to RFA broadcasts during her evening shifts.
North Korea goes to extraordinary lengths to stop its population from accessing outside information, with strict punishment for violators. But sources in the country say soldiers, particularly those with jobs in signals or radio transmission, keenly tune in to foreign broadcasts during long, unsupervised shifts.
The US government-funded RFA broadcasts six hours of Korean-language programming daily into North Korea over short wave radio from transmitters located about 1,900 miles away in the Northern Mariana Islands, and medium wave transmitters in South Korea.
New surveillance cameras on border with China
On 26th June 2020, Daily NK reported that North Korea had recently purchased new surveillance cameras from China costing several million dollars. The purchase is likely aimed at ramping up surveillance with a view to stop smuggling activities and defections across the border.
Given that the cameras will only cover a limited area on the border, the high price tag suggests the new system will film in higher definition than existing camera systems or the system is so advanced that it can detect even the slightest of movements.
There is the possibility that the installation of the new system is part of preparations to resume trade between China and North Korea, namely by further cracking down on smuggling activities by individuals and blocking the flow of information across borders as well as preventing South Korean-made products, foreign-made videos and music from entering the country.
Association
UN report details accounts of abuses of women detained
PDF Publication - Human rights violations against women detained in the Democratic People's Republic of Korea https://t.co/rK9202bRqn #humanrights #publication pic.twitter.com/3Zbi6czyFC

— EU Agenda (@euagenda) August 14, 2020
The United Nations Office of the High Commissioner for Human Rights reported in July 2020 that scores of North Korean women who had travelled abroad in a desperate search for work were abused by security officials and police through beatings, detention in unsanitary conditions, undernourishment and invasive body searches after being sent back home.
The UN presented the findings in a new report based on a hundred accounts from women who were detained in the secretive country from 2009 to 2019 after being forcibly returned home. The women spoke to UN human rights officials after eventually fleeing North Korea following their detention.
Testimonies suggest the women, who often fell into the custody of human traffickers, faced bonded labour or sexual exploitation in other countries — then were deemed traitors or punished for contacting Christian groups abroad after their return. The former detainees described unsanitary conditions in prisons, malnourishment, as well as forced abortions and rape by guards at prisons and detention centres.
Defectors harassed with calls and texts
A report in the Wall Street Journal published on 15th August 2020 documents the systematic harassment of North Korean defectors through calls and texts. Both calls and texts are noted to have been made from Chinese numbers. 
Activists believe they are representative of North Korea's growing hacking prowess that allows them to track down defectors. North Korean defectors have gained prominence in print and social media, making them targets for a country that hopes to discourage its citizens from defecting across the border.
Country facing various crises
In August 2020, Human Rights Watch (HRW) reported that Kim Jong Un had offered a rare public acknowledgement of several crises North Korea is currently facing. He conceded government failures to improve the country's economy, noting that "many of the planned goals for national economic growth have not yet been attained nor [have] the people's living standards improved markedly." It was an unprecedented admission and demonstrates the severity of North Korea's current dire economic situation.
HRW said that North Korea is facing a triple set of crises. The COVID-19 pandemic led the totalitarian country to seal its borders in January 2020, causing huge drops in its imports and exports with China, which accounts for almost all the country's external trade. North Korea's economy had already been shrinking significantly since 2016 from intensifying sanctions related to its weapons programme.
Further, historic levels of torrential rains have caused widespread damage across the country and left at least 22 people dead and 4 missing. Thousands of houses and public buildings have been flooded, nearly 100,000 acres of crops damaged and critical infrastructure destroyed, mostly in the country's agricultural heartland, which suffers chronic food shortages and rationing even during normal times.
HRW reported that instead of direct action and undertakings of major reforms, Kim created a diversion, announcing the ruling Workers' Party of Korea would hold a new Party Congress in January 2021 – the 8th in the country's history – supposedly to discuss new economic policy.