Tougher restrictions for CSOs and right to information amid new law and draft law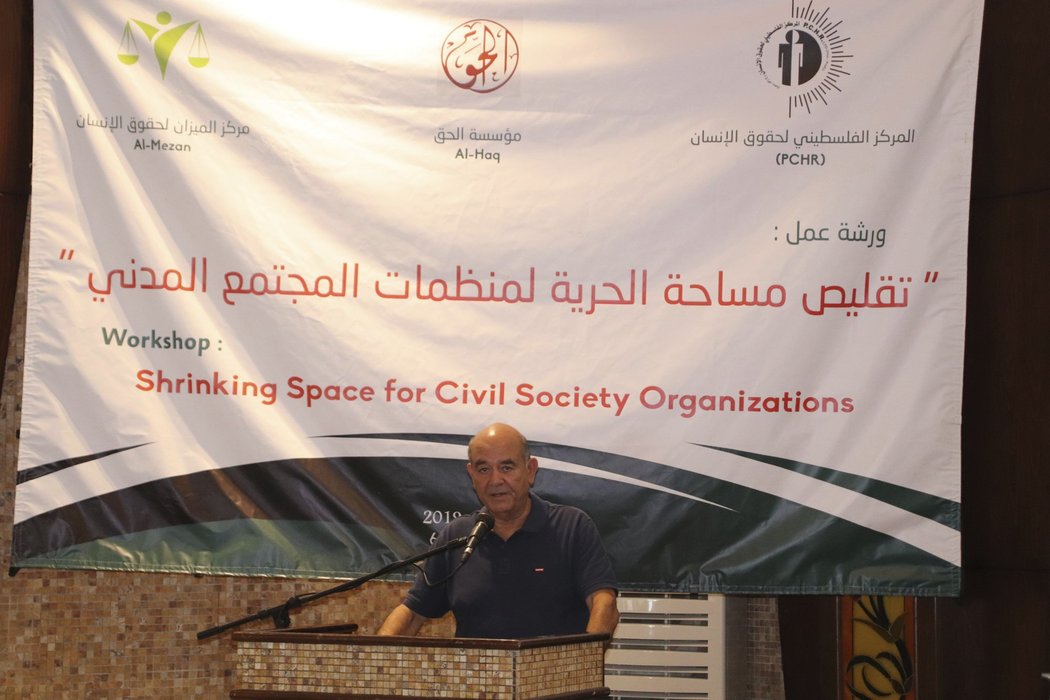 #Palestine🇵🇸: The government is discussing a draft law on the right to information that raises concerns over transparency and the people's right to know. We reject the bill and call on the government to commit to the draft law proposed in 2018. @InfoPJS https://t.co/w2xEeyUe7l

— IFJ (@IFJGlobal) June 6, 2023
Association
In June 2023, The Palestinian Non-Governmental Organisations Network (PNGO), Palestinian Human Rights Organisations Council, AMAN Coalition, and the Independent Commission for Human Rights (ICHR) issued a joint statement to emphasise the need to change public policies to adhere to the Palestinian Basic Law and uphold public freedoms, especially by facilitating public consultation and participation in legislative processes. The organisations announced their opposition to the bylaw on Non-Profit Companies (NPC Bylaw) and reiterated that they would continue to pressure decision-makers to abolish the law and halt its implementation. The NPC Bylaw was passed on 25th September 2022 by the Council of Ministers, in what has been seen by Palestinian civil society as one in a long line of measures aimed at shrinking the Palestinian civic spaces and restricting their work. In a statement issued on 9th January 2023, CSO Al Haq denounced the NPC Bylaw for going against provisions of the Basic Law (Constitution) and the 2021 Companies Law, and for undermining and restricting the operations of non-profit companies. Among several restrictive provisions, the NPC Bylaw obliges NPCs to submit periodic technical, financial, and administrative reports to the relevant authority every three months, seek and obtain prior approval of the Cabinet before accepting donations, contributions, grants, funding, and aid, obtain prior authorisation from the Registrar of Companies before raising or making contributions in cash or in kind inside or outside Palestine, and limit operational expenses to 25 percent of the NPC total budget.
Against the backdrop of an ongoing onslaught on Palestinian CSOs by Israeli authorities, Al Haq noted that Israeli authorities could use provisions of this law to further muzzle CSOs in Palestine and to cover up their violations against CSOs.
Expression
On 25th May 2023, several Palestinian human rights groups articulated their concern on the Council of Ministers' move to ratify a bill to regulate the right of accessing information without allowing adequate public consultation and participation. In their joint statement, the group noted that the draft law not only violates the basic principles of the right to access information, but also violates an earlier agreement to establish an independent commission which would monitor the government's implementation of the right to access public information. The bill as is, assigns the monitoring to an 'Information Department" under the Council of Ministers' Secretary-General. Among the provisions which fall below international standards on access to information are several 'exceptions' which allow authorities to decline requests for access to information, and which CSOs fear may be abused by authorities to withhold information which ought not be kept from the public.
The group urged the government to hold consultations and community dialogues around the draft law.
Israeli Occupation continued threatening the lives of journalists, inflicting physical injuries and preventing coverage of various events taking place. International groups including Reporters Without Borders issued statements calling on Israel to end its systematic attacks on Palestinian journalists, which are encouraged by impunity. Yet these violations continue, including several documented by MADA Center's monthly reports.
Some of the violations included: