Tough times for press freedom: Death threats, physical attacks & harassment of journalists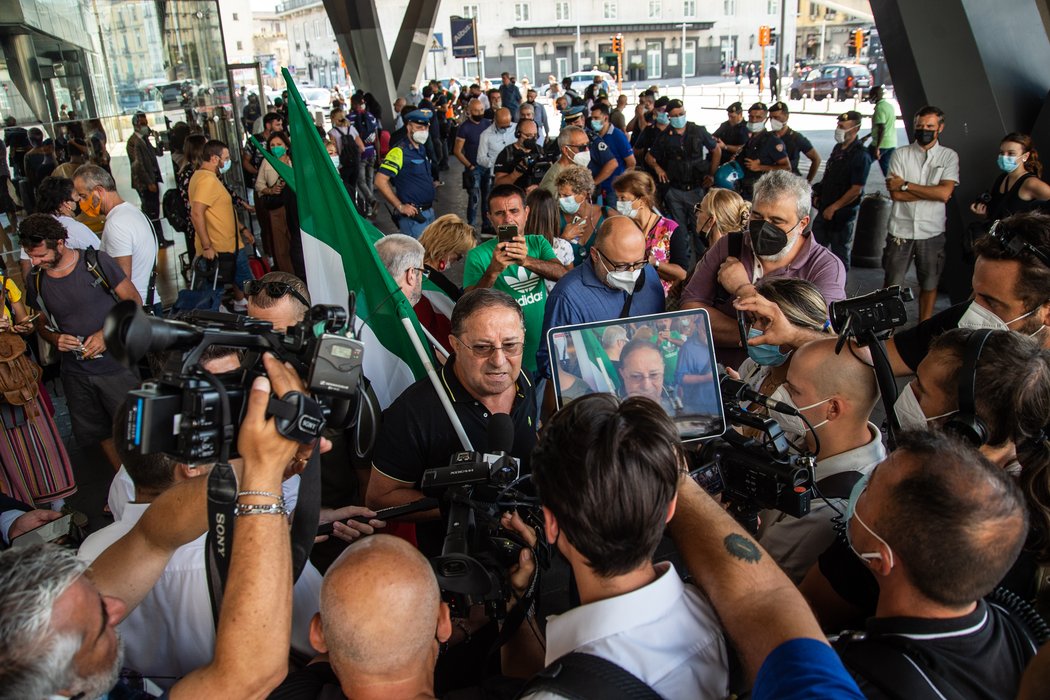 Expression
Journalist sexually harassed while covering football match:
On 27th November 2021, sports journalist Greta Beccaglia was slapped on the backside while on camera by a football fan who was exiting Empoli stadium, where a football match between Empoli and Fiorentina had just taken place. The man spat on his hand before slapping the journalist. During the incident two other men walked past and shouted sexist remarks at her. Greta Beccaglia, who works for the TV show "A Tutto Gol" on Toscana TV, a local TV broadcaster, reacted to the assault by pointing out that the man did not have the right to do what he did. A male journalist who presents the show that Beccaglia works for was criticised for diminishing the importance of the incident after he told her to keep calm and ignore the men. In an interview Beccaglia said that her colleague made a mistake by not condemning the groping immediately. In later interviews she described the incident in more detail and added that after the incident another man touched her private parts. She also added that the thing that shocked her the most was the indifference that surrounded these episodes of sexual violence. The man who slapped her was identified on camera and the journalist reported him for sexual violence. Solidarity with Beccaglia was expressed by many, including the Order of Journalists of Tuscany, which strongly condemned the incident, and Serie A, the top Italian football league. 
Dopo la partita Empoli – Fiorentina, allo stadio di #Empoli, la giornalista Greta Beccaglia è stata molestata in diretta dai tifosi
"Non puoi fare questo", risponde la giornalista pic.twitter.com/PQY0stQFu8

— Sky tg24 (@SkyTG24) November 28, 2021
Journalists reporting on court case involving Lega politician obstructed
On 16th November 2021, journalists were unable to report on a court proceeding concerning a defamation case that involved a Forza Italia politician, which took place in Voghera, a small town in Lombardy. The case also featured lawyer Massimo Adriatici, a former politician of the League party, who in July 2021 shot and killed Youns El Boussettaoui, an Italian citizen of Moroccan origin, after a struggle. Adriatici's house arrest was terminated in October 2021.
Journalistic coverage from the court room was not allowed due to COVID-19 restrictions. Reporters were therefore given access to the livestream of the proceedings. However, the connection was interrupted every few seconds and covering the case was practically impossible for reporters. The National Federation of the Italian Press and the Lombard Association of Journalists issued a statement denouncing the lack of proper access to the trial which is in violation of the open justice principle.
Several attacks against journalists at "No Green Pass" protests
In the context of the "No Green Pass" demonstrations that took place in Italy between the end of October and November 2021, several reporters were attacked, threatened and intimidated by protesters.
On 23rd October 2021, a reporting crew from TG5, including journalist Enrico Fedocci, were prevented from covering protests taking place in Milan and were insulted and pushed by protesters. As a result, they had to leave as they were unable to carry out their job. A man and a woman were reported to the police.

On 6th November, also in Milan, Fanpage journalist Saverio Tommasi faced physical attacks, insults and intimidation during a protest against COVID-19 measures, and was even kicked by a protester. On the same day, in Trieste, Gianpaolo Sarti, a journalist for the local daily newspaper Il Piccolo was injured after he was attacked by a protester while he was covering "No Green Pass" protests in Trieste. The journalist was hit in the face and headbutted, as shown in a video.

On 20th October, journalist Selvaggia Lucarelli was attacked while reporting for the newspaper Domani on a "No Green Pass" rally gathering more than 4,000 mask-less people in Rome's city centre, at Circo Massimo. She was surrounded by protesters who confronted and insulted her, also accusing the press of playing a role in their conspiracy theories; two people also followed her after she left the protest. Her phone was also hit and headbutted by a man participating in the gathering, as video shows. 
Ieri sono andata al Circo Massimo per la manifestazione no vax con cappello, occhiali, mascherina. Nessuno sapeva chi fossi. Per il solo fatto di chiedere "perché è qui oggi?" sono stata aggredita in ogni modo possibile (denuncerò). Presto il video integrale su @DomaniGiornale pic.twitter.com/9KYg6MvmP8

— Selvaggia Lucarelli (@stanzaselvaggia) November 21, 2021
Intimidatory defamation accusations against Guardian journalist
On 18th October 2021 Lorenzo Tondo, a reporter working for The Guardian, was notified of the date of the first trial concerning defamation charges that were brought against him by the public prosecutor of Palermo, Calogero Ferrara. The first trial was set down for 2nd February 2022, which would make it impossible for the journalist to cover the appeal of the so-called "Mered case" which concerns a suspected human trafficker who trafficked migrants from Libya. The Eritrean man was incarcerated in 2016, but was released in 2019 after a case of mistaken identity: the man extradited to Italy in 2016 from Sudan was not Medhanie Yedhego Mered, a known and wanted man, but Medhanie Tesfamariam Berhe, a refugee. The "Mered" trial ended on 12th July 2019 and confirmed the case of mistaken identity. The prosecutor appealed the sentence and the second "Mered" trial started on 27th October 2021, with the sentence expected in February 2022.
From its beginning, Tondo, who covered the case, expressed criticism of the prosecutor and the evidence against the falsely accused man, in Facebook posts and in articles published by The Guardian. In response, the prosecutor is suing him for his criticism. The Council of Europe's Platform, which promotes the protection of journalism and safety of journalists, has declared the defamation case as "potentially intimidatory."
Death threats received by RAI Tuscany office
On 18th October 2021, the Tuscany regional office of the national broadcaster RAI received an envelope containing a shotgun cartridge and death threats directed towards its journalists and the RAI Tuscany President, Eugenio Giani. The message contained in the envelope advised RAI journalists to "calm down" if they did not want to be "silenced forever." Police from the General Investigations and Special Operations Division (DIGOS) visited the offices and opened an investigation. The editorial team of Tgr RAI Toscana, the coordination of the CdR of the Tgr Rai, the Usigrai executive, the Tuscan Press Association and the Order of Journalists of Tuscany condemned the death threat in a joint statement. Several politicians from different parties expressed their solidarity and highlighted the risks for freedom of expression of such episodes.
"The editorial staff of the Tgr Rai Toscana will continue to carry out its work without being intimidated, with professionalism and attention, respecting the opinions of all but telling the facts without censorship", RAI said.
Investigative journalist under police protection following death threats
On 26th October 2021, investigative Journalist Sigfrido Ranucci revealed in an interview that since mid-August 2021 he has been under strengthened police protection after a plot to kill him hatched by a jailed drug dealer was discovered. The prisoner was aligned to the "Ndrangheta drug trafficking" organised crime group and was said to have attempted to hire two foreign hitmen to kill the reporter. This resulted in Ranucci being placed under a 24-hour escort. Ranucci had received death threats multiple times in previous years due to his investigative work which, among other things, exposes mafia-related issues.
Director of online newspaper left unconscious after attack
On 26th October, Michele Sardo, the managing director of online news platform Palermo Live, was attacked and left unconscious by two men while documenting a fire that had broken out near a petrol station. The journalist was at first approached by a man who insulted and threatened him as he wanted him to leave, and who then stole his phone. While attemptingto retrieve his phone, Sardo was pushed and hit in the back multiple times. The second unknown man intervened, grabbed him from behind and held him by his neck until he fainted. Sardo was immediately helped by police officers who were close to the scene and who called 118. A police investigation was started. Sardo said that he is recovering at the moment and that he will be ready to get back to work some day. The Order of Journalists of Sicily condemned the act and urged the police to identify those responsible. 
La mia piena solidarietà a @MicheleSardo, direttore di PalermoLive, dopo la brutale aggressione avvenuta nei suoi confronti. Sono sicura che non si lascerà intimorire e che continuerà, con dedizione e passione, a fare il suo lavoro di giornalista.

— Carolina Varchi 🇮🇹 (@CarolinaVarchi) October 27, 2021
Two cases of online abuse against journalists
Two serious cases of online abuse targeting journalists took place in October 2021. The first, on 14th October 2021, concerned a journalist of the local news outlets "Gazzetta di Modena", Giovanni Balugani, who was a victim of online attacks and harassment from COVID-19 denialists and anti- vaxxers, allegedly from the chatgroup called V_V or 'ViVi'. For several months, Balugani has been publishing articles investigating the anti-vaccine movement and its organisational structure. Gazzetta di Mondena strongly condemned the harassment against its journalist.
The second episode of online harassment involved Anna Cuzzocrea, a reporter from the national newspaper La Repubblica. She was attacked by supporters of Giorgia Meloni after the politician from the right-wing party Fratelli d'Italia criticised the journalist on Twitter and Facebook for writing that she was dressed in black during a parliamentary session. Meloni accused Cuzzocrea of being suggestive for noticing that she was wearing black and pointed out that the dress was dark blue. Although the journalist tried to defuse the situation, saying that she found the dress beautiful and that she did not intend to suggest anything by mistaking the colour of Meloni's dress, the reporter received insults and threats from some of Meloni's supporters. Some of them also revealed Cuzzocrea's children's full names and ages. Others threatened to break her legs and send her to the hospital. The journalist asked Giorgia Meloni to remove the social media posts to stop the wave of violence against her, but the content was left online.
Threats and insults on building walls against journalist
On 24th October 2021, Mariella Costantini, journalist at the broadcaster Telerama in the Salento region, was subject to threats via graffiti messages on a wall of a building in the city of Lecce. It is believed that the threats are related to her reporting of trafficking in the area. According to the regional journalists' union, Puglia Press Association, the messages came from unspecified anarchist groups.