Three human rights defenders arbitrarily detained in Venezuela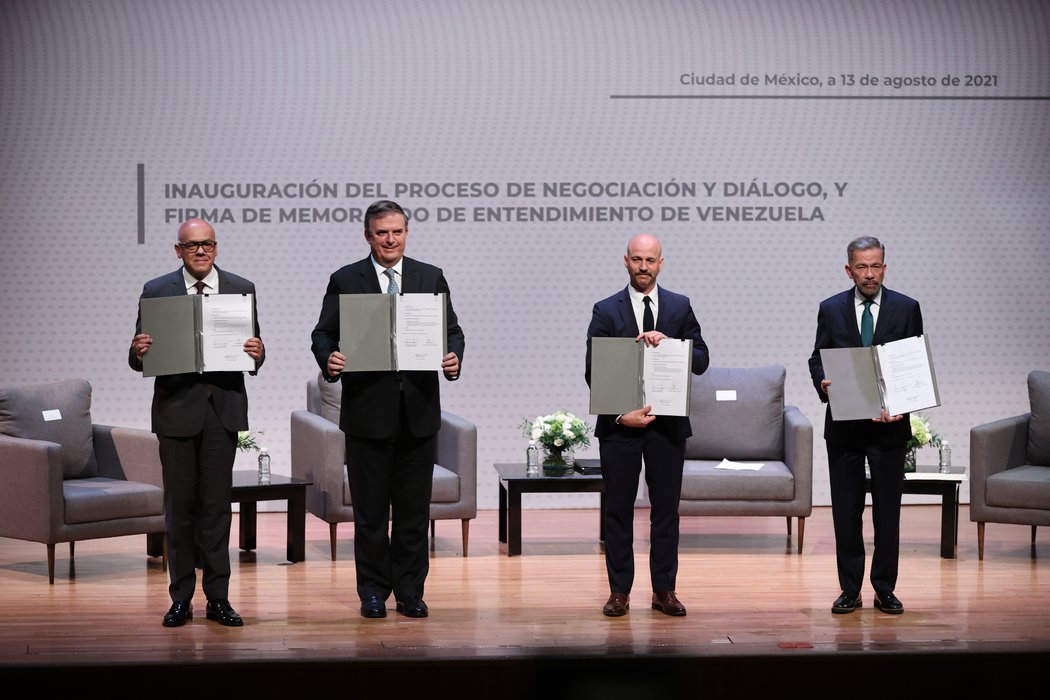 At the end of June 2021, civil society organisations in Venezuela condemned the "Communal Cities" bill under discussion in the National Assembly. According to the organisations, the legislative project is unconstitutional and would result in the creation of parallel bodies of territorial and administrative management, replacing elected bodies such as governors' offices, mayors' offices and municipal councils. In effect, the organisations said, this would mean the transfer of resources and competencies to authorities not elected by universal, direct and secret ballot.
In another development, in August 2021 representatives of Venezuela's government and the opposition met in Mexico to begin negotiation on several issues including elections and measures to address the country's humanitarian crisis. The talks are mediated by Norway with the participation of other countries. While human rights organisations such as Human Rights Watch called for a commitment from Venezuela's government to guarantee fundamental rights and free and fair elections, initial reports of the dialogue showed a focus on economic and social measures. On 15th August 2021, following the launch of the negotiations, Venezuelan authorities released opposition politician Freddy Guevara who had been arrested in July 2021.
Association
Three FundaREDES defenders arbitrarily detained
📢 Hoy #19Septiembre se cumplen 80 días desde la detención arbitraria de Javier Tarazona, Rafael Tarazona y Omar García por parte de efectivos del Sebin.

¡Exigimos su inmediata liberación!

Defender derechos humanos no es un delito ✊#LiberenActivistasDeFundaRedes pic.twitter.com/eWMKYxszBG

— FundaREDES (@FundaREDES_) September 19, 2021
On 2nd July 2021, the Bolivarian Intelligence Service (SEBIN) detained three human rights defenders with FundaREDES, Rafael Tarazona, Omar García and Javier Tarazona, who is the organisation's director. Jhonny Romero of the CSO CONFAVIT was also detained. They were arrested after denouncing harassment by SEBIN agents to the Prosecutor General of the state of Falcon. While Romero was released, the three activists with FundaREDES were charged with inciting hatred, treason and terrorism. These charges are often used to criminalise human rights defenders in Venezuela.
According to Amnesty International, their lawyers were not informed formally of their arrest and their whereabouts remained unknown for 24 hours after their arrest. Authorities then denied them representation by their trusted lawyers, assigning instead a public defender. 317 organisations in the Anti-corruption Coalition in Venezuela issued a statement demanding the activists' release and calling on the international community to speak out against their detention.
A preliminary hearing was scheduled to take place on 7th September 2021 but was cancelled without explanation. Alfredo Romero, director of Foro Penal, commented on social media:
"Court proceedings are systematically delayed in cases of political prisoners in order to keep them 'preventively' imprisoned without trial, without the right to defence."
In a related development, on 14th July 2021 SEBIN agents raided and damaged the office of FundaREDES in San Cristóbal, Táchira state. On the same evening, security agents raided the family home of Javier Tarazona and detained his mother for about three hours.
Harassment and intimidation of human rights defenders
#HablemosDDHH

CDJ REPORT |July 2021

140 facts documented during the month show the systematic patterns of aggression that are part of the Criminalization Policy, based on the Internal Enemy Logic.

Details at: https://t.co/i7HH0eydhb

Characterization👇 pic.twitter.com/ex25q6JOUn

— Centro para los Defensores y la Justicia (@DefensoresDDHH_) August 31, 2021
Attacks against human rights defenders increased in July 2021 in Venezuela, said a report by the Centro para Los Defensores y la Justicia (Centre for Defenders and Justice - CDJ). The organisation registered 140 such attacks during the month, including 112 cases of stigmatisation, 14 cases of harassment and intimidation and five arbitrary detentions. Government social media accounts, public officials and members of the police were the key perpetrators.
In one example, organisation Observatorio venezolano para la seguridad y defensa nacional - Control Ciudadano (Venezuelan Observatory for Security and National Defence – Civic Control) and its president, Rocio San Miguel, have faced continued acts of intimidation. San Miguel was repeatedly accused and questioned about her work and her defence of human rights. The defender was named in government media in July 2021, in a number of articles accusing her of attempting to undermine the country's security forces and of working on behalf of United States interests.
Peaceful Assembly
#InformeOVCS

🚨 Primer semestre: 3.393 manifestaciones en la primera mitad del año, a pesar del estado de alarma y represión.

Detalles: https://t.co/7Kym6dXsls

🚨 Julio 2021: 671 protestas. https://t.co/AJSlFa2tOG pic.twitter.com/iRKIEWl6fi

— Observatorio de Conflictos (@OVCSocial) September 5, 2021
According to the Observatorio Venezolano de Conflictividad Social (Venezuelan Observatory of Social Conflict - OVCS), there were 671 protests in Venezuela in July 2021. This represents a 3% increase compared to the same period in 2020. In over 60% of the protests registered, people demanded the fulfilment of economic, social and cultural rights; complaints increased over shortfalls in fuel distribution and sales, failures in sewage collection, internet service, street lighting and roads. In addition, workers demonstrated over salary demands. There were also protests for civil and political rights, in many cases driven by upcoming elections. OVCS also registered demonstrations calling for access to justice and protesting the criminalisation of human rights defenders.
Expression
☝️La Comisión Nacional de Telecomunicaciones sacó del aire al programa Punto de Corte Radio, que se transmitía por la señal de Radio Fe y Alegría #3ago

Detalles en: https://t.co/16AounTJJH

— Espacio Público 🗣️ (@espaciopublico) August 3, 2021
Civil society organisation Espacio Público registered 38 violations of freedom of expression in August 2021. The most frequent attacks were intimidation, censorship and verbal harassment. According to their report, about half the cases involved journalists and another 32% affected press outlets. Public officials, State institutions and hackers were the main perpetrators. Cyberattacks were registered against Asociación Civil Convite and Qué Pasa en Venezuela, whose websites were temporarily down following hacking attacks. Power failures also affected the provision of internet services in the country during the period.
In one case of censorship, on 3rd August 2021 the National Telecommunications Commission (Conatel) ordered the cancellation of the programme Punto de Corte Radio which was broadcast by Radio Fe y Alegría 1390 AM and 105.7 FM. Other cases of censorship were registered as journalists covered election primaries, with reporters being forced to delete recorded material or being prevented from reporting.
On 27th August 2021, the bodyguard of a member of the ruling United Socialist Venezuelan Party (PSUV) photographed three El Pitazo journalists, Maria Fernanda Rodríguez, Jose Gregorio Rojas and Dani Pacheco, while they were covering a protest. They were reporting from the Valle del Mocotíes, Mérida, after heavy rains affected infrastructure in the region. According to the reporters, law enforcement had prevented the passage of trucks with emergency and humanitarian aid, leading to a protest by the local population. The journalists said a bodyguard with a member of PSUV took photos of them as a form of intimidation to show they were being monitored by authorities.