Thai authorities use excessive force, lese-majeste laws to clamp down on pro-democracy protests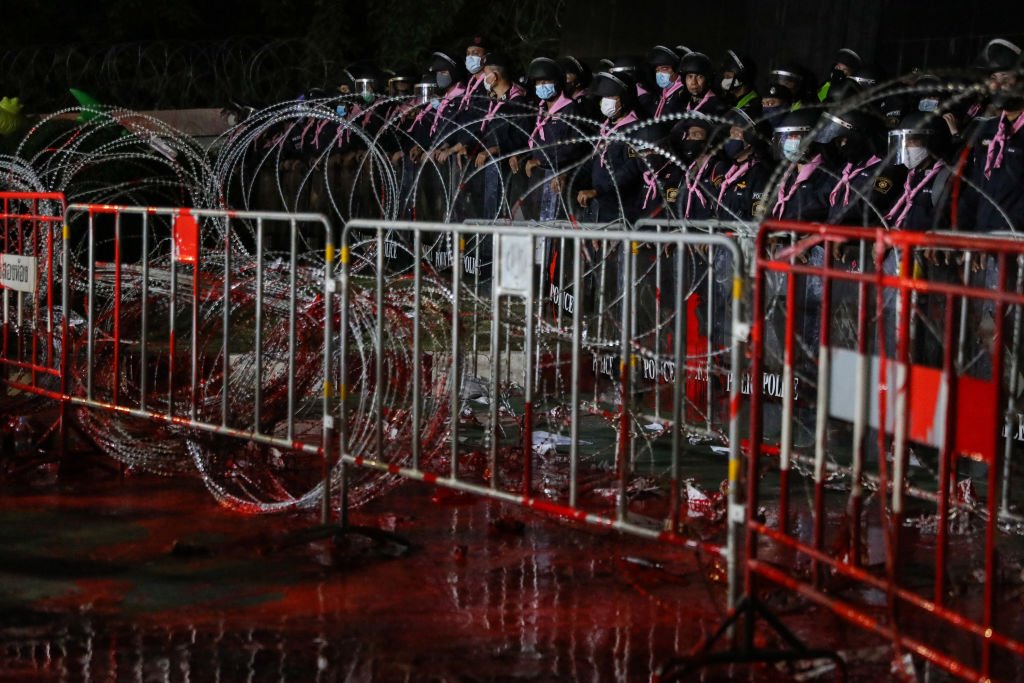 There have been ongoing pro-democracy protests in Thailand demanding the dissolution of Thailand's military-backed government led by Prime Minister Prayuth Chan-ocha, the drafting of a new constitution and an end to the harassment of activists and government critics.
As previously documented in October 2020, to suppress dissent, protesters have been charged and there has been widespread use of judicial harassment against activists and human rights defenders. Thai Lawyers for Human Rights (TLHR) and Article 19 reported that at least 90 individuals were arrested between 13th and 21st October 2020.
In November 2020, the authorities have continued to attempt to suppress the protests by using excessive force and blocking public spaces. They have also charged protest leaders for lese-majeste (defamation of the monarchy), targeted student protesters and used disinformation tactics
Peaceful Assembly
Restrictions on protest and excessive force
Thai police fire water cannon at parliament protest https://t.co/gSNE38KGhx pic.twitter.com/mM0RauRzJ2

— Reuters (@Reuters) November 17, 2020
The authorities have continued to restrict protests and used excessive force to disperse them. On 17th November, a protest was planned outside the parliament as members of parliament and senators debated seven different proposals for constitutional amendments.
According to human rights groups, police set out barriers and barbed wire to prevent a peaceful march organised by pro-democracy movements from reaching the parliament. Police refused to let protesters through the barriers, and when the demonstrators acted to breach those barriers, police crowd control units used water cannon laced with purple dye and an apparent teargas chemical, as well as teargas and pepper spray grenades, to forcibly disperse thousands of demonstrators, including students, some of whom were children. Water cannon were first used at approximately 2:25 pm and police continued their efforts to disperse protesters, with constant use of water cannon, teargas and pepper spray, into the evening.
Police also failed to prevent violence between pro-democracy protesters and royalist "yellow shirts" near the Kiak Kai intersection, near the parliament. Initially, riot police separated the two groups. However, video posted on social media later showed police officers informing the royalist protesters that they would withdraw and seconds later they vacated their position between the two groups. During the ensuing skirmishes, both sides were filmed throwing rocks and wielding clubs. Live broadcasts included sounds that appeared to be gunfire.
The Erawan Medical Centre reported that there were at least 55 protesters injured, mostly from inhaling teargas. It also reported that there were six protesters who suffered gunshot wounds. The injured included children: a kindergarten child and elementary school students.
On 18th November 2020, the spokesperson for United Nations Secretary-General António Guterres "expressed concern about the [human rights] situation in Thailand … it's disturbing to see the repeated use of less lethal weapons against peaceful protesters, including water cannons … it's very important that the government of Thailand refrain from the use of force and ensures the full protection of all people in Thailand who are exercising a fundamental peaceful right to protest."
On the same day, the majority of the members of parliament rejected the one proposal supported by the protesters, brought by Thai social reform NGO iLaw to call for the revocation of all the policies introduced by the military junta, to restore an elected Senate and the practice of selecting a prime minster from among elected members of the parliament. It would also ensure that constitutional reform would not exclude reform of the monarchy. The two proposals deemed acceptable by the government and opposition parties in parliament do not include any of these features.
Thailand's Siam Commercial Bank (SCB) became the focus of protesters' anger on 25th November after authorities blocked access to the Crown Property Bureau using barbed wire and shipping containers. Thousands called on King Maha Vajiralongkorn, who spends a lot of time in Germany, to give up his royal fortune, including his 23 percent stake in the SCB. Activist Anon Nampa said demonstrators wanted to "reclaim these assets to belong to the people again under the name of the monarchy, the state and the country."
On 29th November 2020, thousands of protesters marched to a barracks belonging to Thailand's royal guards in Bangkok, demanding that King Maha Vajiralongkorn give up control of some army regiments. In a statement, protesters accused the king of having "expanded his royal prerogative in every way possible including [through] the military" and referred to the prime minister, Prayuth Chan-ocha, a former army general, as the king's "royal puppet".
Copies of the statement were folded into paper planes and flown in the direction of riot police who stood guard outside the barracks. Protesters later splashed red paint on the ground in front of officers, referencing the deadly army crackdown on anti-government red-shirt demonstrators in 2010.
Protesters charged for defaming the monarchy 
Five pro-democracy leaders reported to Thai police to face accusations of lese majeste -- a controversial and sweeping law that prohibits criticism of Thailand's royal family -- as authorities attempt to crack down on the country's protest movement. https://t.co/4ZWu2UPd6m

— CNN (@CNN) November 30, 2020
On 20th November 2020, Thai Prime Minister Prayuth Chan-ocha indicated that Article 112 of the Thai Criminal Code (lèse-majesté), would be among "all laws and articles" to be enforced against pro-democracy protesters. Article 112 punishes with prison terms of three to 15 years those who are found guilty of defaming, insulting or threatening the King, the Queen, the Heir to the throne or the Regent.
According to FIDH, various UN human rights monitoring mechanisms have repeatedly stated that Article 112 is inconsistent with international law and called for its amendment or repeal. The UN Working Group on Arbitrary Detention (WGAD) has consistently ruled that the deprivation of liberty stemming from lèse-majesté charges in Thailand is "arbitrary."
Police summoned 12 activists to face charges on 24th November under Article 112 in connection with their participation in the protests. Among the 12 are the following pro-democracy leaders: Anon Nampa, Parit Chiwarak, Panupong Chadnok, Tattep Runagprapaikitseree, Piyarat Chongthep; Panusaya Sithijirawattanakul, Juthathip Sirikan, and Pasarawalee Thanakitwibulpol. Others include Chanin Wongsri, Attapon Buapat, Chukiat Saengwong, and Sombat Thongyoi.
School children targeted for involvement in protests
Thailand's 'Bad Students' are Rising Up for Democracy and Change https://t.co/fp6o0wZ5PK

— Human Rights Watch (@hrw) September 18, 2020
Young Thai students have also been involved in protests. Since August 2020, emboldened by a broader political protest movement sweeping Thailand, a group called the "Bad Students" has campaigned for the resignation of Education Minister Nataphol Teepsuwan, demanded cultural change, equality, a curriculum overhaul and relaxation of strict rules.
Thai Lawyers for Human Rights, which provides legal assistance to the "Bad Students", reported that police officers have gone into schools to intimidate students by taking photos and questioning children who participated in rallies or Bad Students campaigns. Officials have also pressured students' families. School administrators have punished students for wearing white ribbons on campus or showing the ubiquitous three-finger salutes during the national anthem.
Ahead of the 25th November protest, police issued three students with a summons to report to a Bangkok police station for questioning for violating the emergency decree by attending a rally on 15th October. TLHR say the trio have brought the tally of children facing prosecution over protest activities in Thailand to four.
Disinformation campaign to promote monarch and discredit critics
On 30th November 2020, it was reported that Twitter had suspended a Thai pro-royalist account @jitarsa_school linked to the palace after they found it was connected to thousands of others created in recent weeks that spread posts in favour of King Maha Vajiralongkorn and the monarchy.
Reuters News Agency found tens of thousands of tweets that an expert said appeared to be from accounts amplifying royalist messaging in a push to counter months of protests calling for the resignation of Prime Minister Prayuth Chan-ocha and – breaking taboos – the reform of the monarchy.
Internal army training documents reviewed by Reuters showed evidence of a coordinated information campaign designed to spread favourable information and discredit opponents.
Created in September 2020, the @jitarsa_school account had more than 48,000 followers before its suspension. The account's profile had said that it trained people for the Royal Volunteers programme, which is run by the Royal Office. A Facebook page for the Royal Volunteers School, which posts pro-monarchy videos and news of the programme, also identifies the Twitter account as its own.