Thai activists and protesters face judicial harassment, excessive force despite upcoming UN review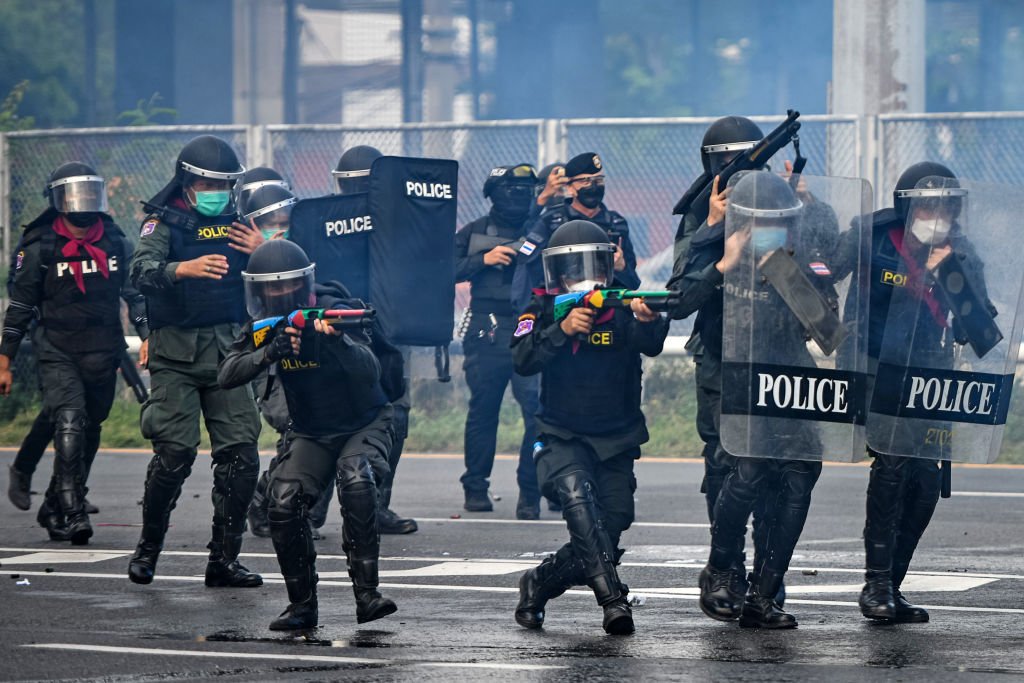 Thailand's civic space rating by the CIVICUS Monitor remains as 'repressed'. In recent months activists and protest leaders have continued to be summoned, arrested and detained on various charges including royal defamation and sedition. Some have been denied bail. A new emergency regulation issued in August 2021 threatens online freedoms. Criminal defamation charges have been brought by companies against a woman activist and a journalist.
Police have used excessive force including water cannon, rubber bullets and tear gas to disperse protests. Protesters have been detained and suffered injuries, including children. Concerns continue to be raised about a draft law which includes counter-terrorism financing measures to regulate non-profit groups.
Thailand's human rights record will be reviewed by the UN Human Rights Council on 10th November. In March 2021, CIVICUS and the Asia Democracy Network (ADN) submitted a report to the Council highlighting a range of concerns including the use of criminal defamation, lèse majesté and other repressive laws against activists and journalists as well as harassment, physical attacks and allegations of enforced disappearances of activists. The report also documented the crackdown on peaceful protests, the arrests and criminalisation of protesters and use of excessive force by the police.
Expression
Thai student activists charged with royal defamation and sedition
เปิดคำฟ้องคดี #ม112 #ม116 ชุมนุมหน้า #สถานทูตเยอรมนี

อัยการระบุ คำปราศรัย-แถลงการณ์ทำให้ปชช.เข้าใจว่า ร. 10 ทรง #ใช้อำนาจแทรกแซงการเมือง อยู่เบื้องหลัง #การใช้กําลังทรมานปชช. ก่ออาชญากรรมร้ายแรง #ละเมิดสิทธิมนุษยชน นิยมฝักใฝ่ระบอบเผด็จการ #นาซี

อ่านต่อ> https://t.co/QIflq3qjBF pic.twitter.com/i8iJiIQ29R

— TLHR / ศูนย์ทนายความเพื่อสิทธิมนุษยชน (@TLHR2014) July 22, 2021
Twelve Thai pro-democracy student activists were charged with royal defamation (Section 112) and sedition (Section 116) on 22nd July 2021, their lawyers said, over a rally that demanded reforms to Thailand's monarchy.
The pro-democracy movement has been largely led by student activists due to public discontent over Prime Minister Prayut Chan-O-Cha's administration. One key protest demand that emerged was monarchy reforms, a once-taboo issue that has become a public discussion following the student-led rallies.
The activists were charged for their involvement in the 26th October 2020 protest in front of the German Embassy in Bangkok. The Bangkok South Criminal Court granted them bail under several conditions, including that they "must not commit further wrongdoings related to the royal institution".
Those charged include Patsaravalee "Mind" Tanakitvibulpon, Korakot "Por" Saengyenphan, Chanin Wongsri, Chonlathit Chotsawat, Benja Apan, Watcharakorn Chaikaew, Atthaphol Buaphat, Akkharaphol Teepthaisong, Krisaphont Sirikittikul, Suthinee Jangpipattanawakit, Rawisara Eksakul and Nitchima Arayatrakullikhit. A 13th protester, activist Nawat Liangwattana, was charged on the following day.
According to Thai Lawyers for Human Rights (TLHR), more than a hundred protesters have been targeted with the royal insult law since November 2020, with the most prominent figures facing multiple charges for different protests. It carries a maximum penalty of 15 years per charge.
Emergency regulation threatens online freedoms
In August 2021, 17 international human rights organisations including CIVICUS denounced the Thai government's newly announced Regulation No. 29, which empowers the authorities to censor online expression and investigate and prosecute individuals responsible for communications that may "instigate fear."
This Regulation is incompatible with Thailand's Constitution and its obligations under the International Covenant on Civil and Political Rights (ICCPR) to respect and protect the right to freedom of expression and information.
Regulation No. 29, promulgated on 29th July 2021, repeats language concerning prohibited speech featured in Regulation No. 27 of 10th July 2021, in accordance with section 9(3) of the Emergency Decree on Public Administration in Emergency Situation B.E. 2548 ('Emergency Decree'). The regulations prohibit the release, distribution or dissemination of texts that may "instigate fear" or are "intended to distort information to mislead understanding of the emergency situation to the extent of affecting the security of state or public order or good morals of the people." Regulation No. 29 additionally grants government authorities new enforcement powers, enhancing their ability to censor online speech and investigate internet users.
If communications targeted by the Regulation are made available online, the National Broadcasting and Telecommunication Commission (NBTC) is required to inform internet service providers (ISPs) to identify the IP addresses associated with the communications and immediately suspend services to those addresses. The ISPs are then required to report the details of their findings to the NBTC, which must promptly submit evidence concerning the communication to the police for legal action. The Regulation requires that the NBTC take action against ISPs who fail to comply with relevant orders, which will be deemed a violation of their operating licences.
Individuals found to have violated the Regulation by spreading such information may incur imprisonment for a term not exceeding two years or a fine of up to 40,000 baht (approx. USD 1,283), or both.
Five people fined for involvement in discussion on disappearances
แอมเนสตี้เรียกร้องทางการไทยยุติการใช้กฎหมายปิดปากนักปกป้องสิทธิมนุษยชน https://t.co/Qw9LR5tlFv

— Amnesty Thailand (@AmnestyThailand) August 4, 2021
On 4th August 2021, five people, including an Amnesty International staff member, were summoned by the authorities to appear at a Bangkok police station and pay a fine.
The penalty was issued under the Road Traffic Act and the Act on the Maintenance of Cleanliness and Order as an administrative fine in response to their involvement at an in-person panel discussion on 4th July focusing on the enforced disappearances of Thai activists, including reportedly abducted Thai activist Wanchelearm Satsaksit. They were also charged for the use of an amplified speaker to advertise the event.
The other four individuals are a panel moderator and three other panel speakers: a protestor, an 18-year-old student, and a lawyer who was friends with an individual who was forcibly disappeared.
Amnesty International's Asia-Pacific Regional Director Yamini Mishra said: "Our member of staff was simply doing her job to raise awareness in Thailand of international human rights law. The Thai authorities should not be fining her, the organisers or other panellists for simply speaking about the Thai authorities' human rights obligations and the long history of enforced disappearances in this region."
As previously documented, Wanchalearm Satsaksit, a prominent Thai pro-democracy activist living in exile in Phnom Penh, Cambodia, was abducted on 4th June 2020. The alleged abduction took place just a day after he had posted a video on Facebook criticising Thai Prime Minister Prayut Chan-o-cha. He fled to Cambodia after the May 2014 military coup in Thailand.
His enforced disappearance corresponds to a deeply alarming pattern of abductions and killings since June 2016 of at least nine Thai activists in exile by unknown persons in neighbouring countries, namely Laos and Vietnam.
Activist charged for sedition and computer crimes
Thailand police arrested Panusaya "Rung, a pro-democracy activist, on sedition and cyber crime charges. #Thailand #WhatsHappeningInThailand pic.twitter.com/lqBsvGxmin

— ThaiViralPost | โพสต์ไวรัลไทย (@ThaiViralPost) September 22, 2021
Thai rights activist Panusaya "Rung" Sithijirawattanakul was arrested on 22nd September 2021 by Thailand's Technology Crime Suppression Division due to her involvement with the Facebook page of the student activist group United Front of Thammasat and Demonstration (UFTD).
She was charged with sedition and computer-related crimes under Section 116 of the Criminal Code and the Computer Crime Act. The officers seized computers and mobile phones for further examination. Panusaya was later granted bail of 35,000 Baht (approx. USD 1,050). According to Thai Lawyers for Human Rights (TLHR) the charges against Panusaya were the result of a complaint filed by a member of an online royalist group.
Ming Yu Hah, Amnesty International's Deputy Regional Director for Campaigns, said: "Panusaya is a student and a prominent protest leader who has been repeatedly targeted by authorities. She is a vocal voice in youth-led calls to uphold freedom of expression and peaceful assembly in Thailand. Arresting Panusaya shows the government has no intention of ending its vilification of human rights defenders and those who call for political reform."
She faces multiple criminal charges for her peaceful activism and may face up to life imprisonment if convicted. Panusaya has been involved in youth-led demonstrations and campaigned tirelessly to promote social justice, equality, democracy and human rights. Authorities have repeatedly detained her and denied other student protesters the right to release on bail. Panusaya was detained in October 2020 and again from March to May 2021, during which time she contracted COVID-19.
New report on use of lèse-majesté to target pro-democracy activists
On 5th October 2021, FIDH, Thai Lawyers for Human Rights (TLHR) and Internet Law Reform Dialogue (iLaw) released a new report on the arrest, detention and prosecution of pro-democracy activists. The report, titled "Second wave: The return of lèse-majesté in Thailand", documents how the Thai government has used and abused Article 112 of the Criminal Code ("lèse-majesté") to target pro-democracy activists and protesters in relation to their online political expression and participation in peaceful pro-democracy demonstrations.
According to the groups, in late November 2020, after a pause of about two years, the Thai government resurrected Article 112 in response to the rising pro-democracy protests that swept Thailand for most of 2020. During many of the peaceful pro-democracy demonstrations, protesters broke Thailand's longstanding political taboo by directly criticising the monarchy and calling for the reform of the institution.
Between 24th November 2020 and 31st August 2021, 124 individuals were charged under Article 112, including at least eight children. During the same period, authorities detained at least 19 individuals under Article 112. As of 31st August 2021, two remained detained.
Nearly half of the lèse-majesté charges brought against pro-democracy activists, protesters and other individuals during that period were related to forms of online expression. Article 112 charges often derive from complaints made by members of royalist groups, cyber vigilantes and other internet users and, in some cases, following online information operations (IOs) conducted by the Thai military.
The groups also said that the Thai authorities continued to interpret Article 112 widely and stretched the letter of the law to absurdity, resulting in some individuals facing charges under Article 112 for criticising the government's COVID-19 vaccine management, wearing crop tops, insulting the previous monarch or quoting a United Nations (UN) statement about Article 112.
Court rules to proceed with defamation trial of woman human rights defender
BREAKING: The #Bangkok South Criminal Court today ruled to proceed with criminal defamation charges brought by Thammakaset against @AngkhanaNee, a woman #HumanRights defender. @Sor_CRC @CRC_Thai #EndSLAPP #BizHumanRights https://t.co/ZiRp8qNstC

— Fortify Rights (@FortifyRights) August 16, 2021
On 16th August 2021, the Bangkok South Criminal Court ruled to proceed with a trial in the case against Angkhana Neelapaijit, a woman human rights defender and former Thailand National Human Rights Commissioner. The court granted her bail.
The ruling comes following a series of four preliminary hearings spanning more than 17 months concerning a criminal defamation complaint brought by Thammakaset against Angkhana Neelapaijit. The complaint, filed in October 2019, alleges that Angkhana Neelapaijit defamed the company by posting two tweets - on 3rd December 2018 and 28th June 2019 - that expressed support for other human rights defenders facing lawsuits brought by Thammakaset.
According to Fortify Rights, since 2016, Thammakaset has brought at least 37 complaints against 22 human rights defenders. The courts have dismissed or ruled against the company in most cases.
Criminal defamation complaint against journalist for reporting
On 17th August 2021, The Siam International Food Company or SIF, a Thai-registered seafood processing company located in Chana District, Songkhla province, filed a criminal defamation lawsuit against Wanchai Phutthong, a Thai journalist with the Bangkok Criminal Court.
Wanchai is facing charges under Section 326 and 328 of the Thailand Criminal Code. Section 326 makes it a criminal offence to "impute anything" to another person "before a third person in any manner likely to impair [their] reputation…or to expose such other person to hatred or scorn" and carries a sentence of up to one year's imprisonment and/or a fine of up to 20,000 Thai Baht (USD 588). Similarly, under Section 328 of the Thai Criminal Code, criminal defamation carries sentences of up to two years' imprisonment or a fine of up to 200,000 Thai Baht (USD 5,600).
The SIF company claimed that the two social media posts on the Sue Thuen Facebook page have tarnished the company's reputation and damaged its business.
Peaceful Assembly
Excessive force by police used during protests against pandemic handling
#ม็อบ7สิงหา

ท่ามกลางสถานการณ์การระบาดของโควิด-19 ที่มียอดผู้ติดเชื้อต่อวันแตะสูงขึ้นแทบทุกวัน สวนทางกับยอดการฉีดวัคซีนที่ไม่เป็นไปตามแผน ขณะที่มีผู้เสียชีวิตเพิ่มขึ้นเรื่อยๆ ทั้งหมดสะท้อนความไร้ประสิทธิภาพในการบริหารงานของรัฐบาล เป็นเหตุให้กลุ่มเยาวชนปลดแอกจัดการชุมนุม pic.twitter.com/HiaGcb45II

— the101.world (@the101_world) August 7, 2021
On 7th August 2021, police used water cannon, rubber bullets and tear gas and arrested at least 18 people during a protest in Bangkok against the Thai government's alleged mishandling of the COVID-19 pandemic.
The protest was organised by the activist group Free Youth and partner organisations, who have made three demands: the resignation of Prime Minister Gen Prayut Chan-o-cha, the reallocation of monarchy and military budgets toward COVID-19 assistance, and replacement of the Sinovac COVID-19 vaccines with mRNA vaccines.
Police officers searched several activists' homes ahead of the protest. Thai Lawyers for Human Rights (TLHR) reported that police searched activist Chukiat "Justin" Sangwong's apartment. Police also searched the home of a Thammasat University student in Pathum Thani. Activist Piyarat Chongthep said that at least two members of the We Volunteer protest guard group were followed by police officers who tried to search their houses ahead of the protest.
Shipping containers and oil tankers were placed across Sanam Luang to block the original route of the march to the Grand Palace.
Organisers met at the Democracy Monument with a plan to march to the Grand Palace but were faced with lines of crowd control police blocking the planned route. At 12:25 pm, the police ordered the protesters to end their gathering and crowd control police began to advance on the protesters. There were reports that rubber bullets were used and that two protesters were arrested.
Protesters were also reportedly using slingshots and throwing glass bottles and rocks at the crowd control police. Officers in the vicinity were seen wearing bulletproof vests and carrying cable ties, batons and shields. Some were also carrying rubber bullet firearms.
As they were not able to get to the Grand Palace, protesters decided to march to the 1st Infantry Regiment headquarters, where PM Prayut lives, but found the roads closed as the police had declared them a no-entry zone. The police ordered the protesters back to the Victory Monument but they refused. Police then fired rubber bullets and tear gas at the protesters and also began using water cannon.
Arbitrary detention of pro-democracy activists
Following the protests, eight pro-democracy activists were arbitrarily detained. On 8th August 2021, Parit Chiwarak, Nutchanon Pairoj, Sirichai Natueng and Phromsorn Weerathamjaree were arrested in front of the Police Headquarters in Bangkok in connection with their participation in a peaceful protest on 2nd August 2021, in front of the Border Patrol Police Region 1 Headquarters in Pathumthani Province. Protesters had gathered to demand the release of 32 fellow activists who had been arrested and detained in connection with another protest at the Narcotics Suppression Bureau in Bangkok earlier the same day.
On 9th August, Panupong Chadnok and Thatchapong Kaedam were arrested after they reported to the Khlong 5 police station in Pathumthani Province in relation to a 2nd Augustprotest. All six pro-democracy activists were charged with violating Article 215 of the Criminal Code ("leading an illegal assembly of more than 10 people"), the Emergency Decree and the Communicable Diseases Act.
On the same day, police officers arrested Anon Nampa after he surrendered himself to the Pathumwan police station in Bangkok after learning that a warrant had been issued for his arrest. Anon was charged with violating Article 112 of the Criminal Code ("lèse-majesté") and the Emergency Decree for his participation in a peaceful protest on 3rd August 2021, in Central Bangkok. A day later, police denied Anon Nampa's bail request, arguing that he would present a high risk of re-offending if released.
Police also arrested Jatuphat Boonpattararaksa on 9th August after he surrendered himself at the Thung Song Hong police station in Bangkok. Jatuphat was charged with violating the Emergency Decree and Article 215 of the Criminal Code in connection with a protest held in front of the Thung Song Hong police station on 3rd August 2021
At the time of writing, Anon Nampa, Parit Chiwarak, Panupong Chadnok and Jatuphat Boonpattararaksa are still in detention.
Children injured by live rounds used at protest
Thailand: Urgent investigation needed after live rounds fired at child protesters https://t.co/E41XB5G7te

— amnestypress (@amnestypress) August 18, 2021
Amnesty International reported that on 18th August 2021, three children were injured by live rounds of ammunition shot at protesters during a demonstration outside the Din Daeng police station in central Bangkok. One child was left in a critical condition.
The mother of a 15-year-old protester told Amnesty that her son was in a coma and that a bullet – believed to be live ammunition – remains lodged in his skull. The organisation confirmed that another protester, aged 14, suffered a bullet wound in the shoulder from live ammunition while a third protester, aged 16, was shot in the foot. The Thai police have denied using live ammunition and it is unconfirmed who fired the shots.
The protest on the day was over the official handling of the pandemic and other political grievances.
Emerlynne Gil, Amnesty International's Asia-Pacific Deputy Director said: "The use of live ammunition against protesters is a deeply concerning development. The Thai authorities must urgently investigate the shootings of these child protesters, including any unlawful use of firearms".
Tens of thousands of Thais have been taking to the streets to demand democratic reforms in largely peaceful protests throughout 2020 and into 2021 in the capital Bangkok and in provinces across Thailand.
Civil society groups raise concerns around protest violations and arrest of activists
On 1st September 2021, 13 organisations wrote to the Thai authorities to express concern about the excessive use of force by police at recent protests in Bangkok and the arbitrary detention of protest leaders, some of whom have been denied bail and detained.
In August 2021, police forcibly dispersed at least ten demonstrations using rubber bullets, water cannon and tear gas. At several protests, demonstrators threw rocks and Molotov cocktails, launched fireworks and used slingshots to shoot nuts and bolts at riot police.
The groups said that police officers had repeatedly fired rubber bullets at protesters in an indiscriminate fashion. Footage showed riot police firing rubber bullets from a highway overpass at a distance too great to ensure the targeting of violent individuals in a manner consistent with international standards. In other videos, police officers appeared to shoot rubber bullets at individuals passing on motorcycles, including at point blank range. Journalists, including those who visibly identified themselves as press, have also reported being hit with rubber bullets at protests.
Police have reportedly fired tear gas canisters directly at protesters. On 13th August 2021, a protester, Thanat Thanakitamnuay, was hit in the face by an object believed to be a tear gas canister fired by police at Din Daeng intersection and has reportedly lost sight in his right eye. On 18th August 2021, three teenage protesters were shot with live ammunition in front of the Din Daeng Police Station.
In addition to cracking down on street protests, Thai authorities have continued their harassment of protest leaders and participants through legal processes. Since July 2020, more than 700 individuals, including at least 130 children, have been investigated in connection to their protest activities. Between 7th and 9th August 2021, at least 32 protest leaders and participants were arrested and charged with a variety of offences.
Another student activist prosecuted
🇹🇭#Thailand: Student and pro-democracy activist Benja Apan has been arbitrarily detained on lèse-majesté charges for participating in a peaceful pro-democracy protest.
📣We call for her immediate and unconditional release! #WhatsHappeningInThailand
👉https://t.co/BPIgBVbLxZ pic.twitter.com/MQFH376LKj

— The Observatory (@OBS_defenders) October 12, 2021
On 7th October 2021, Benja Apan, a student and pro-democracy activist with the United Front of Thammasat and Demonstration (UFTD), was arrested at the Lumpini Police Station, Bangkok, where she had gone to hear a charge of violating the Emergency Decree for participating in a pro-democracy protest on 3rd September 2021 at Bangkok's Ratchaprasong intersection.
The police arrested Benja on the basis of another outstanding arrest warrant issued against her under Article 112 of the Thai Criminal Code ("lèse-majesté"), the Emergency Decree and the Communicable Diseases Act. These charges stem from Benja's participation in a pro-democracy protest on 10th August 2021 in front of the Sino-Thai Tower building on Asoke Road in Bangkok, during which she gave a speech that criticised the government's handling of the COVID-19 pandemic and called for the reform of the Thai monarchy. Later on 7th October, police took her to Bangkok's Thong Lo Police station where she was detained overnight after being denied bail.
On 8th October 2021, Benja Apan appeared before the Bangkok South Criminal Court which denied her bail, arguing that the offences of which she is accused carry a heavy penalty and that she had previously committed the same offences. Benja Apan was then taken to the Central Women's Correctional Institution in Bangkok. A Thai court denied her bail again on 22nd October.
On 1st November 2021, she was sentenced to six months imprisonment for contempt of the court under section 30, 31(1) and 33 of the Civil Procedure Code and section 15 and 180 of the Criminal Procedure Code. According to a Thai Lawyers for Human Rights (TLHR) there has been an increase in the use of such laws in connection with protests calling for the right to bail of detained activists.
Association
Counter-terrorism financing measures used to reduce civil society space
As previously reported, human rights groups have raised concerns about a draft law to regulate non-profit groups which could be used to muzzle civil society groups and non-governmental organisations (NGOs). The "Draft Act on the Operations of Not-for-Profit Organisations" contains provisions that would have a deeply damaging impact on those joining together to advocate for human rights in the country, in violation of their right to freedom of association and other rights.
On 29th July, the International Commission of Jurists (ICJ) urged the Thai authorities to refrain from adopting so-called additional principles to the "Draft Act on the Operation of Not-for-Profit Organisations" ('Draft NPO Act') as they are contrary to Thailand's obligations under international human rights law.
According to ICJ, the so-called additional principles include requirements for the NPOs to register; to maintain information on the purpose and objectives of the organisation's activities, directors or those who are in charge, the beneficiaries of funds, identity of donors, and information supplied by NPOs to foreign organisations; to issue detailed annual statements; to maintain records of all transactions; to be subjected to investigation on the disbursement of funds; and to effective and proportionate penalties.
The Thai authorities maintain that the adoption of these so-called additional principles is necessary to ensure Thailand's compliance with its obligations under international standards on Anti-Money Laundering and Combating the Financing of Terrorism and Proliferation of Weapons of Mass Destruction (AML/CFT).
In its submission to Thailand's Office of the Council of State, the ICJ expressed concern that the Thai government has interpreted international standards on AML/CFT in an overly broad and arbitrary manner with the specific purpose of targeting NPOs.
Sam Zarifi, CJ's Secretary-General said: "The so-called additional principles must be immediately reviewed. Should Thailand eventually enforce these so-called additional principles as presently formulated, Thailand would violate its obligations under international human rights law, including with respect to the rights to: freedom of association; freedom of assembly; freedom of expression; participation in political affairs; privacy; and an effective remedy, as well as the AML/CFT standards themselves."
Bill to outlaw torture and enforced disappearances in parliament
On 16th September 2021, the parliament unanimously approved the first reading of the Prevention and Suppression of Torture and Enforced Disappearance Bill. Consequently, 25 Committee members were appointed to review the bill before the second and third readings by the House of Representatives. Their first meeting was convened on 5th October 2021.
According to Human Rights Watch (HRW), torture and enforced disappearance have long been problems in Thailand. Most of the reported cases have not been resolved, and hardly anyone has been punished. HRW has documented numerous cases related to counterinsurgency operations in Thailand's southern border provinces, in which police and military personnel tortured ethnic Malay Muslims in custody. There are also credible reports of torture being used as a form of punishment of military conscripts, which has resulted in some deaths.
The group said that Thailand has international obligations to outlaw these heinous practices. It is a state party to the Convention against Torture and Other Cruel, Inhuman or Degrading Treatment or Punishment. Thailand has also signed, but not yet ratified, the International Convention for the Protection of All Persons from Enforced Disappearance.