Tensions in Kashmir Reach Boiling Point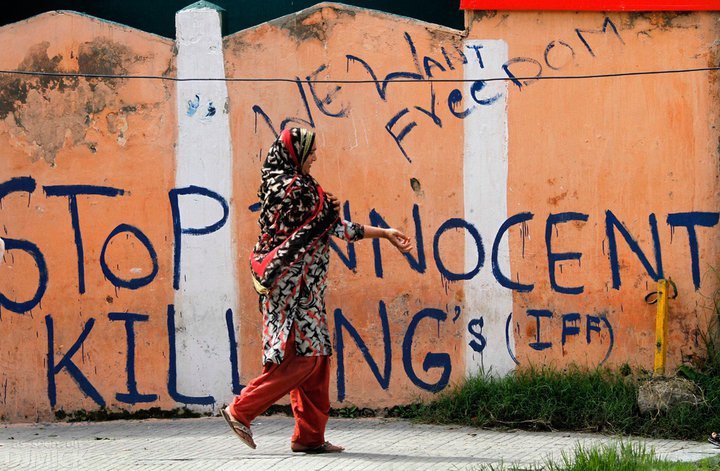 Peaceful Assembly
As previously covered on the CIVICUS Monitor, the situation in Kashmir remains extremely volatile. As the death toll reaches over 90, and with thousands of civilians injured, the conditions for civic activism in the region are closing rapidly under pressure from the authorities. While protests rage, clashes between protesters and security forces have become a regular occurrence. Indian security forces use tear gas, rubber bullets and even live ammunition with impunity to control crowds. On 8th October, the killing of 12-year-old Kashmiri, Junaid Ahmad, by Indian security placed a global spotlight on the curtailment of civic freedoms in Kashmir. The 12-year-old was critically injured by a pellet round after allegedly participating in an anti-India protest; he later died of his injuries. After crowds gathered to attend the young boy's funeral, tear gas was used by Indian security forces to disrupt the funeral procession. Ahmad's death has become emblematic of a situation where Kashmiri people live under the constant threat of violence, in a toxic environment of mistrust. 
As tensions mount over the disputed region between India and Pakistan, the people of Kashmir are increasingly caught in the crossfire of mortar shells between the two nations. The artillery exchange came after Indian authorities held Kashmiri rebels responsible for a suicide bombing on 18th September that killed 17 Indian security personnel and injured many more. Indian authorities allege that Pakistani security services were complicit in abetting the terrorists and responded by shelling the Pakistani side of the border by way of retaliation. As instability between the two nations grows, many fear that the situation could rapidly escalate; making almost impossible conditions for civil society even worse. In a recent press statement The United Nations High Commissioner for Human Rights, Zeid Ra'ad Al Hussein noted:
"The High Commissioner is seriously concerned about the human rights situation in Indian-administered Jammu and Kashmir, as well as the rising tensions between India and Pakistan.

We urge India and Pakistan to engage in a dialogue and to de-escalate the situation. The inflammatory remarks on both sides only fuel the tensions and could result in a further deterioration of the human rights situation.

We reiterate our call for unfettered and unconditional access to both Indian-administered Jammu and Kashmir and Pakistan-administered Kashmir to enable us to independently and impartially monitor the human rights situation. We stand ready to support efforts to de-escalate the situation."
In Gujurat, the momentum of protests by the Dalit community has grown further since the last update on the CIVICUS Monitor.On 1st October activists and community members threatened to block railways in a "railway roko". However, in an apparent response to the vigour of the movement, government officials agreed to talks with Dalit community leader Jignesh Mevani, in return for him calling off the planned protest. 
Violent protests have also erupted between residents of Tamil Nadu and Karnataka. The Cauvery river water sharing arrangement, as directed by the Supreme Court of India, requires that the state of Karnataka releases water to its neighbouring state. The demonstrations, which started as blockades and sit-ins, quickly reignited a decades-old resource conflict. On 12th September, protesters clashed with security forces in Bengaluru's Rajgopalnagar area after a mobs burnt any vehicles with Tamil-Nadu number plates. Over 15,000 security personnel were quickly deployed to the area, and one protester was killed after security forces opened fire on protesters.
Finally, in late August, the city of Jharkhand also witnessed mass protests against land acquisition by extractive companies. Locals mobilised to draw attention to the lack of compensation for people who had been displaced as a result of mining operations. On 29th August, security forces opened fire on the protesters killing two and leaving twenty injured. 
Expression
In a positive development, The Supreme Court of India recently warned of the increased usage of sedition laws, by observing that criticism of the government does not automatically equate to sedition. The Supreme Court directed all state authorities to come under the Kedar Nath ruling which restricts the application of law unless there is incitement to violence or intention to create public disorder.
In a separate incident, the Indian authorities placed a travel ban on prominent Kashmiri human rights activist, Khurram Pervez. He was prevented from boarding a flight bound for United Nations Human Rights Council meeting in Geneva and was subsequently detained. 
Association
In mid-September, the Supreme Court of India called for a strong regulatory regime to ensure civil society accountability. As covered in previous CIVICUS Monitor updates, India has recently taken several retrograde steps towards curtailing associational rights. This includes the government's recent proposal to extend the ambit of anti-corruption legislation in order to create a stricter environment for CSOs and their receipt of funds. The court appointed a senior advocate to examine how accountability of NGOs could be tightened. During the hearing the bench stated:
"They are getting money from all over the world… what is an NGO? Anyone can register a society and it becomes an NGO. There is no central legislation to ensure accountability… no legal brainwork done at the central level to control them. Unless some mechanism is put in place centrally, nothing can be done."