Sustained attack on civic freedoms in Myanmar with ongoing prosecutions and internet blackout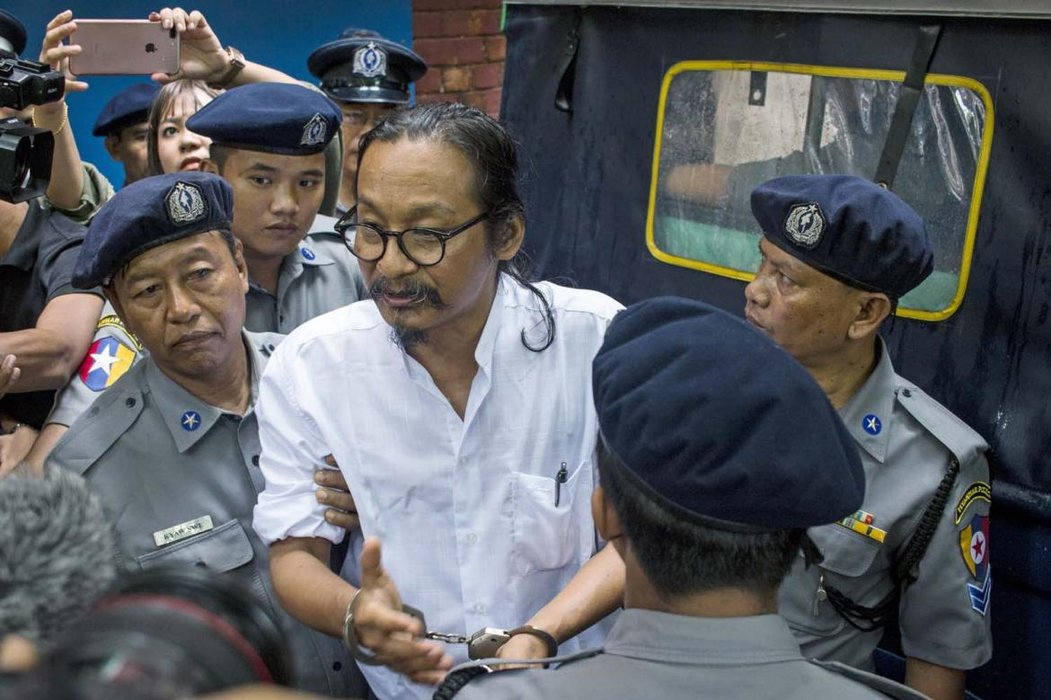 In the last few months, human rights groups have continued to document serious violations – including war crimes – by the military against civilians from all communities, including the ethnic Rohingya. Crimes against humanity are also ongoing against the estimated 600,000 Rohingya still living in country's northern Rakhine State, in the form of the systematic denial of their rights, including to equality, to a nationality, to freedom of movement, and access to adequate healthcare, education, and work opportunities.
On 16th May 2019, Twitter suspended the account of Myanmar's top military leader, Senior General Min Aung Hlaing offline. He is seen by human rights groups as the architect of a bloody ethnic cleansing campaign that drove more than 700,000 Muslim Rohingya into Bangladesh in 2017. The move came after Tun Khin, president of the Burmese Rohingya Organisation UK, raised complaints about hate speech from military accounts with Twitter executives in California.
The International Criminal Court (ICC) announced on 26th June 2019 that Prosecutor Fatou Bensouda will request that the court's judges open an investigation into crimes relating to two waves of violence in Rakhine State. Although Myanmar is not an ICC member, in 2018 the court confirmed its jurisdiction over crimes where an element occurred in Bangladesh, an ICC member since June 2010. On 4th July 2019, the ICC Prosecutor requested the Court's Judges to authorise an investigation into alleged crimes against humanity, namely deportation, other inhumane acts and persecution.
On 16th July 2019, the US State Department sanctioned four top Myanmar military officials for human rights abuses against the Rohingya population in Rakhine State. US Secretary of State Mike Pompeo said the officials were responsible "for gross human rights violations," including extrajudicial killings, during the campaign of violence beginning in August 2017.
On 5th August 2019, the UN Independent International Fact-Finding Mission on Myanmar issued a report which highlighted the vast web of businesses linked to the military and said that 'the revenues the military earns from domestic and foreign business deals substantially enhances its ability to carry out gross violations of human rights with impunity'. It called for the UN and member states to immediately impose targeted sanctions against companies run by the military.
In recent months there has been a sustained attack on civic freedoms including an internet blackout in Rakhine and Chin State while military critics, journalists and peaceful protesters continue to be arrested or  criminalised.
Expression
Internet blackout imposed by government in Rakhine and Chin State 
Myanmar cuts internet to Rakhine state amid unrest https://t.co/KN8IXtSyYB

— The Guardian (@guardian) June 25, 2019
Since 20th June 2019, the government has imposed an internet blackout in parts of conflict-ridden Rakhine and Chin states. No warning was issued, and early reports of the blackout came from a telecom operator rather than government officials. The Ministry of Transport and Communications issued an order to all mobile network providers under the Telecommunications Law 2013 to temporarily stop mobile internet services in nine townships in Rakhine and Chin states. The Ministry cited disturbances to the peace and internet services being used to coordinate illegal activities for the shutdown.
A number of international non-governmental organisations who are working in these areas have reported the continued internet shutdown is creating difficulties for them to carry out their work. WhatsApp is key for international organisations operating in Rakhine State, and working without it creates additional difficulties.
Civil society groups and the UN have criticised the move. Brad Adams, Asia director of Human Rights Watch said:
"Myanmar authorities have imposed an internet blackout in Rakhine and Chin States that is depriving aid workers and rights monitors vital communications in a time of crisis. Governments and the United Nations should be pressing Myanmar to immediately restore full internet access crucial for the population's safety."
The UN Special Rapporteur on the situation of human rights in Myanmar, Yanghee Lee said Myanmar's army may be committing gross human rights violations under cover of the mobile phone blackout. She added: "I fear for all civilians there, cut off and without the necessary means to communicate with people inside and outside the area".
Military using lawsuits to undermine free speech
The report, produced by the freedom of expression advocacy group Athan, said the military has opened a total of 24 lawsuits against 77 individuals on similar grounds. https://t.co/FWdX5XaufE

— ATHAN (@athan_info) July 3, 2019
In July 2019, human rights group Athan released a report highlighting the criminalisation of state critics for exercising their freedom of expression. According to the report, Myanmar's military has filed cases against nearly 77 individuals since April 2016, when the ruling National League for Democracy (NLD) government took office.
One third of those charged were accused of violating Article 505 (a), which prohibits the circulation of statements or reports which could cause a soldier or other member of the Myanmar military to "mutiny or otherwise disregard or fail in his duty." Other have been charged for insult and defamation under Articles 500, 505(b) and the Telecommunications Law; trespassing charges under the Law Protecting Privacy and Security of Citizens; and various charges under the Unlawful Associations Act and the Media Law.
Satire troupe charged for criticism of military
A stark reminder that freedom of expression does not exist in Myanmar. Five young satirists remain behind bars nearly a week after the release of Wa Lone and Kyaw Soe Oo. https://t.co/lmeiZ00JmM

— jeffreymstein (@nonsense_stilts) May 14, 2019
On 15th April 2019, police arrested four members of the Peacock Generation Thangyat troupe for criticising the military in a satirical thangyat performance which was live-streamed on Facebook, Thangyat is a form of slam poetry traditionally performed during Myanmar's April New Year holiday that has long been a vehicle for humorous criticism of everything from politics to social behavior. Those arrested included Zayar Lwin, Pang Ye Thu, Paing Phyo Min, and Su Yadanar Myint. They were released after being charged with violating section 66(d) of the Telecommunications Law. Later the charges for all the troupe members were changed to Section 505(a) and they were remanded in Insein prison.
Prominent filmmaker charged with defamation
Min Htin Ko Ko Gyi (photo on top), a prominent filmmaker and founder of the Human Dignity Film Institute was arrested on 12th April 2019 after a Myanmar military official accused him of defamation for a series of Facebook posts critical of the military-drafted 2008 Constitution and the military's role in politics.
He was initially accused of "online defamation" under Section 66(d) of the 2013 Telecommunication Act. Several days later, the same officer who had lodged the initial proceedings filed a second complaint under Section 505(a) of Myanmar's Penal Code, which prohibits the circulation of statements or reports which could cause a soldier or other member of the Myanmar military to "mutiny or otherwise disregard or fail in his duty." If found guilty and convicted of the 505(a) charge, Min Htin Ko Ko Gyi faces a maximum sentence of two years in prison.
Min Htin Ko Ko Gyi is being detained in Yangon's Insein prison and has been denied bail, despite battling liver cancer and undergoing a major operation earlier this year. He is currently facing trial.
Rakhine journalist in hiding 
#Myanmar: Drop Case Against #Rakhine Journalist Aung Marm Oo - https://t.co/nC0oZRqNFT

— Fortify Rights (@FortifyRights) May 21, 2019
According to the Committee for the Protection of Journalists (CPJ), Aung Marm Oo, editor-in-chief of the privately-owned Rakhine state-based news agency Development Media Group went into hiding after authorities filed a complaint on 1st May 2019 seeking his arrest under Section 17(2) of the colonial-era Unlawful Association Act, which can result in up to five years' imprisonment and fines.
Amnesty International believes the case against him is "politically-motivated and unfounded, and stems from his organisation's role in reporting on military abuses against civilians during conflict with the Arakan Army in Rakhine State".
The Unlawful Associations Act is often used by Myanmar authorities to stifle news coverage of armed conflicts. It has often been used against civilians from ethnic minorities in conflict areas. Other journalists and media workers reporting on the conflict in Rakhine State have also faced criminal charges, threats, and intimidation in connection with their work.
Journalist detained for reporting on protests
#Myanmar authorities arrested broadcast journalist Nanda for his reporting on May 15—just a week after finally releasing Reuters journalists Wa Lone and Kyaw Soe Oo from 18 months in prison. Myanmar must allow journalists to work without fear of repression. #PressFreedom pic.twitter.com/K0qVfyzG8B

— Committee to Protect Journalists (@pressfreedom) May 24, 2019
Journalist, Nanda from Channel Mandalay TV was arrested on 15th May 2019 after providing live coverage of a demonstration on social media. According to Reporters Without Borders (RSF) Nanda is accused of violence against police and soldiers, supposedly with the help of a stick, although there is no evidence to support this claim.
On the contrary, the video he was filming at the time of his arrest shows police officers beating protesters. He was held for a month before being formally charged and is facing a possible combined sentence of 17 years in prison. After falling seven places in the past two years, Myanmar is ranked 138th out of 180 countries in RSF's 2019 World Press Freedom Index.
Anti-statue activists face prosecution
Six Karenni ethnic rights activists are facing prosecution over their opposition to a statue of General Aung San in Loikaw. Five of the six turned themselves in on 21st June 2019 after being sought by police for more than a month, joining one who was already in custody.
Police charged the six under Article 10 of the Citizens Privacy and Security Law on 17 May 2019 over accusations they made against the Kayah State chief minister in relation to the installation of the statue in the state capital. They accused those involved in putting up the statue of being political criminals, traitors to the Karenni people and enemies of ethnic unity.
The six detained activists are Myo Hlaing Win, Dee De, Khun Thomas, Khu Reedu, Phyar Lay and Khu Kyu Peh Kay. The judge rejected their request to be granted bail, saying the violation they are accused of is not a bailable offense.
As previously documented, there have been mass protests in Loikaw against the installation of a statue of General Aung San, the father of Myanmar's de facto leader, Aung San Suu Kyi. Karenni ethnic rights activists say they have their own history emphasising ethnic Karenni figures, and that the statue of Gen. Aung San is a symbol of ethnic Burmese dominance. Dozens have been arrested for their involvement in the protests.
Reuters journalists released from prison
Fantastic news from Myanmar today! Wa Lone & Kyaw Soe Oo are free.

This is a huge victory for everyone who campaigned for their release.

Until Myanmar repeals the laws used against journalists & activists, others remain under permanent threat. https://t.co/CcY4G2APvA

— amnestypress (@amnestypress) May 7, 2019
On 7th May 2019, the two Reuters journalists, Wa Lone and Kyaw Soe Oo were released from prison after being granted a presidential pardon. They had served more than 500 days in prison. As he left the prison, Wa Lone vowed to continue his reporting and said he was excited to return to work. He said: "I'm really happy and excited to see my family and my colleagues. I can't wait to go to my newsroom".
As previously documented, the journalists were arrested on 12th December 2017 after being handed documents by police officers during a dinner meeting, that turned out to be secret government documents relating to Myanmar's western Rakhine state and security forces. They were then charged under the country's colonial-era Official Secrets Act. On 3rd September 2018, the two were convicted and sentenced to seven years in prison for "illegal possession of official documents". At the time of their arrest, the journalists, had been investigating the killing of ten Rohingya Muslims in Inn Din village in Rakhine during a brutal military crackdown in that state against the Rohingya minority that began in August 2017.
Peaceful Assembly
Students charged for holding commemoration protest
According to news reports, eight students have been charged for being involved in a march on 7th July 2019 in Yangon to commemorate the demolition of the Rangoon University Students' Union building by troops and the killing of dozens of young students in 1962.
The eight have been charged under the Peaceful Assembly and Procession Law for not seeking permission from the authorities. As previously documented, the 2012 Peaceful Assembly and Peaceful Procession Act has been systematically used to restrict protests. While the law requires notification to the township police 48 hours in advance of an assembly, in practice, however, the notification requirement is frequently treated by local authorities as a de facto request for permission that can be arbitrarily denied.
Protest against cement plant face excessive force and arrests
Police in #Myanmar Raid Village, Arrest Residents For Protest Against Cement Plant https://t.co/e5aVcWvIXF

— Asia-News-De (@base_thai) May 22, 2019
According to reports at least 20 people were injured on 15th May 2019 after police in central Myanmar's Mandalay region fired rubber bullets and tear gas into a crowd protesting construction of a coal-powered cement plant that is operated as part of a joint venture between a local firm and a Chinese partner. At least three people were also arrested during the protest including a journalist. Police subsequently arrested 13 other residents allegedly involved in the protest.
Residents of Kyaukse district's Patheingyi township organised the protest against the Alpha Cement Plant to demand compensation for land they say they lost when an 18-foot-wide road was built as part of the project. The project to upgrade Kyaukse's No. 33 Cement Plant from 400 tons to 5,000 tons per day of cement production capacity was granted to the Myanmar Conch Cement Co. Ltd.- a joint venture between Myanmar's Myint Investment Group and China's Anhui Conch Cement- in 2015, during the administration of former President Thein Sein. Construction began at the site in December 2017 and Myanmar Conch Cement renamed it the Alpha Cement Plant.
More than a dozen villagers have reportedly been charged with violating Myanmar's Peaceful Assembly Law since the project began, despite having obtained prior permission to hold protests. At least one protester Tun Myint Win, has died in custody.