Supreme Court battle brings people to the streets and threats to free speech continue to proliferate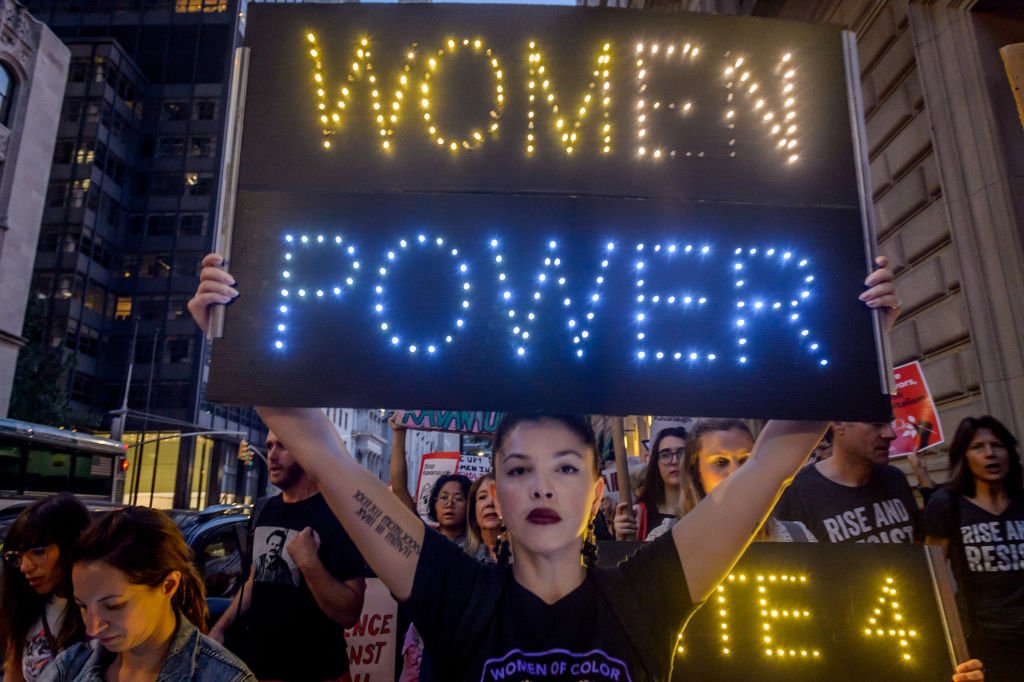 Peaceful Assembly
Women protest against Kavanaugh's nomination
On 27th September 2018, massive crowds demonstrated at the U.S. Capitol and Supreme Court to protest the president's choice to fill the vacancy on the country's highest court. Nearly 60 people were arrested for "unlawful demonstration activities" as they blocked a street near the Senate office building where Brett Kavanaugh and one of the women accusing him of a sexual assault were testifying before the Senate Judiciary Committee. Protests over Kavanaugh's nomination began when he was first named in July, but intensified in recent weeks after Christine Blasey-Ford and two other women came forward with accusations against the judge. Expressing their solidarity with the accusers, thousands of people have staged demonstrations in their hometowns, online with popular hashtags like #BelieveSurvivors and #AssaultFreeSCOTUS, and at the offices of senators who were going to decide the nominee's fate. In one high profile incident caught on video, Senator Jeff Flake was stopped in an elevator by a woman who said she was the victim of sexual assault. "Don't look away from me," she told the Senator". Look at me and tell me that it doesn't matter what happened". In early October, large protests against the nominee were held in New York City, Boston and other cities. Hundreds of Kavanaugh supporters also held multiple events in Washington and around the country to show their support for the nominee.
Labour rights related protests
On 3rd September 2018, thousands of employees of a major hotel chain staged protests in seven cities to demand better compensation and for unpaid wages. In Boston, for example, hundreds of people chanted outside of a downtown Marriot, with some joining hands and sitting in the middle of a street. In San Diego hotel workers were joined by teachers and nurses outside of a downtown Marriot hotel to request fair wages for employees, many of whom are negotiating a new contract with the company. In San Francisco, police arrested 75 hotel workers for blocking a street while protesting.
On 18th September 2018, McDonalds' employees staged protests in several cities to demand that the fast food restaurant address widespread complaints of sexual harassment and require anti-harassment training for its managers. In Chicago, hundreds of protesters rallied in front of McDonald's headquarters while a plane flew overhead with a banner saying, "McDonald's: Stop Sexual Harassment". In New Orleans, employees chanted, "Hey, McDonalds, you can't hide — we can see your nasty side". Other protests were held in Los Angeles, St. Louis, Kansas City and San Francisco. Nearly 40 percent of women in the fast-food industry report facing sexual harassment on the job.
Prisoners' strike
Prisoners in several states organised a 19-day strike in August 2018 to demand better food, living conditions and higher wages. The peaceful protest started on 21st August 2018 with many inmates conducting hunger strikes and refusing to work. It is unclear how widespread the protests were, although prisoners were reportedly striking in at least 14 states including California, Ohio and Indiana. The inmates were supported by former prisoners, family members and others who held rallies in solidarity outside of prisons in Atlanta, Los Angeles and North Carolina. Inmates reportedly used social media and word of mouth to promote the strike and raise awareness about the inhospitable condition that inmates experience.
Immigration related protests
On 15th August 2018, about 2,000 union members held a rally in Philadelphia to protest the Trump administration's immigration policy of separating children from their parents at the U.S./Mexico border. Organised by UNITE HERE and the International Union of Painters and Allied Trades, the event at Penn's Landing featured several speakers and included a march to the U.S. Custom House where several federal agencies are housed.
Protests against local police departments cooperating with Immigration and Customs Enforcement (ICE) took place in multiple cities. On 22nd August 2018, at least 50 people in Phoenix protested against a local sheriff that works with ICE to target undocumented immigrants. Four activists who chained themselves to each other outside of a jail were arrested in an act of civil disobedience. In Flagstaff, three women were arrested for blocking a police station parking lot. "We demand that the undocumented community of Flagstaff be decriminalized," one of the women arrested said. "And most importantly we demand that Sheriff Driscoll stop choosing to cooperate with ICE". In Philadelphia, about 50 Jewish activists threw ice cubes at an ICE building in a symbolic gesture of protest. "ICE, you need to melt what you've been doing," said Rabbi Linda Holtzman of Tikkun Olam Chavurah, which was among the Jewish groups that organised the event.
Other protests
On 16th August 2018, free speech advocates unveiled a statue of a goat-like figure associated with satanism to protest a religious monument on Arkansas' capitol grounds. Described as a "Rally for the First Amendment", the organisers said the event was to protest the state favoring one faith over others by displaying the ten commandments but rejecting the Satanic Temple's Baphomet statue. In a press release a Satanic Temple's spokesperson said, "Freedom of Religion means that the government must not be allowed to endorse one religion over another or inhibit any religious voices from access to public forums in favor of another". About two dozen people were on hand to protest the Satanic Temple's rally, singing songs and holding signs with biblical references on them.
On 8th September 2018, eight people were arrested after opposing groups clashed near the former site of a confederate statue in Chapel Hill, North Carolina. According to media reports, about 100 University of North Carolina students were holding a "Nazis Suck Potluck and Food Drive" at the site when it was interrupted by a smaller group of people holding confederate flags. Police intervened and ordered everyone to leave the site, but not before arresting eight people for failing to disperse and resisting arrest. The statute known as "Silent Sam" was knocked over on 20th August by protesters who said it symbolized hate.
Restrictive legislation
The National Park Service (NPS) is considering a proposal that would change the rules for holding a protest on federal property in and around Washington, DC that may limit citizens from engaging in First Amendment protected activities. It is unclear whether some of the changes, like charging a fee to hold an event on federal property, is constitutional. NPS says it is proposing the changes to respond to the increase in demand for protest around the capital in recent years. After a public comment period ends in October, the agency will decide whether to adopt the proposals. The proposed changes include:
Charging a fee for groups wanting to demonstrate on the National Mall
Requiring permits for any structure larger than a lectern, even if the event itself does not require a permit.
Removing several federal parks in the region from the list of available spaces to protest
Increase the area where people are not permitted to hold protest signs and placards.
"We're overcoming our fear and our pain and our rage to give this country an opportunity to be different. That's what this nomination is about." - @AnaMariaArchil2 #CancelKavanaugh #BelieveSurvivorshttps://t.co/yPYseXXn9B

— Women's March (@womensmarch) October 5, 2018
CBS News producer @EenaRuffini, Daily Beast reporter @KELLYWEILL and other journalists were kettled by police while covering protests in Washington, D.C. on August 12. Ruffini showed officers her press badge & was shoved up against a police car. https://t.co/hakvMB5b3i pic.twitter.com/ypFyUT8Tqu

— U.S. Press Freedom Tracker (@uspresstracker) August 16, 2018
Expression
Attacks against the media and journalists 
Body Camera video showing a journalist being handcuffed and detained on 5th July 2018 for attempting to photograph police was made public in September. Susan Greene, an editor and reporter with The Colorado Independent, which often reports on police brutality, says Denver police approach her as she was taking photos of them standing near a naked man on the sidewalk. Greene says police told her to stop taking photos and, when she refused, handcuffed her and told her to "act like a lady." She was taken to a police vehicle but released without charge.
On 12th August 2018, freelance photojournalist Shay Horse says he was struck in the face by a police officer while covering the Unite the Right II protest in Washington, D.C. Horse says police became aggressive toward the press when they attempted to photograph one of the event's primary organisers, Jason Kessler, as police escorted him to the White House. "When we got there, police started shoving everyone because they thought we were too close," Horse told the Freedom of the Press Foundation. "They shoved us up again the side and hood of a van. They kept screaming, 'move,' but I kept thinking, 'where?'" Horse said he was not bruised by the officer's strike but that his jaw hurt for several days. "I was trying to take photos of Kessler," he said. "Being shoved and hit makes that a little hard".
During the same protest, a video shows police surrounding and shoving protesters and journalists. Despite showing her press credentials, CBS' Christina Ruffini is seen in the video being pushed by police officers as they forcefully "kettled" people into a confined area that offered no way out. "Guys, there's a car here," Ruffini can be heard yelling in the video. "Stop pushing! Stop pushing, you're hurting people!".
On 2nd October 2018, freelance reporter Zachary Siegel was held in criminal contempt of court and arrested while covering a high-profile trial after the judge said he violated an order prohibiting anyone from recording the proceedings. According to Siegel, he had been in the courtroom to document a police psychologist who was testifying in the case of former Chicago Police Officer Jason Van Dyke, who is charged with first-degree murder for shooting Laquan McDonald in 2014. When the judge spotted Siegel recording the psychologist's testimony, he stopped the trial and questioned Siegel about his actions. Siegel admitted he was recording the testimony when questioned by the judge, and was subsequently removed from the courtroom by a bailiff. He was released later that day but is due to appear at a court hearing on 31st October.
Media outlets statement defending freedom of expression
On 16th August 2018, nearly 350 news organisations published editorials defending the principle of a free press and condemning President Trump's attacks on the media. "A central pillar of President Trump's politics is a sustained assault on the free press," said the Boston Globe. Responding to the president's description of journalists as "enemies of the people", news outlets, including ones that had endorsed Trump during the 2016 presidential election, described the president's actions as a risk to democracy. On the same day, the Senate passed a resolution affirming the press is not "the enemy of the people" and cementing the "indispensable role of the free press".
Journalists' surveillance 
According to documents made available by the Freedom of the Press Foundation, the government has been using the Foreign Intelligence Surveillance Act (FISA) to secretly get permission to spy on foreign journalists working in the U.S. The documents were made public as part of a lawsuit brought by two press freedom groups against the Trump administration that sought more transparency about the government's rules for how the administration is surveilling journalists. Press advocates are calling for an investigation, saying, "The government's failure to share more information about them damages journalists' ability to protect their sources, and jeopardizes the news-gathering process".
Restrictive policies and legislation 
According to media reports, the Preventing Emerging Threats Act of 2018 would give the Department of Homeland Security and the Justice Department the power to track and disable any drone they deem to be a threat without a warrant or due process. According to civil liberty advocates, the bill is worded so broadly that it will allow the government to interfere with drones being used by media organisations, humanitarians, and activists for legitimate purposes. "The counter-drone proposals could severely inhibit journalists' ability to safely gather information and could have a serious impact on journalists' ability to obtain critical information, particularly in times of crisis," said Margaux Ewen, Director of Reporters Without Borders' North America bureau.
In a move to chill speech critical of Israel, the Trump administration says it will reopen a previously dismissed complaint of anti-Jewish discrimination and that the Office for Civil Rights would begin using a more expansive definition of anti-Semitism that conflates criticism of Israel with anti-Jewish bigotry. The new definition has been hailed by some Jewish organisations, but civil liberties organisations, Palestinian rights groups and some Jewish groups say it would lead to a suppression of free speech, in particular criticism of Israel through the Boycott, Divestment, Sanctions movement. The original case involved a group who held an event at Rutgers University in 2011 where they charged Jewish attendees for admission but let others enter for free.
Positive development 
On 30th August 2018, police arrested a California man accused of threatening the employees of The Boston Globe. Referring to the newspaper as "the enemy of the people", Robert Chain is accused of calling the newspaper multiple times and threatening to shoot employees in the head. Prosecutors said the threats were in retaliation for the newspaper's recent coordination of an editorial campaign to address the political attacks on the media as explained above. 
New documents obtained by @knightcolumbia and @FreedomofPress reveal DOJ's secret rules for targeting journalists under FISA https://t.co/yVG6YrAJTy

— Ramya Krishnan (@2ramyakrishnan) September 17, 2018
Association
Unions representing teachers, healthcare workers and other public employees in Missouri filed a lawsuit against the state's new so-called "Paycheck Protection" law saying it undermines their freedoms of speech and association. Passed earlier this year, the law bans union members from picketing or striking and requires unions to get certified every three years to represent workers. The law says that public employees who strike "shall be subject to immediate termination of employment". The lawsuit seeks a ruling that the law violates the state's constitution by denying the right of employees "to organize and to bargain collectively".