Persistent suppression of critics in Bangladesh following elections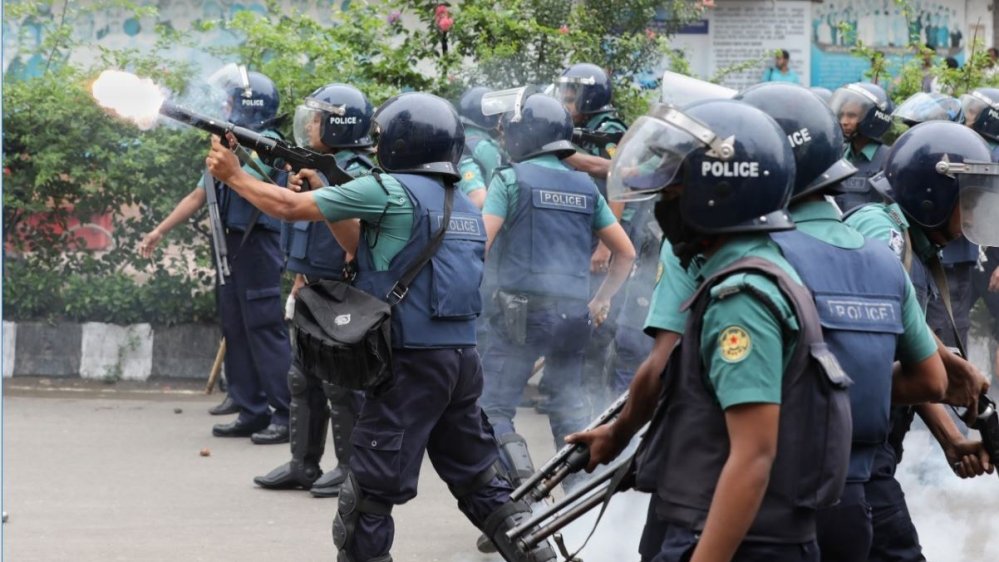 Elections were held in Bangladesh on 30th December 2018 with the incumbent Prime Minister Sheikh Hasina's Awami League (AL) party winning 288 seats in the 350-member parliament. The main opposition alliance dominated by the Bangladesh Nationalist Party (BNP) secured just six.
As previously documented, ahead of the election, Human Rights Watch (HRW) reported repeated instances of arbitrary arrest and detention of political opposition figures, and acts of violence and intimidation by members of the ruling party's student and youth wings. 54 news websites were also blocked with the declared aim of preventing the spread of "rumours" in the run-up to the general elections. Reporters Without Borders (RSF) also reported physical attacks against journalists and violations of the free flow of information in the final week of the election campaign.
During the elections, opposition parties, journalists, and voters alleged serious irregularities including ballot stuffing, voters being denied access to polling places, ruling party activists occupying polling places and casting ballots in the place of voters, electoral and allegations of intrusions into voter privacy which took place in an atmosphere of intimidation.
The UN expressed deep concern about the violent crackdown against members of Bangladesh's political opposition before, during and after the parliamentary elections. It said that there were credible reports of killings, numerous injuries and wide-scale intimidation, including the arbitrary arrests, harassment and disappearances of government opponents and minorities.
The UN said that reports also indicate that repressive measures were carried out by activists affiliated to the ruling party, including law enforcement officers. Those targeted included media professionals, human rights defenders, the political opposition and government critics who were restrained from speaking out. The UN urged the authorities to carry out a prompt, independent investigation into all alleged acts of violence and other human rights violations related to the elections
The clampdown on critical dissent has become a pattern in Bangladesh. In the last few months, the authorities have censored or banned news websites and blogs, while using defamation laws such as the Digital Security Act to criminalise journalists and government critics.
Expression
Authorities ban critical blog site
In February 2019, the country's telecommunications regulator, Bangladesh Telecommunications Regulatory Commission (BTRC) banned  thousands of websites and social media apps allegedly linked to pornography, gambling and anti-national sentiments. According to reports 18,000 pornographic and betting sites as well as popular social media apps were blocked from the 18th February 2019. Police have also summoned several social media celebrities and ordered them to immediately remove "vulgar and objectionable" content from their pages.
The crackdown also involved a popular community blog site, somewhereinblog.net. The blog has been blocked since 19th February 2019 sparking uproar among Bangladesh's blogging community and civil society groups. Set up in 2005, somewhereinblog.net is Bangladesh's first and most popular community Bengali blogging site with more than 213,000 registered bloggers at home and abroad. While the platform has been blocked for allegedly displaying pornographic content, the post and telecommunications minister also blamed the site for spreading atheism in Bangladesh.
As a forum for independent ideas, the blog has faced government restrictions in the past. Bloggers emerged as a strong force against radicalism in Muslim-majority Bangladesh, and more than a dozen bloggers have been killed by extremists over the past six years. A large number of them have fled the country to stay safe. Intimidation is also widely used to silence liberal activists.
Baki Billah, a prominent blogger and social activist said:
"The government hates this blog because people can freely express their grievances against a lack of democracy and rule of law, corruption and social malpractices."
33 prominent citizens including writers and university professors issued a statement asking the government to unblock the site. Amid the backlash, the government partially unblocked the site on 26th February 2019.
Censorship of news websites
#Bangladesh: As of today, @AJEnglish remains blocked in the whole Bangladeshi territory. RSF calls on the authorities to unblock access to the website, and reiterates its call to unblock @TheJoban. #JournalismIsNotACrime @saleemsamad @DhakaTribune https://t.co/j2q9PSX1NF

— RSF_Asia-Pacific (@RSF_AsiaPacific) April 3, 2019
On 1st April 2019, Reporters Without Borders (RSF) reported that the Bangladeshi authorities had blocked TheJoban, a Bangladeshi news website since 21st March 2019, after reporting allegations that the prime minister's security adviser was involved in the disappearance of three men.
The news site obtained the details for its report from a story published the previous day on Al Jazeera's English website, access to which was entirely blocked within Bangladesh. According to RSF, TheJoban sent a request to the Bangladesh Telecommunication Regulatory Commission (BTRC) on 23rd March 2019 asking to be unblocked but has yet to receive a reply.
Daniel Bastard, the head of RSF's Asia-Pacific desk said:
"The blocking is endangering an independent media outlet that helps to keep Bangladeshi democracy alive and is symptomatic of an alarming trend in Prime Minister Sheikh Hasina's government, which is increasingly unable to tolerate journalists who do their duty by investigating the activities of its members."
FIFA official charged with defamation for criticism of prime minister
Arrest of #Bangladesh FIFA Member Exposes Free Speech Crackdown. @hrw https://t.co/OsTYi6aeLz

— meenakshi ganguly (@mg2411) March 19, 2019
On 18th March 2019, Amnesty International reported that Mahfuza Akhter Kiron, who is also chairperson of the women's wing of the Bangladesh Football Federation, was arrested from her home in Dhaka's Dhanmodi neighbourhood on 16th March 2019. She is facing defamation charges for accusing Prime Minister Sheikh Hasina of favouring cricket over football. On 19th March 2019, the court granted her bail until 2nd April 2019, based on medical grounds.
Saad Hammadi South Asia Campaigner at Amnesty International said:
"Championing football is not a crime. Mahfuza Akhter Kiron was merely exercising her right to freedom of expression by stating that the Prime Minister favoured cricket over football. If the implications of a defamation case were not so serious, it would be laughable. Mahfuza Akther Kiron must be released immediately and unconditionally."
Court suspends case against outspoken photojournalist
Good news that ridiculous, rights violating case against #Bangladesh photographer Shahidul Alam has been suspended by the court. Attorney General should leave this be, drop plans to appeal, & save himself trouble of defending indefensible charges https://t.co/F13gjaFT4j @hrw pic.twitter.com/YUM0HH0uhR

— Phil Robertson (@Reaproy) March 15, 2019
On 14th March 2019, a Bangladesh court suspended the investigation into activist and photojournalist Shahidul Alam. The attorney general said the government would appeal the decision.
As previously documented by the CIVICUS Monitor, 63-year-old, Shahidul Alam, was detained on 5th August 2018, hours after giving an interview to Al-Jazeera English on student protests in Dhaka. His arrest triggered international protests. He was charged a day later under Section 57 of the Information Communication and Technology (ICT) Act for making "false" and "provocative" statements. On 20th November 2018, Bangladesh authorities released him on bail. He had spent 107 days in jail.
Since 2013, Bangladesh's ICT Act has restricted freedom of expression and Section 57 of the law has been the provision most frequently used to bring charges against critics, activists and other dissenting voices. Scores of journalists have been arbitrarily arrested under Section 57 for their reporting. In September 2018, it was replaced by the Digital Security Act. The new law incorporates Section 57 of the ICT Act and contains other measures that are overly broad and vague, and that impose disproportionate sentences and lengthy prison terms for offenders.
Journalists charged under the Digital Security Act
There have been continued reports of journalists detained and charged under the draconian Digital Security Act. In January 2019, Hedayet Hossain Mollah, local correspondent of the Dhaka Tribune, was arrested in Khulna for publishing "false" information on the number of votes cast during the elections. The other accused is Rashidul Islam, staff reporter of the daily Manab Zamin.
In February 2019, five journalists were charged after a report was filed against them under the Digital Security Act after they published a report about allegations of corruption linked to Nawabganj police officer Mostafa Kamal. Those accused include Abu Zafar of the daily Jugantor, Nawabganj correspondent Azharul Islam, Ashulia correspondent Mehedi Hasan Mithu, Dhamrai correspondent Shamim Khan and Gopalganj correspondent SM Humayun Kabir.
Political activist arrested for "spreading anti-state propaganda"
Dewan Mahmuda Akhter Lita, 26, a publicity secretary of opposition #BNP, is the latest victim of #EnforcedDisappearance in #Bangladesh. She was reportedly abducted by RAB on Monday. RAB hasn't disclosed that she is in their custody. Many are worried.@hrw, @Reaproy, @UNHumanRights pic.twitter.com/ItKyUCFvWn

— Pinaki Bhattacharya (@PinakiTweetsBD) January 22, 2019
In January 2019, the notorious Rapid Action Battalion or RAB, an elite anti-crime and anti-terrorism unit of the police, arrested political activist, Dewan Mahmuda Akhter Lita, in Chattogram for "spreading anti-state propaganda" on social media.
Lita, is the publication secretary of the opposition Bangladesh Nationalist Party, women's wing in the port city. The police claimed that they "found fake photos of government high-ups and fabricated information" on her mobile phone. A case was filed under the draconian Digital Security Act. She was still in detention at the time of writing.
Peaceful assembly
Thousands of garment workers fired for protests
Thousands of #Bangladesh garment workers have been fired for demanding better wages. @CIVICUSalliance calls for the workers to be reinstated immediately and for their civic freedoms to be respected and protected https://t.co/I7HBSWIaJJ #WeStandWithGarmentWorkers pic.twitter.com/Q91O2nnIgr

— CIVICUS (@CIVICUSalliance) January 31, 2019
In January 2019, almost 5,000 workers were fired after they walked out in protest and held demonstrations demanding decent wages. During the protests, Bangladeshi police used excessive force including firing rubber bullets and tear gas, which left one worker dead and at least a hundred others injured. There were reports of widespread arrests.
In an attempt to contain widespread anger over police violence as well as calls for further protests, Prime Minister Sheikh Hasina appointed a tri-partite committee consisting of Bangladesh Garment Manufacturing and Exporters Association (BGMEA) representatives, trade union leaders and government ministers, address calls for improved working conditions. On 13th January 2019 they returned to work under threat of lockouts and further police repression. Although the tri-partite committee agreed that no action would be taken against the workers, many learned they were sacked after arriving at work to see notices bearing their names and images attached to factory gates.
Condemning the reported dismissals by factory bosses as disturbing, CIVICUS called for the sacked workers to be reinstated immediately and for the charges against those arrested to be dropped.
Bangladesh is home to some 4,500 clothing factories employing 4.1 million workers, who have been fighting for a 16,000 taka (USD 200) monthly minimum wage since 2016. Many have suffered unfair dismissals, brutal police violence and fabricated criminal cases for their involvement in protests and strikes. In most cases, there has been a lack of accountability.
Event with Indian activist cancelled twice
Bangladesh: Arundhati Roy's event with Shahidul Alam goes ahead after two cancellations:https://t.co/T2TWVOBPQS pic.twitter.com/sKAHVvFj6K

— PEN International (@pen_int) March 5, 2019
In March 2019, authorities twice cancelled permission for Booker-prize winning writer, Arundhati Roy to hold a talk with photojournalist Shahidul Alam (see above).
Roy was to speak at one of South Asia's largest art festivals, the Chobi Mela on 5th March 2019, which has been held for a decade. Chobi Mela's organisers had sought and obtained permission for the talk, but on 4th March 2019 authorities in Dhaka withdrew permission from the first venue, the Krishibid Institute Auditorium, due to "unavoidable circumstances".
The organisers managed to get another venue - the Midas Centre - at short notice, but the authorities intervened again, and permission was also withdrawn. However, after pressure from civil society, the authorities eventually agreed to allow the talk to take place.
Civil society activists issued a statement condemning the "cowardly and unjustifiable withdrawal of permission" that was earlier granted. The signatories said they "believe that this undemocratic and arbitrary decision of withdrawal is a clear example of the shrinking space for freedom of speech, a key constitutional commitment. They further added:
"We are disturbed as the withdrawal of the permission by the police in the historically important month of independence of Bangladesh without giving any particular reason and on a flimsy pretext of 'unavoidable circumstances' is absolutely unacceptable. It demonstrates a gross abuse of power and cowardly intolerance of free speech."