Support for Belarus; LGBTI rights under attack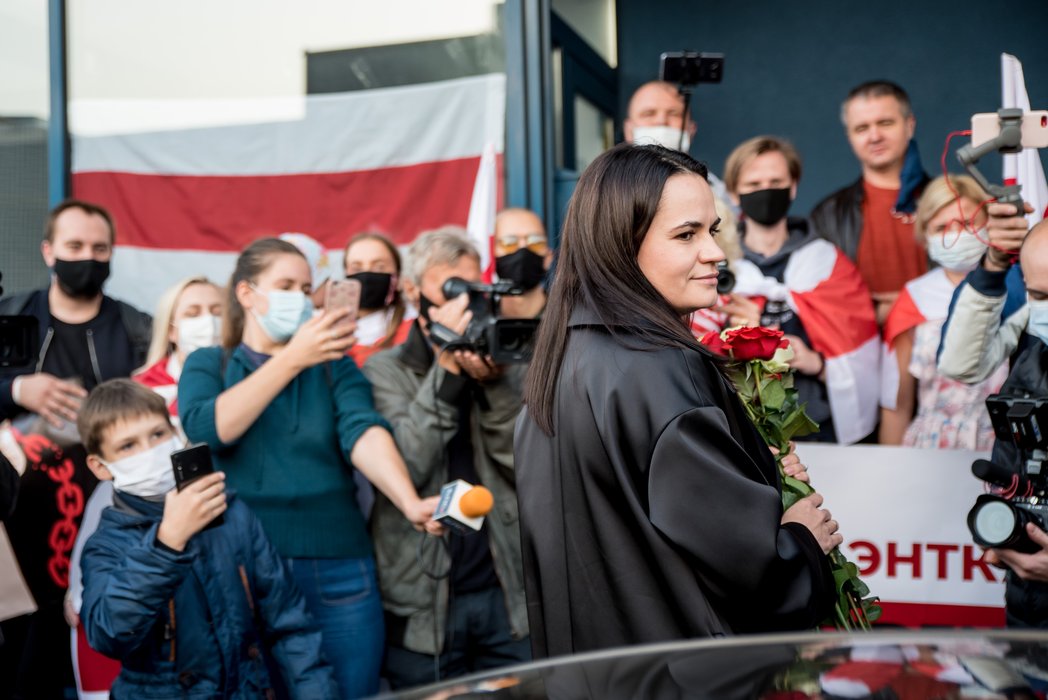 Background
On 27th January 2021, Lithuania's government extended its lockdown until 28th February 2021. According to the Ministry of Health, despite a lower incidence rate of reported COVID-19 cases per 100,000 population compared to December 2020, lifting the current restrictions would be a premature decision since it could result in a significant increase in the spread of the virus. Lithuania has been under lockdown since 7th November 2020.
Association
The impact of the COVID-19 pandemic has been particularly harsh on hospitals, nursing homes and other healthcare facilities. With frontline health-care workers worn out after almost a year since the first COVID-19 case was reported in the country, staff-shortages due to COVID-19 infections or mandatory self-isolation only increased the pressure on this group of professionals.
With the purpose of helping one of the sectors most affected by the pandemic, and facilitating the coordination between those who need help and those who can help, the National Coordinating Centre for Volunteers was recently established. As of 1st February 2021, more than 7,200 entities have requested the assistance of the volunteers, and more than 7,600 volunteers have responded to such calls. Due to this initiative, volunteers all over Lithuania have been assisting hospitals, nursing homes and health-care facilities, by doing a wide range of tasks such as taking care of patients, performing household chores or disinfecting equipment.
Inga Aksamitauskaitė, International Relations Communication Specialist at the Non-Governmental Organisations' Information and Support Centre, considers "the rise of volunteering activities and in general the boost of civil society initiatives" as a "positive trend" currently taking place in Lithuania. The important role of volunteers and civil society organisations amid the pandemic has also been recognised by several political leaders, namely Gitanas Nausėda and Ingrida Šimonytė, President and Prime Minister of Lithuania, respectively.
Support for Belarus
Lithuanian Non-Governmental Organisations' Information and Support Centre -- whose mission is to "unite the country's non-governmental organisations, represent their interests and strengthen the NGO sector at all levels" -- has been actively supporting Belarus citizens currently living in Lithuania to establish NGOs and other similar entities that facilitate civic engagement. It is worth mentioning that Belarus has been going through a political crisis since President Alexander Lukashenko was re-elected in August 2020. As previously reported on the CIVICUS Monitor, the presidential elections in Belarus were severely criticised for their electoral irregularities and lack of transparency. Lithuania's government has been closely following developments in the neighboring country and back in August 2020 President Nausėda had already expressed support for Belarusian civil society and for the establishment of organisations committed to democracy and human rights within the country:
"We have been actively supporting Belarusian civil society for some time now, so it is no coincidence that Vilnius has become home to many human rights organisations. We will always be open to those who fight for freedom, democracy and human rights".
Lithuania has also been granting political asylum, scholarship and medical assistance to Belarus citizens, and has been home to Svetlana Tikhanovskaya -- Lukashenko's main opposition -- ever since she fled Belarus in August 2020 due to safety concerns.
Law on lobbying activities passed
On 1st January 2021, the new amendments to the Law on Lobbying Activities entered into force. As reported on the CIVICUS Monitor in 2019, concerns were raised over the draft amendments to this law that would classify all NGOs involved in consultations with the government, policy-making, or in direct contact with politicians or government representatives as "lobbyist organisations". Additionally, NGOs would have the extra administrative burden of providing weekly reports of those meetings. Inga Aksamitauskaitė told the CIVICUS Monitor that the amendment process was particularly long "because it was difficult to find the regulation appropriate for all stakeholders", however, "advocacy activities by NGOs were successful and NGOs won't be automatically treated as lobbyist organisations". NGOs that are implementing advocacy activities now have to register in the new Transparency Register and will have to provide yearly reports.
Expression
Attacks against the LGBTI community
In December 2020, an outdoor poster picturing a same-sex couple was vandalised in Vilnius with what appeared to be red paint. The poster in question was part of an exhibition named "Why is it hard to love?" at the modern art MO museum. Following the incident, the author of the poster, Ugnius Gelguda, criticised people's inability to comprehend and accept "different ways of being together".
On 6th January 2021, a video in which two men step on and burn the LGBTI rainbow flag was posted and spread on Facebook. In the video's description, the authors urged people to defend the "traditional values" of the family and used the word "ideology" to indirectly refer to the LGBTI community. This hate crime was strongly condemned by LGL -- a Lithuanian non-governmental organisation focused on LGBTI rights:
"LGL expresses its deep concern and strongly condemns such hate crime incidents and their perpetrators. LGL hopes that the Lithuanian Police will investigate and prosecute the perpetrators of this crime so that similar incidents could be prevented in the future."
On 14th January 2021, amendments to the controversial law on the Protection of Minors against the Detrimental Effect of Public Information were adopted by the Lithuanian Parliament. As previously reported on the CIVICUS Monitor, ever since its adoption in 2002, the law on the Protection of Minors has been criticised over its discriminatory and biased provisions against the LGBTI community. Even though certain amendments have been made in response to the criticisms, article 4(2)(16) continues to state that public information "which despises family values, promotes a different concept of marriage and family formation than that established in the Constitution of the Republic of Lithuania and the Civil Code of the Republic of Lithuania" is considered to negatively impact on the development of minors. LGL criticised Lithuania's Parliament for failing to address the provision in question.