Repression and arbitrary detentions during protests continue in Honduras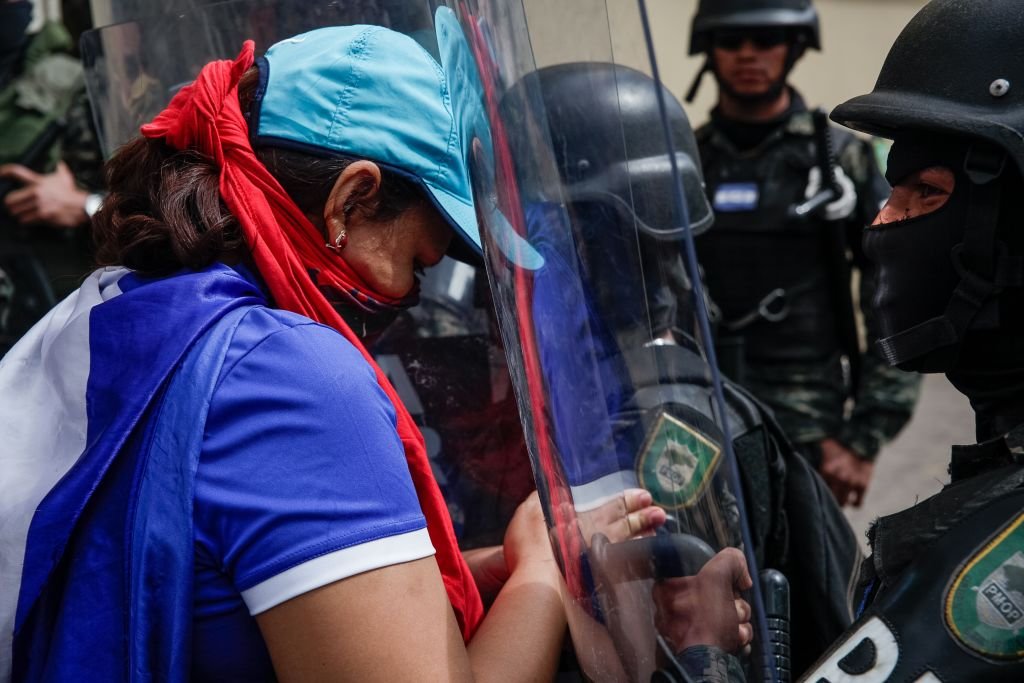 Association
On 5th July 2018, the Centro de Prevencion, Tratamiento y Rehabilitacion de las Victimas de Tortura (Center for the Prevention, Treatment and Rehabilitation of Victims of Torture, CPTRT) published a report stating that the military was responsible for 81 percent of the cases of torture reported in 2017. The report highlighted some cases where protesters were detained and tortured in the context of the post-electoral crisis. In relation to this, on 1st June, the prosecution office decided to dismiss the case against three police officers who were accused of committing torture against a group of HRDs and students, who were documenting an eviction process in the National University of Honduras in September 2017. The Office of the United Nations High Commissioner for Human Rights issued a statement regretting the persistent impunity for attacks against human rights defenders. 
Jorge Jiménez, a human rights defender working with the youth organisation JOPRODEH, expressed his concern over information he received in July 2018 stating that the police commissioner Lesby Castro is preparing a legal procedure to prosecute him. Jiménez explained that this came after he reported that Commissioner Castro is persuading police officers to halt the protection they are providing to HRDs. No official communication has been received by the defender at the time of writing. 
The Inter-American Commission on Human Rights began an official visit to Honduras on 30th July in order to analyse human rights violations that occurred during the post-electoral crisis.
Hoy, 3 de junio el pueblo Lenca de Reitoca planifico una acción de protesta, aproximadamente a las 7:30 am el alcalde de Reitoca Marlon Osorto llevó personas con machetes y pistolas para atacar a miembros del Comité de Protección del Río Reitoca. pic.twitter.com/b7aMQlUbua

— RedefensorasHonduras (@redefensorashn) June 3, 2018
Peaceful Assembly
On 3rd June 2018, activists working with the Comité de Protección del Río Reitoca reported that the city Mayor, along with armed men, threatened them during a peaceful demonstration opposing a hydroelectric project, owned by the company Progelsa, as they claimed their community was not properly consulted. 
In a separate incident, police officers arrested 13 truck drivers that held a protest on 12th June in the area of Amarateca. The officers accused the demonstrators of obstructing transit, while the drivers accused the officers of using excessive force while they calmly stood on the side of the road. The 13 demonstrators were released soon after their arrest and one of them had to be taken to the hospital after fainting. The demonstrators were asking for a revision of the toll prices and a reduction of fuel prices. 
In addition, a nationwide transportation strike took place in Honduras between the 19th and 23rd July. Representatives of the sector are demanding a decrease in gas and toll prices. During the nationwide protest, reports of police using tear gas to disperse the protest were commonly reported during the three days. In the county's capital alone, 15 arrests were reported.
Expression
On 5th June the National Assembly withdrew Article 335-B from the Criminal Code, considering it a violation to freedom of expression. This provision had previously been declared unconstitutional by the Prosecutor's Office for the Protection of the Constitution in February 2018.
Jairo López, a journalist that has received precautionary measures ordered by the Mechanism for the Protection of Journalists, reported on 4th July that his  personal security had been removed. He called attention on this situation to police Commissioner Lesby Castro, responsible for implementing the precautionary measures, but he has yet to receive a response. Since his security was removed, López says he is being subjected to surveillance.
Several cases of attacks against journalists were reported while documenting police operations:
- Fabio Hernan Vallecillo was arrested on 8th June when he was reporting on a police operation in several nightclubs, where several people without their national ID were arrested. A police officer demanded that he turn the camera off and after he refused, he was arrested for 24 hours.
- Javier Rodriguez was detained by police officers on 30th June while they were arresting his brother. He saw his brother has been injured and asked the officers what happened. The officers demanded he turn off the camera and when Rodriguez refused to do so, he was arrested. Rodriguez was released five hours later.
-During the nationwide transportation strike, reported in the peaceful assembly section, two journalists were physically and verbally  attacked by demonstrators who accused the journalists of working for the government of Juan Orlando Hernandez. In addition, during the same protest, cameraman Engel Padilla was arrested and accused of vandalism. His equipment was also destroyed.
Honduras is currently on the Monitor's Watch List of countries where there is an urgent, immediate and developing threat to civic space.
#Alerta | Agreden y dañan equipo del camarografo Engel Padilla, quien labora para Canal 11, mientras filmaba una represion a una protesta en la Colonia San Miguel, de Tegucigalpa. Extraoficialmente se maneja su detención en la posta policial de la colonia en mención. pic.twitter.com/K8XVrMXi01

— Conexihon.hn (@Conexihon) July 24, 2018