Sri Lankan President continues crackdown on activists and protesters, including use of anti-terror law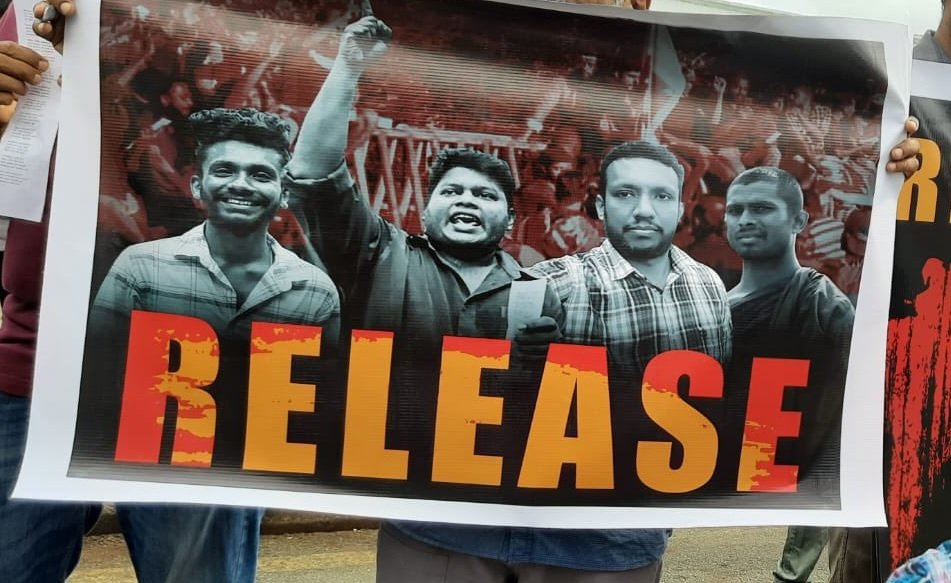 Since March 2022, amid its worst economic crisis in decades, there have been mass anti-government protests across Sri Lanka. The protesters blamed former president Rajapaksa and his powerful family for years of mismanagement and corruption that have bankrupted the nation and led to unprecedented shortages of essential imports like fuel, medicine and cooking gas.
As previously documented, the authorities responded to protests with brutal force, including using water cannons, tear gas and rubber bullets. Hundreds were arbitrarily arrested and scores ill-treated. Activists and journalists were also targeted. The authorities have also used state of emergency regulations to curtail protests. The violations against protesters are part of a broader trend of attacks on civic space under the Rajapaksa administration and impunity for past crimes.
In June 2022, Sri Lanka was added by the CIVICUS Monitor to a watchlist of countries that have seen a rapid decline in civic freedoms.
On 13th July 2022, Rajapaksa fled Sri Lanka to Singapore via the Maldives on a military jet and appointed Prime Minister Ranil Wickremesinghe – a close ally of the Rajapaksa family - as acting president. Wickremesinghe then declared a state of emergency and told the military to restore order as protesters stormed his office and demanded that he also resign.
On 20th July 2022, Wickremesinghe was elected as Sri Lanka's new President.. He defeated his main rival for the job, Dullus Alahapperuma, with 134 votes to 82 in a parliamentary vote. He is due to serve the rest of the presidential term until November 2024.
The new government has been negotiating with foreign creditors to restructure debts which Sri Lanka defaulted in May 2022 and with the International Monetary Fund (IMF) for a bailout.
Over the last month, sweeping emergency powers were once again imposed to restrict protests and clampdown on protesters. Security forces used excessive force to forcibly remove parts of a rolling peaceful protest site in front of the Presidential Secretariat in Colombo. Protesters have been harassed, arrested and detained. Three student activists have been detained under the draconian Prevention of Terrorism Act.
Peaceful Assembly
Emergency regulation provides sweeping powers
On 17th July 2022, a proclamation of emergency was brought into force by the then-acting President of Sri Lanka. The following day, the government issued a notification under the Public Security Ordinance for the Emergency (Miscellaneous Provisions and Powers) Regulations, 2022.
According to Amnesty International, "the emergency regulations give sweeping powers to the police and the armed forces to search and make arrests of 'suspects' without due process safeguards. It levies hefty penalties, including life imprisonment for ordinary penal offences like causing 'mischief'. Detainees can be kept in custody for up to seventy-two hours without being produced before a Magistrate and guaranteed access to lawyers. This prolonged period of custody without timely judicial oversight or the ability to challenge their detention heightens the risk for detainees to be subjected to torture or other ill-treatment."
Thyagi Ruwanpathirana, Amnesty International's South Asia Regional Researcher, said: "The emergency regulations brought into operation in the name of public security should not become a pretext for more human rights violations."
On 20th July 2022, upon the request of law enforcement authorities, a court in Colombo issued an order prohibiting people from assembling in certain areas of what has been a peaceful protest site since April 2022.
UN human rights experts on 8th August condemned the "extensive, prolonged and repeated use of state of emergency measures" since April 2022 by Sri Lankan authorities to crackdown on peaceful protesters and prevent them from voicing their grievances amidst an economic collapse in the country.
"We have raised our concerns to the Government on several occasions over the misuse of emergency measures, but to no avail. We condemn the recent and continued abuse of such measures to infringe on the legitimate exercise of the rights to freedom of peaceful assembly and expression," the experts said.
The state of emergency lapsed on 18th August 2022, and President Wickremesinghe said he would not extend it as the situation in the country had stabilised.
Brutal crackdown on protest site
During the early hours of the morning on 22 July, the armed forces, at least several hundreds, moved to the 'GotaGoGama' site at Galle Face, attacked unarmed protesters, journalists, and even bystanders, and destroyed tents and installations at the site. https://t.co/of5kSIcL4g

— The Morning (@TheMorningLK) July 24, 2022
In the early hours of 22nd July 2022, a coordinated joint operation by the Sri Lankan military, police and special forces forcibly removed parts of the three-month-long 'Gotagogama' rolling peaceful protest site in front of the Presidential Secretariat in Colombo.
Security forces severely beat protesters and lawyers and removed many tents from the pavement along Galle Road outside the Presidential Secretariat, where dozens of people, including children, slept during the protests. Witness accounts and footage from the protest site revealed the extent of the violence used by security forces against the protesters, with some of them being beaten and dragged, while others pleaded for mercy.
According to Human Rights Watch, at least 50 people were injured, including three journalists from Xposure News – Chaturanga Pradeep Kumara, Rasika Gunawardana, and Shabeer Mohammed – and at least one other journalist, Jareen Samuel of the BBC,
Human rights groups reported that nine protesters were arrested and granted bail on the same day. At least 14 protesters were hospitalised. Materials and electronic devices belonging to protesters were destroyed. Troops barricaded all entrances to the protest site and used violence and threats to prevent access to journalists, lawyers, human rights defenders, and medical personnel.
The security forces also evicted a small group of peaceful protesters who had occupied one of the rooms inside the Secretariat that had been opened to the public as a library in an act of civil disobedience. Notwithstanding the fact that protesters had already announced their decision to hand over the building peacefully at 2:00 pm the same day, without a warning or a request for the protesters to vacate the premises, security forces violently attacked them.
President Wickremesinghe also called out foreign diplomats for criticising the security forces' use of excessive force and took no action to hold those responsible to account.
Targeting of protesters
The security forces have also sought to harass, arrest or detain activists and protesters seeking political reform and accountability for the country's economic crisis.
Father Amila Jeewantha Peiris appeared in the Colombo Fort Magistrate's Court on Aug. 12 and was granted bail thanks to two personal sureties of 500,000 Sri Lankan rupees (around $1,375). https://t.co/Cha2yqQwbo

— EWTN Vatican (@EWTNVatican) August 17, 2022
On 25th July 2022, the Colombo Magistrates' Court issued a travel ban on Father Jeewantha Peiris, a Catholic priest who had been prominent in the protests, and several others. Two days later, police visited Father Peiris's church and said that they had orders to arrest him. On 12th August 2022, he surrendered himself before the Colombo Fort Magistrate Court and was granted bail against the production of two personal sureties, each worth 500,000 Sri Lankan rupees (about USD 1,375).
Gota Go Gama protester Dhaniz Ali was granted bail today. Read the full story here https://t.co/S6e6N516uK
via @colombogazette #Srilanka #lka #GalleFace

— Easwaran Rutnam (@easwaranrutnam) August 15, 2022
Leading protester Dhaniz Ali was arrested by the police while trying to leave for Dubai on a flight on 26th July 2022 at the Bandaranaike International Airport (BIA). He was accused of unlawfully entering the Sri Lanka Rupavahini Corporation and attempting to disrupt its broadcast during the anti-government protests on 9th July 2022. He was released on bail on 15th August 2022.
Human Rights Watch reported that on 27th July 2022, unidentified men in civilian clothes abducted Veranga Pushpika, a former student activist and journalist who had also been active in the protests, from a bus in Colombo. Police did not disclose his whereabouts to lawyers or the Human Rights Commission for several hours before acknowledging his arrest. He was released on bail on 9th August 2022.
Popular YouTuber Rathidu Senarathna alias "Ratta" was arrested by the Slave Island Police today, lawyers said. He has been arrested over a Police complaint filed against him. He was accused of violating a court order issued over a protest staged on Saturday. pic.twitter.com/n1alj2IkO8

— DailyMirror (@Dailymirror_SL) May 30, 2022
The group also reported that police had summoned the social media activist Rathidu Senarathna, known as "Ratta," on 1st August 2022 and arrested him after questioning. On 9th August, he was released on bail. A Colombo magistrate also issued a foreign travel ban on Senarathna and 11 others suspected of illegal assembly and causing damage to property. 
On 5th August 2022, it was reported that many groups, including the Inter University Students' Federation (IUSF), who have been very active throughout the protests, have been harassed and arbitrarily detained. IUSF leaders have received travel bans, been pulled off planes and buses by plainclothes officers and arrested. One was forcibly picked from the streets in an alleged "white van abduction", questioned for several hours by officers about the location of IUSF convener Wasantha Mudalige, and then let go three hours later.
The Joint Convenor of the Aragalaya protest movement, Senadhi Guruge was arrested by the Colombo Central Crimes Investigations Division on 24th August 2022. Guruge was charged for allegedly assaulting two intelligence police officers.
Prominent trade unionist arrested 
Joseph Stalin, the secretary of the Sri Lanka Teachers' Union, was arrested on Wednesday during a crackdown against protesters who forced former president Gotabaya Rajapaksa to flee his presidency last month 🇱🇰🔗 pic.twitter.com/E8GV9omnqO

— Challenge (@ChallengeYCL) August 3, 2022
On 3rd August 2022, human rights defender and General Secretary of Ceylon Teachers Union Joseph Stalin, was arrested at his office in Colombo by a team of over 25 police officers. Authorities claim that his arrest is due to a protest in May 2022 in violation of a court order. The human rights defender was taken to the Fort police station and remanded despite suffering from poor health. He was granted bail by Colombo Fort Magistrate on 8th August 2022.
According to Front Line Defenders, Stalin a prominent advocate for education rights and reforms, has campaigned against the militarisation of education in Sri Lanka and for the rights of teachers and students against regressive state policies. Since the beginning of countrywide protests, he has been at the forefront of peaceful campaigns seeking systematic change and more transparent, accountable governance.
Crackdown on student protest
On 18th August 2022, members of the Inter University Student's Federation (IUSF) staged a protest from Lipton Circus in central Colombo before police intervened to disrupt the protest by firing a water cannon and tear gas at them.
The crackdown was followed by the arrest of members of the IUSF. According to reports, 20 people were arrested and 16 of the suspects were released on a personal bail of Rs. 500,000 (approx. USD1369) each by the Colombo Additional Magistrate's Court after being charged with unlawful assembly and obstructing the duties of police officers by blocking the road. 
On of those detained was human rights defender, Chinthaka Rajapakse, who was denied bail and remanded until 26 August 2022. According to Front Line Defenders, Chintaka Rajapakse is the moderator of the Movement for Land and Agricultural Reform (MONLAR), a human rights organization focused on land rights, protection of natural resources and the environment. The human rights defender has worked extensively with farmers, peasants and those who have lost land and livelihood due to militarization and development projects.
BREAKING: Chinthaka Rajapaksa, a leading member of our Sri Lankan partner @monlarlk, has been arrested. 1/2 pic.twitter.com/jrLLc5ixm7

— War on Want (@WarOnWant) August 19, 2022
Activists arrested and detained under draconian anti-terror law
Govt sources confirm that President @RW_UNP has signed detention orders to hold @IUSFSL Convener Wasantha Mudalige, Inter Uni. Bhikku Federation Convener Galwewa Siridhamma Thero & student activist Hashan Jeewantha for 90 days without trial under #SriLanka's draconian PTA.
1/3 pic.twitter.com/shKfLQFwYa

— JDS (@JDSLanka) August 22, 2022
Three of those detained around the student protests on 18th August 2022, including Wasantha Mudalige, the convener of the IUSF, Hashantha Jeewantha Gunathilake, member of the Kelaniya University Students' Union and Galvewa Siridhamma Thero, the convener of Inter University Bhikku Federation were not released but were held in police custody for well over 72 hours without access to lawyers and in violation of their due process rights. 
On 22nd August 2022, President Ranil Wickremesinghe approved the detention and interrogation of the three activists for a period of 90-days under the draconian Prevention of Terrorism Act (PTA). They are being detained at the Tangalle Detention Centre.
Their detention has been condemned by human rights groups. The Bar Association of Sri Lanka (BASL) called the PTA "a draconian piece of legislation" and that "there is also the danger that such detention may result in the detainee being subject to torture and inhuman treatment."
The government has used the PTA to target and harass minorities, activists, journalists and critical voices. UN human rights experts have called for an immediate moratorium on the use of the law and urged the government to substantively review and revise the legislation to comply with international human rights law.
The law has an overly broad and ill-defined offence of 'terrorism'; continues to allow confessions to be admissible evidence; permits arbitrary arrests and prolonged detention that is not subject to judicial scrutiny for its lawfulness; places no obligation on law enforcement authorities to inform a suspect of the reasons for the arrest at the time of arrest and has no provision to require anyone arrested or detained on a criminal charge to be brought promptly before a judge and to be entitled to a trial within a reasonable time.